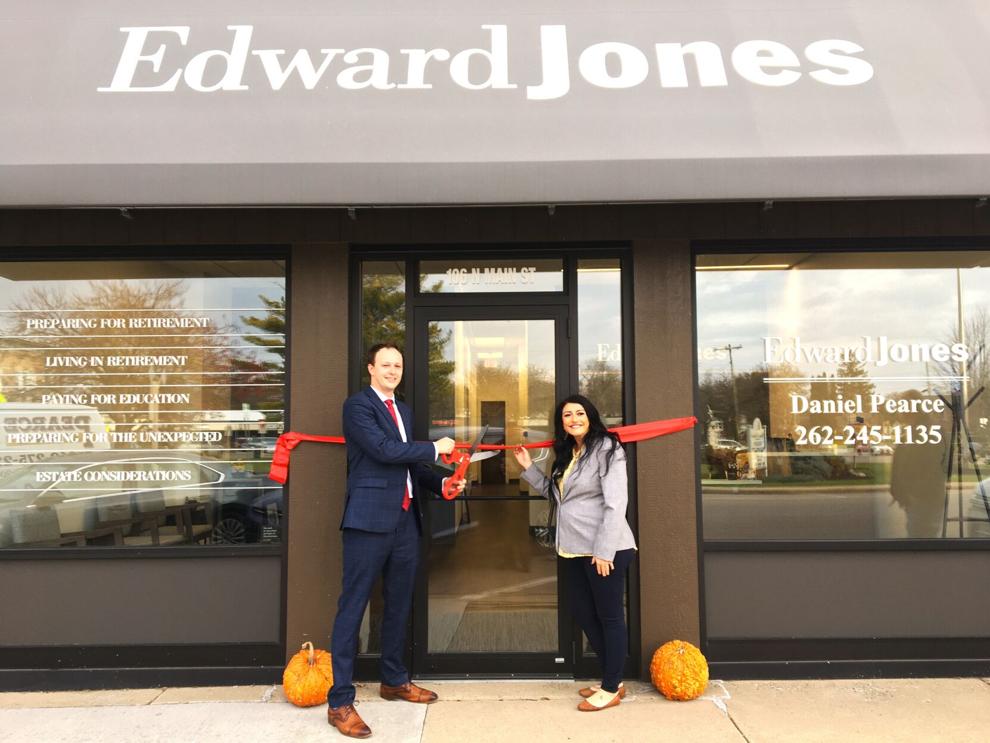 Continuing a multi-generational tradition of entrepreneurship in the Village of Walworth, 5-year Edward Jones Financial Advisor Daniel Pearce has opened his own Edward Jones branch office in hometown Walworth.
A festive ribbon-cutting was held at 8 a.m. Monday opening the new Edward Jones office, located in the Higbee Building at 106 N. Main St. on the Heyer Park Square in downtown Walworth.
"We strive to help every individual reach their financial dreams," Pearce said.
Walworth resident Lexus Scherrer serves as branch office administrator.
Pearce is the son of Andy and the late LuAnne Pearce, of Walworth. His parents and both sets of grandparents, Forrest and Frances Teer and Richard and Joan Pearce, have deep, longstanding roots in the Fontana-Walworth area.
A Class of 2014 alumnus of Big Foot Union High School and a 2018 finance graduate of the University of Wisconsin-Whitewater, Walworth native Pearce worked at established Edward Jones branch offices at Paddock Lake/Twin Lakes in Kenosha County, Mequon in Ozaukee County, and since 2020 at 49 W. Geneva St. (State Hwy. 67) in Williams Bay before opening his own branch office in the Village of Walworth.
In many ways, Pearce seemed destined for a life in finance, focusing on "a bunch of business courses" at Big Foot and serving as an active member of the school's award-winning Future Business Leaders of America (FBLA) chapter.
"I was always really good with math and numbers and had an interest in personal finance," Pearce recalled. "It worked out well. I got an internship in college that sparked my interest a little bit more and then I got hired by Edward Jones halfway through my senior year and the rest is history."
His family has deep entrepreneurial roots in Walworth. Grandparents Forrest and Frances Teer once operated a dry cleaning shop in Walworth. Pearce's dad and grandfather, Andy and Richard "Dick" Pearce, co-founded general contracting firm Pearce & Son, Inc. in 1979.
When opportunity came calling, Walworth resident Daniel Pearce jumped at the chance to continue his family's entrepreneurial legacy in the village into a third generation, opening his own Edward Jones office in an extensively remodeled and modernized high-traffic downtown Walworth location.
"I'd always had a plan of coming over here to Walworth," he noted. "This was the end goal and I finally got over here. I grew up here, I know everyone here, I'm part of the Lions Club in town … It all worked out well. It's where the heart is."
Noting "The Square in general is getting rejuvenated," Pearce said his newly-opened Edward Jones financial advising office differentiates itself downtown as "something on The Square that we really haven't had."
"We (Edward Jones) are here to help people achieve their financial dreams and goals," Pearce said.
Offering a personal approach to investing with 18,000-plus financial advisors ready to support clients with their retirement, education savings and insurance needs, Edward Jones and local financial advisors like Daniel Pearce assist clients in preparing for retirement, living in retirement, paying for education, preparing for the unexpected and estate considerations.
Located at 106 N. Main St. on the Heyer Park Square in downtown Walworth, Daniel Pearce's Edward Jones office is open Monday-Friday 8 a.m. to 4:30 p.m., or by appointment.
Founded in 1922, St. Louis-based Edward Jones has approximately 52,000 associates and nearly 19,000 financial advisors serving more than 8 millon clients through more than 15,000 locations across the U.S. and Canada
Edward Jones is a member of the Washington, D.C.-based Securities Investor Protection Corporation (SIPC), a federally mandated, non-profit, member-funded United States government corporation created under the Securities Investor Protection Act of 1970.
SIPC protects the customers of more than 3,500 securities brokerage firms.
IN 188 PHOTOS – Mecum Auctions' 2023 World Largest Road Art Auction
Mecum – Agricultural collectibles.JPG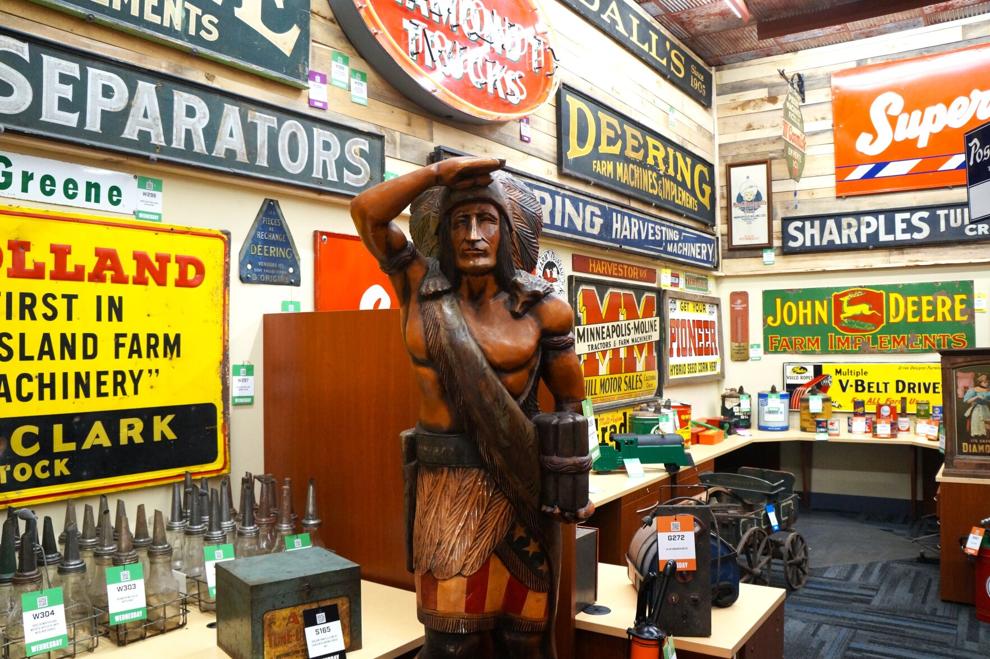 Mecum – Allis-Chalmers Farm Equipment neon porcelain steel sign.JPG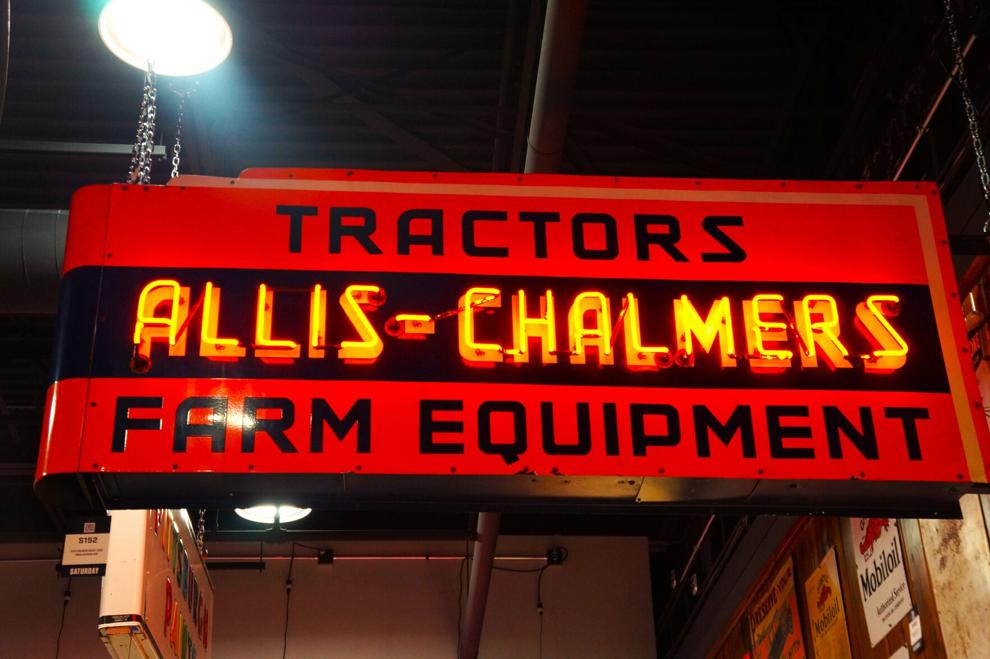 Mecum – AMC Rambler porcelain neon sign.JPG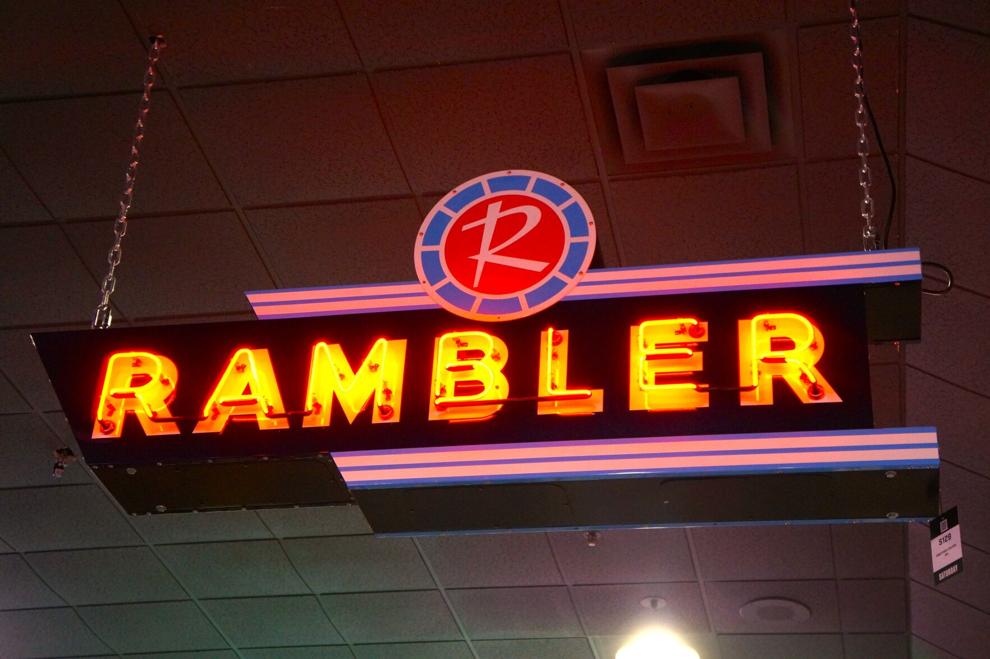 Mecum – Approved Willys Service porcelain neon sign.JPG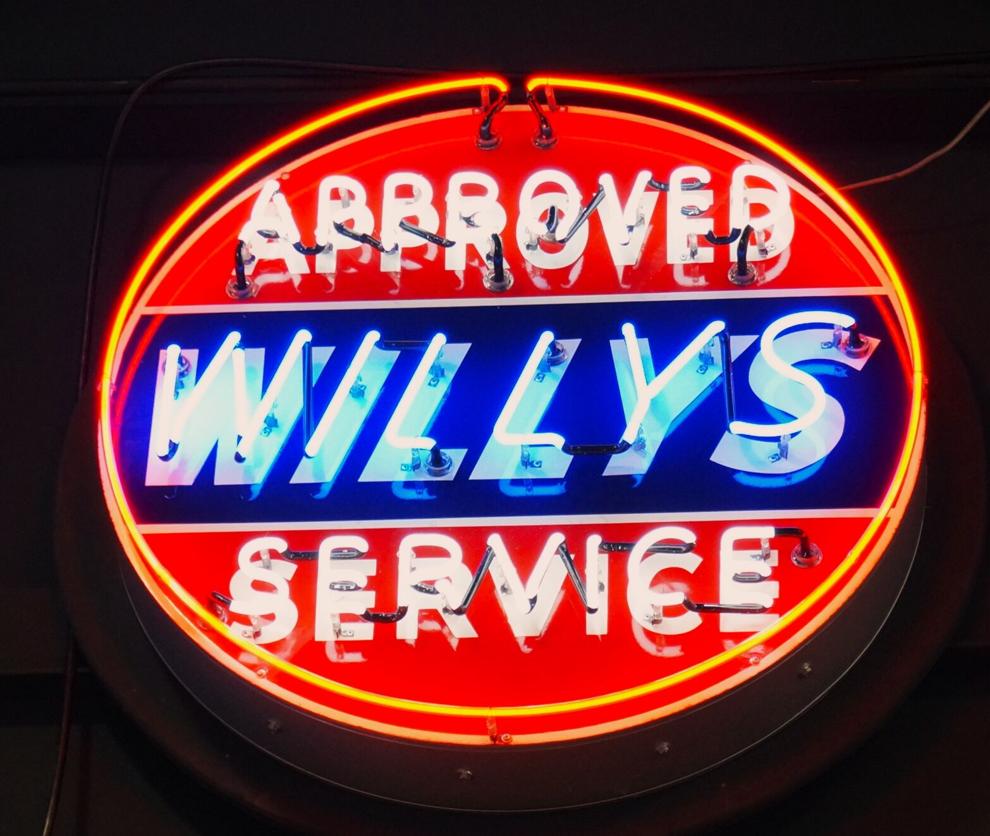 Mecum – Auction displays 2.JPG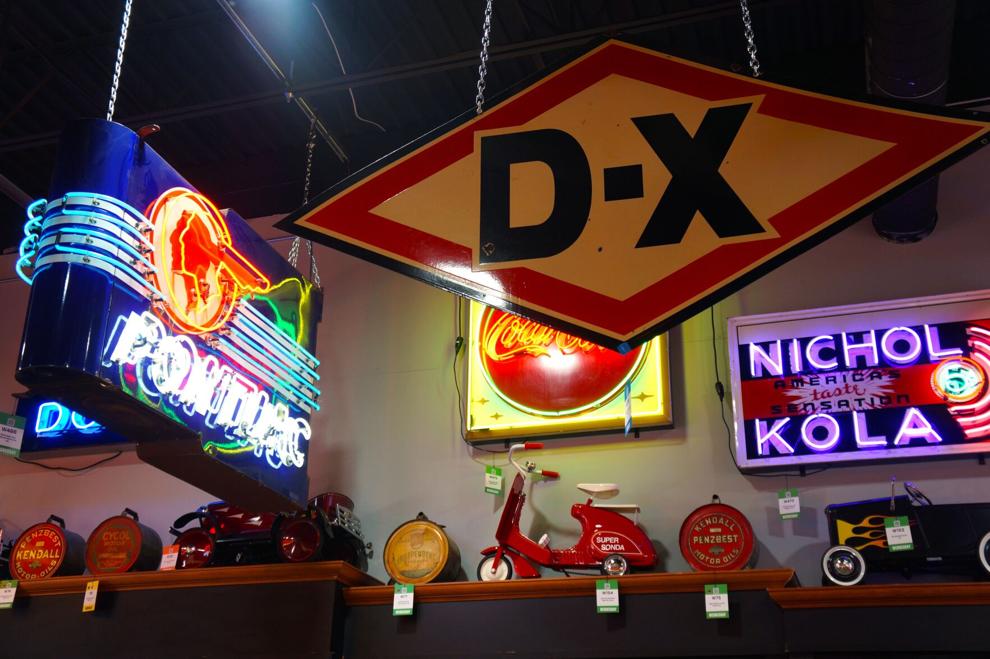 Mecum – Auction displays 3.JPG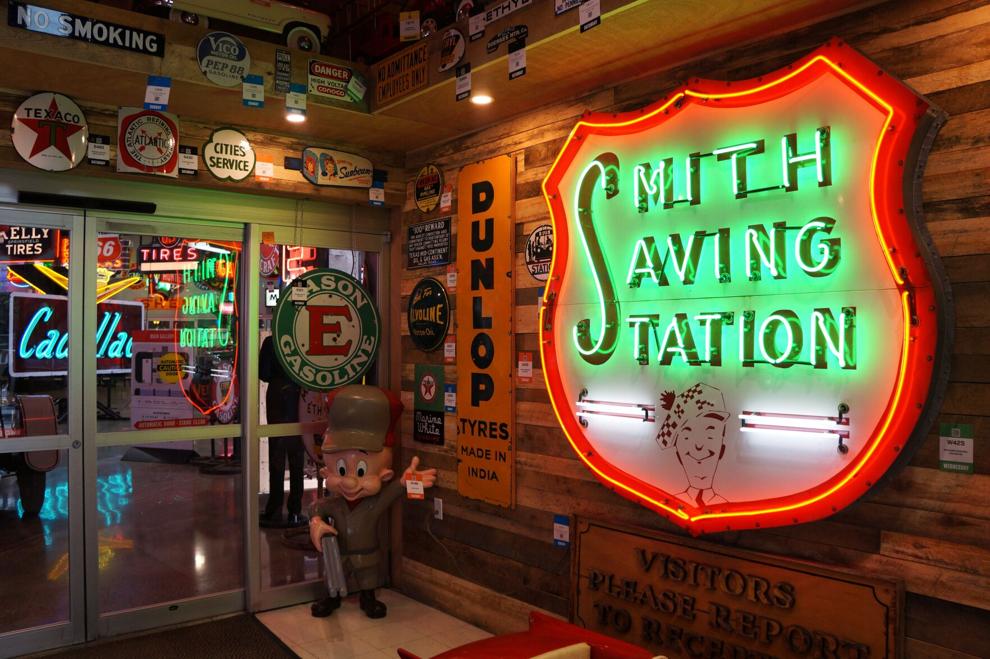 Mecum – Auction displays 4.JPG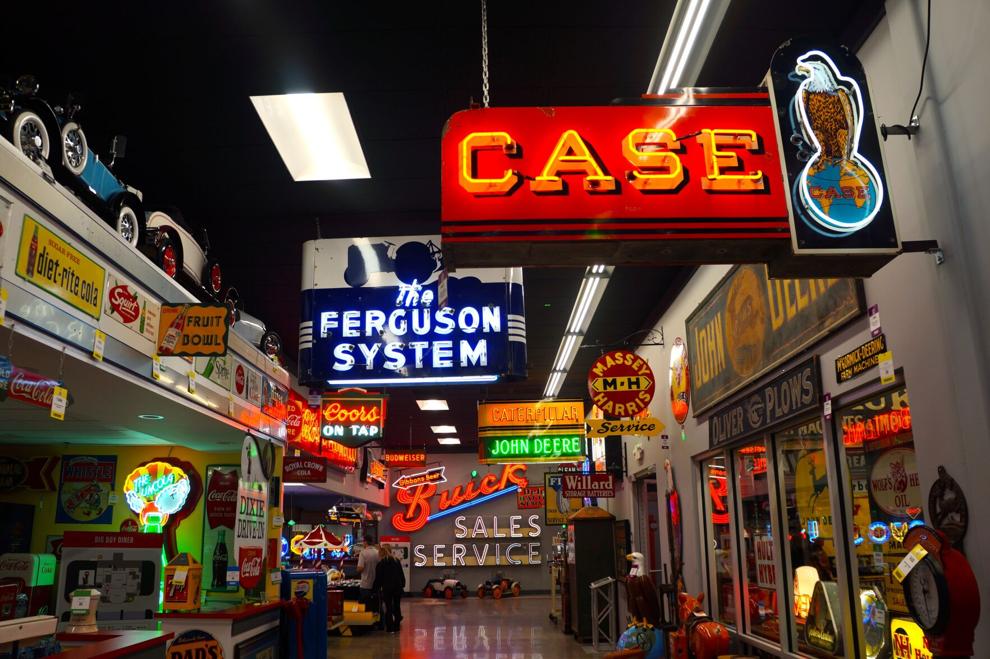 Mecum – Auction displays 5.JPG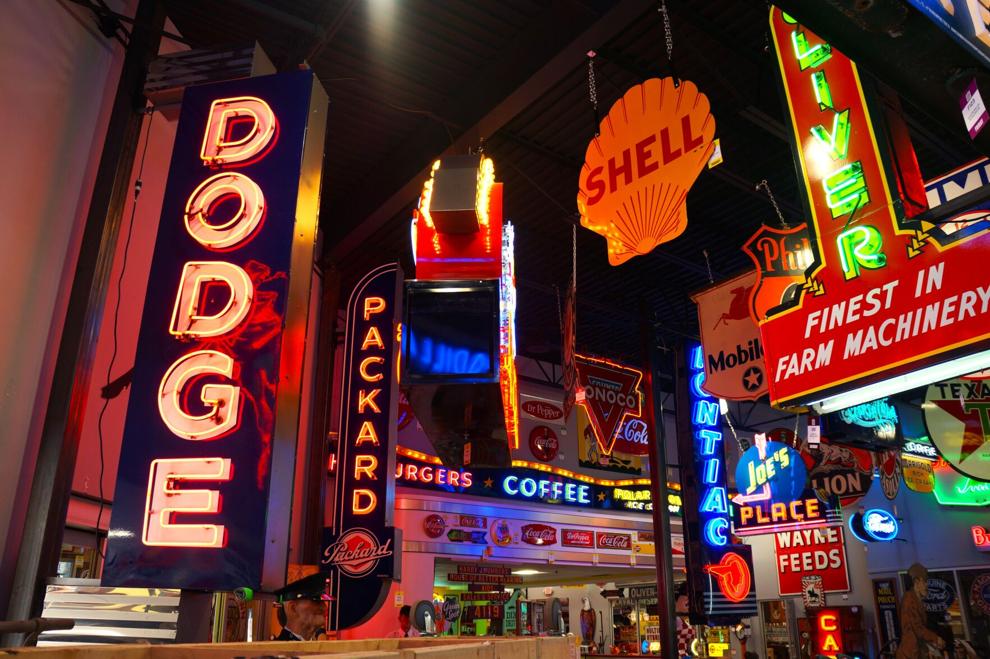 Mecum – Auction displays with Harleyu-Davidson signs.JPG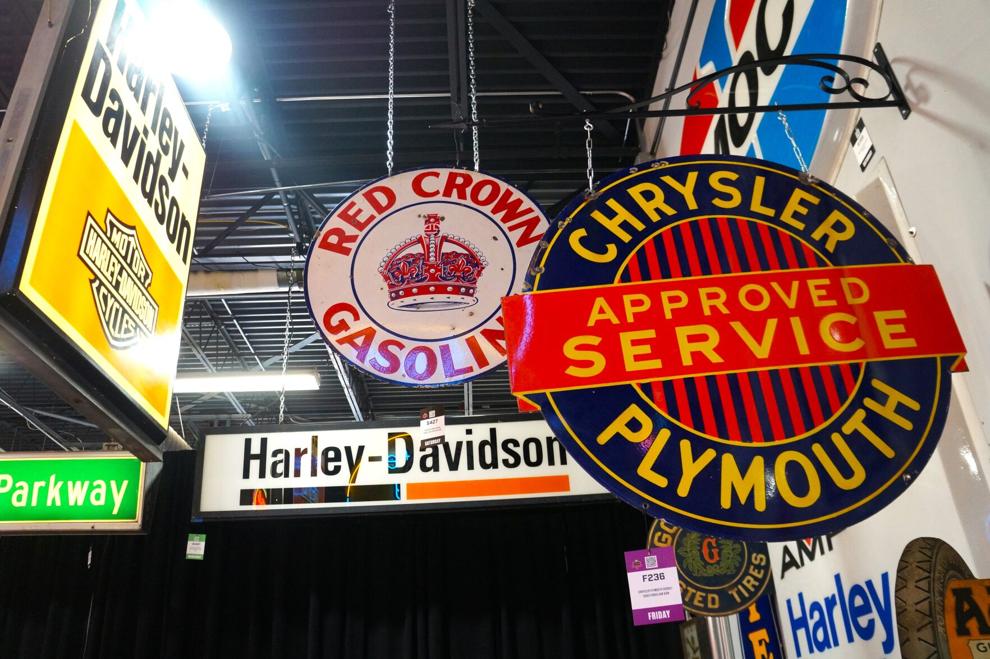 Mecum – Auction displays.JPG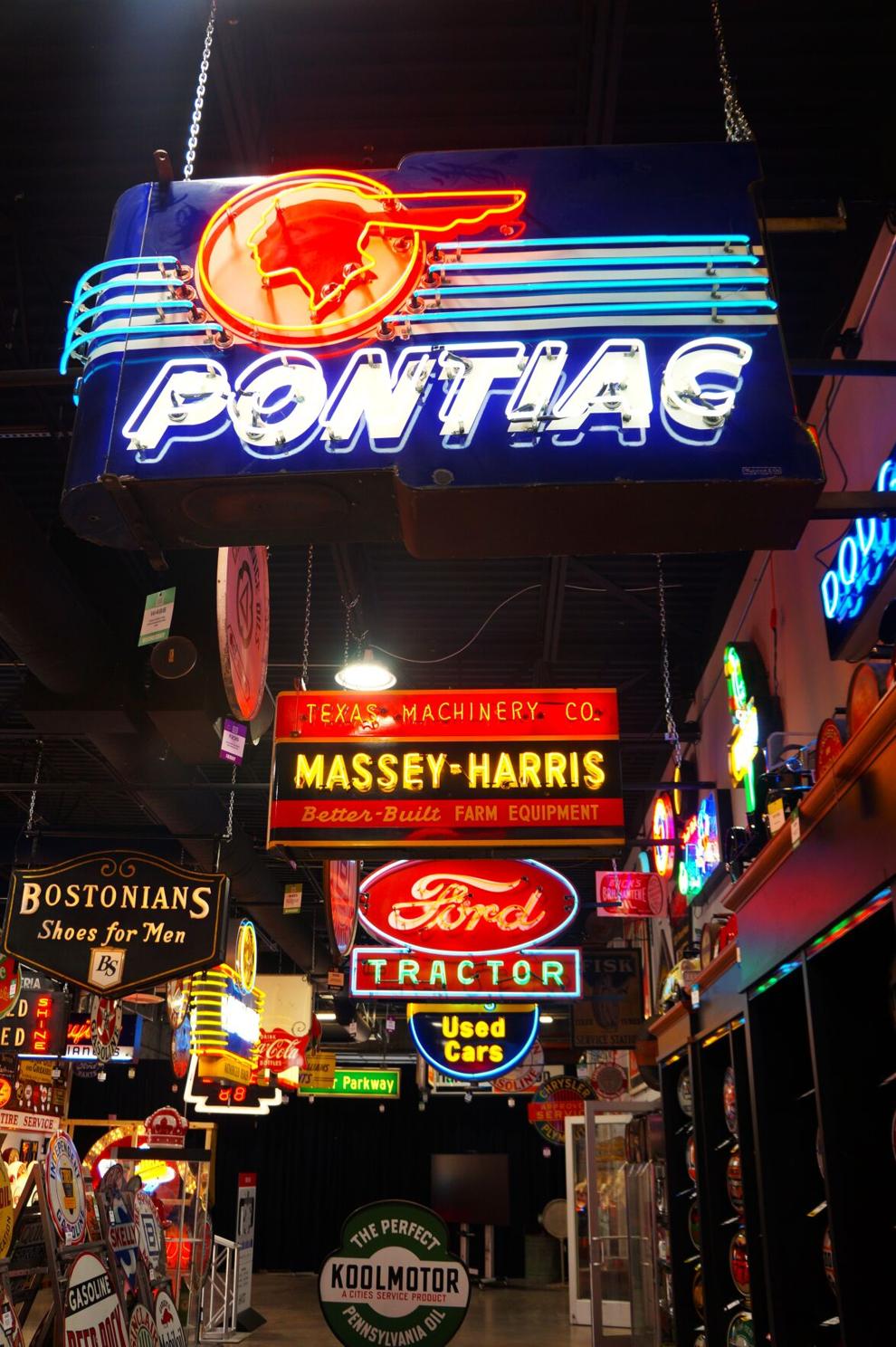 Mecum – Blue Sunoco gas pump detail.JPG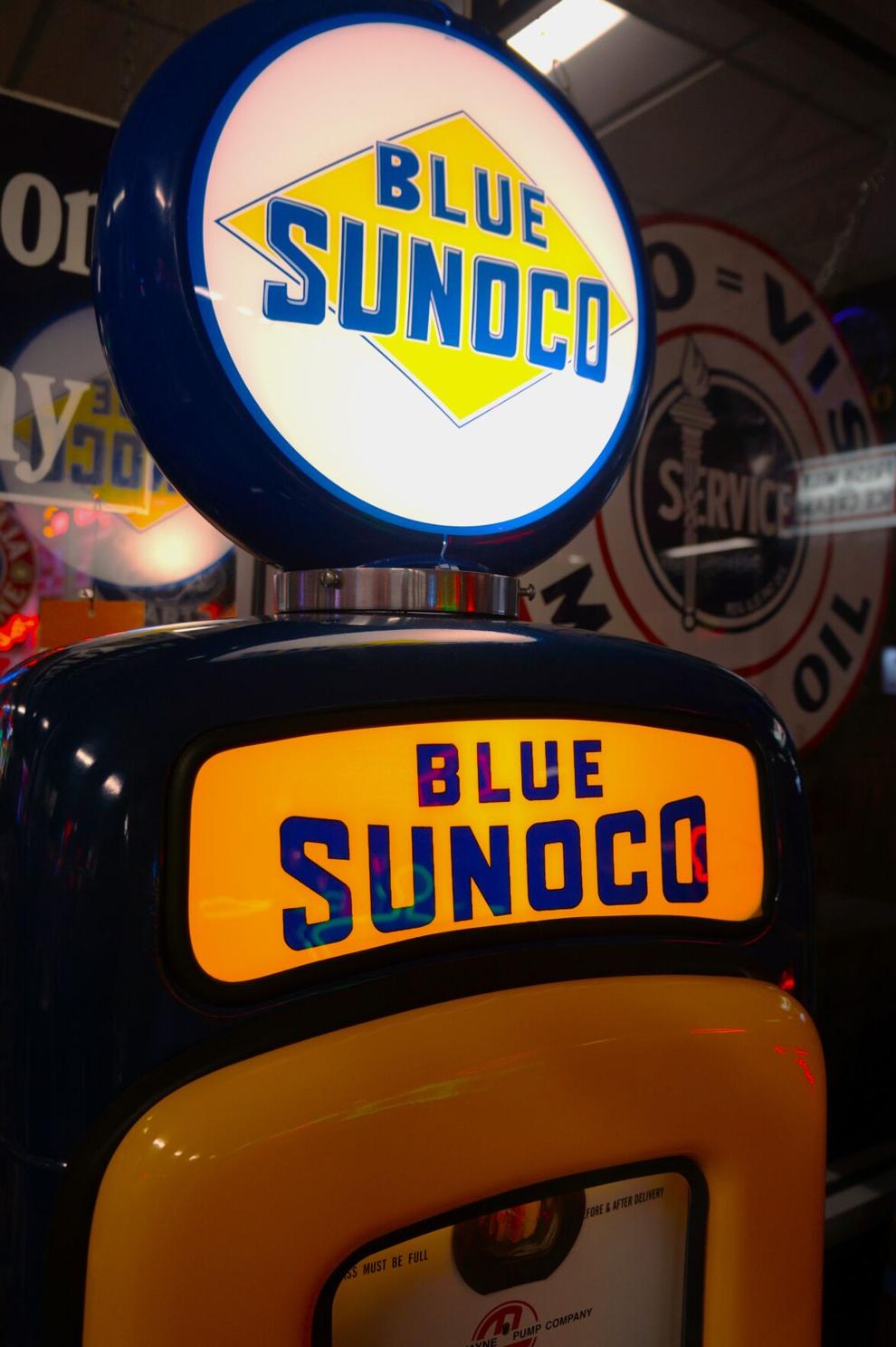 Mecum – Blue Sunoco gas pump globe.JPG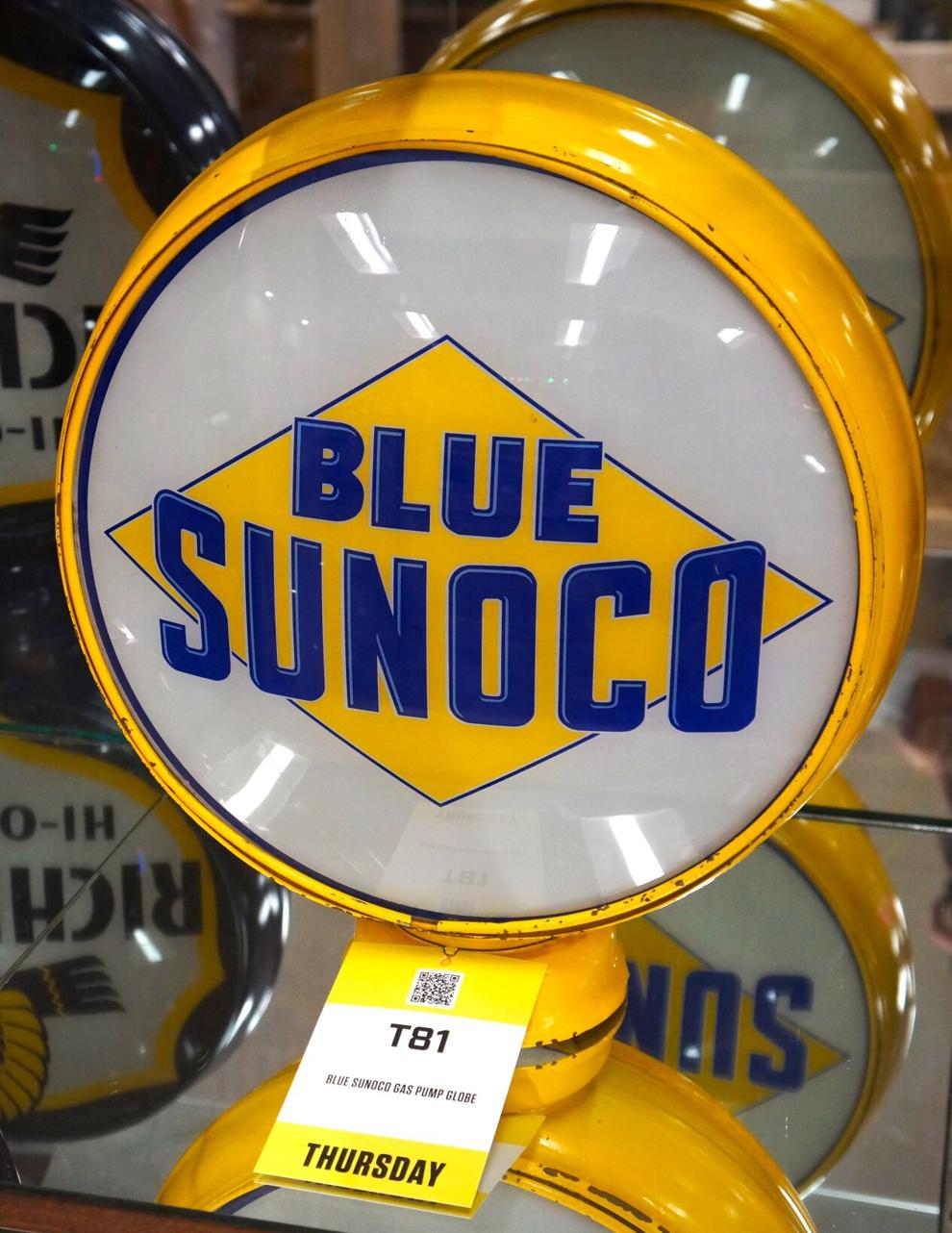 Mecum – Buick Authorized Service neon porcelain sign.JPG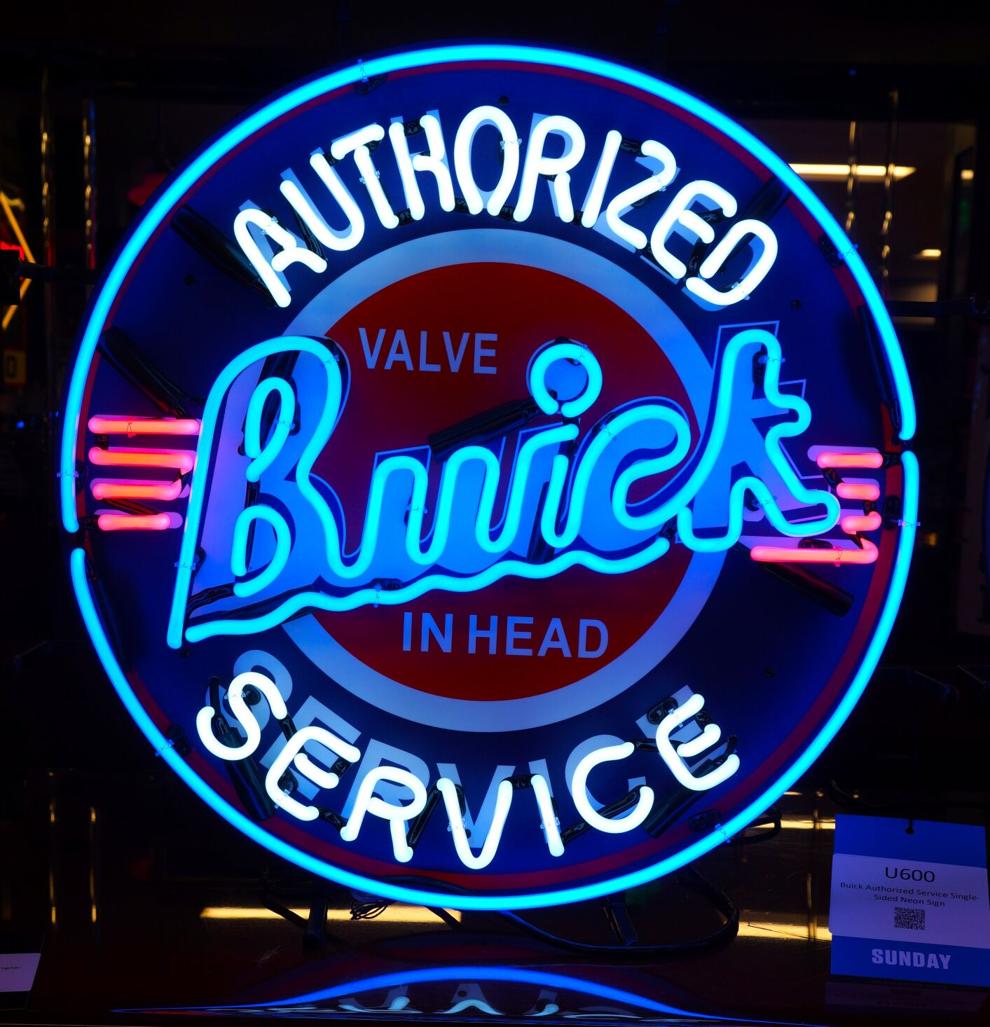 Mecum – Buick neon porcelain steel sign.JPG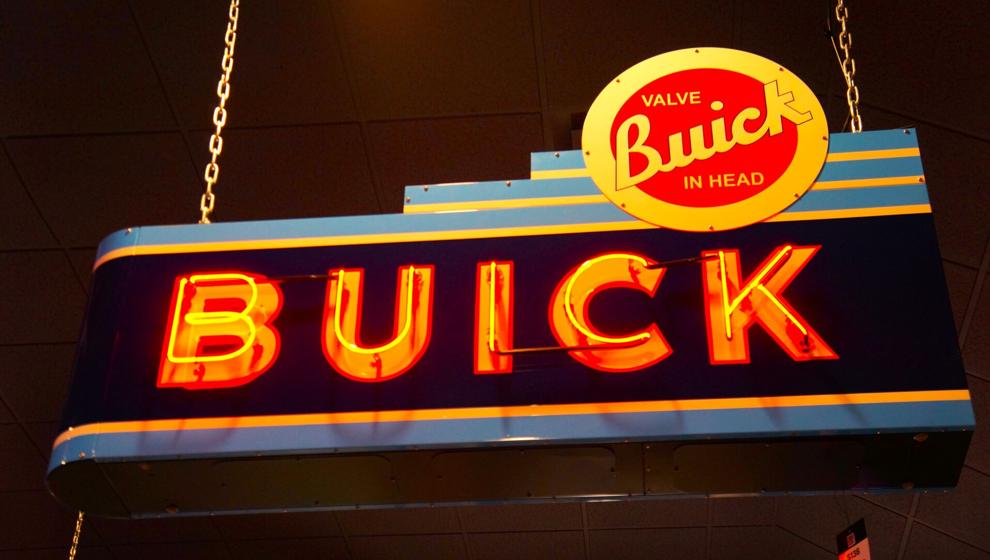 Mecum – Buick Sales Service neon sign.JPG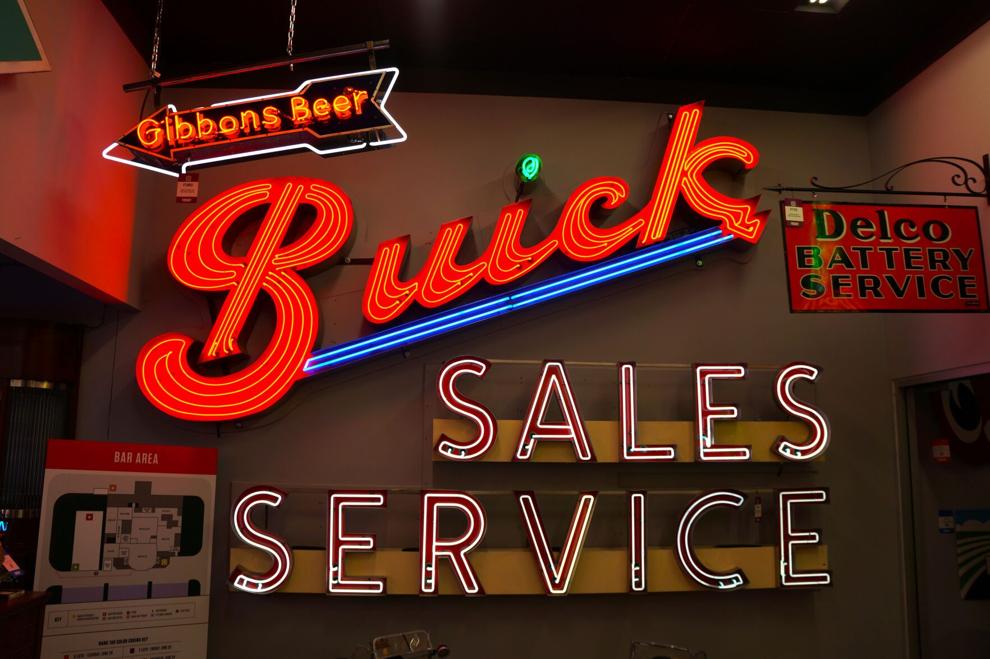 Mecum – Buster Brown Shoes neon porcelain steel sign.JPG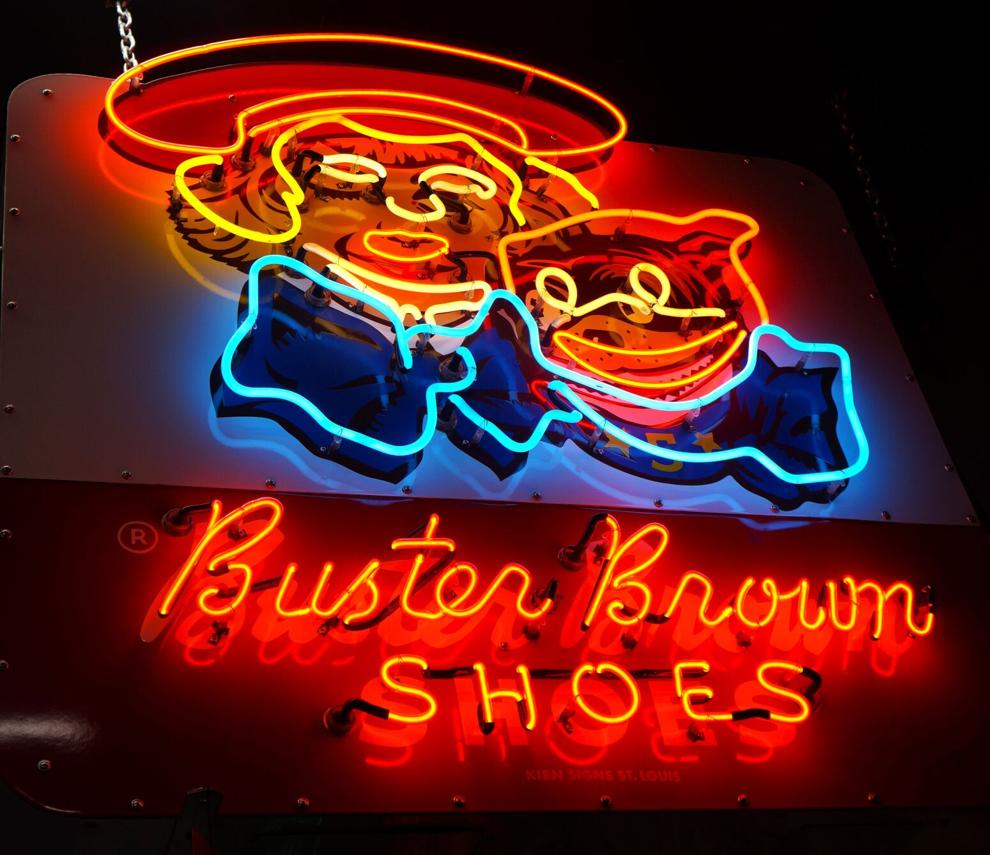 Mecum – Chevrolet Corvette neon sign.JPG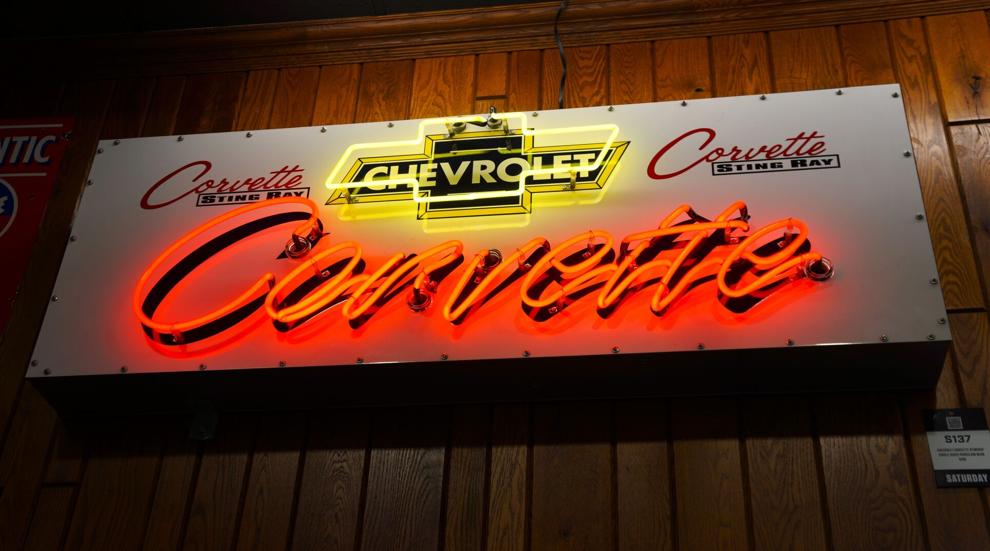 Mecum – Chevrolet neon bowtie sign.JPG
Mecum – Chevrolet OK Used Cars rotating neon porcelain steel sign.JPG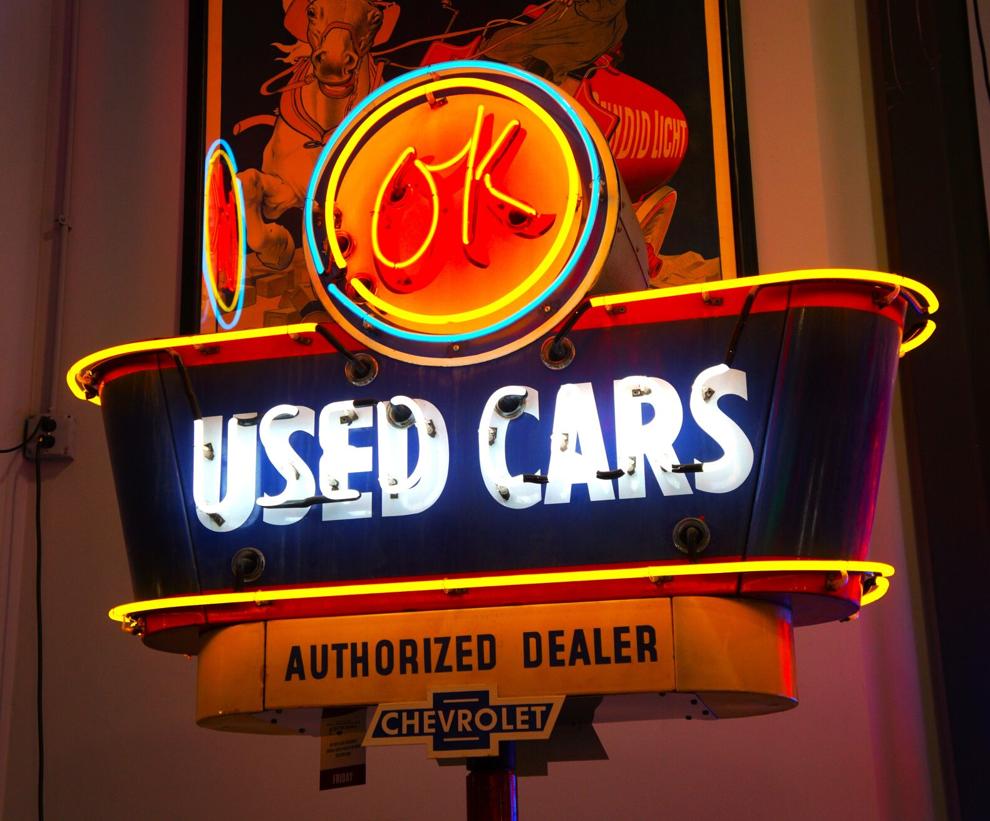 Mecum – Chevrolet vertical neon porcelain sign.JPG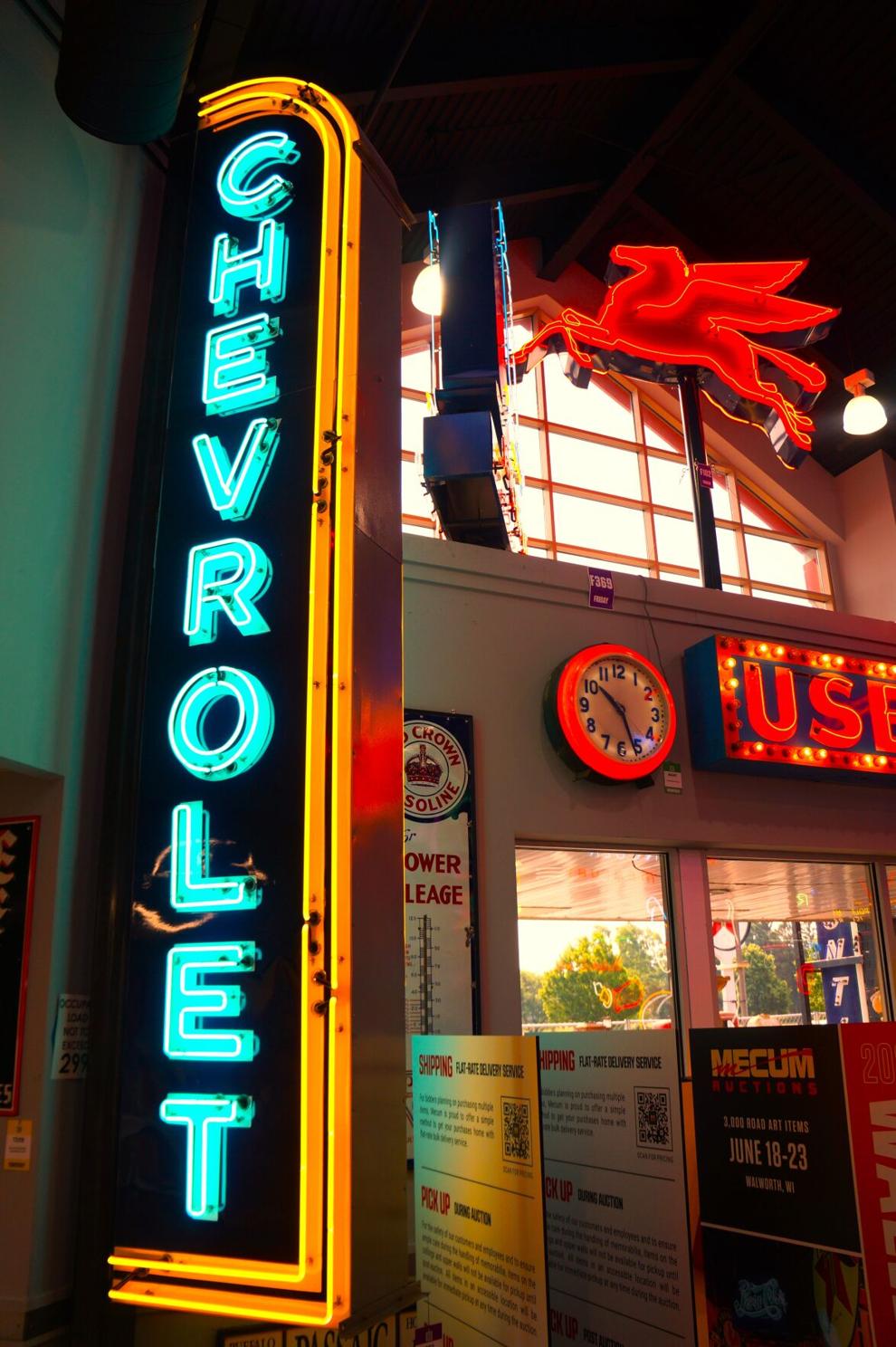 Mecum – Chevy, Exide Batteries and Cities Service (CITGO) signs.JPG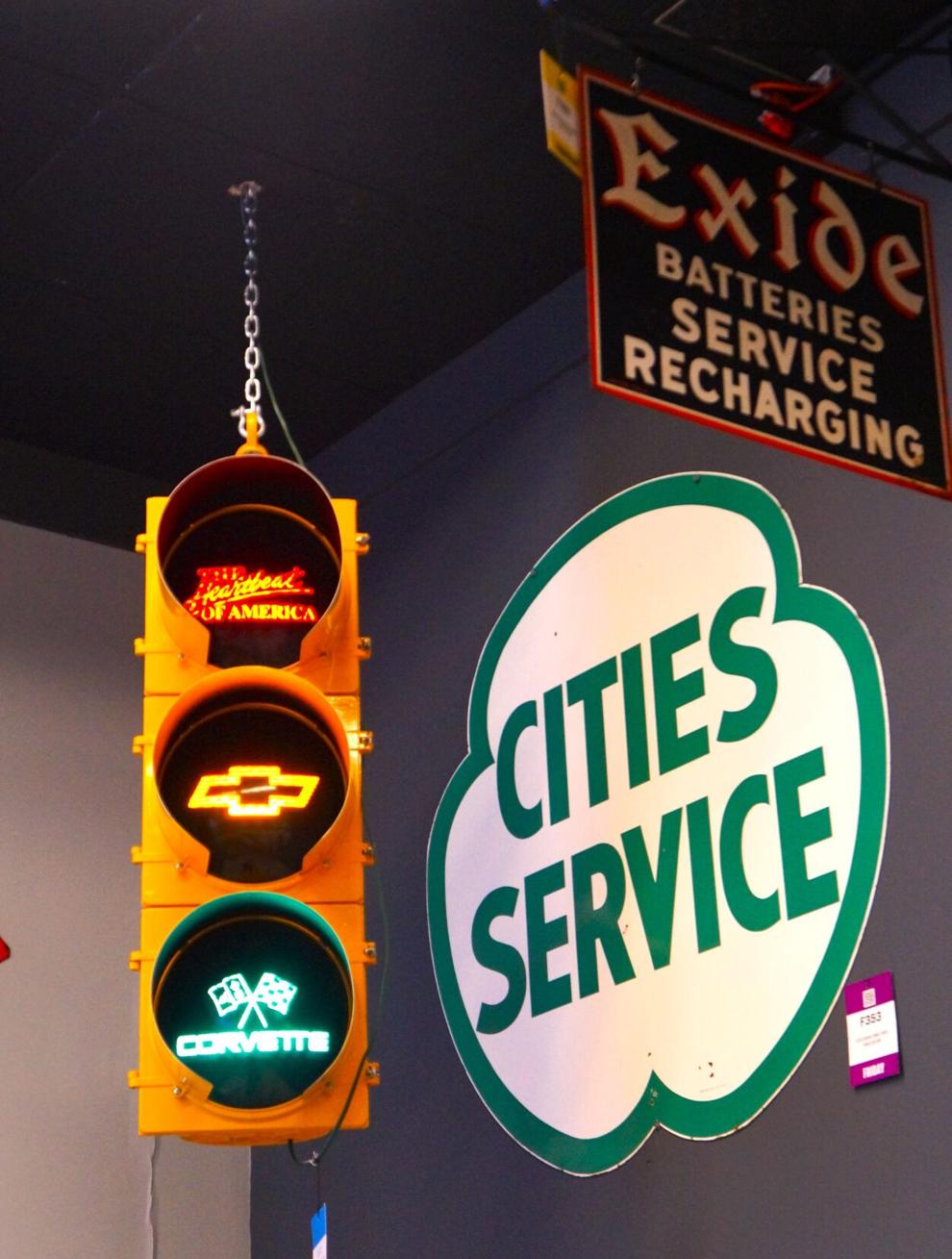 Mecum – Chicago Police Game Well call box.JPG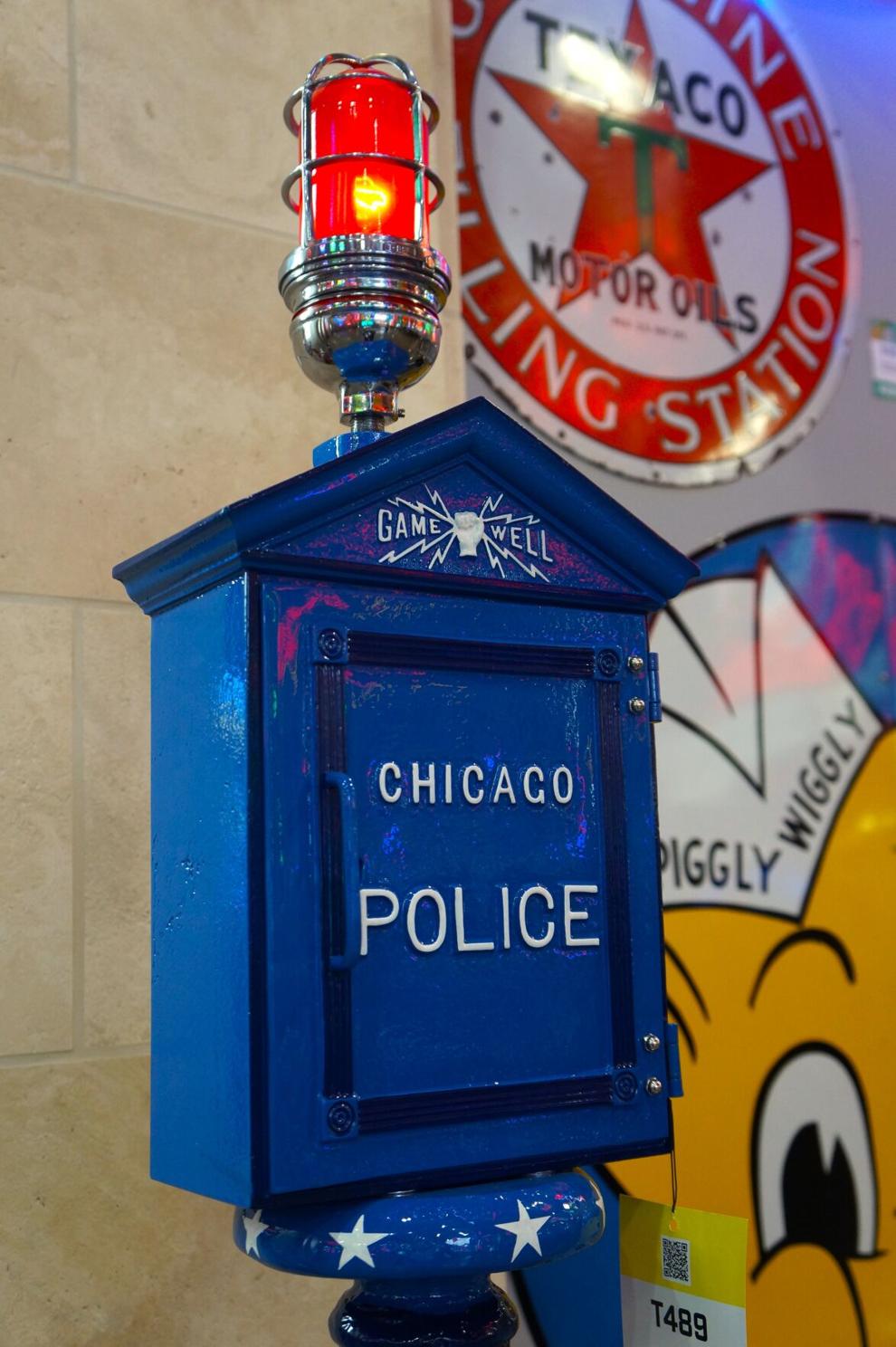 Mecum – Chrysler neon porcelain steel sign.JPG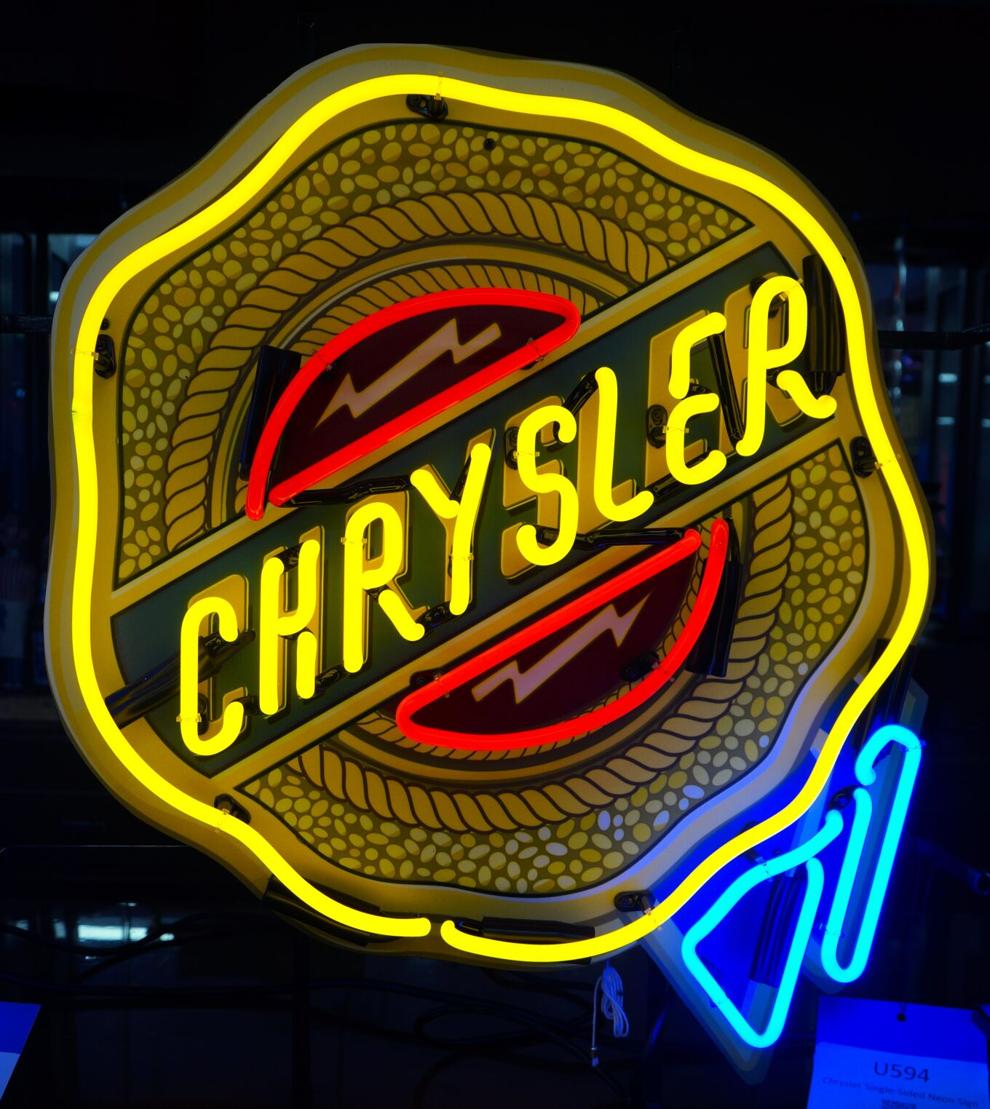 Mecum – Coca-Cola Bottling Co. neon porcelain sign.JPG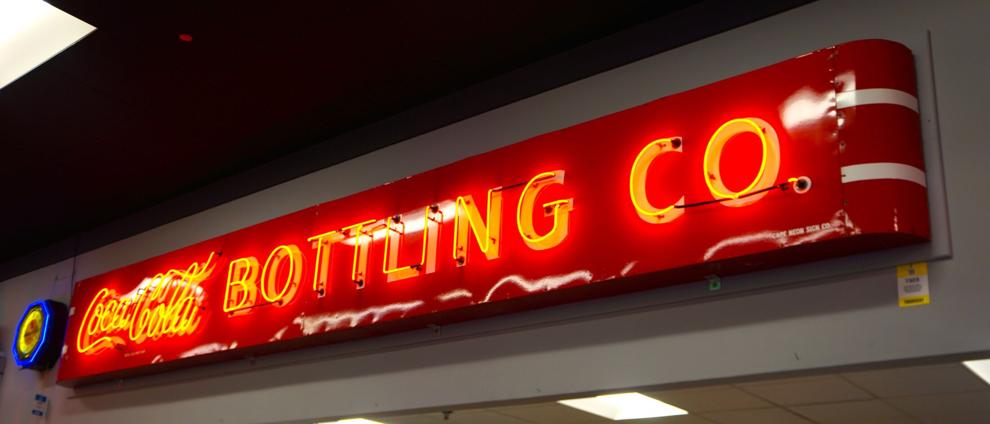 Mecum – Coca-Cola porcelain advertising sign.JPG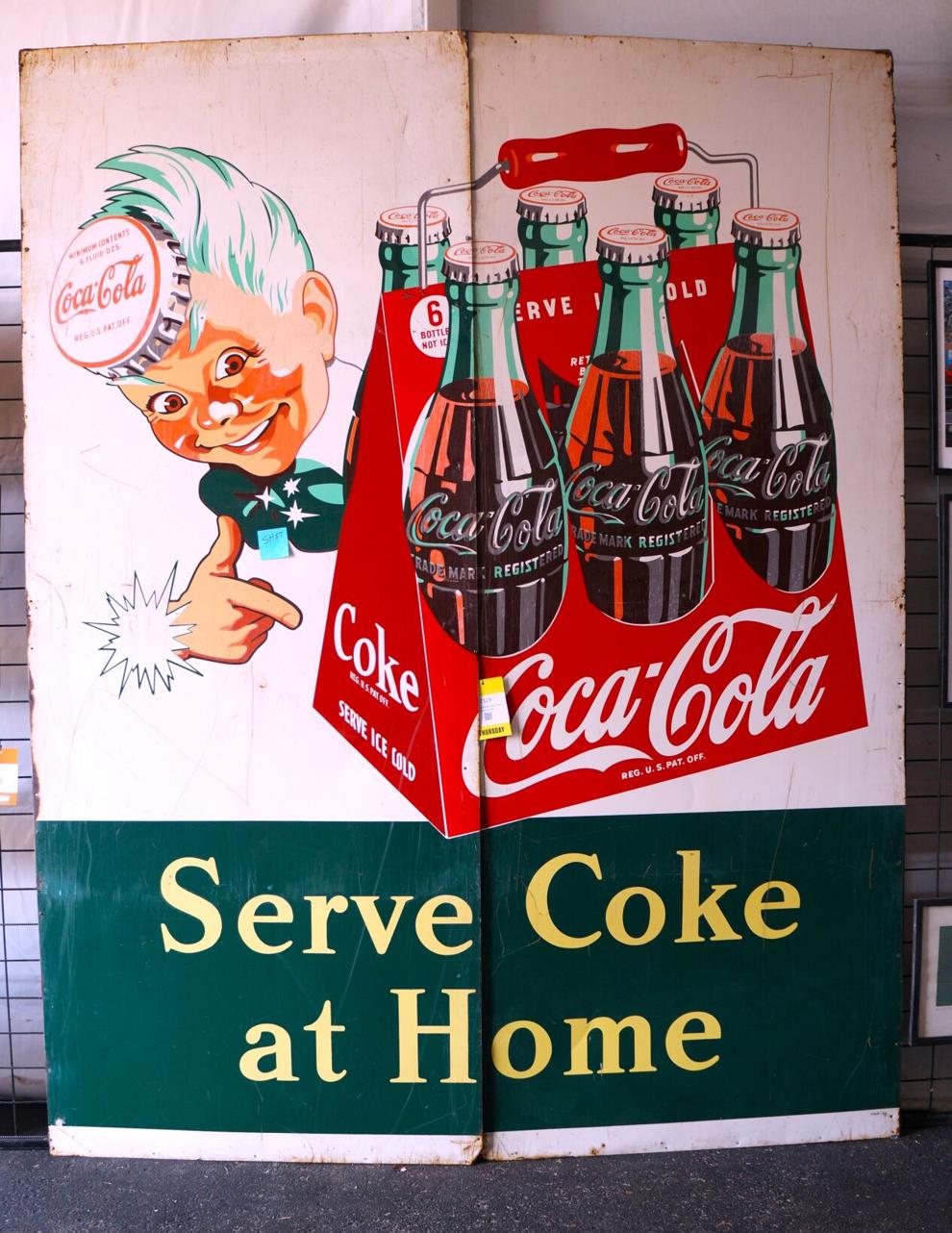 Mecum – Coca-Cola vending machines.JPG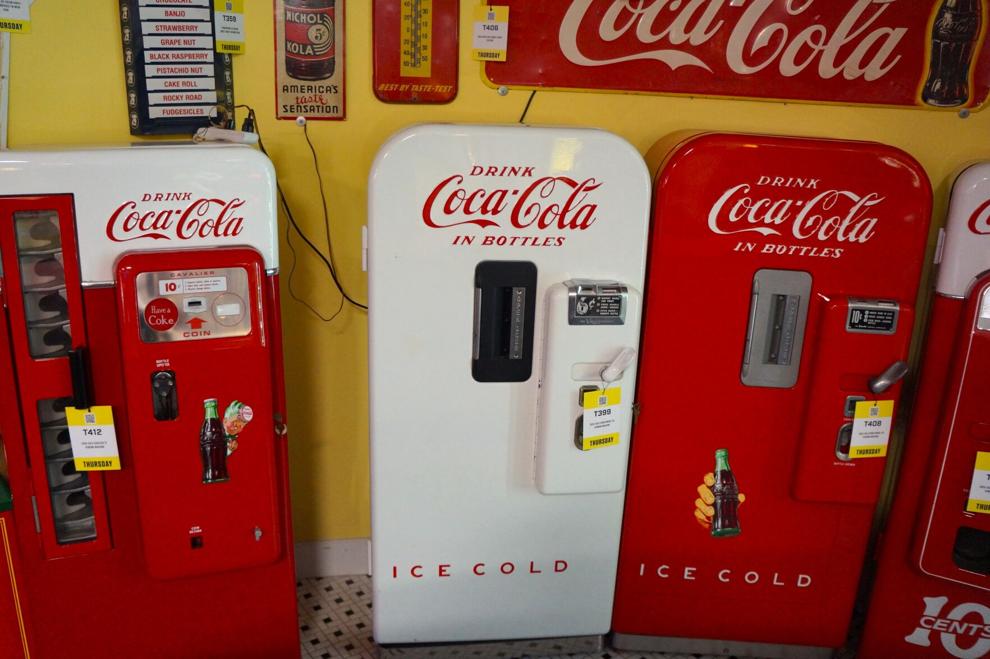 Mecum – Dabney's Sign.JPG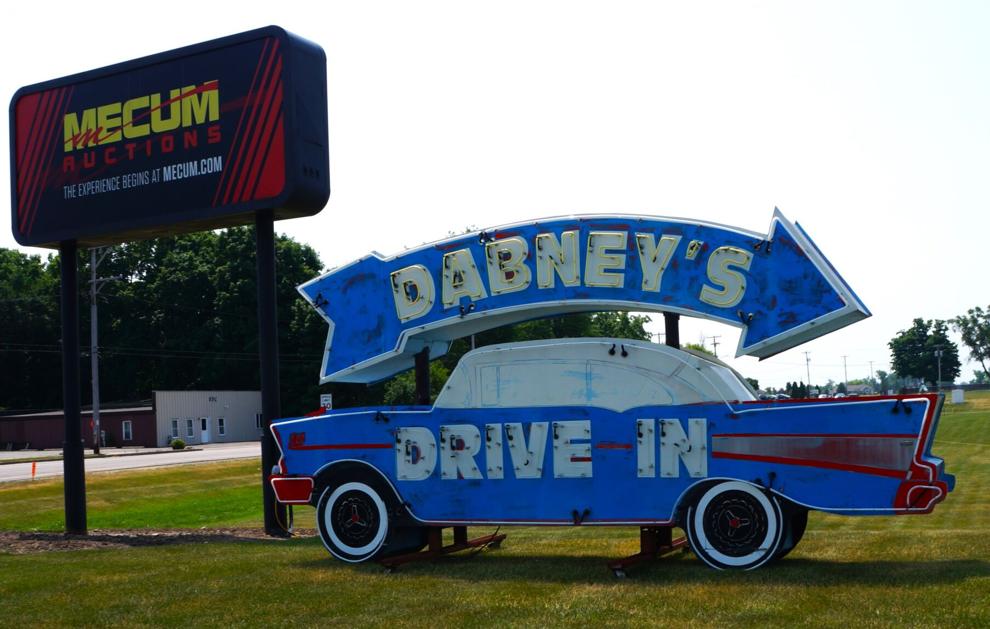 Mecum – Dairy Queen porcelain neon.JPG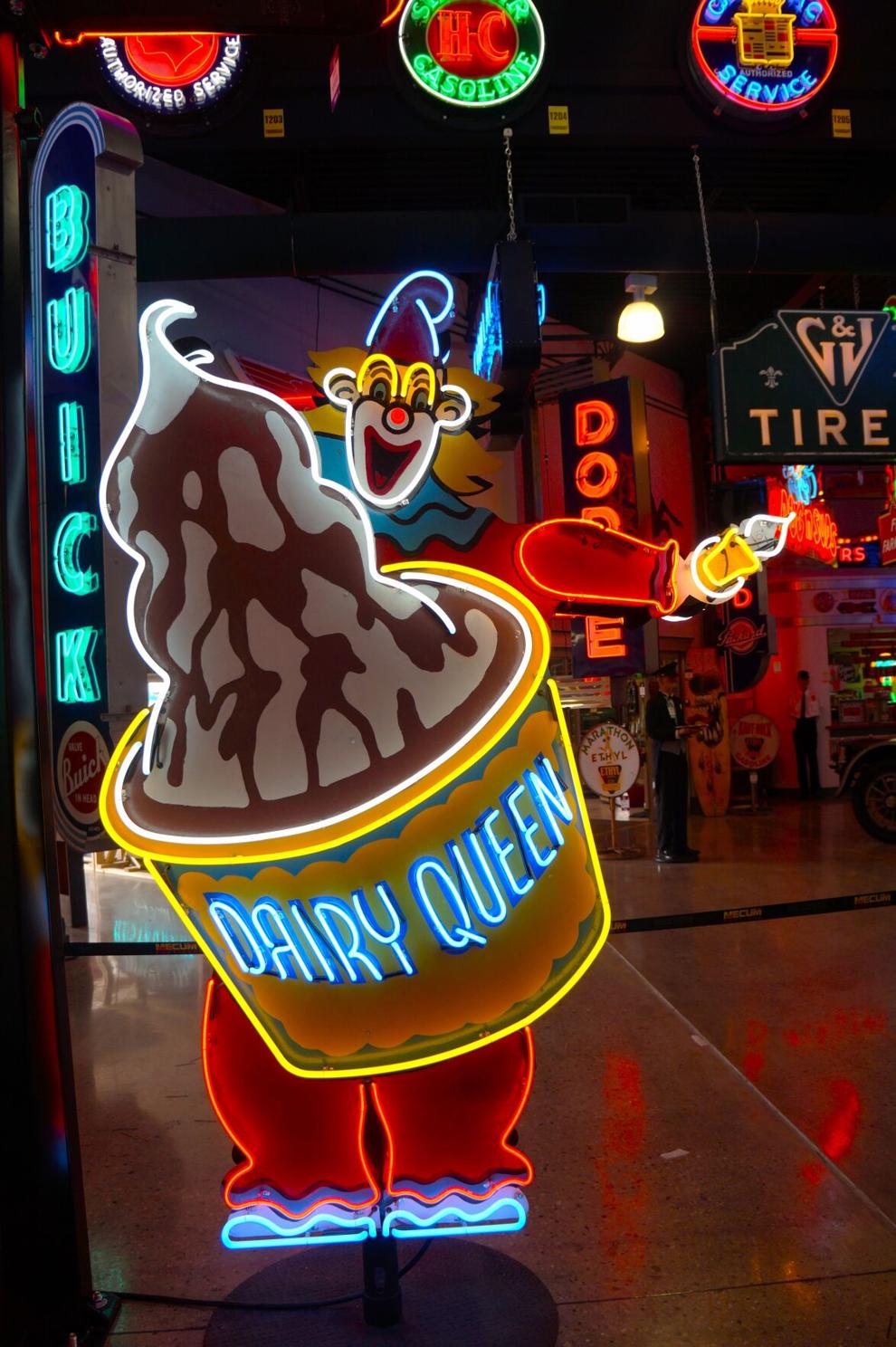 Mecum – Dairy Queen sign with lobby view.JPG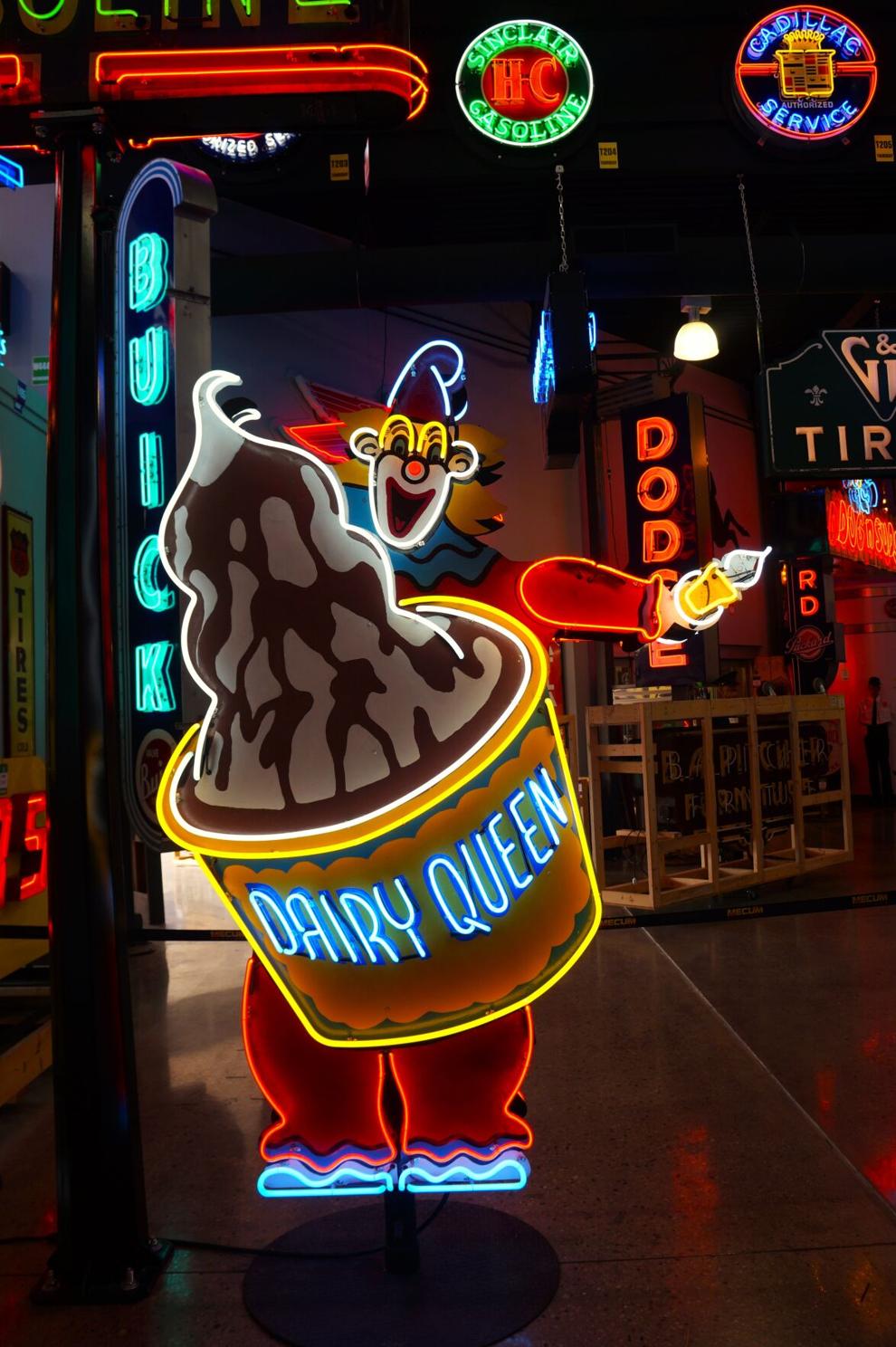 Mecum – Dekalb Corn neon porcelain sign.JPG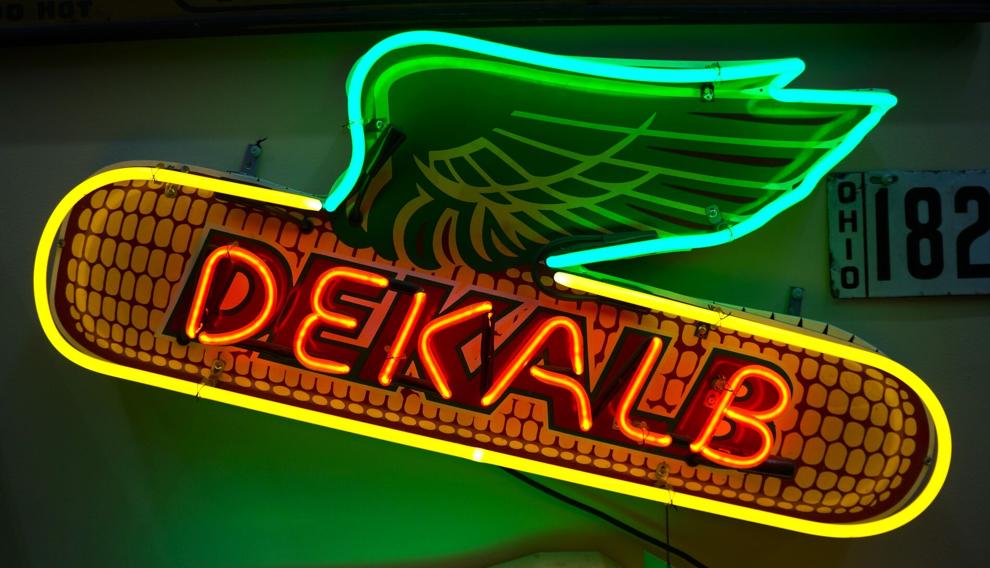 Mecum – DeSoto Plymouth neon 1.JPG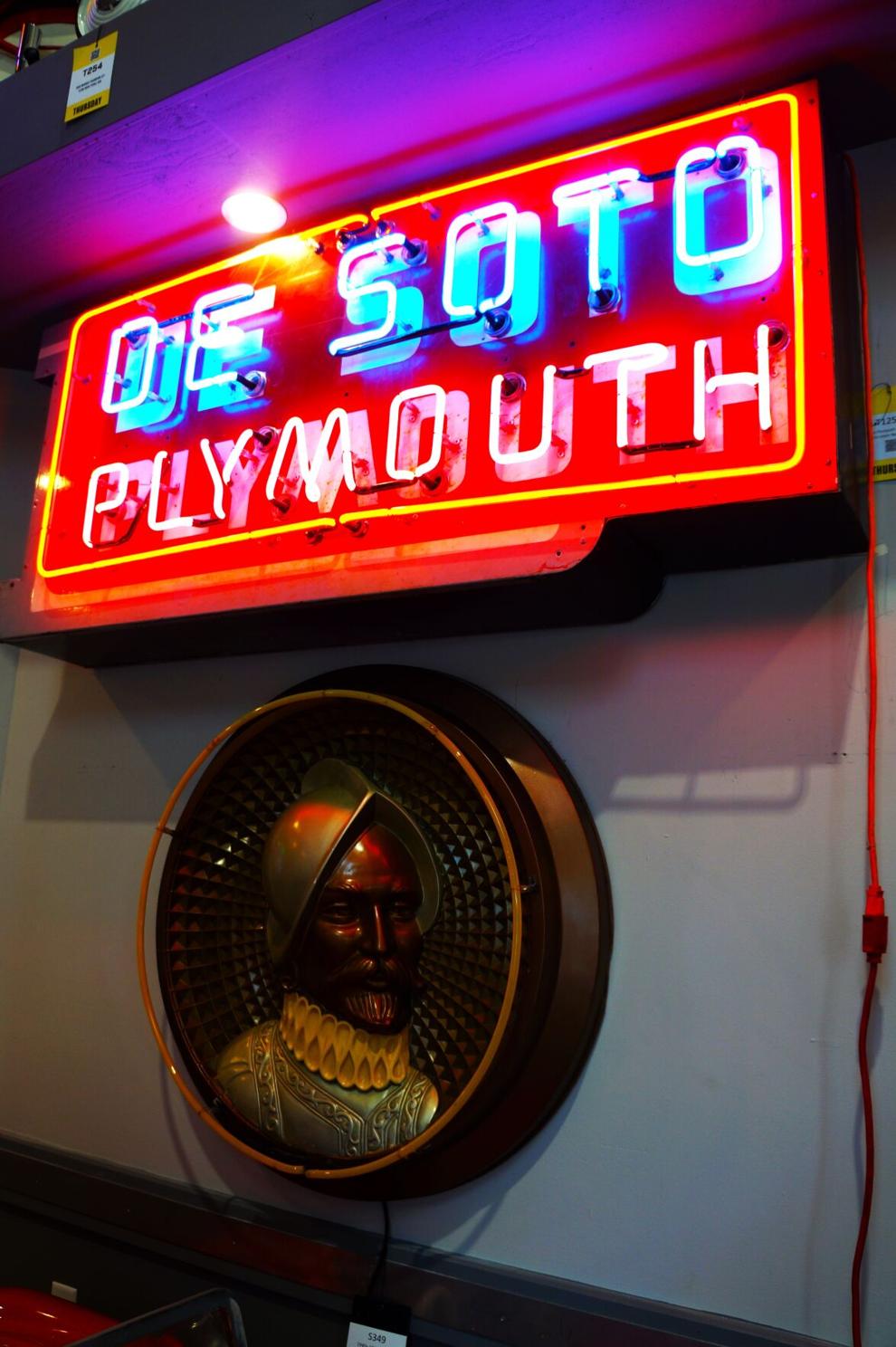 Mecum – DeSoto Plymouth neon 2.JPG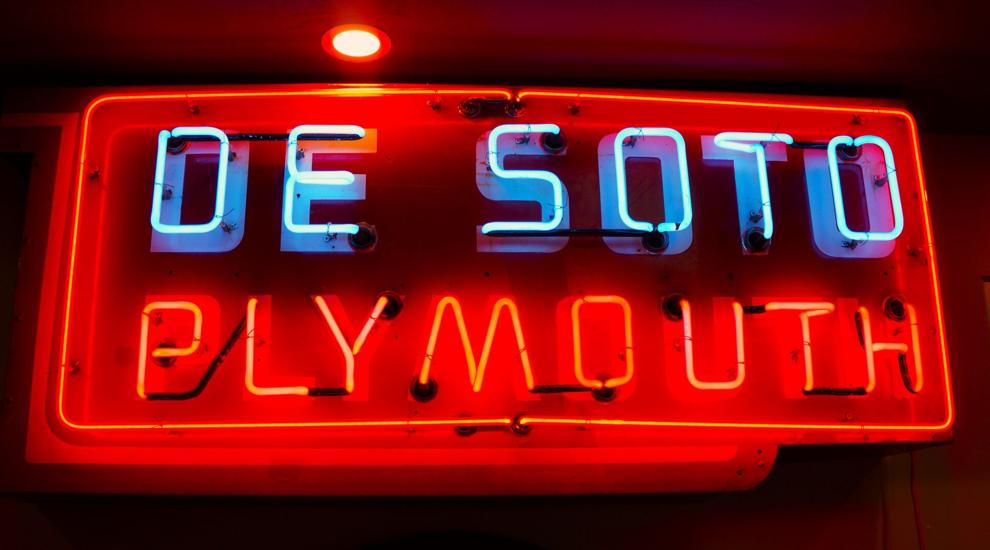 Mecum – Diamond DX and Green Star gas pump globes.JPG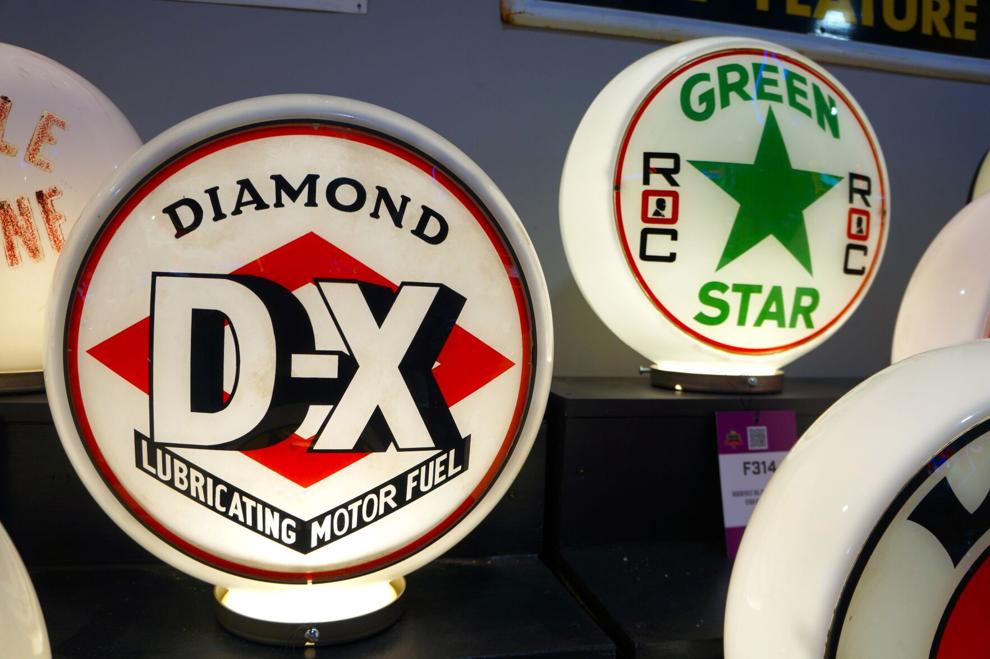 Mecum – Diamond DX gas pump globe.JPG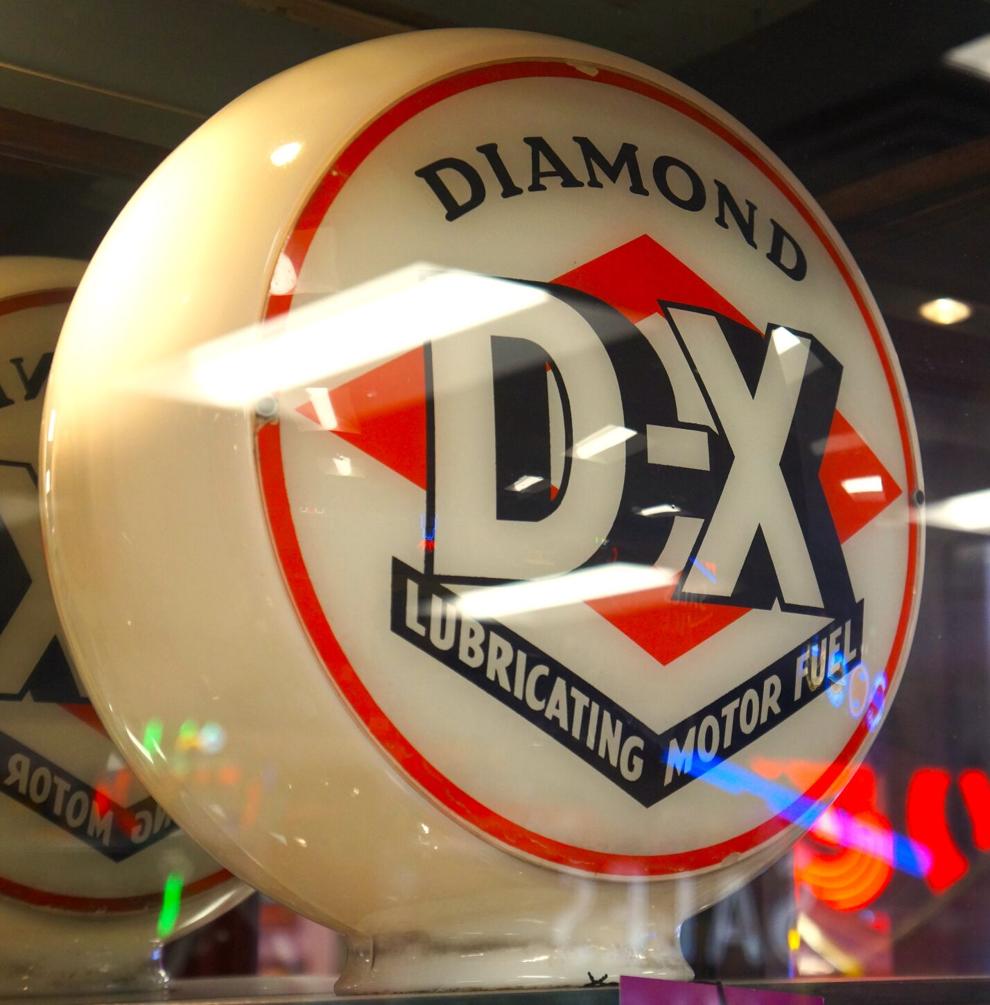 Mecum – Dodge First Choice Used Cars & Trucks.JPG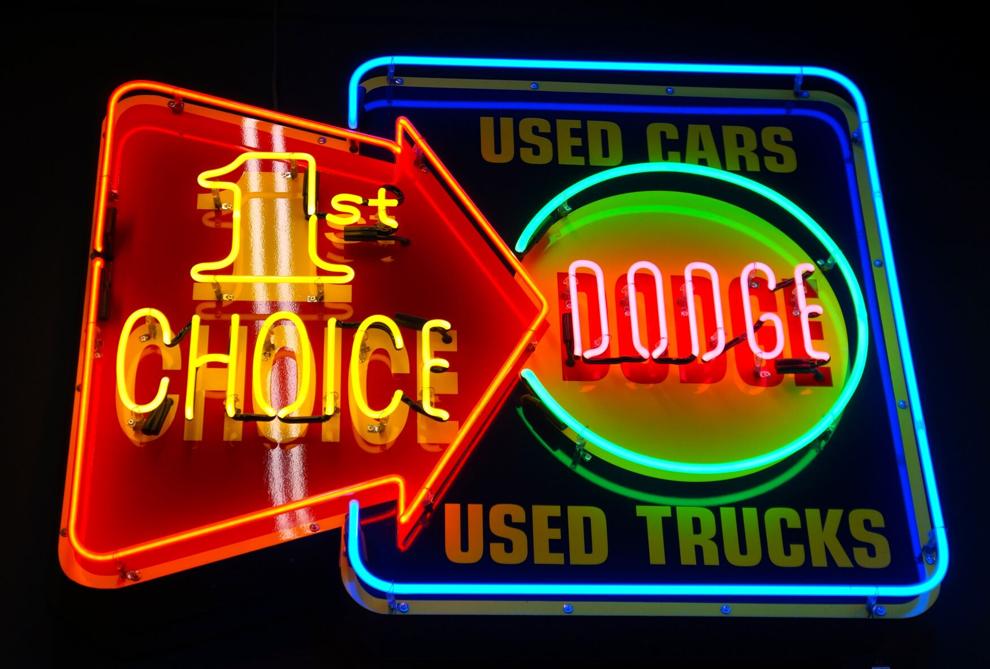 Mecum – Dodge neon porcelain steel sign with oil cans.JPG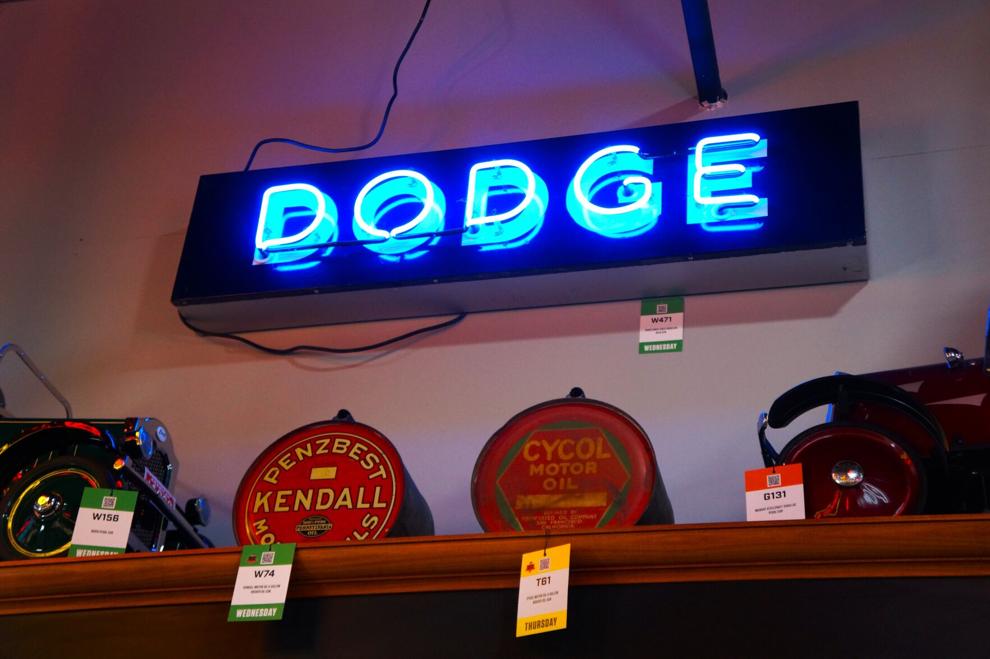 Mecum – Dodge neon.JPG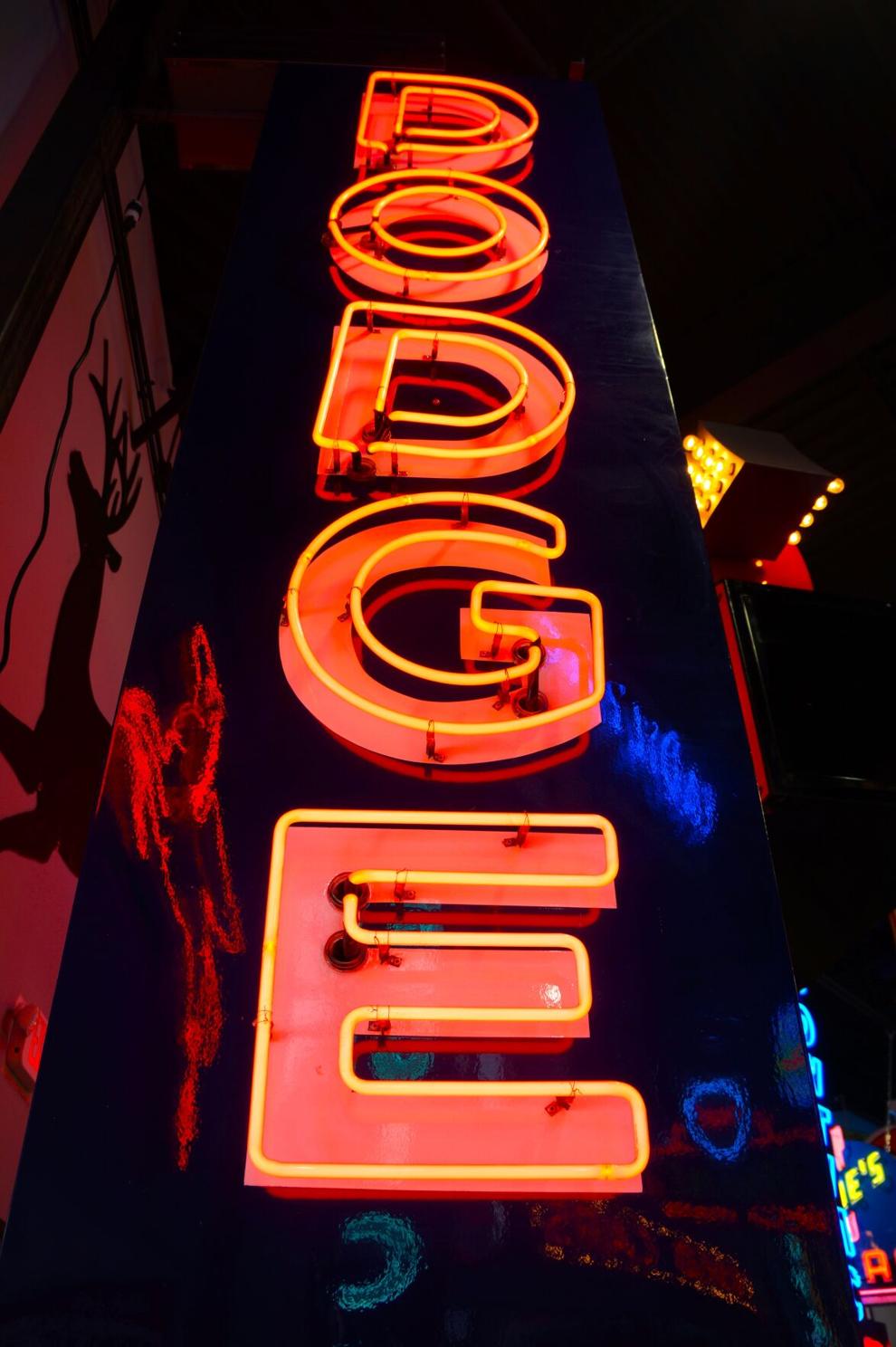 Mecum – Dodge Plymouth neon 2.JPG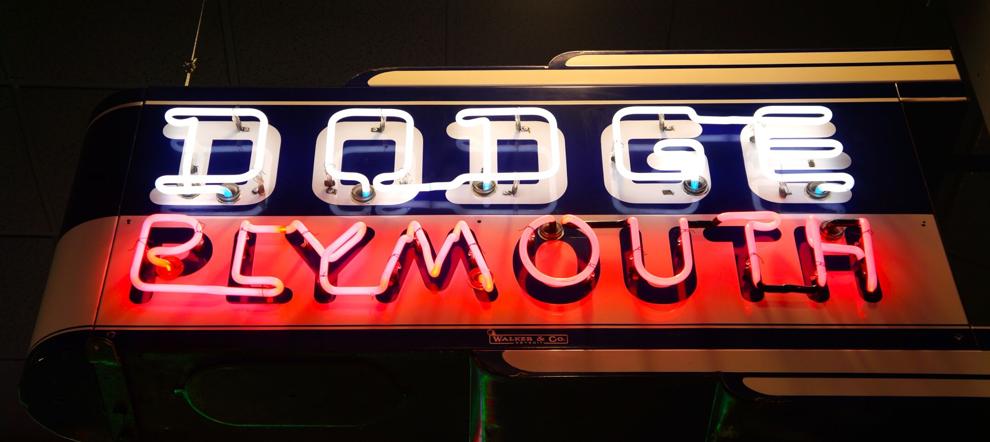 Mecum – Dodge Plymouth neon 3.JPG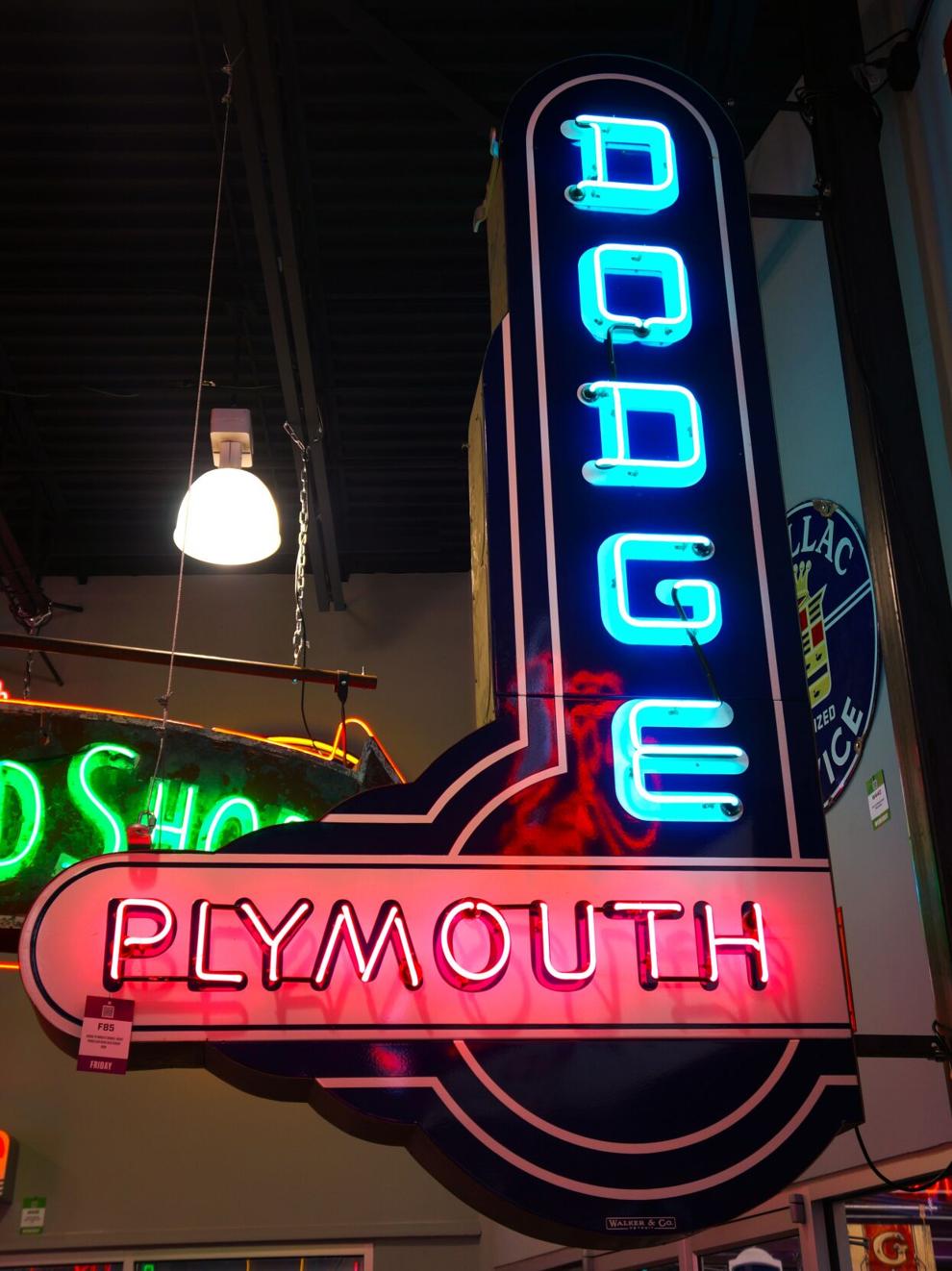 Mecum – Dodge Plymouth neon.JPG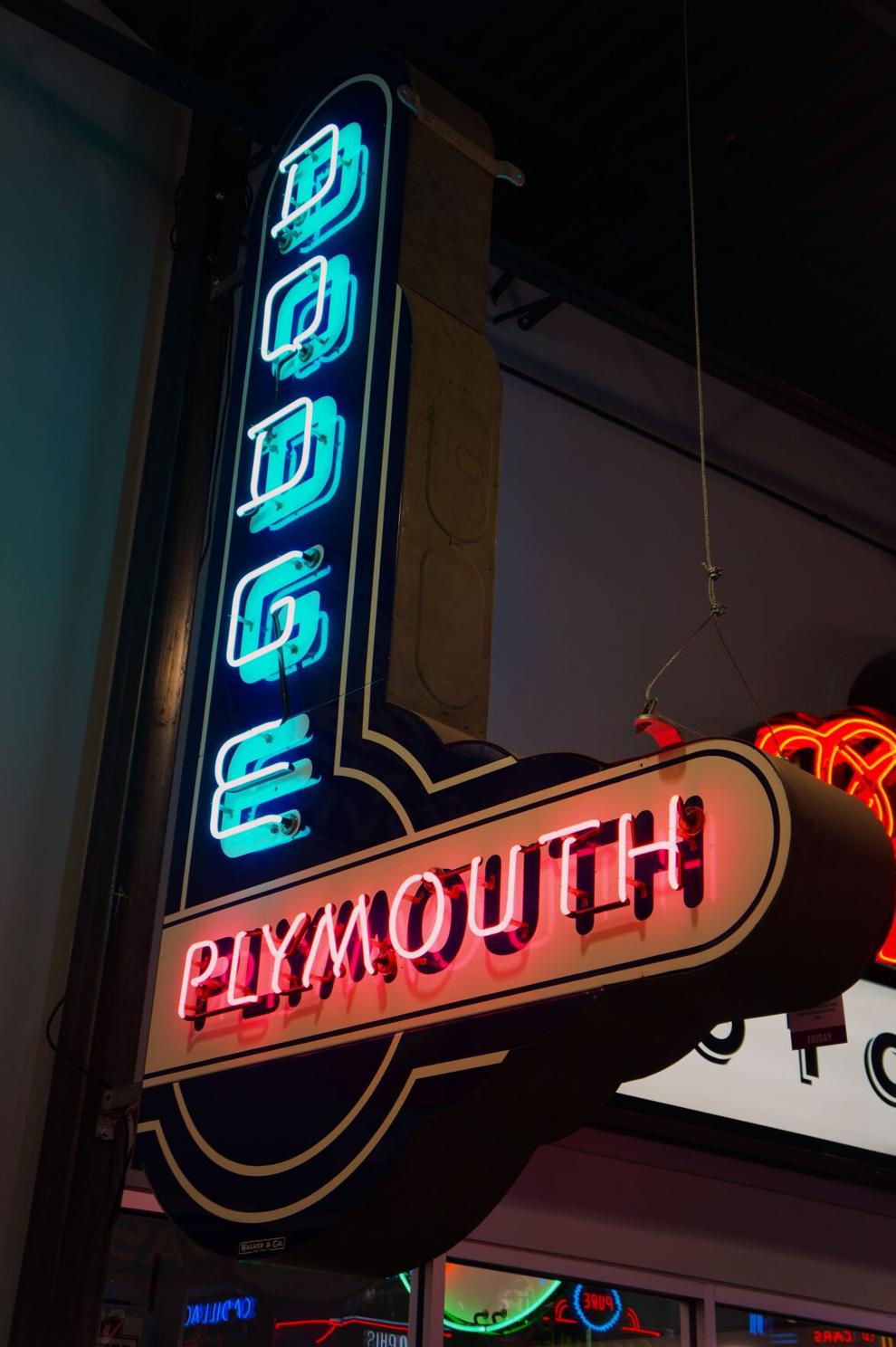 Mecum – Dodge-Plymouth Dependable Service neon porcelain steel sign.JPG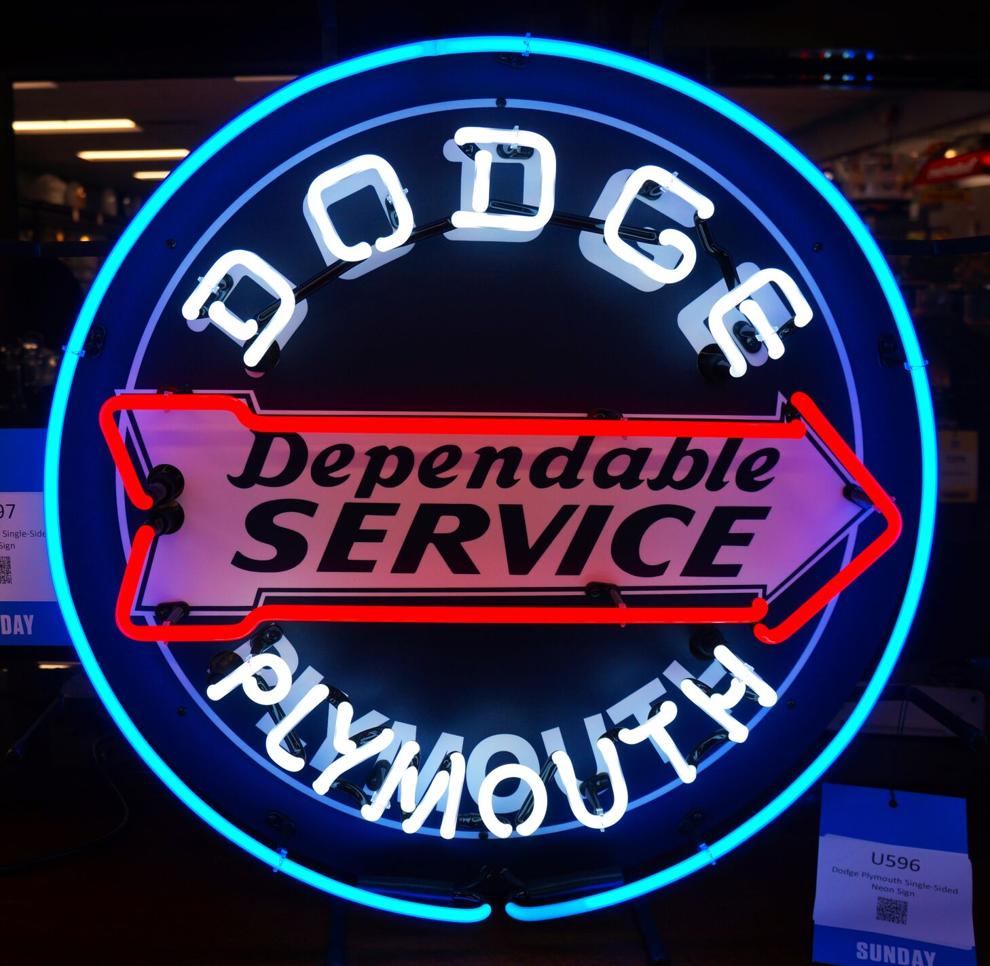 Mecum – Dog 'n Suds neon.JPG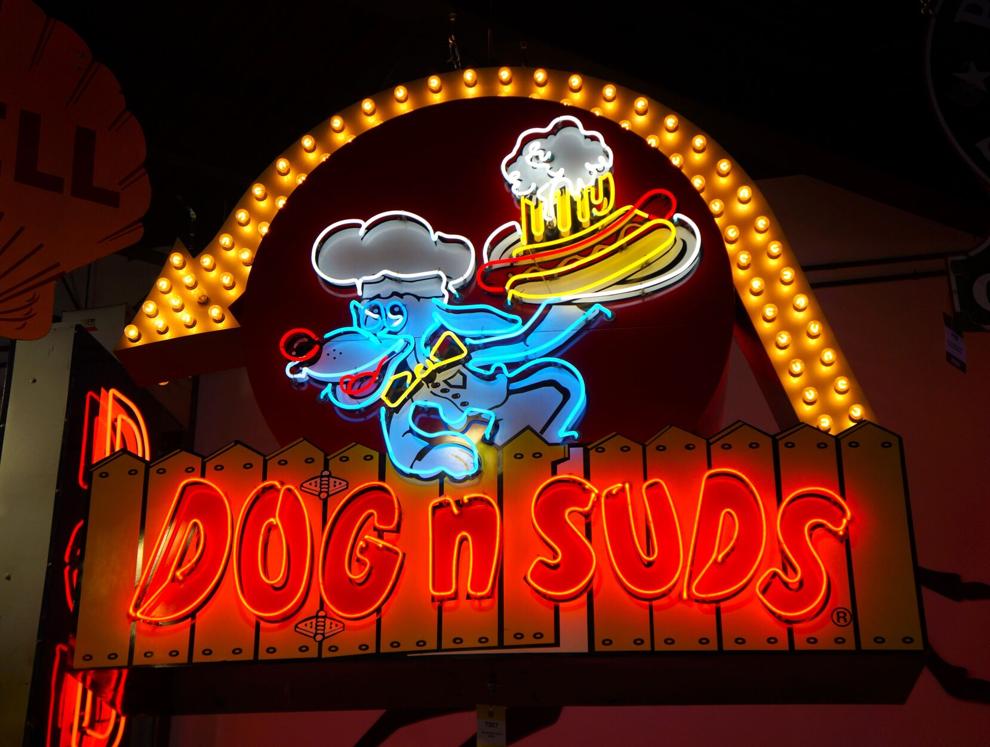 Mecum – Dog 'n Suds porcelain neon sign.JPG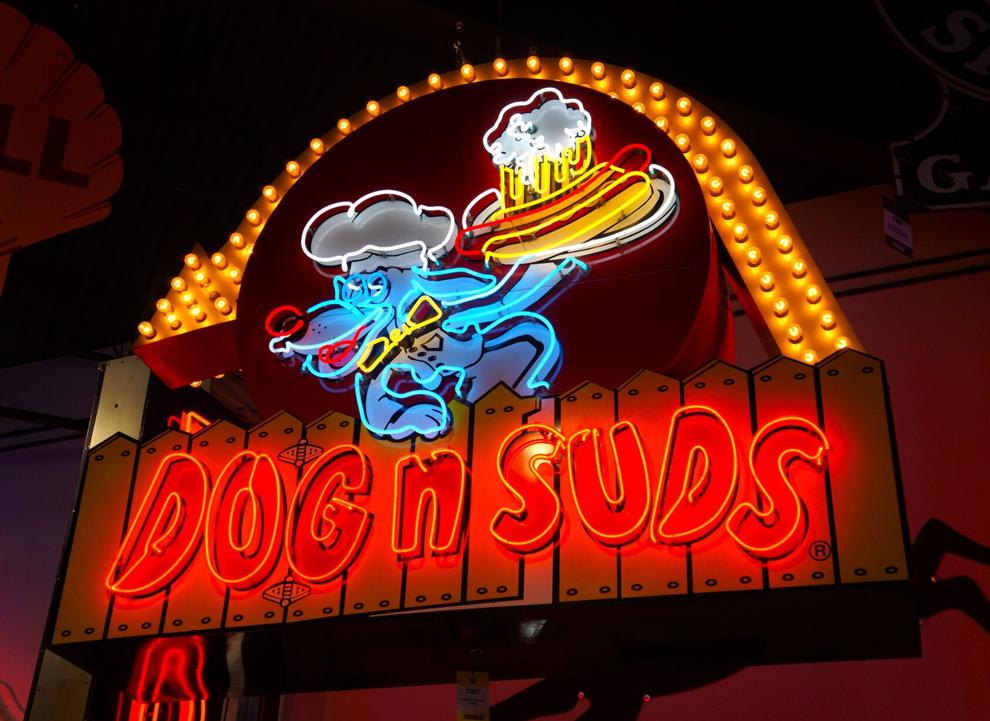 Mecum – Donald Duck neon.JPG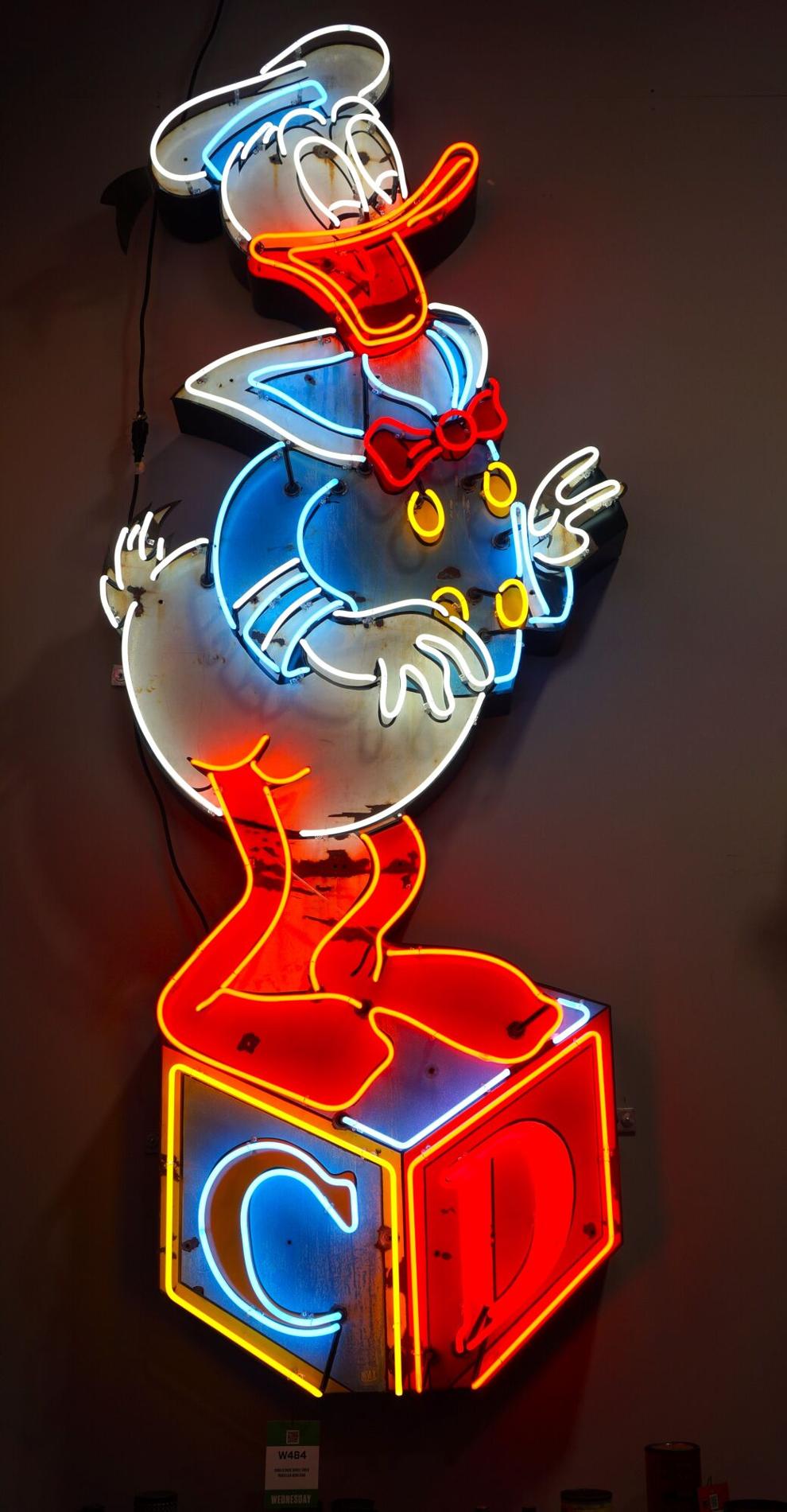 Mecum – Dough Boy porcelain neon sign.JPG
Mecum – Drink Friendly Grain Belt Beer neon porcelain sign.JPG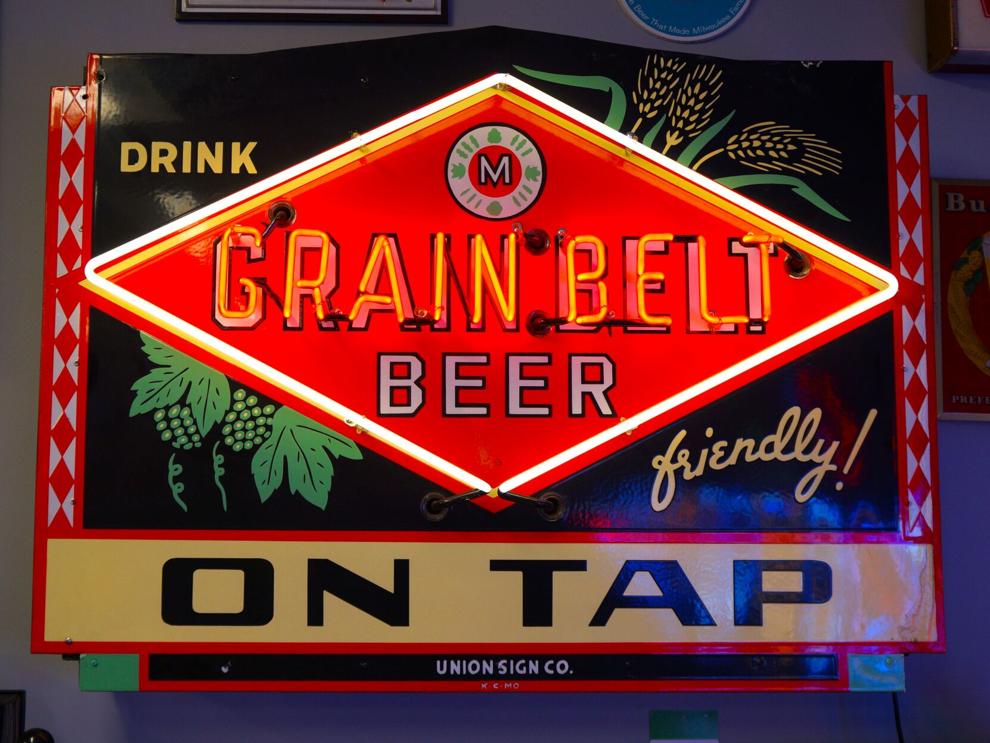 Mecum – Drive In neon.JPG
Mecum – Drive In Restaurant neon.JPG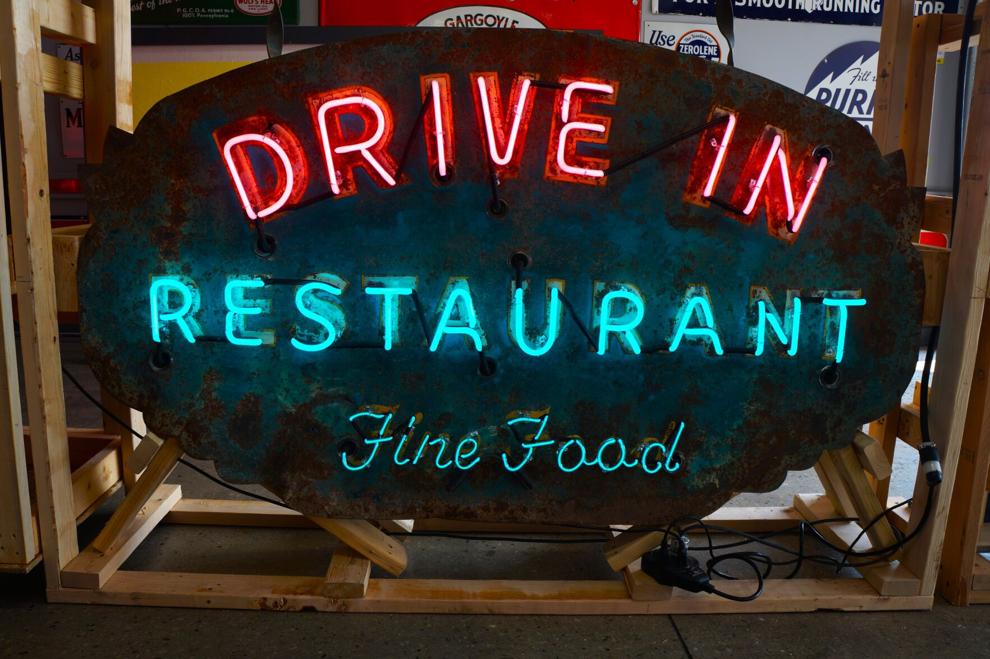 Mecum – DX Boron gas pump globe.JPG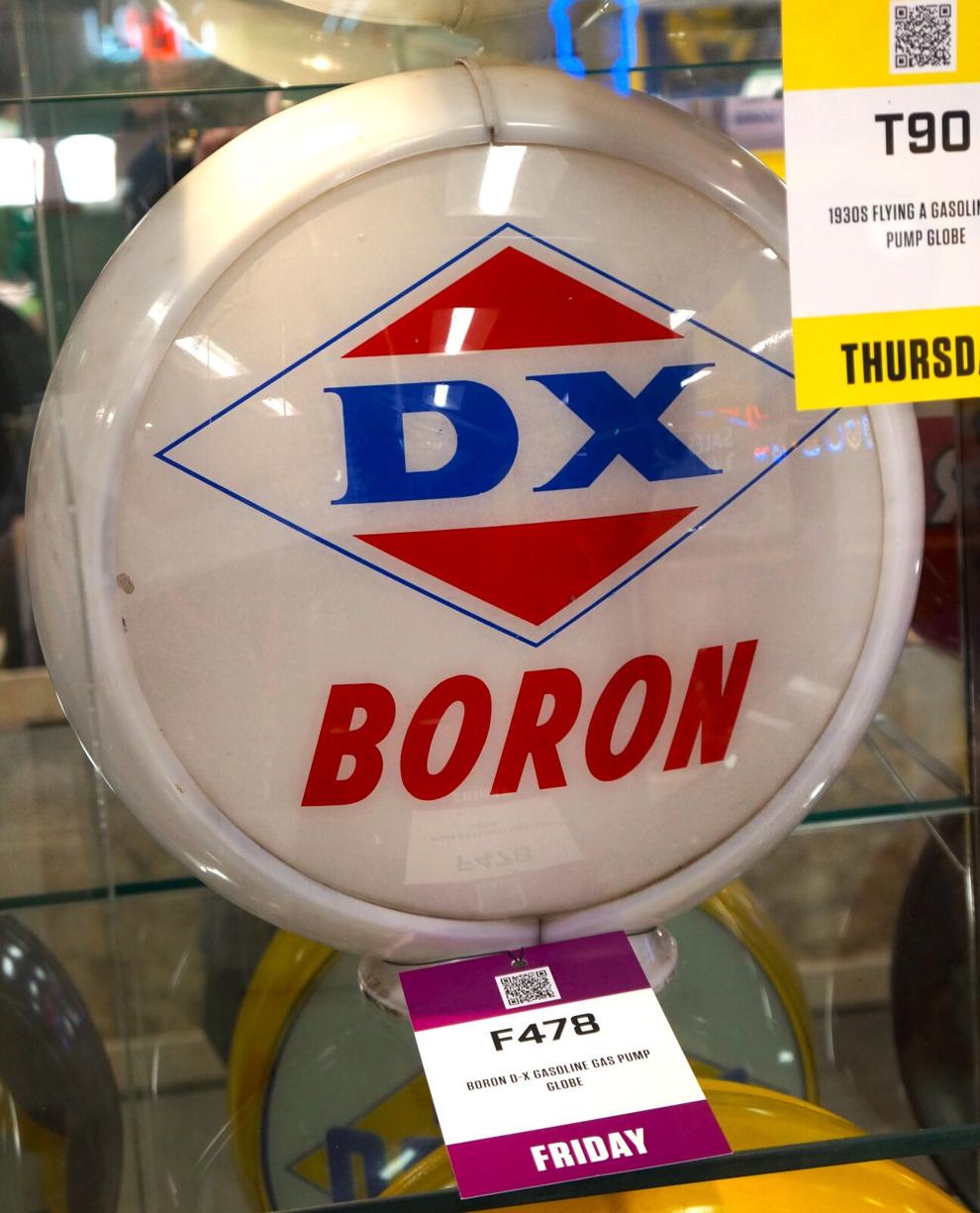 Mecum – DX Ethyl gas pump awaiting restoration.JPG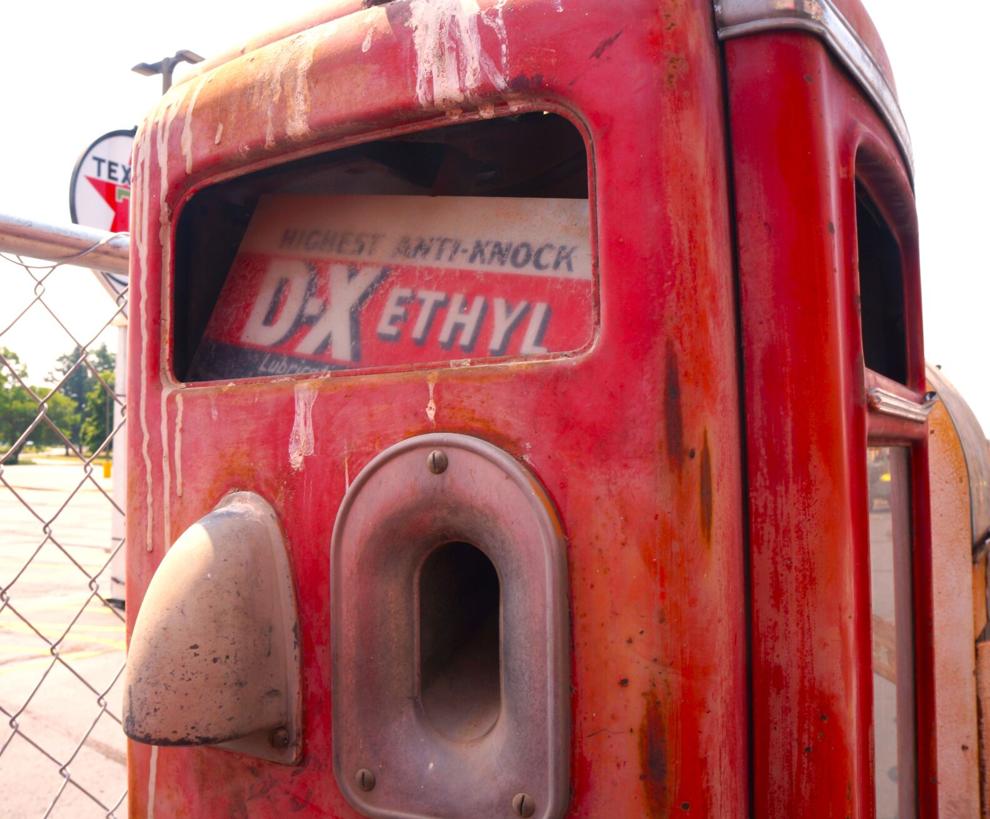 Mecum – DX Gas porcelain steel sign.JPG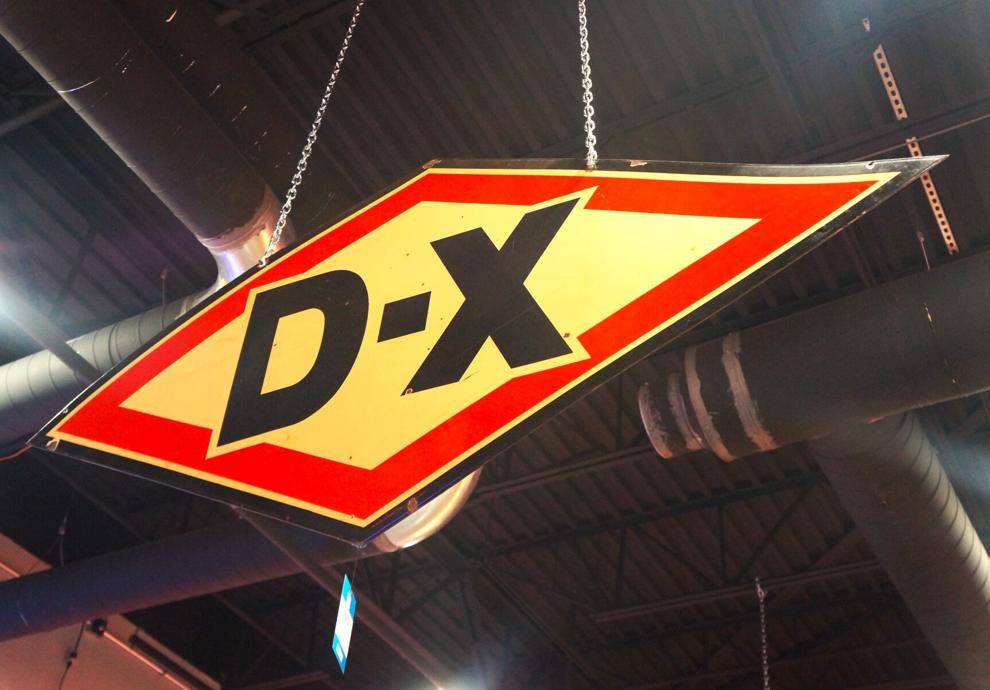 Mecum – Fire chief pedal car.JPG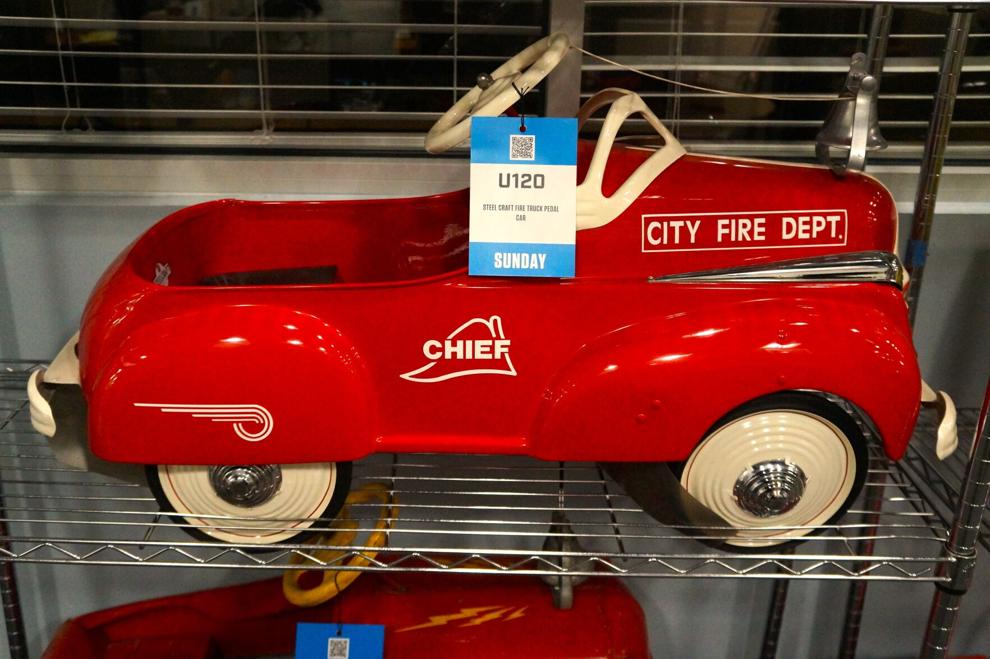 Mecum – Firestone Tires neon porcelain steel sign.JPG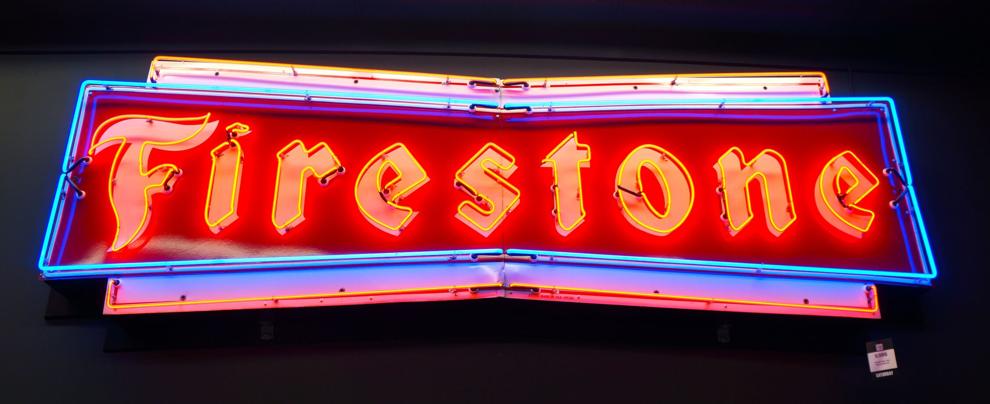 Mecum – Flying A neon porcelain sign.JPG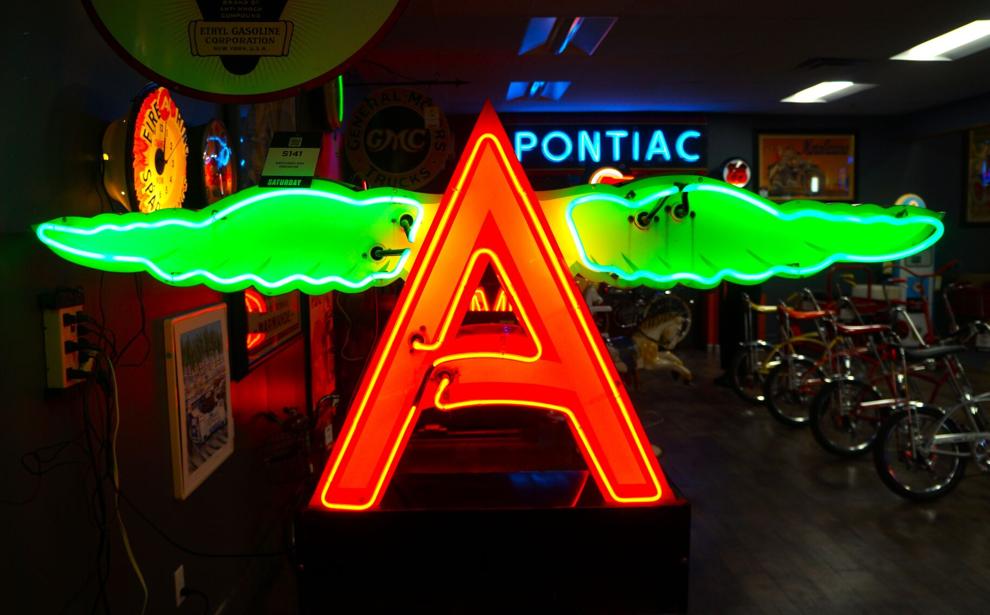 Mecum – Ford V8 Geniune Parts porcelain neon.JPG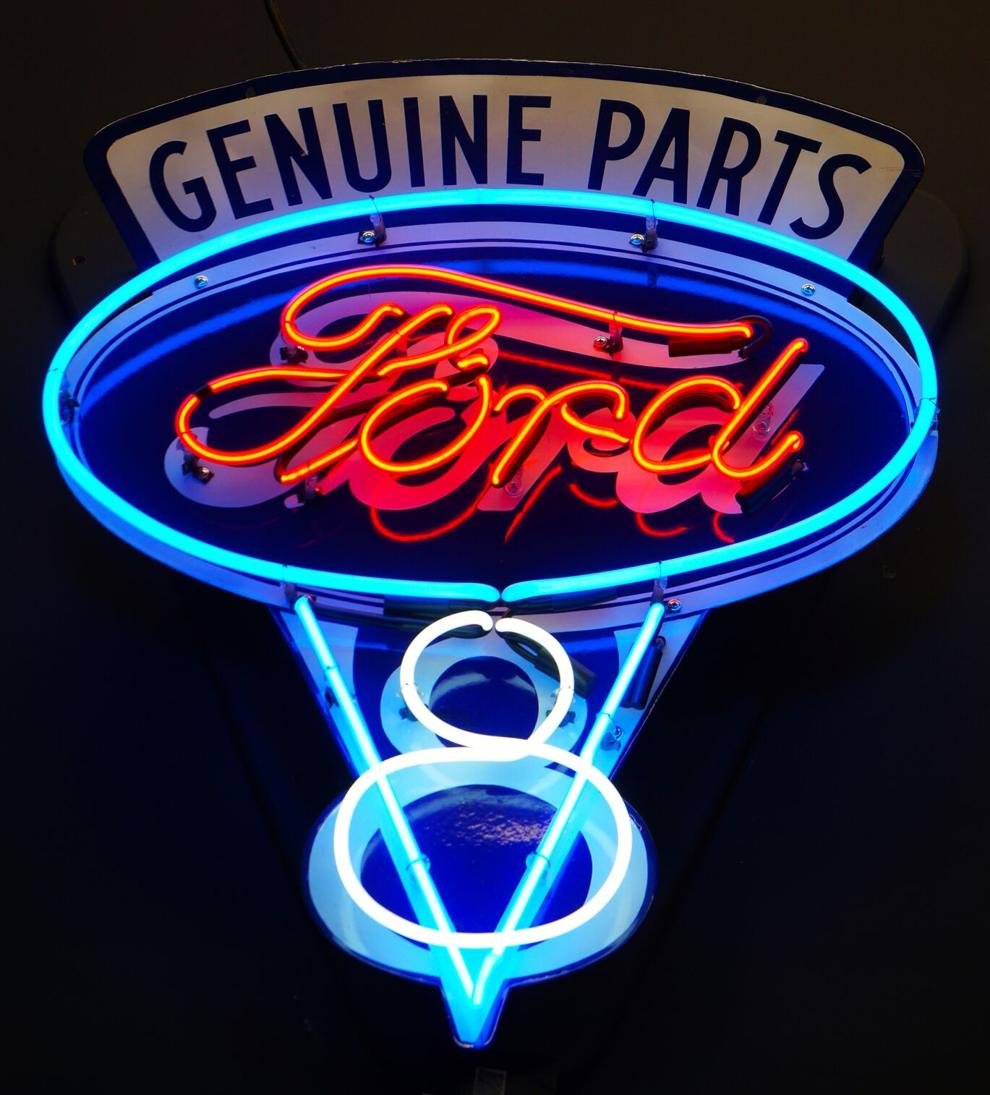 Mecum – Gas pump globes 1.JPG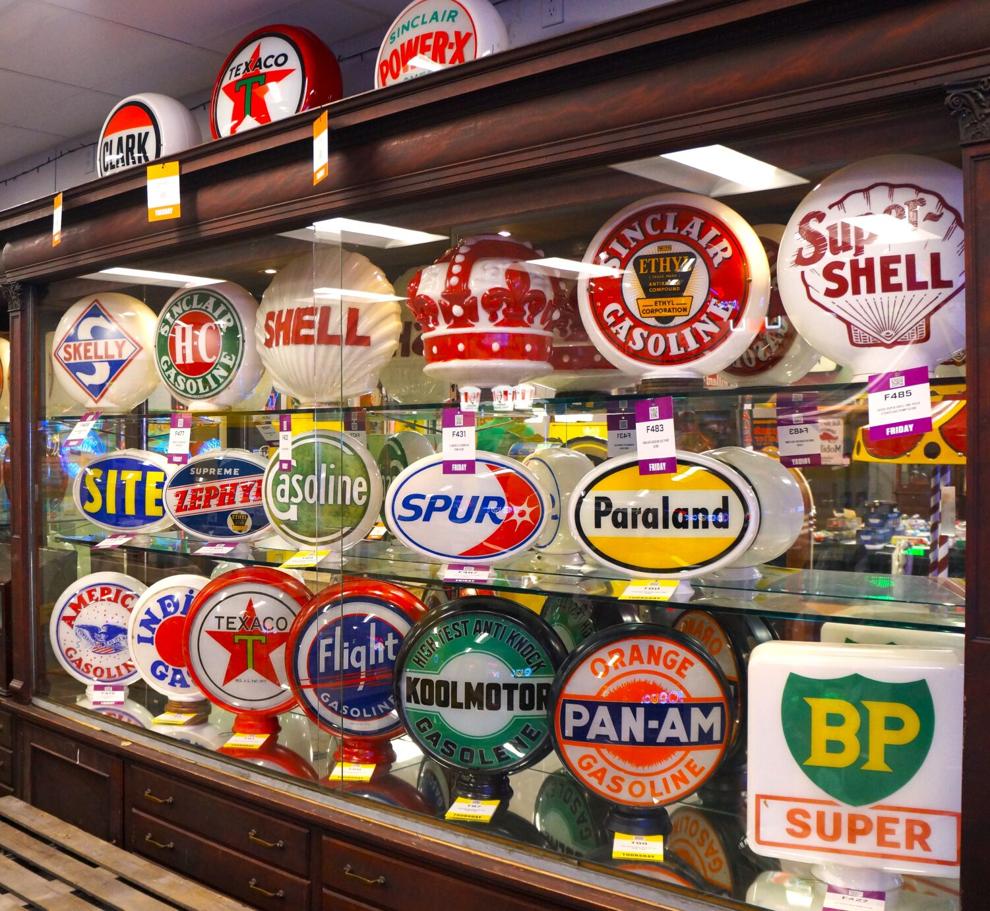 Mecum – Gas pump globes 2.JPG
Mecum – Gas pump globes 3.JPG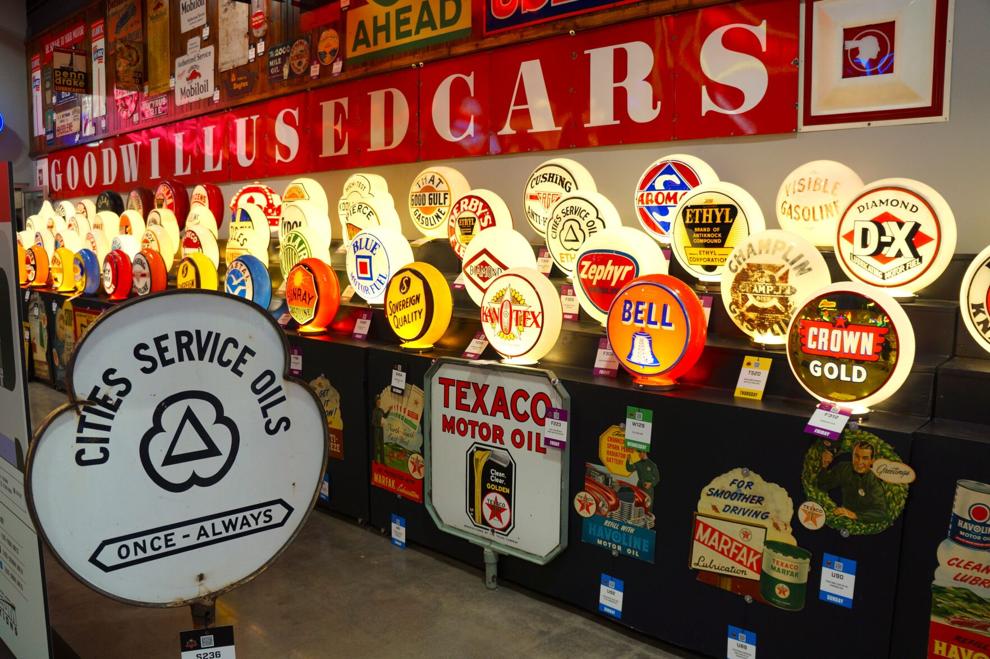 Mecum – Gas pump globes 4.JPG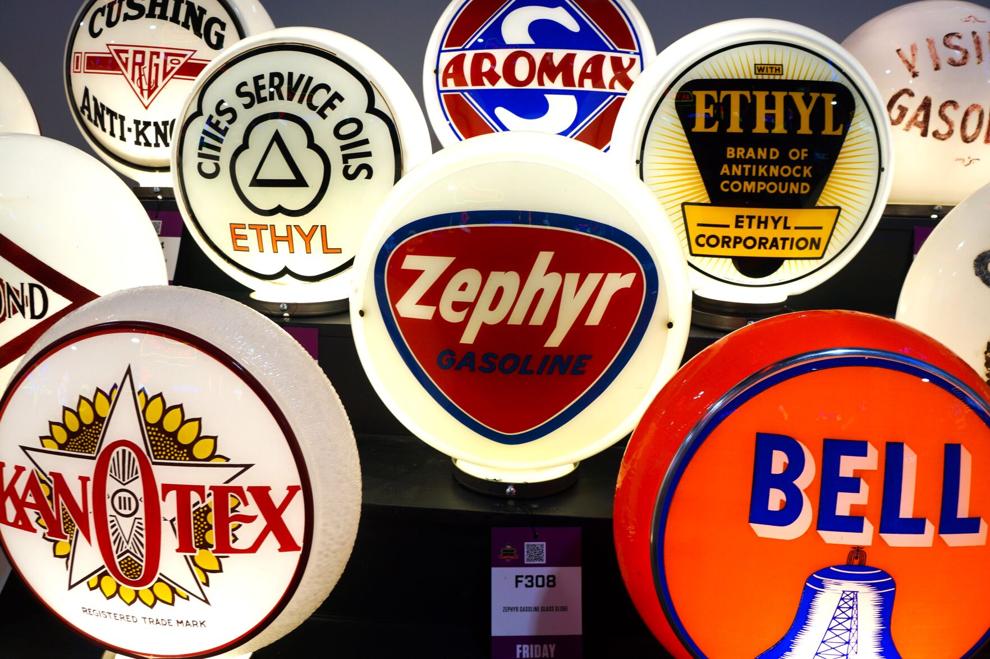 Mecum – Gas pump globes 5.JPG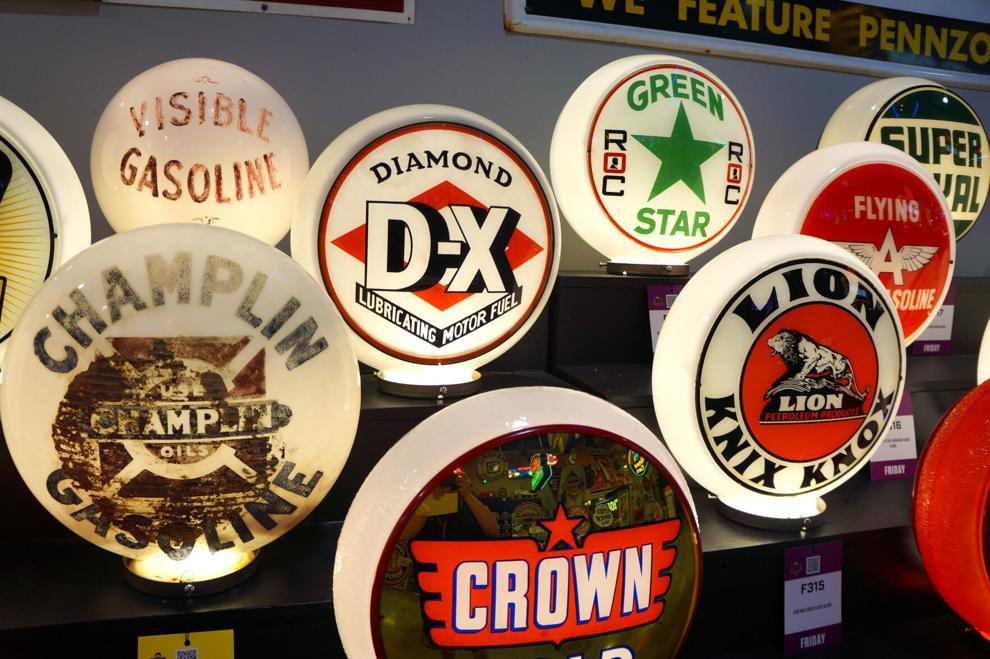 Mecum – Gas pump globes 6.JPG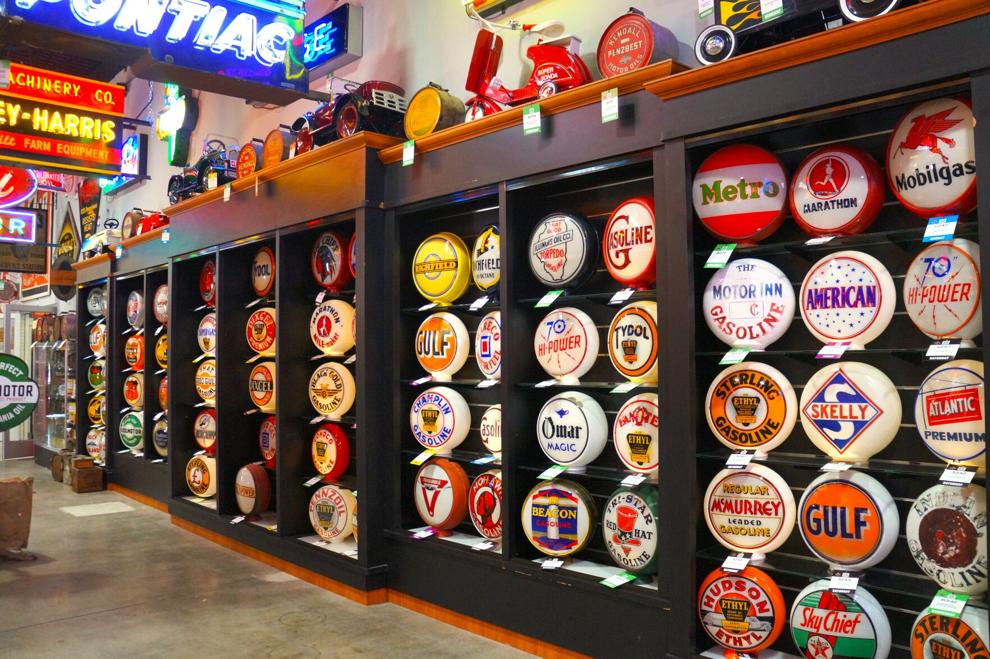 Mecum – Gas pump globes 7.JPG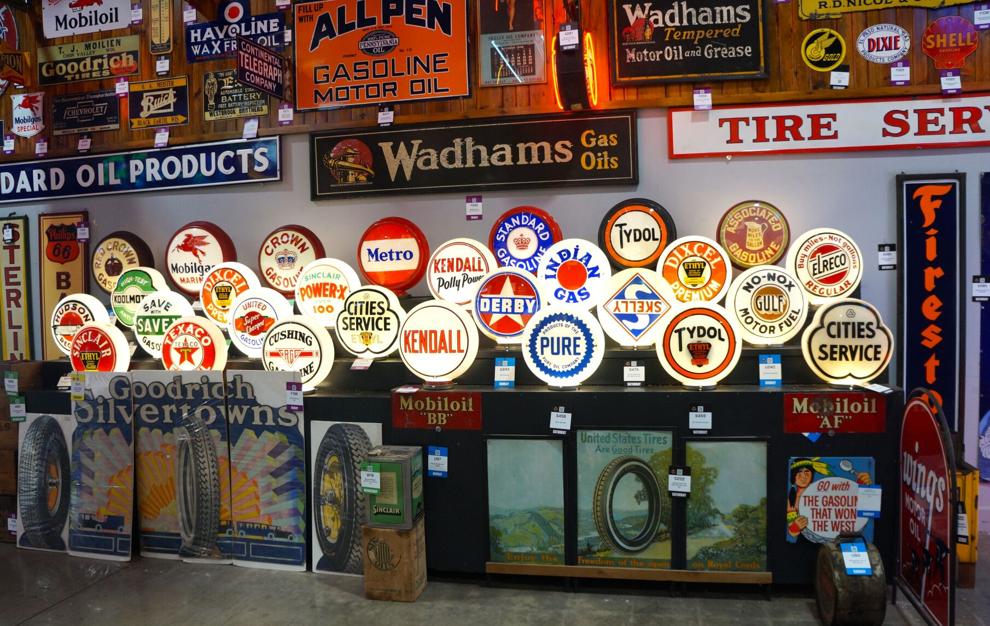 Mecum – Gas pump globes 8.JPG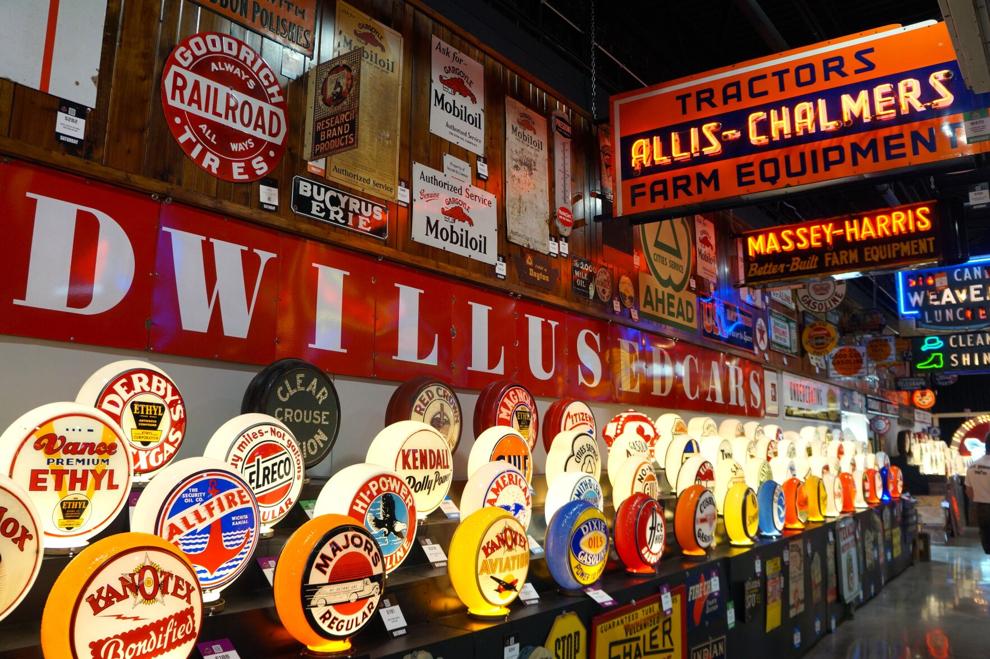 Mecum – Gas pump globes 9.JPG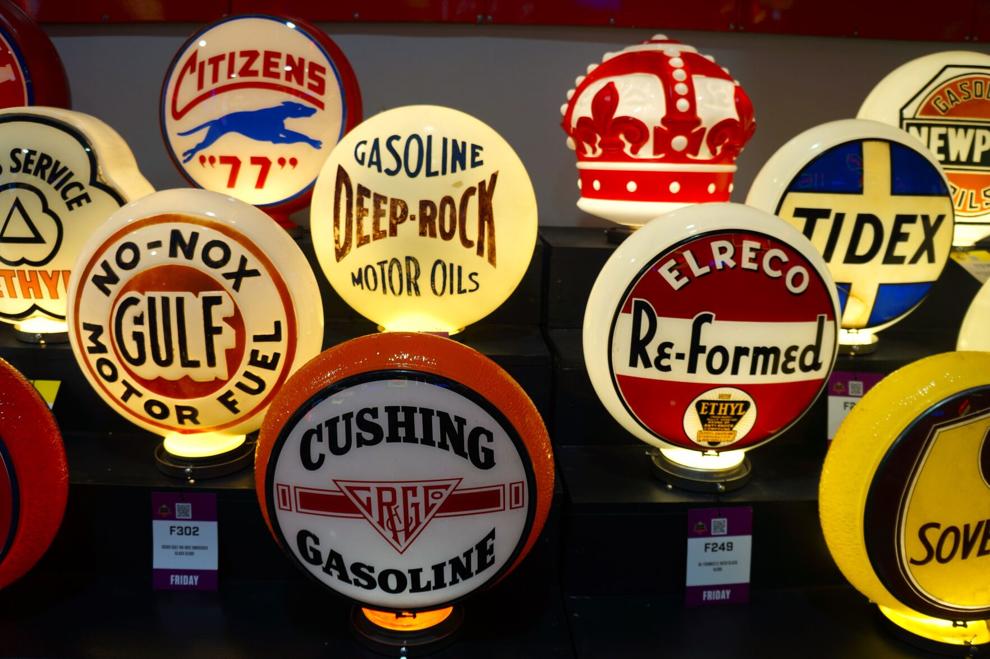 Mecum – Gas pump globes 10.JPG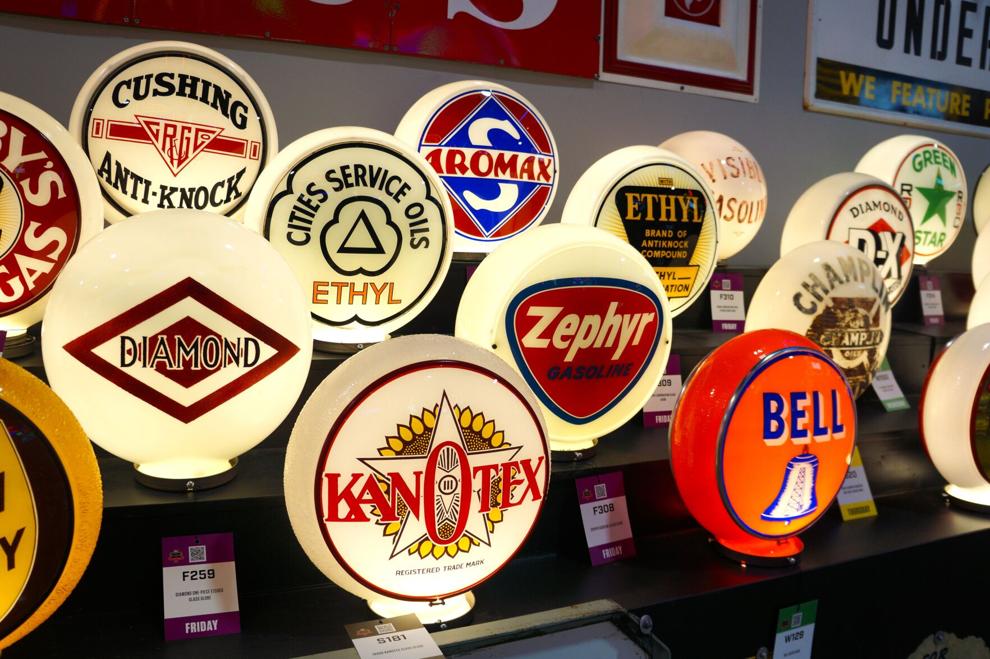 Mecum – Gas pump globes 11.JPG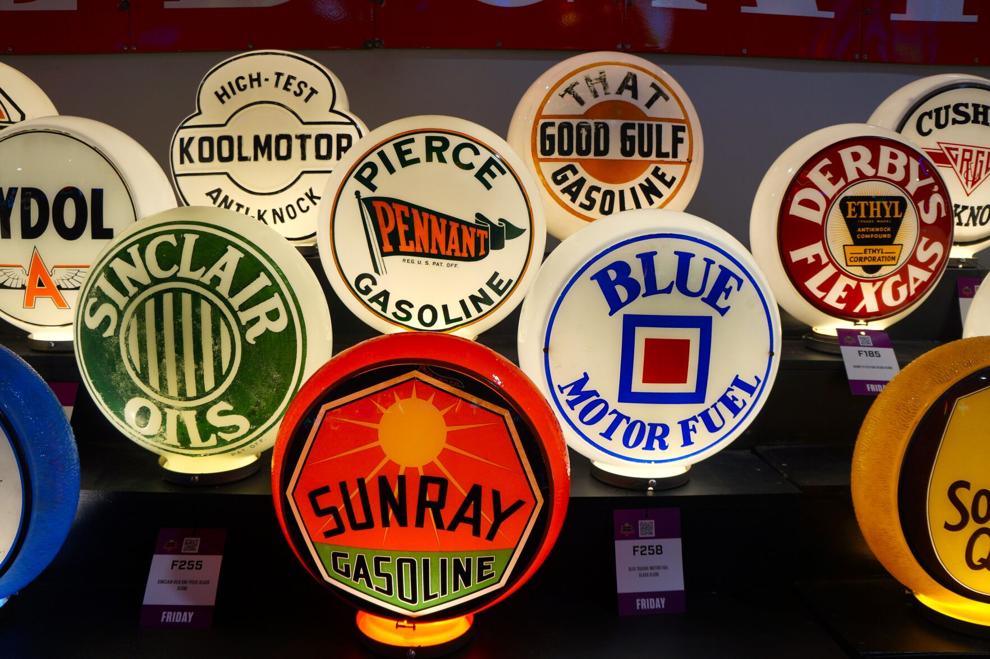 Mecum – Gas pump globes 12.JPG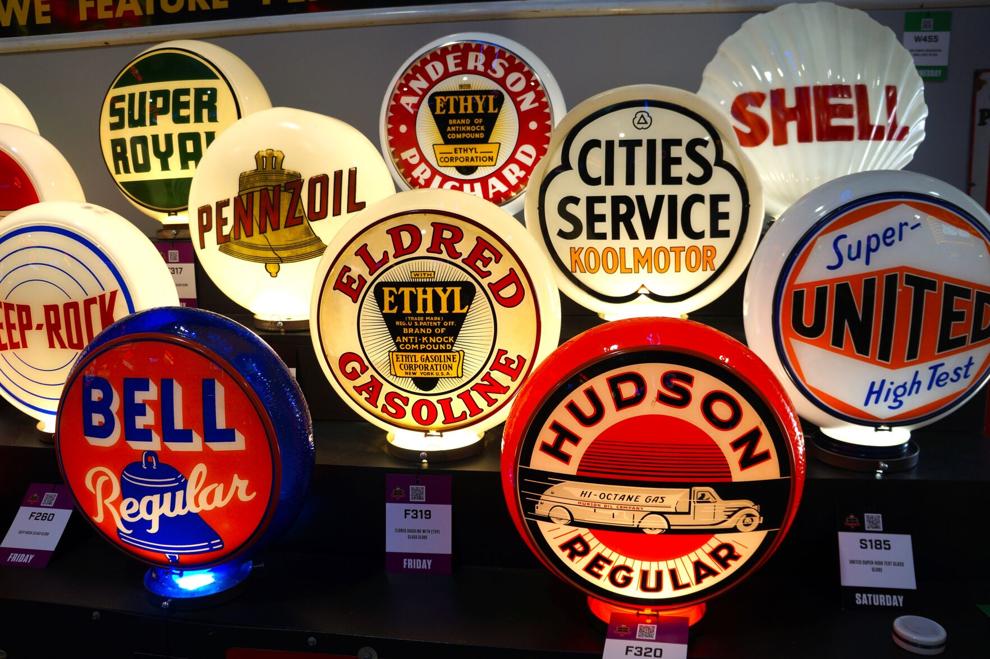 Mecum – Gas pump globes 13.JPG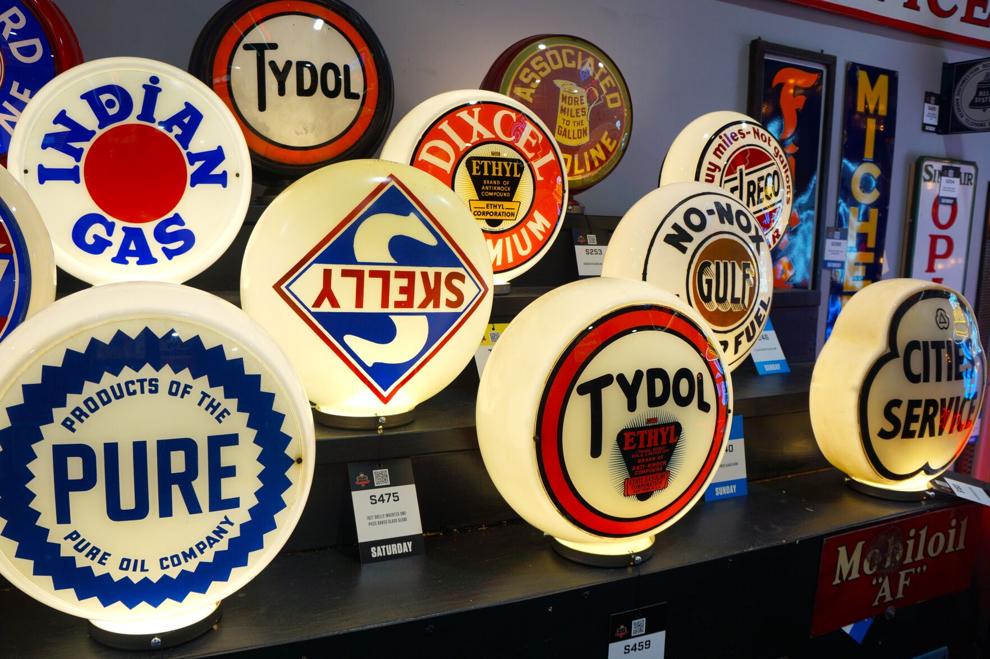 Mecum – Gas pump globes 14.JPG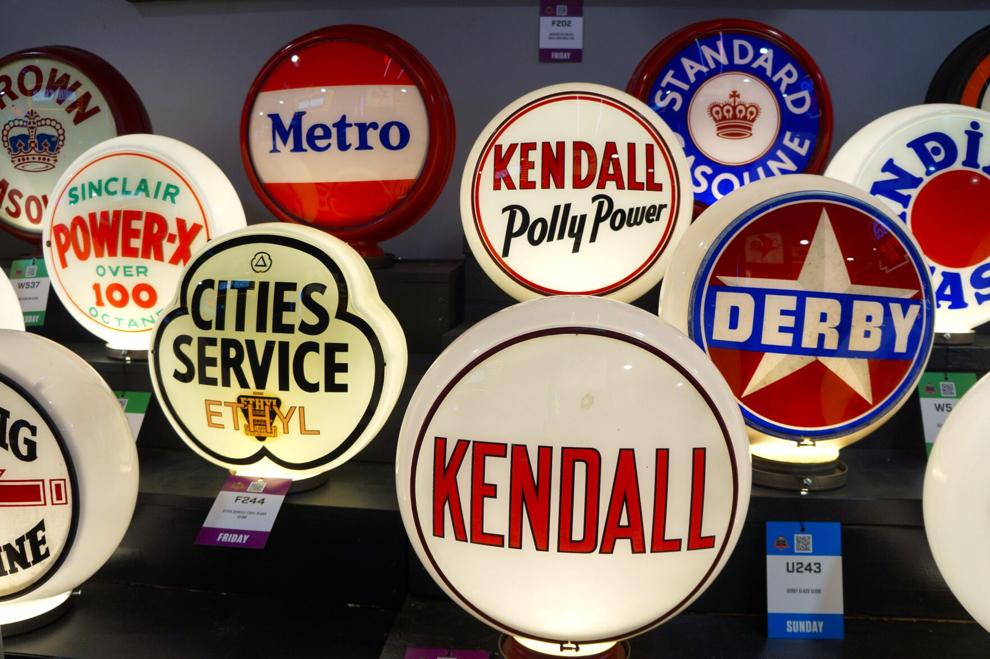 Mecum – Gas pump globes 15.JPG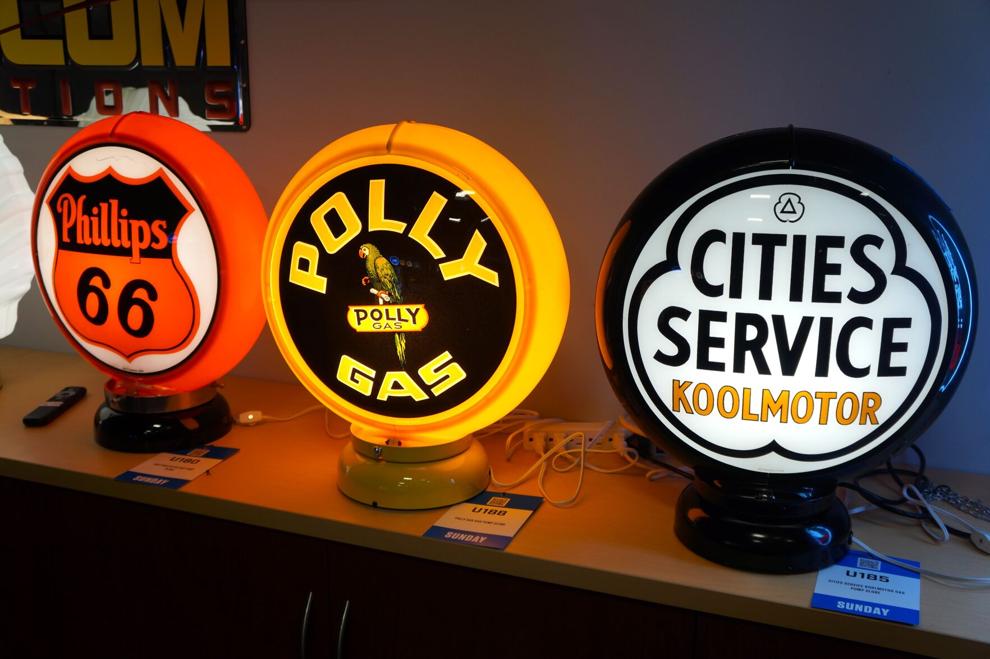 Mecum – Gas pump globes 16.JPG
Mecum – Gas pump globes 17.JPG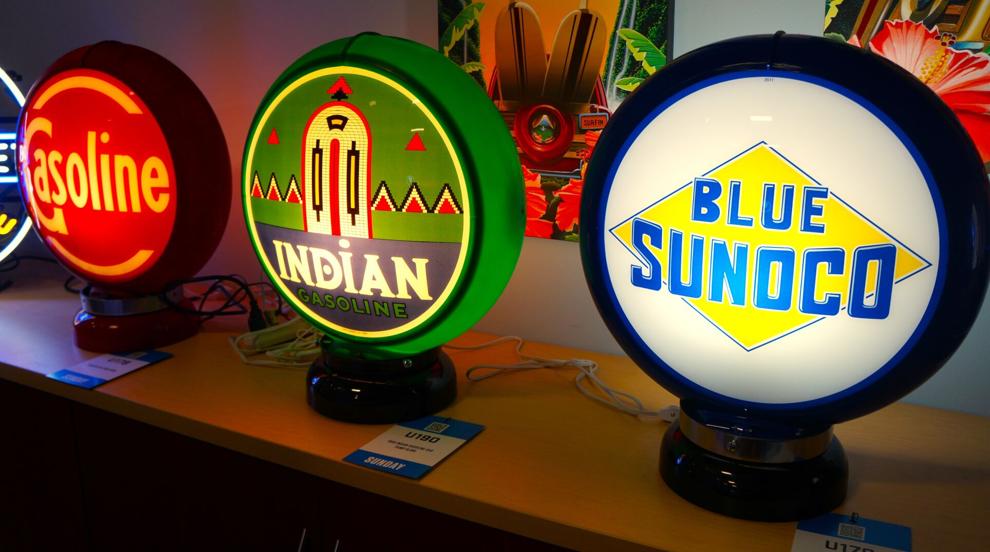 Mecum – Gas pump globes 18.JPG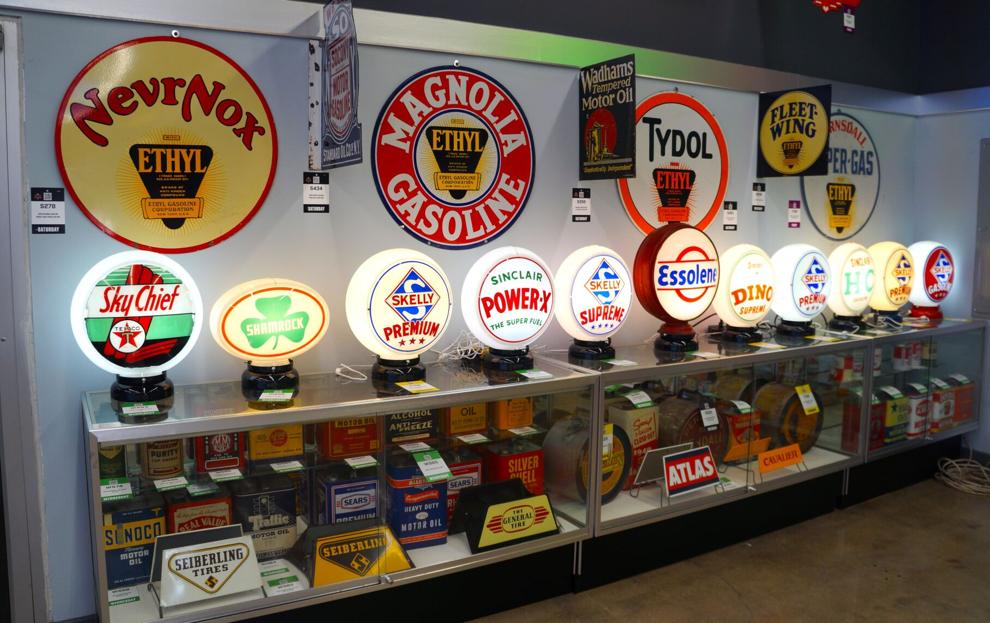 Mecum – Gas pump globes 19.JPG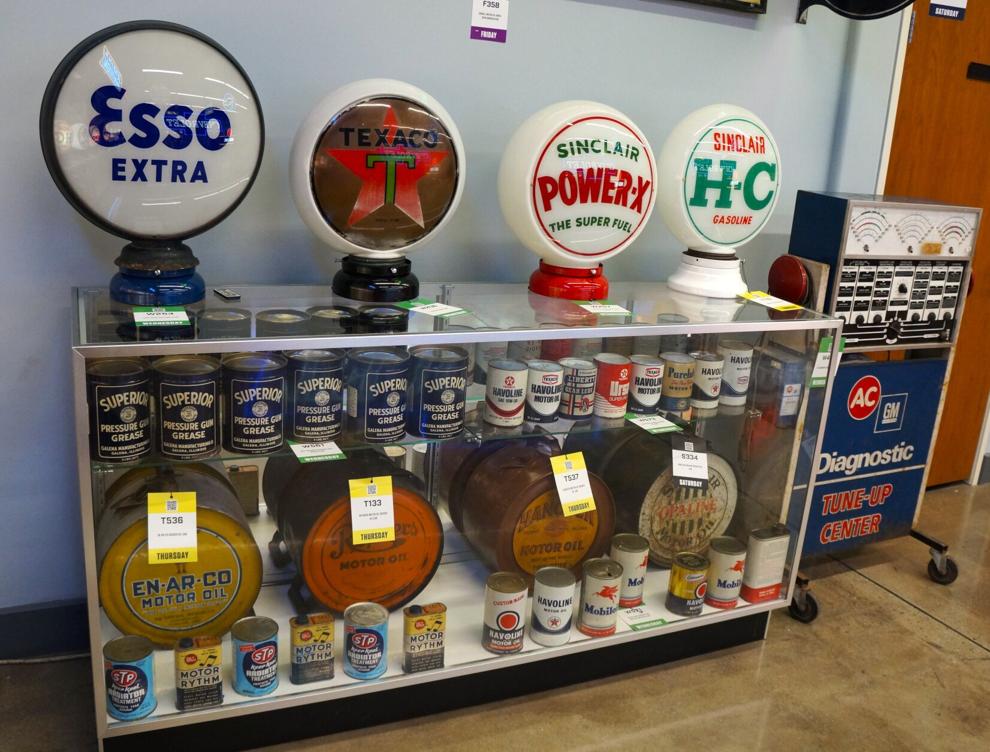 Mecum – GE Appliances neon porcelain steel sign.JPG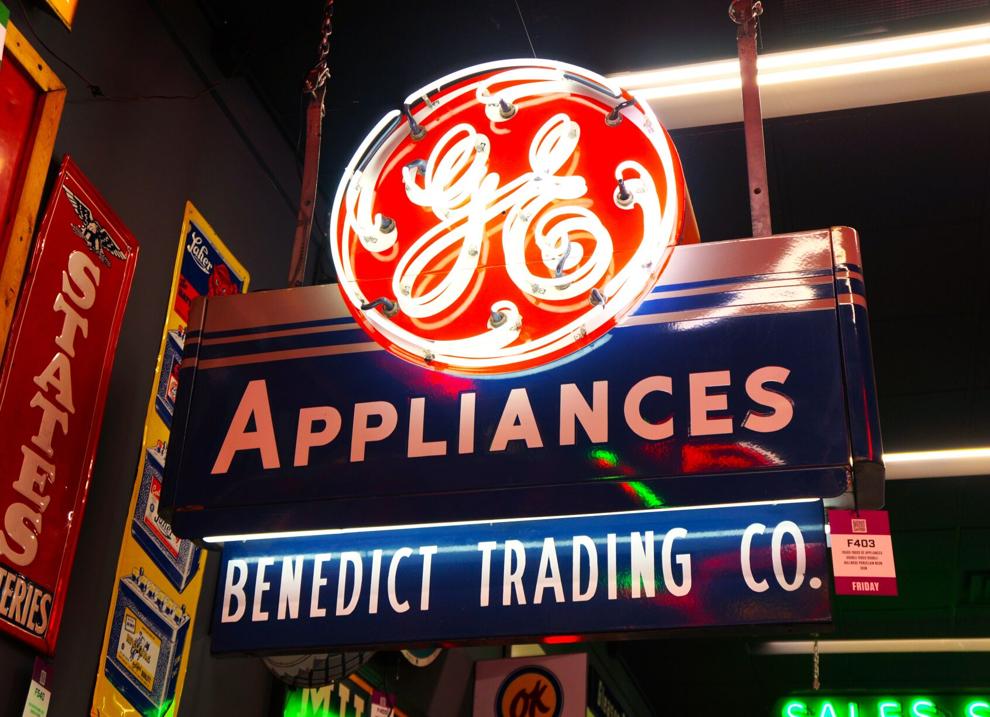 Mecum – Genuine Chevrolet Parts neon sign.JPG
Mecum – Gibbons Beer neon porcelain steel arrow sign.JPG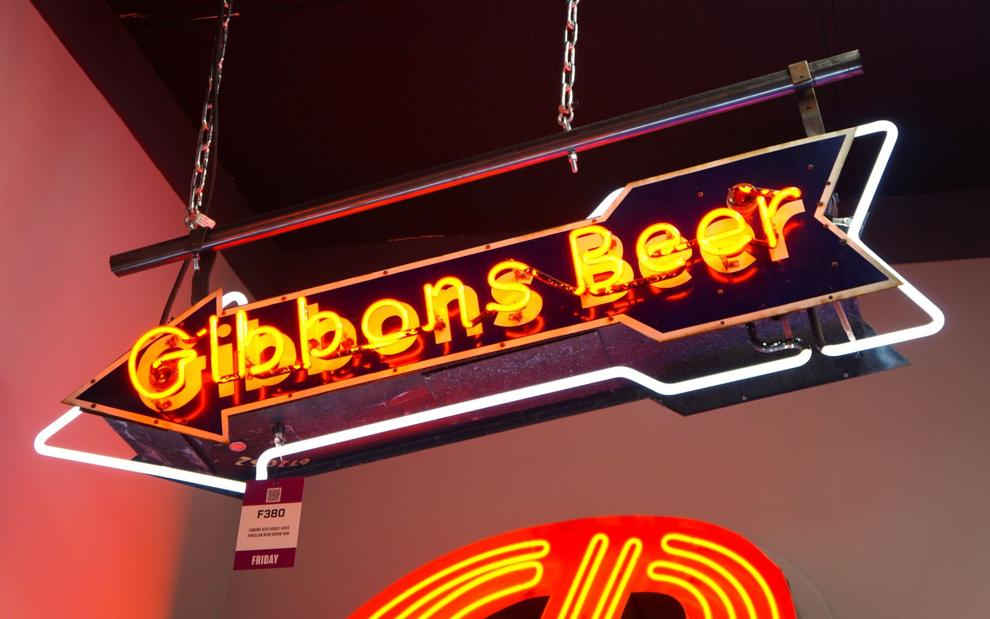 Mecum – GM Parts neon porcelain enamel sign.JPG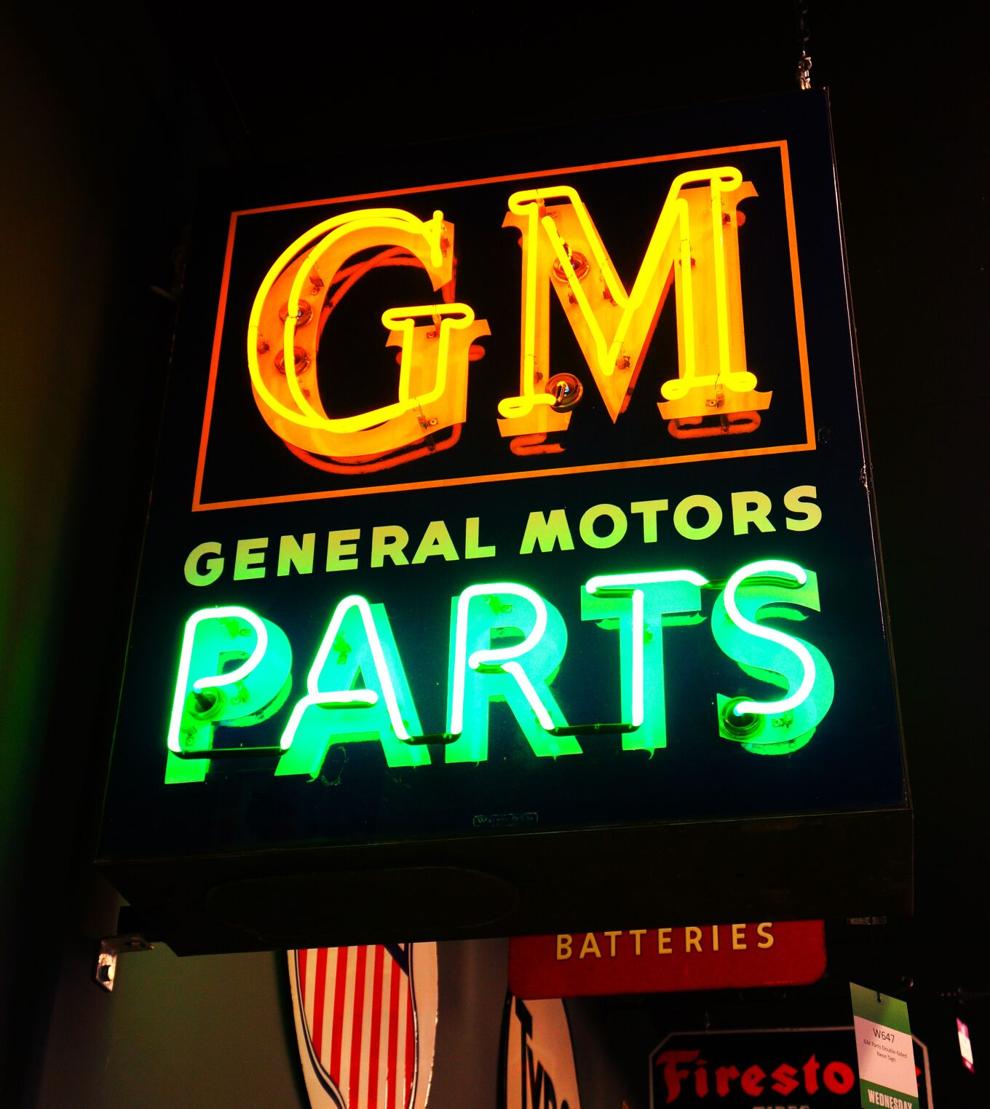 Mecum – Goodyear Tires neon porcelain steel sign.JPG

Mecum – Hallway view of auction lot items.JPG
Mecum – Horsepower neon sign.JPG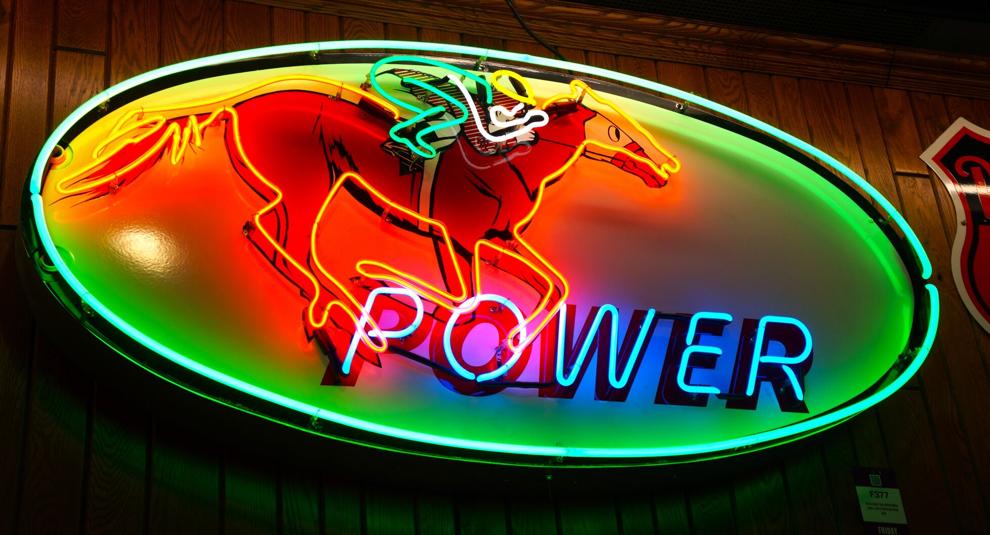 Mecum – Hunter Wheel Balancing neon porcelain steel sign.JPG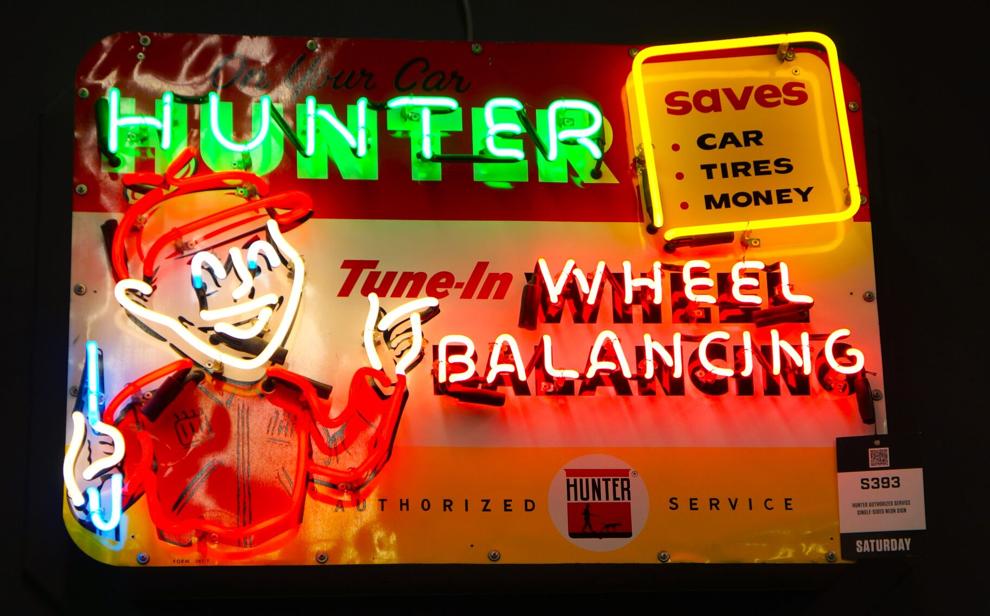 Mecum – Indian Motorcycles sign.JPG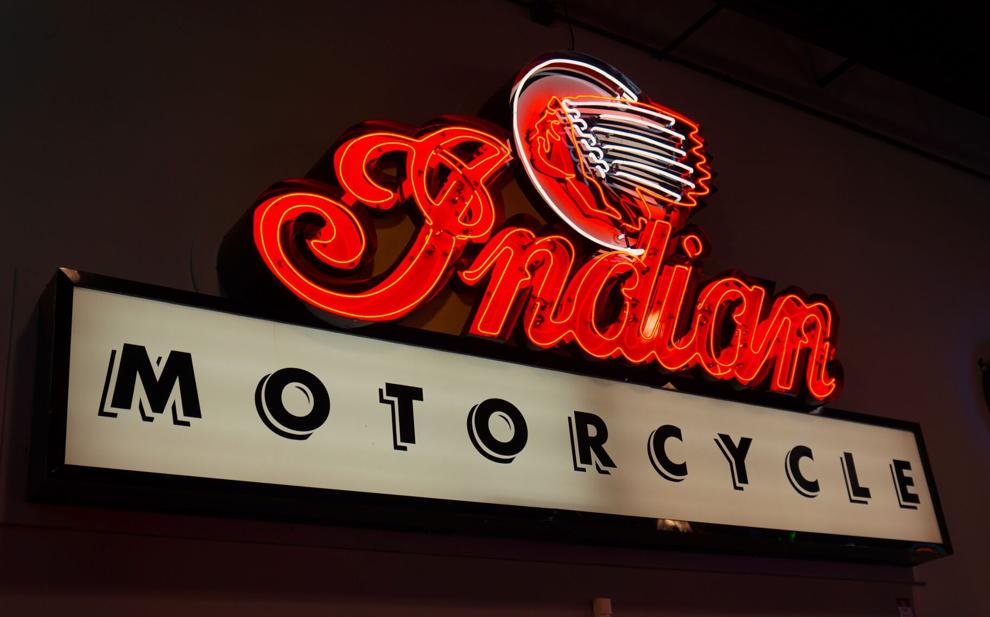 Mecum – J.I. Case Racine collectibles 2.JPG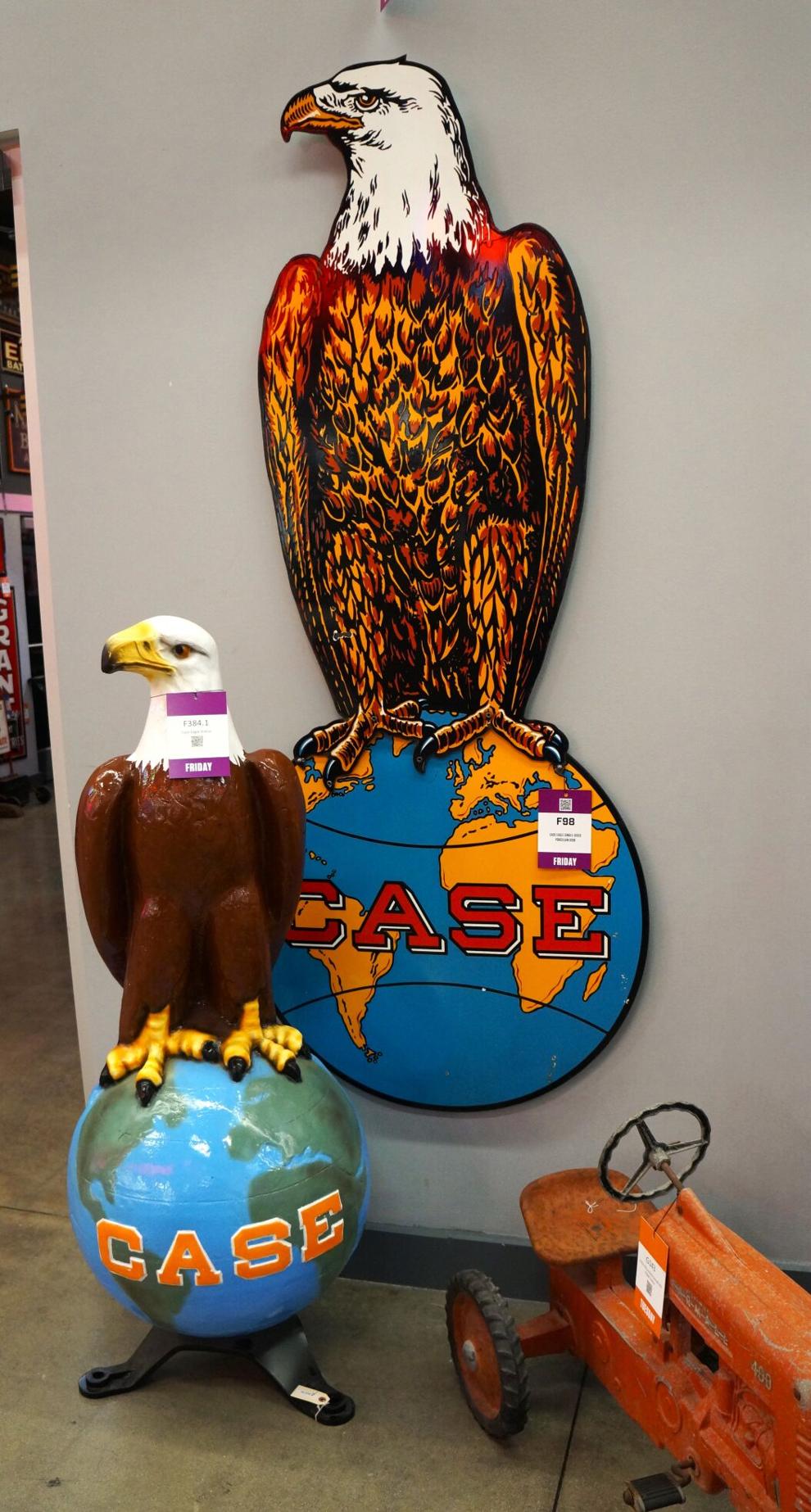 Mecum – J.I. Case Racine collectibles.JPG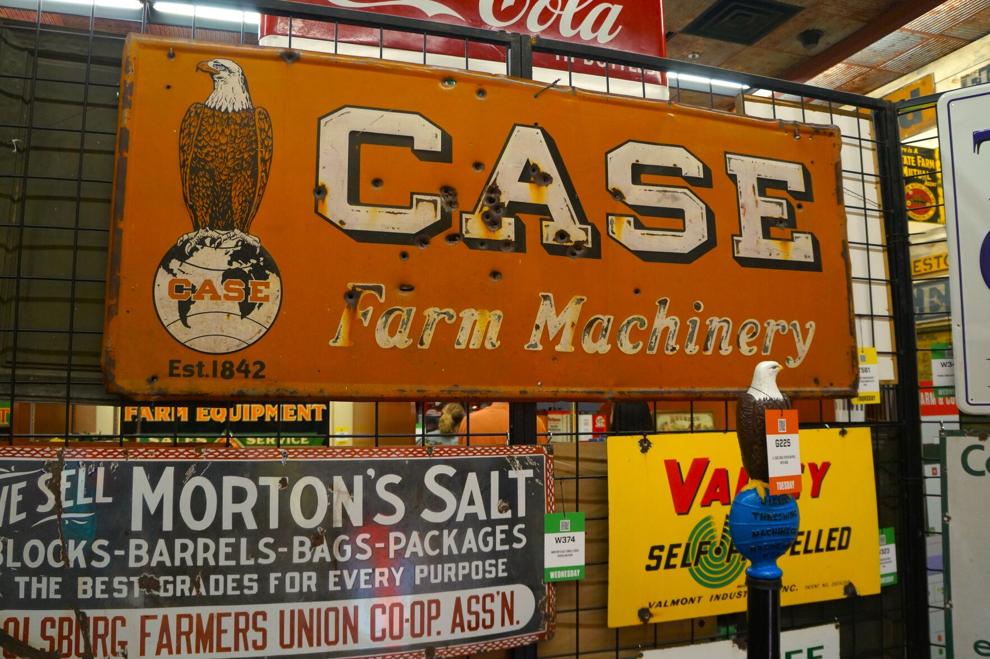 Mecum – J.I. Case Racine neon porcelain steel neon sign 2.JPG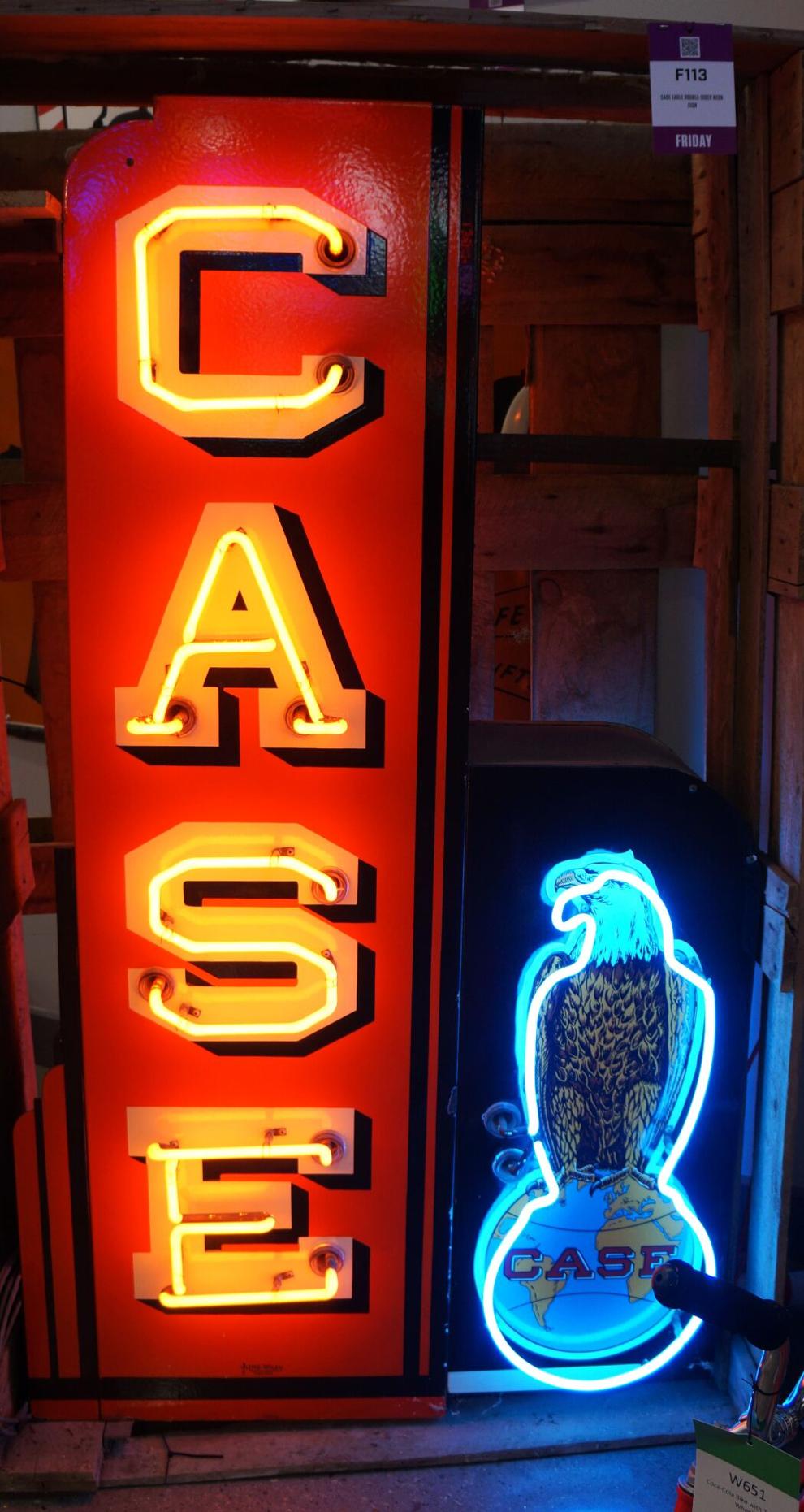 Mecum – J.I. Case Racine neon porcelain steel neon sign.JPG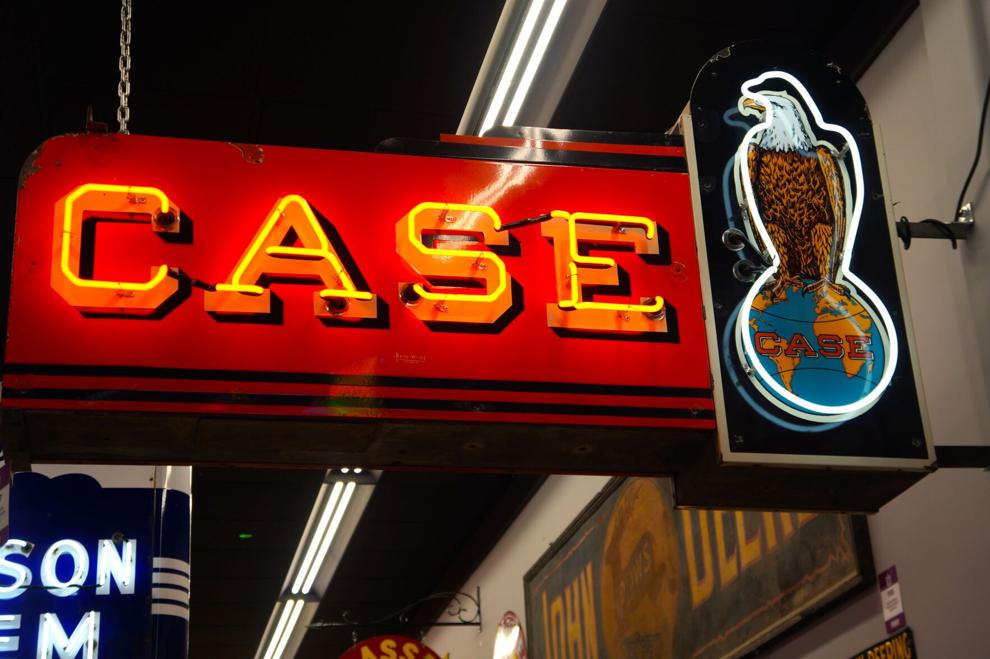 Mecum – Kaiser-Frazer neon porcelain steel sign.JPG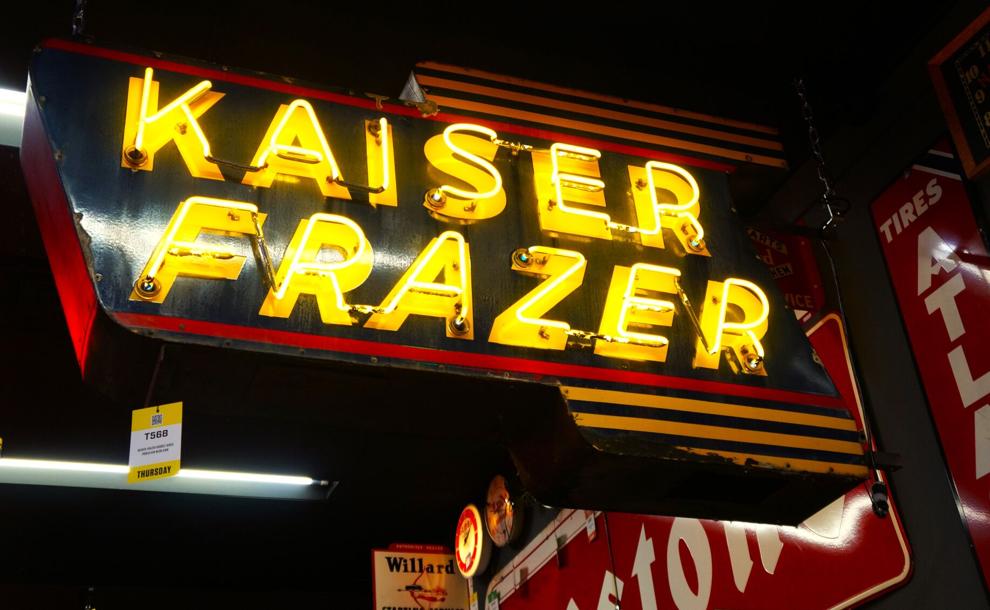 Mecum – KFC Colonel Harland Sanders statue and KFC bucket chandelier.JPG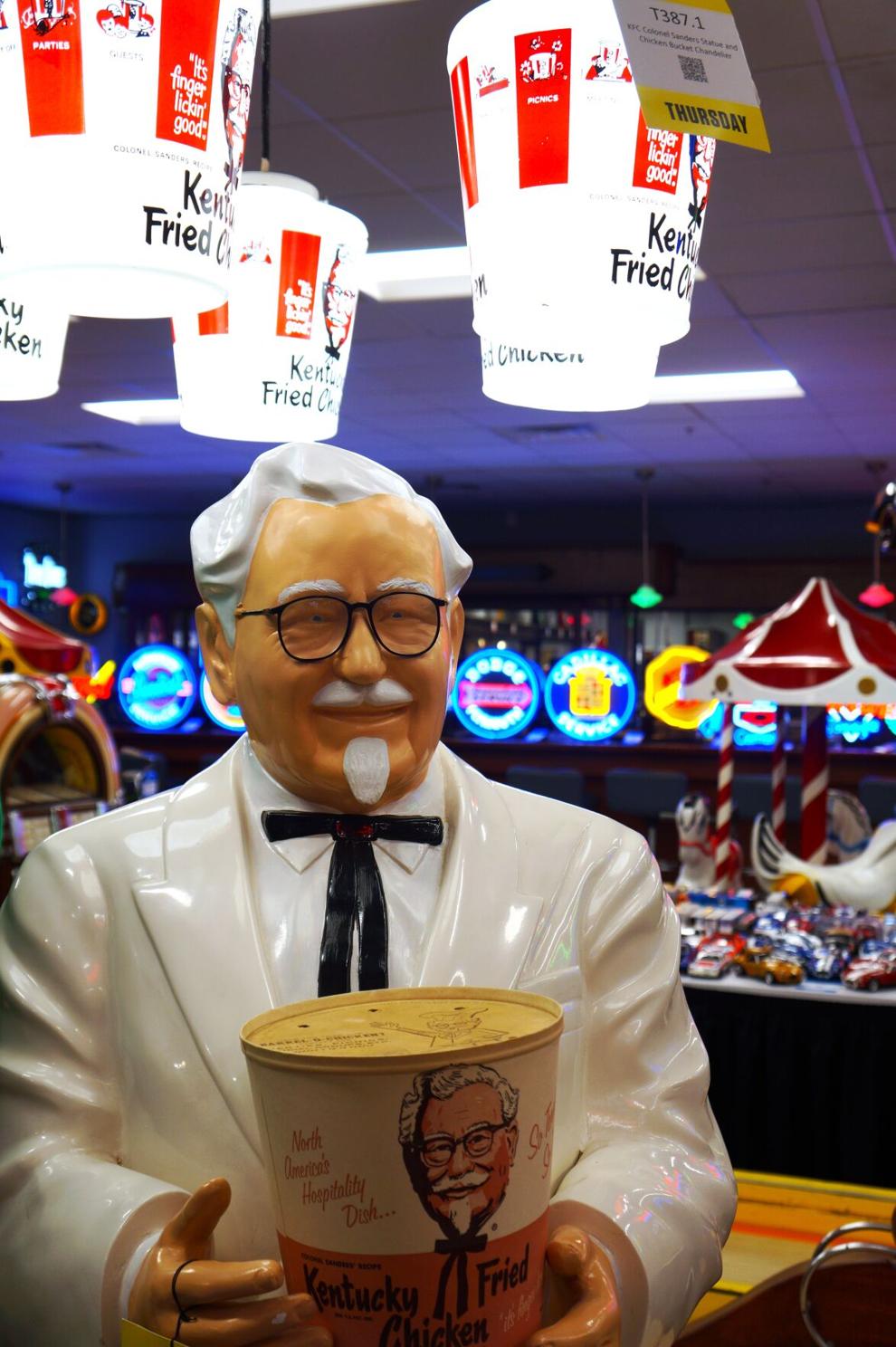 Mecum – Lobby auction displays 2.JPG
Mecum – Lobby auction displays 3.JPG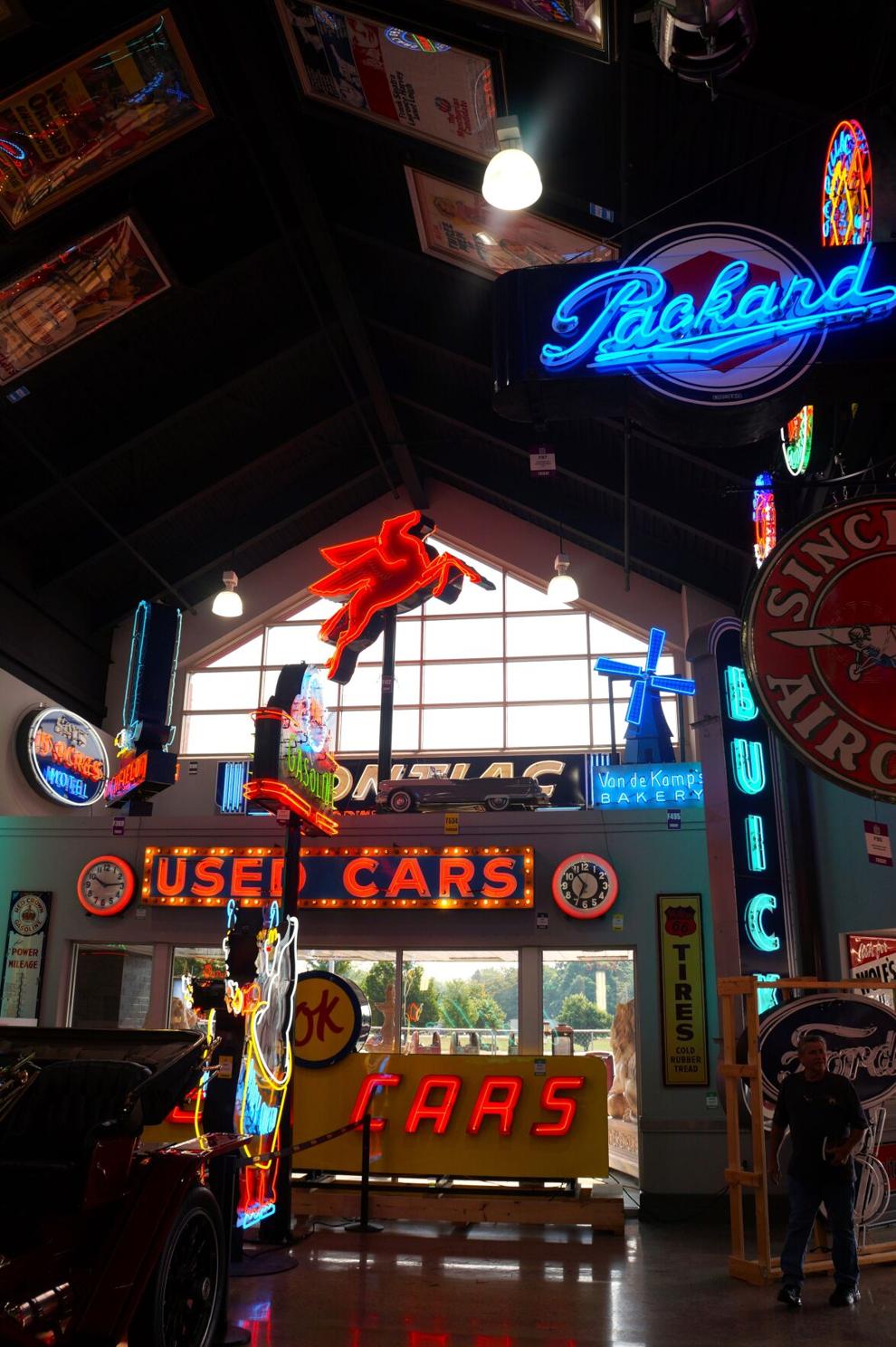 Mecum – Lobby auction displays 4.JPG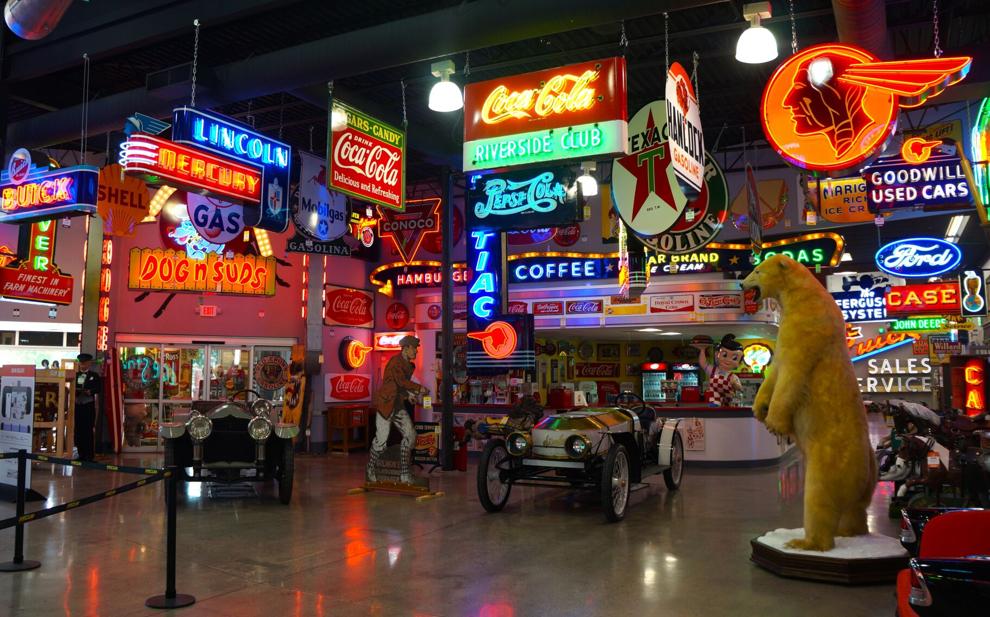 Mecum – Lobby auction displays.JPG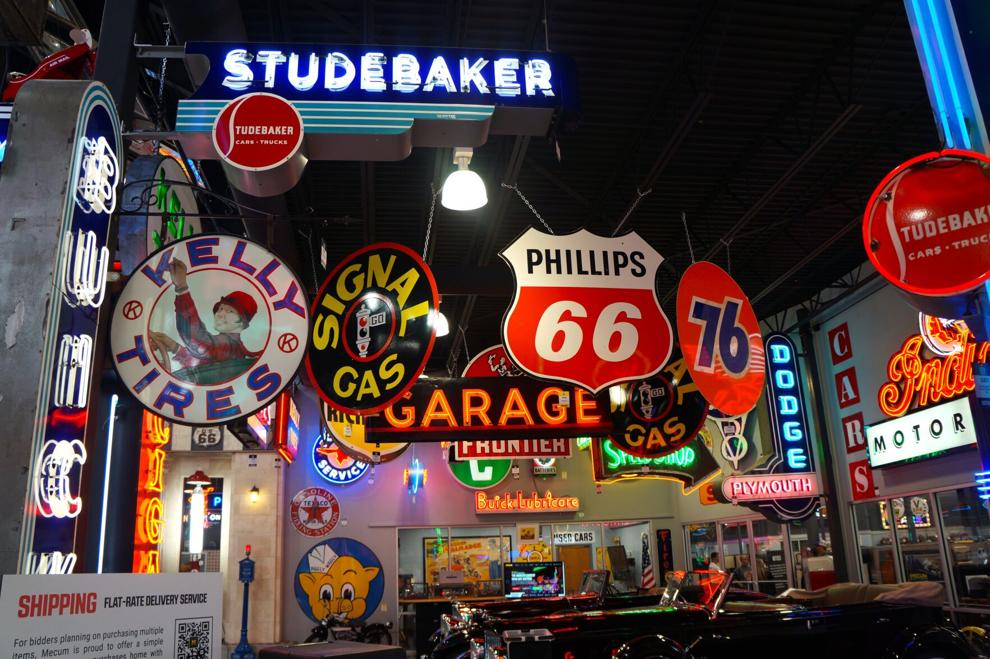 Mecum – Lobby view.JPG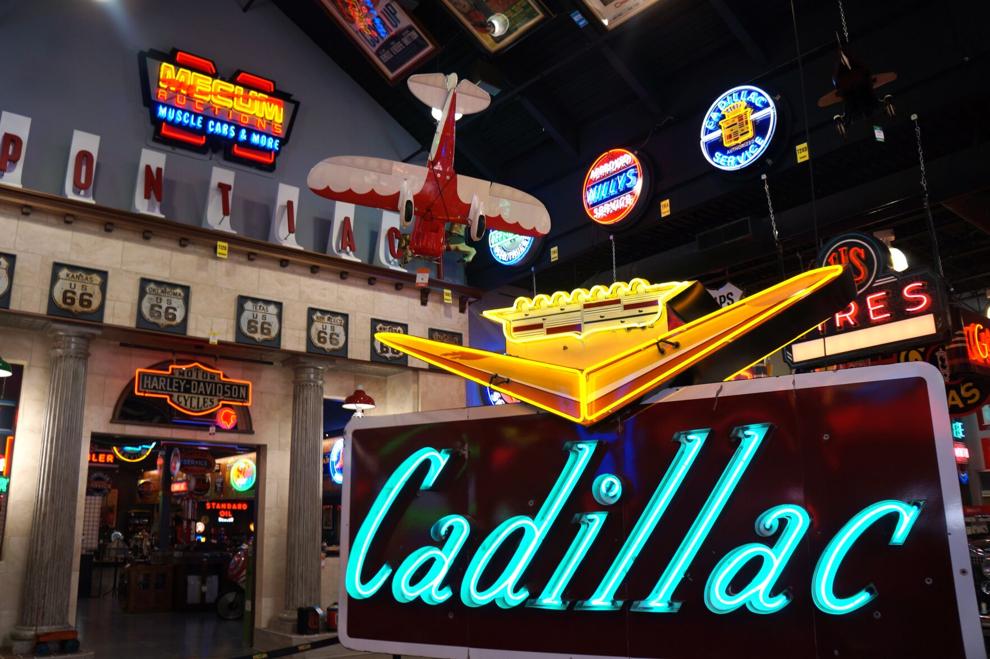 Mecum – Marigold Ice Cream cafe neon sign.JPG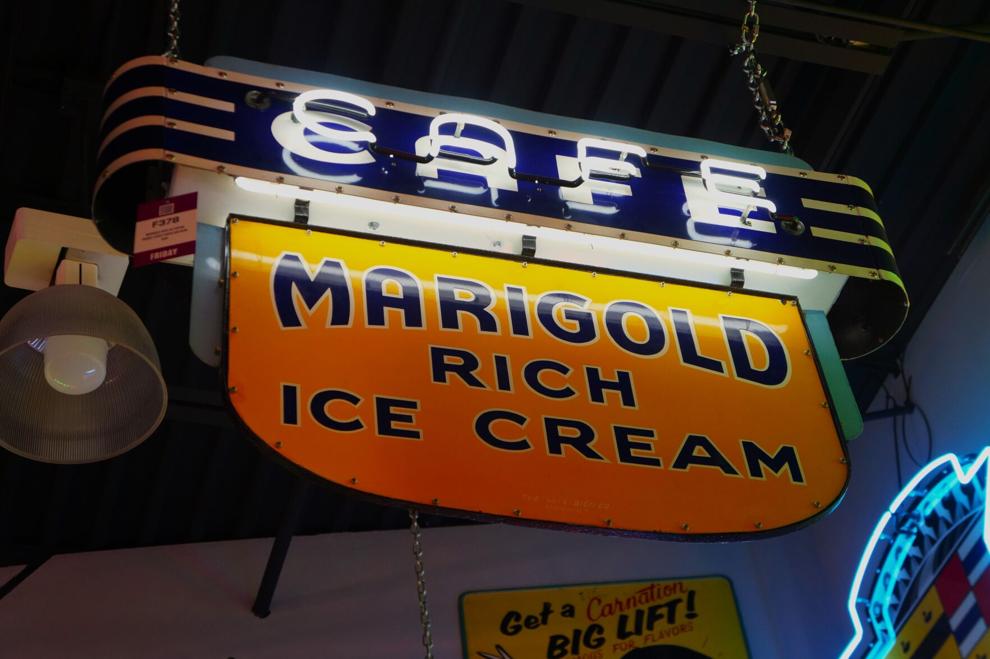 Mecum – Mecum neon sign.JPG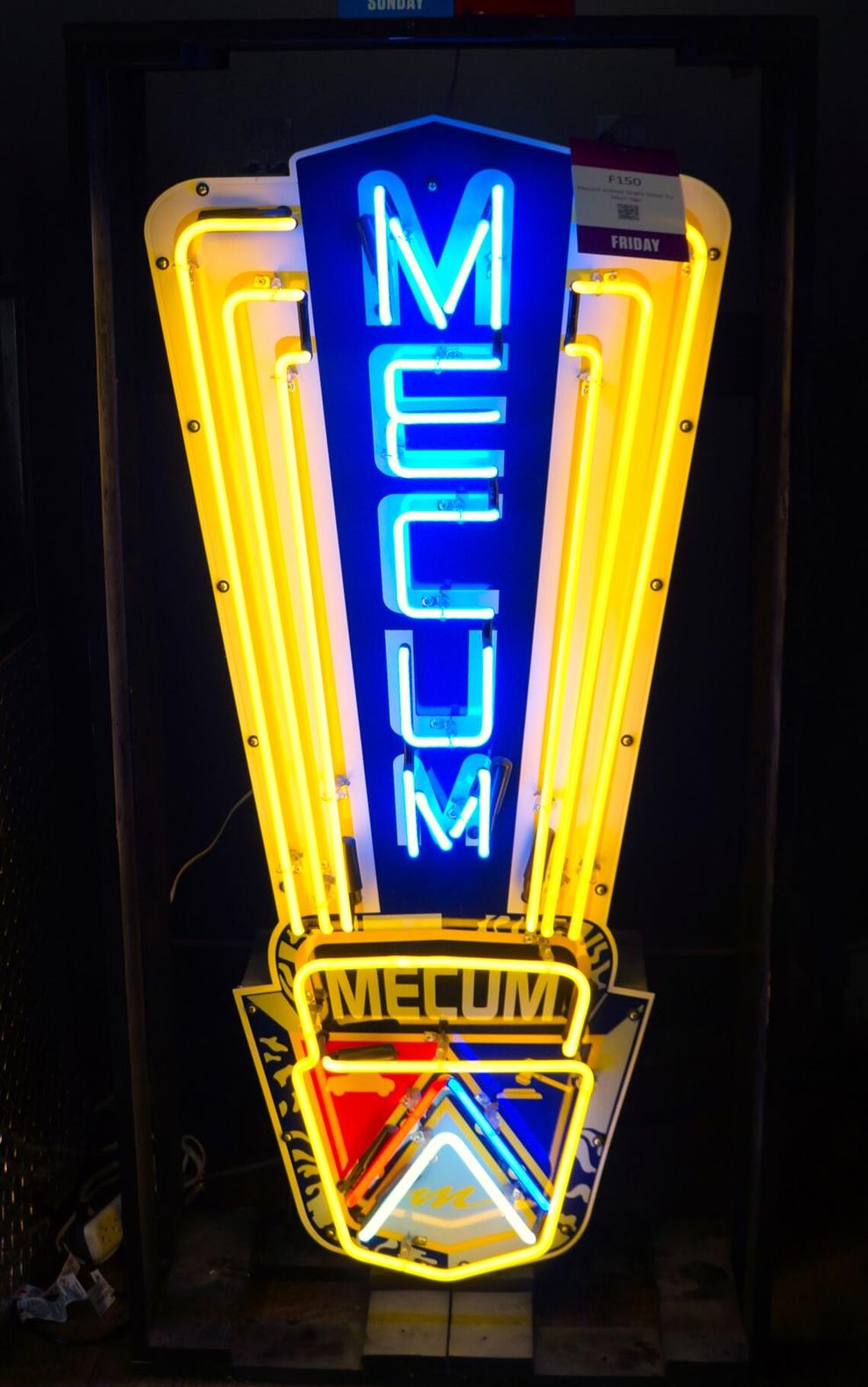 Mecum – Multi layered neon animated Greyhound Bus Lines sign.JPG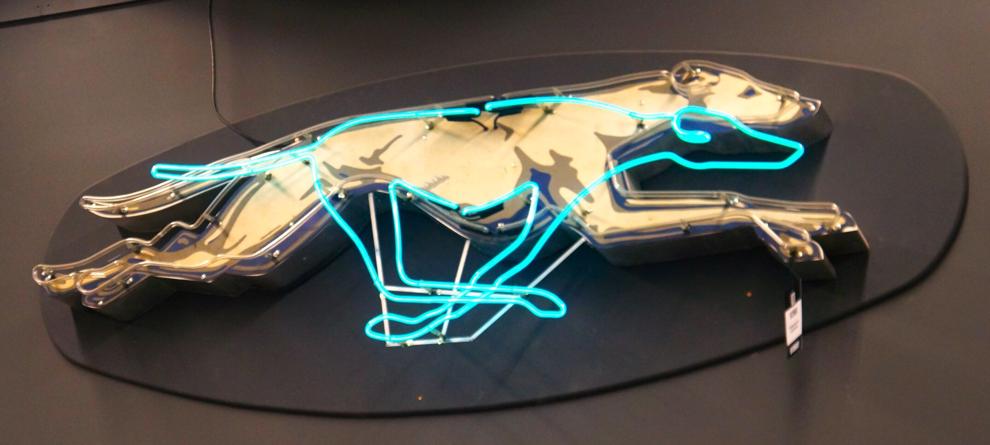 Mecum – Neon auction signs on display.JPG
Mecum – Neon GAS porcelain steel sign.JPG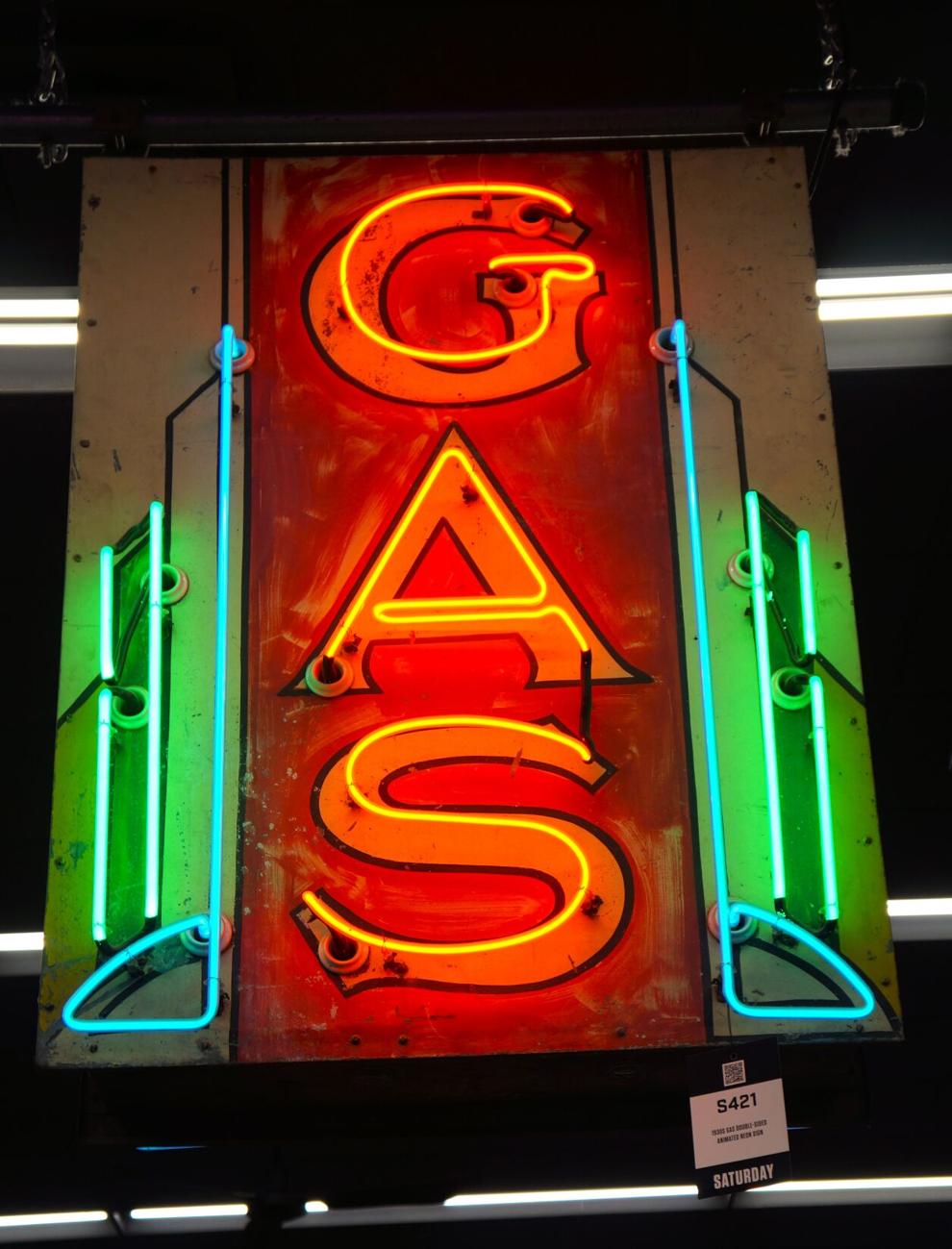 Mecum – OK Used Cars neon porcelain sign.JPG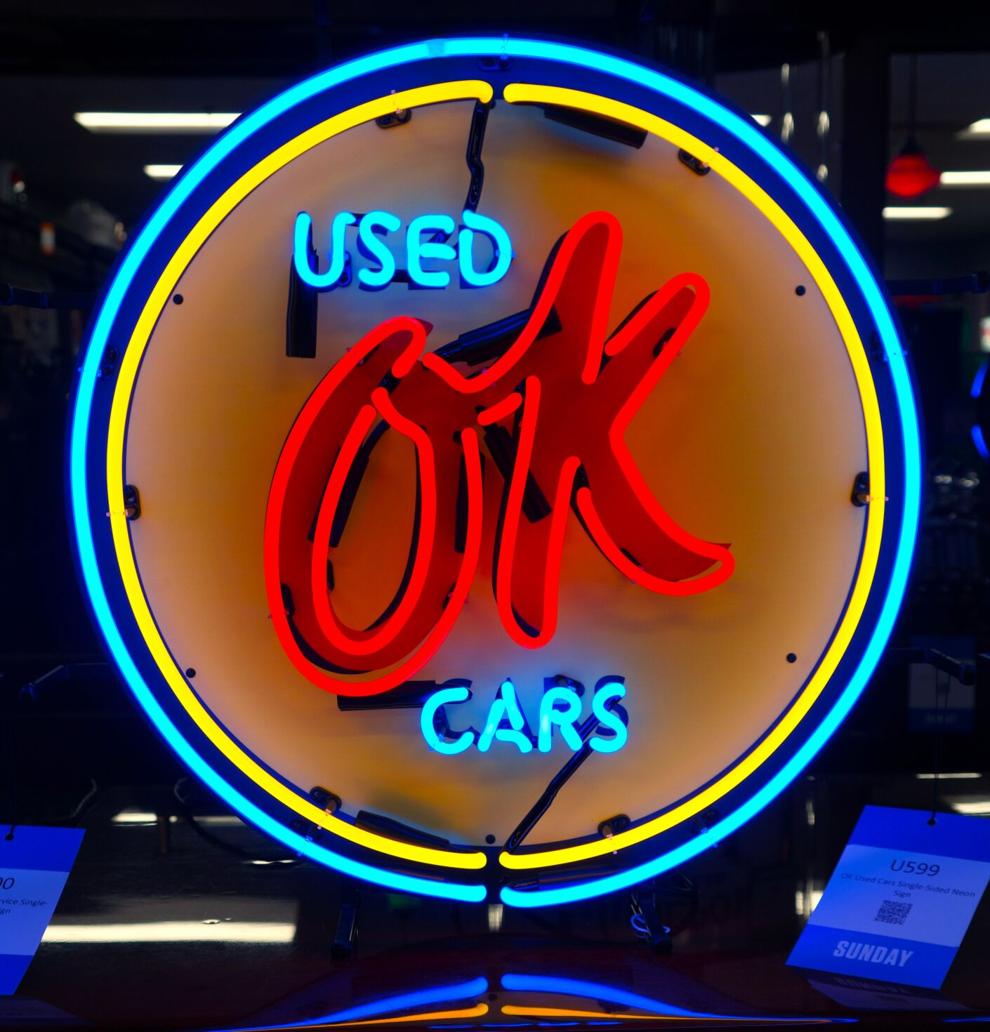 Mecum – OK Used Cars porcelain neon signs.JPG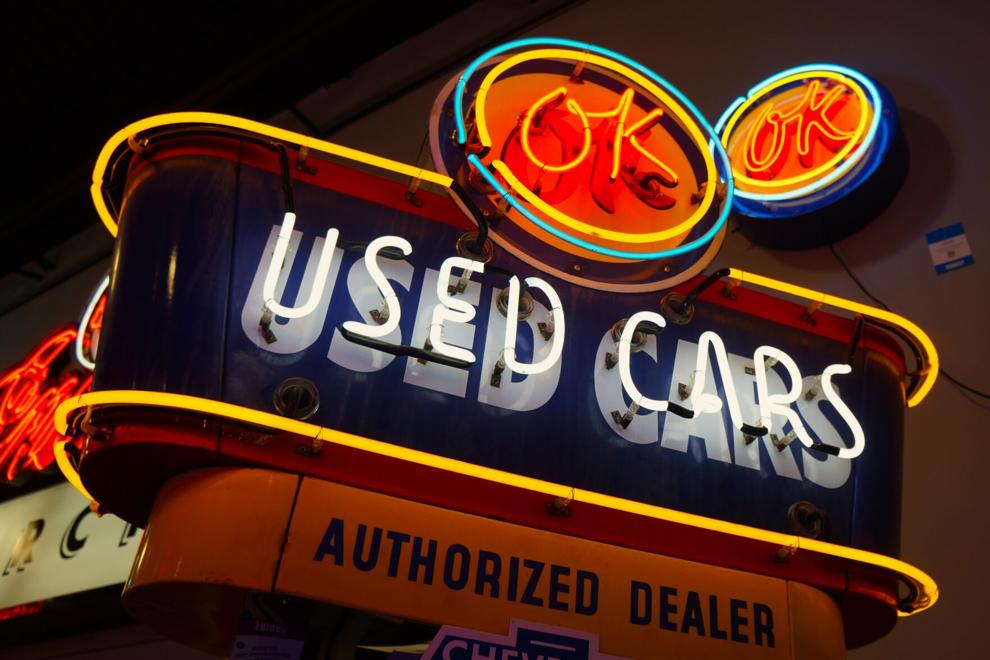 Mecum – Oldsmobile Service porcelain neon sign.JPG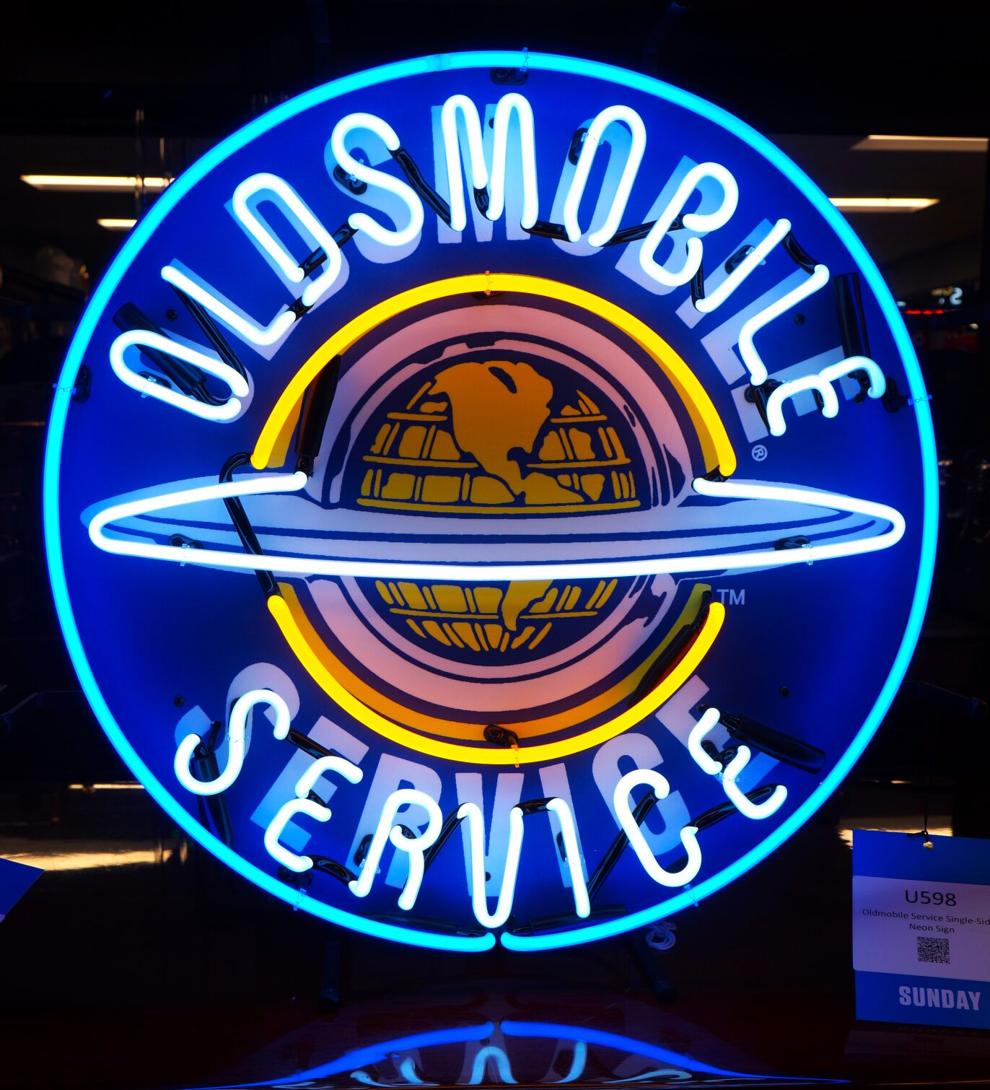 Mecum – Oscar Mayer Wienermobile pedal car.JPG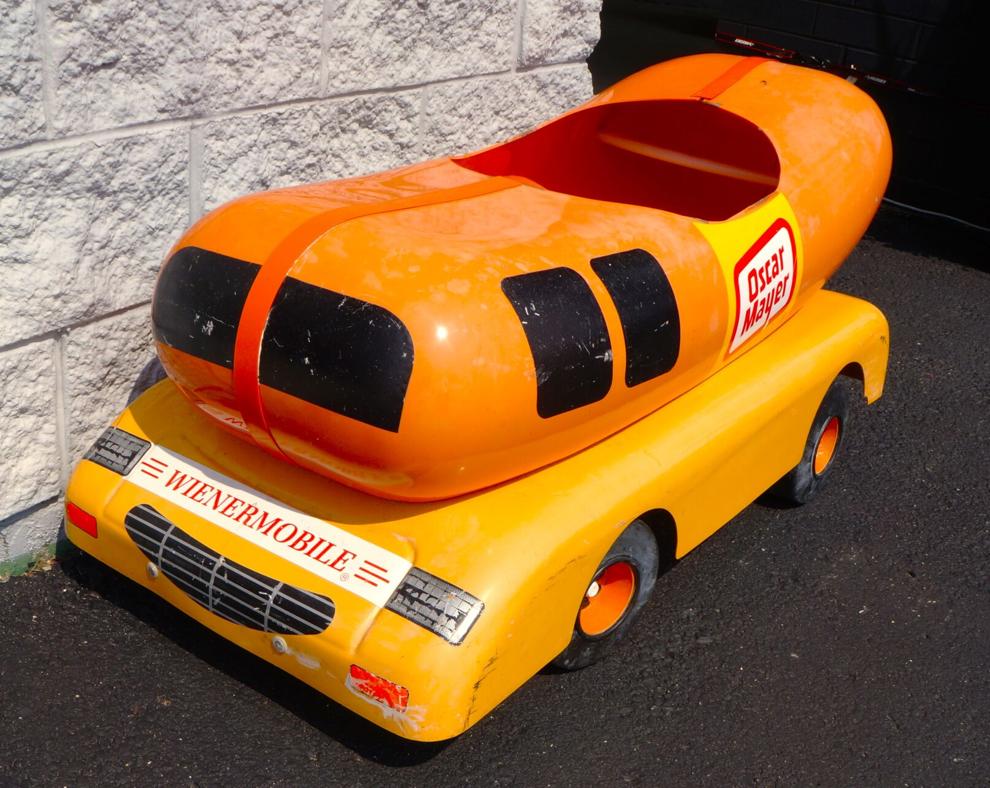 Mecum – OshKosh Work Clothes advertising clock.JPG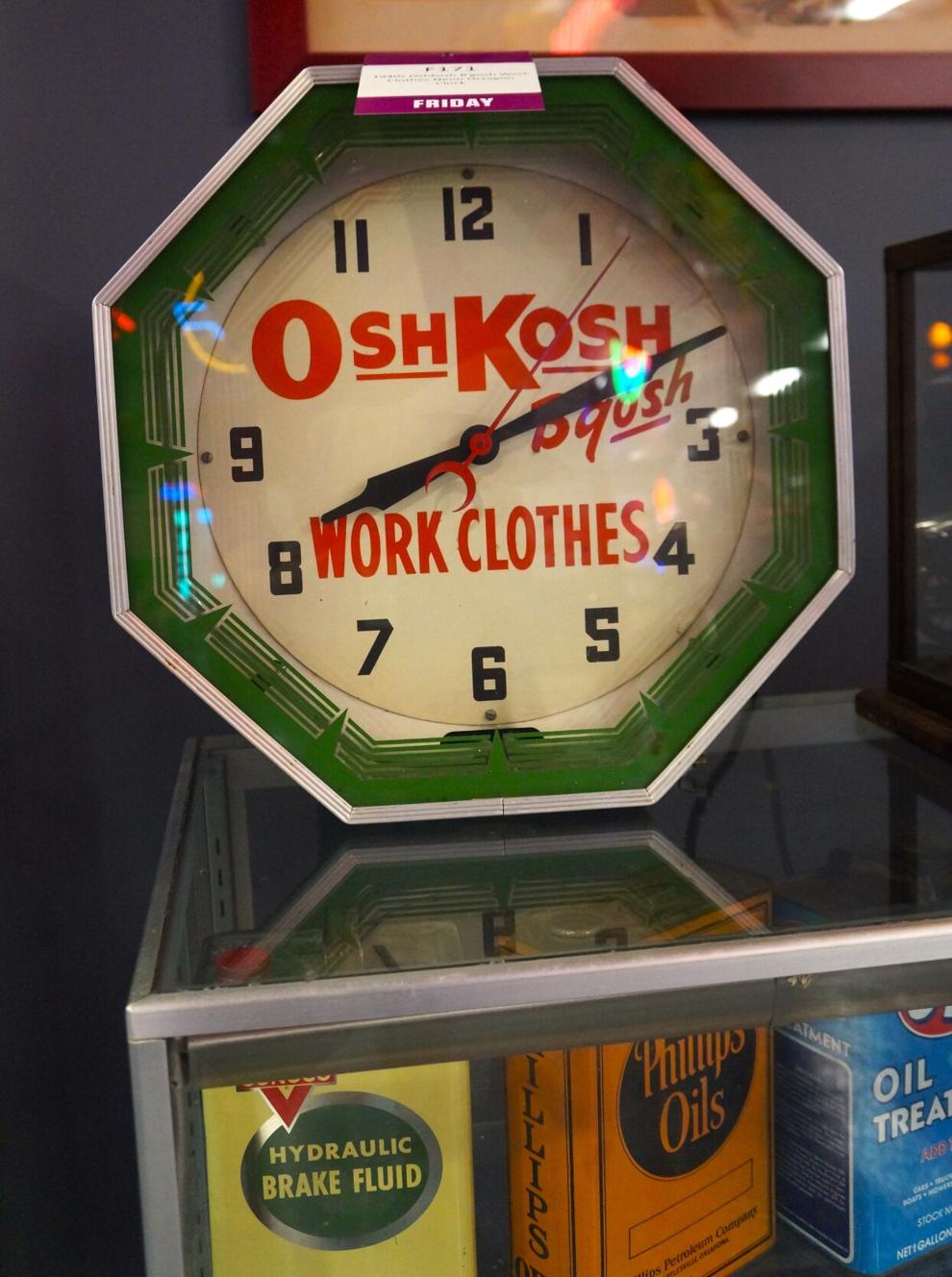 Mecum – Pabst Blue Ribbon neon sign.JPG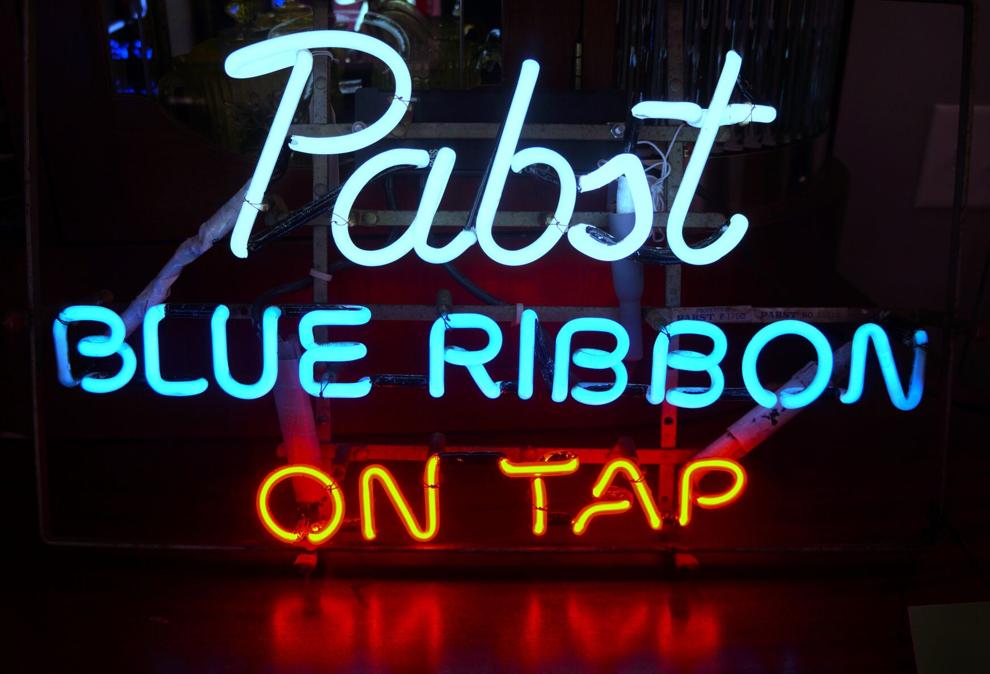 Mecum – Packard neon porcelain steel sign.JPG

Mecum – Packard Service porcelain sign.JPG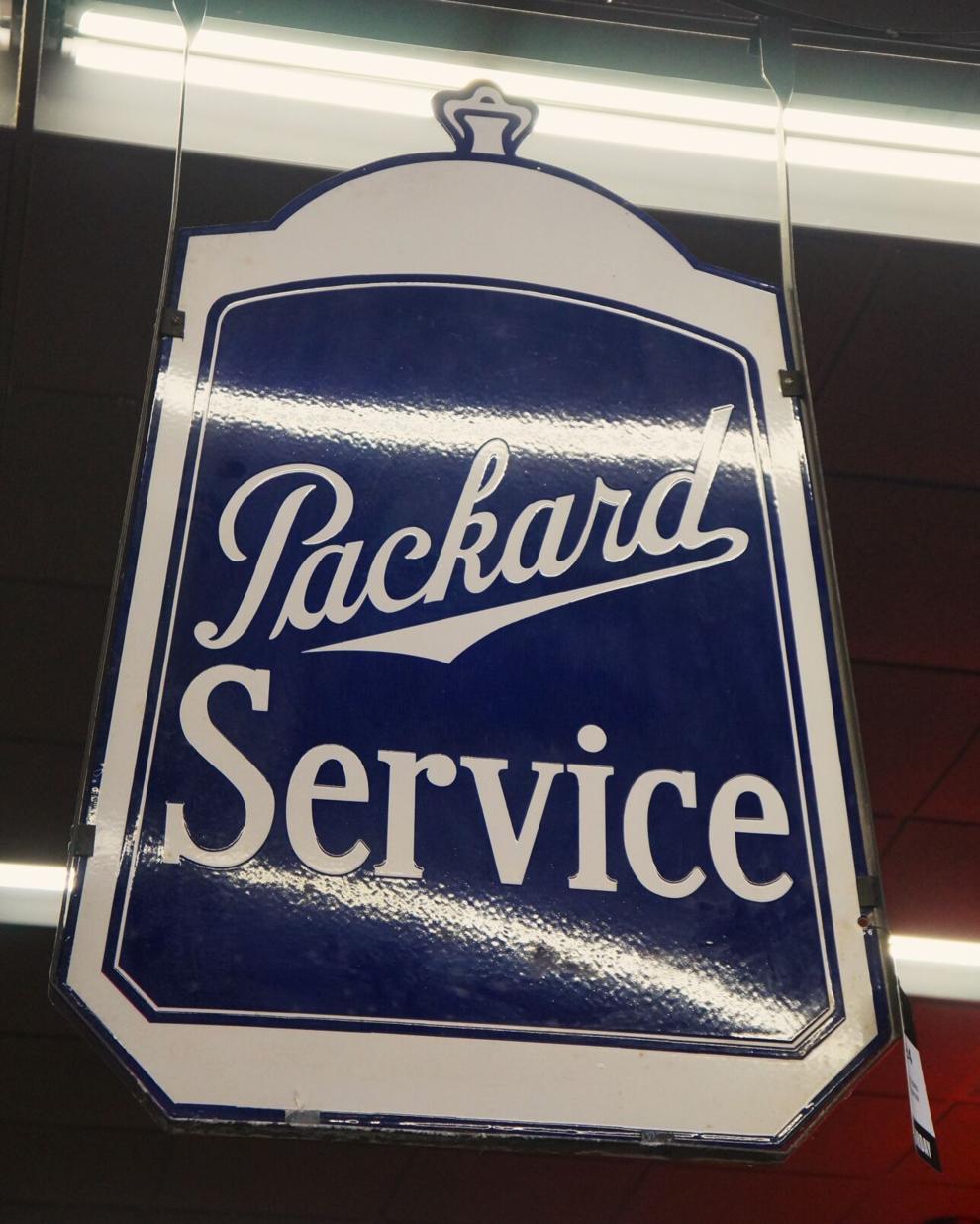 Mecum – Packard.JPG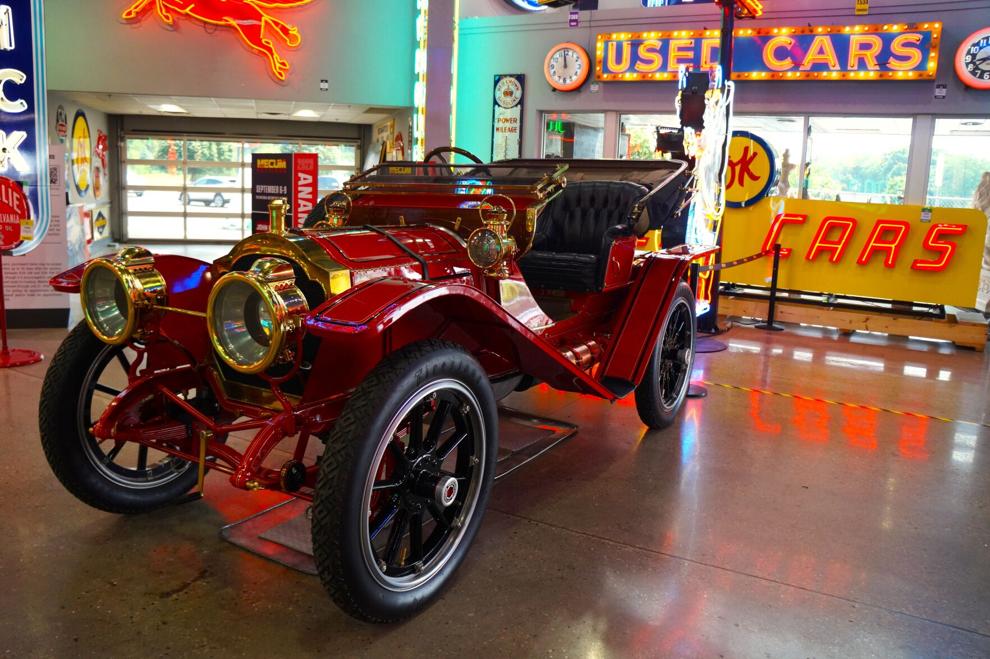 Mecum – Pennzoil neon porcelain steel sign.JPG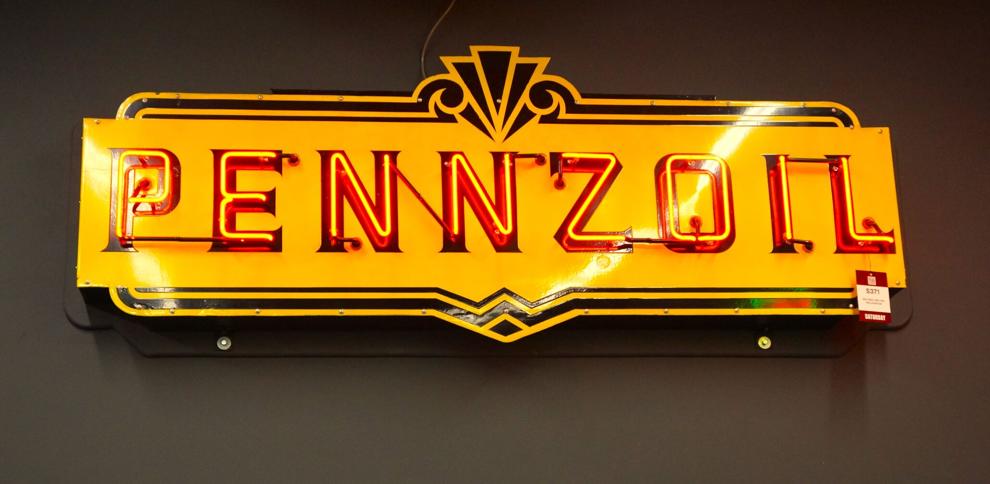 Mecum – Phillips 66 porcelain neon 2.JPG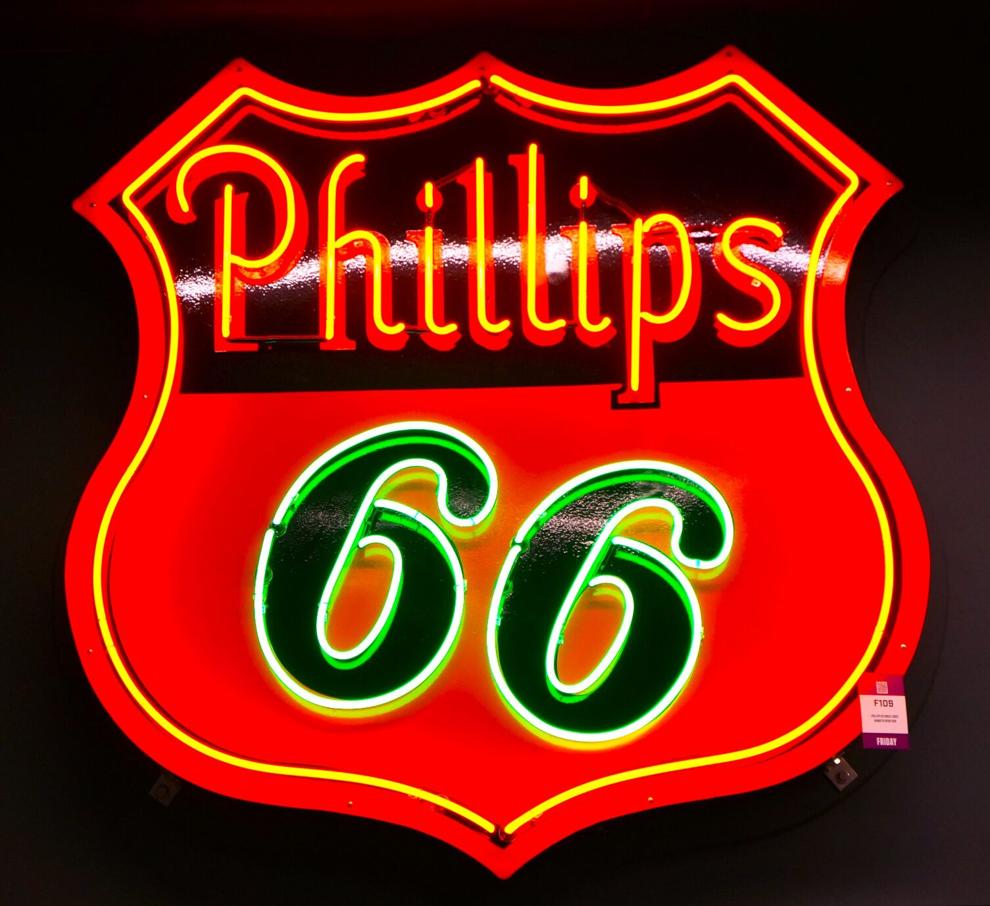 Mecum – Phillips 66 porcelain neon.JPG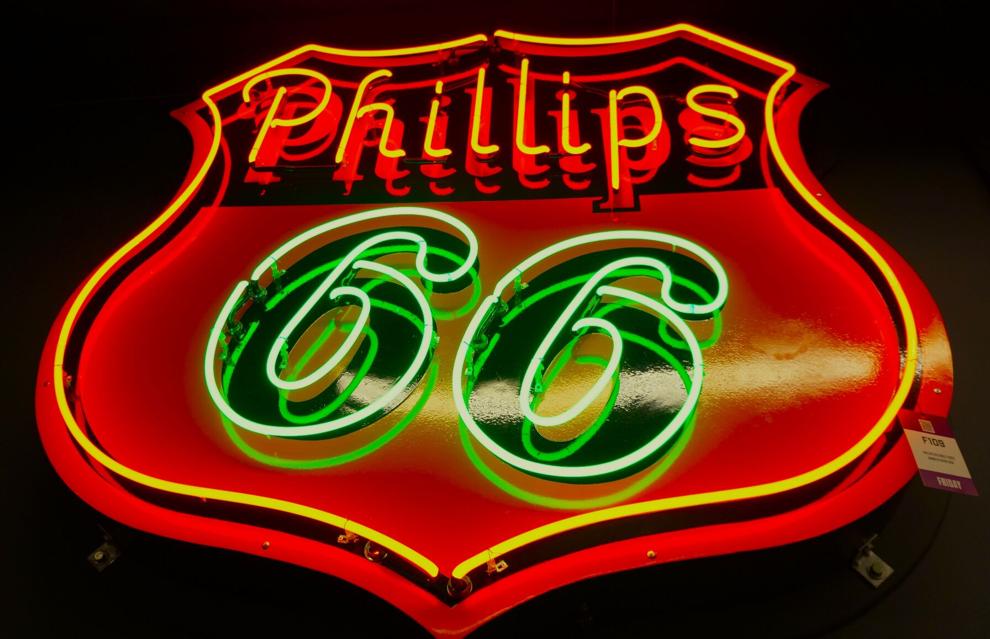 Mecum – Piggly Wiggly Supermarket procelain steel sign.JPG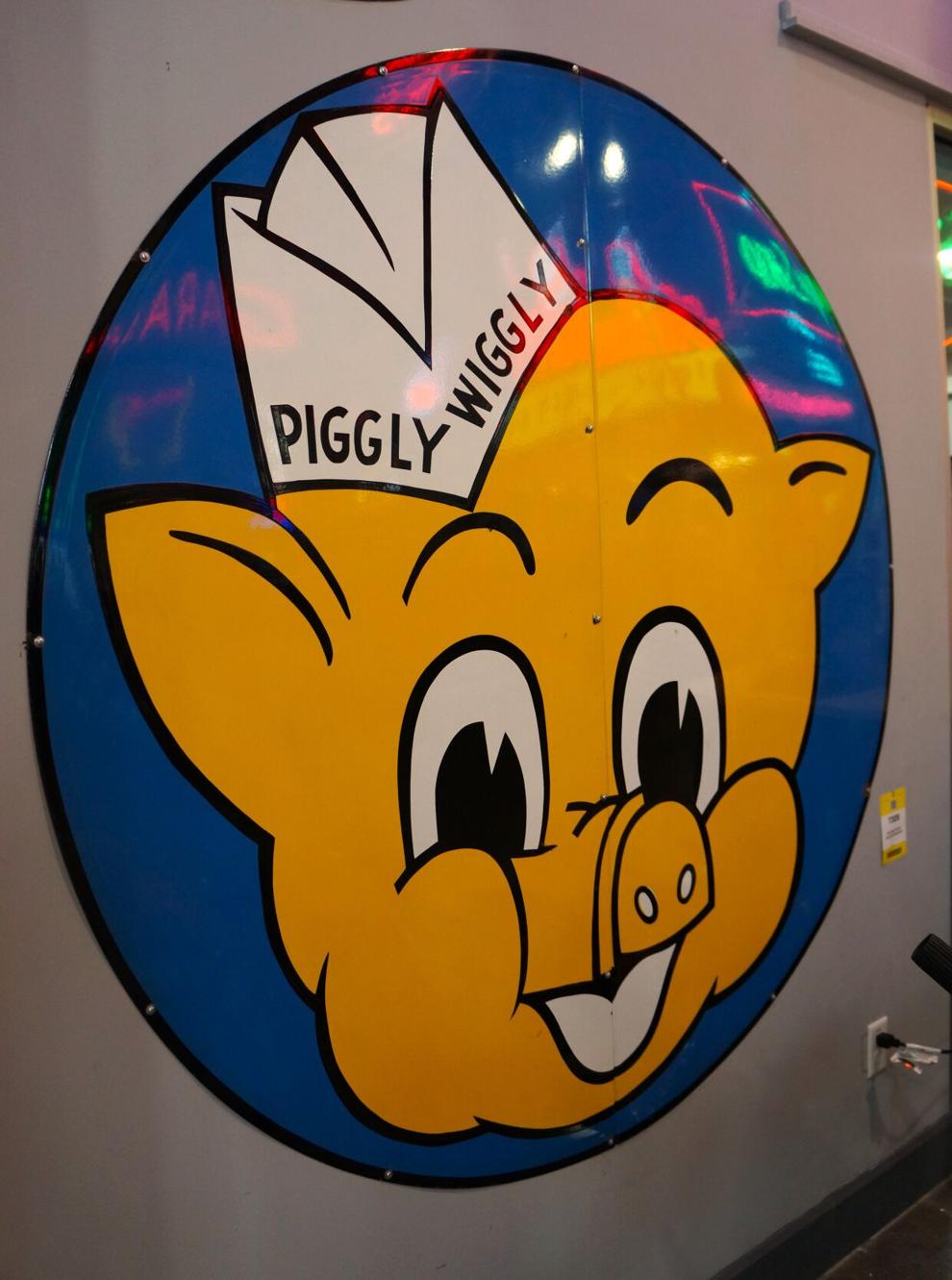 Mecum – Polly Gas neon porcelain steel sign.JPG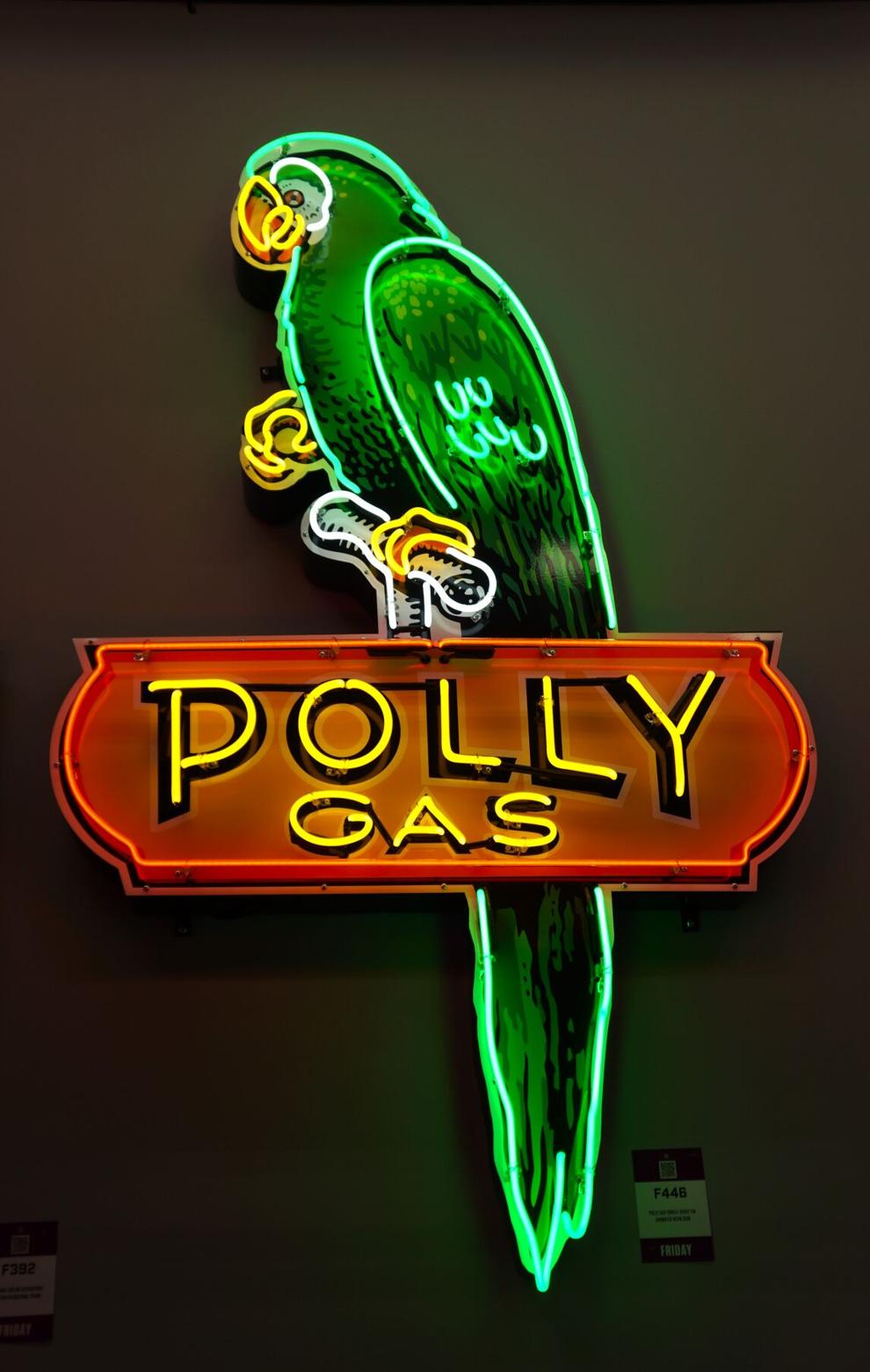 Mecum – Pontiac and Coca-Cola neon.JPG
Mecum – Pontiac Goodwill Used Cars neon porcelain steel sign.JPG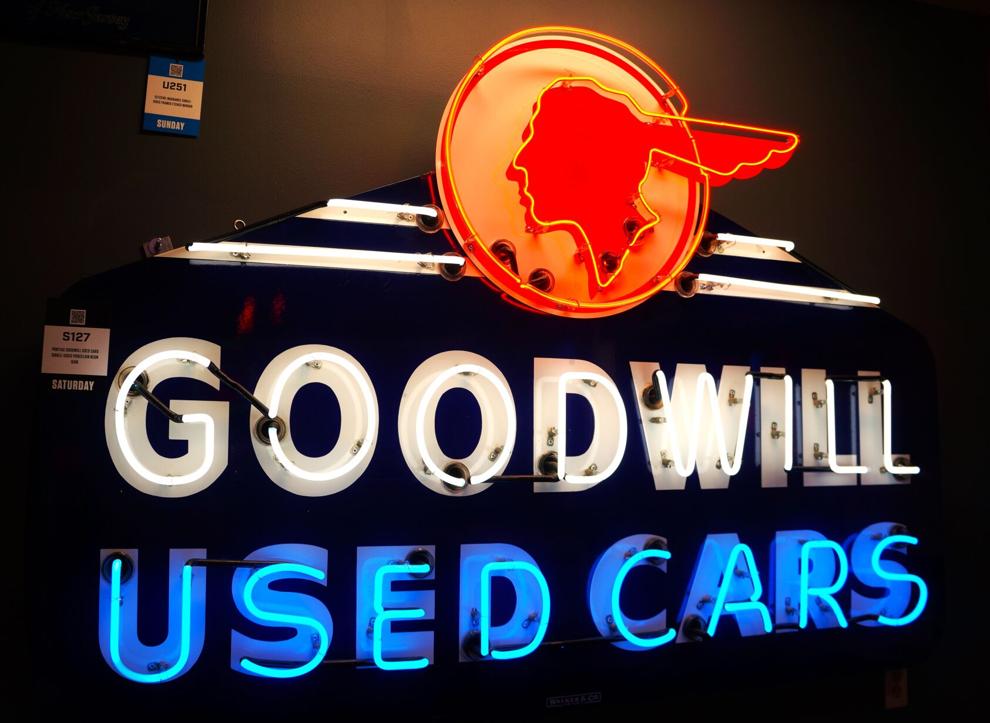 Mecum – Pontiac Goodwill Used Cars ribbon neon sign.JPG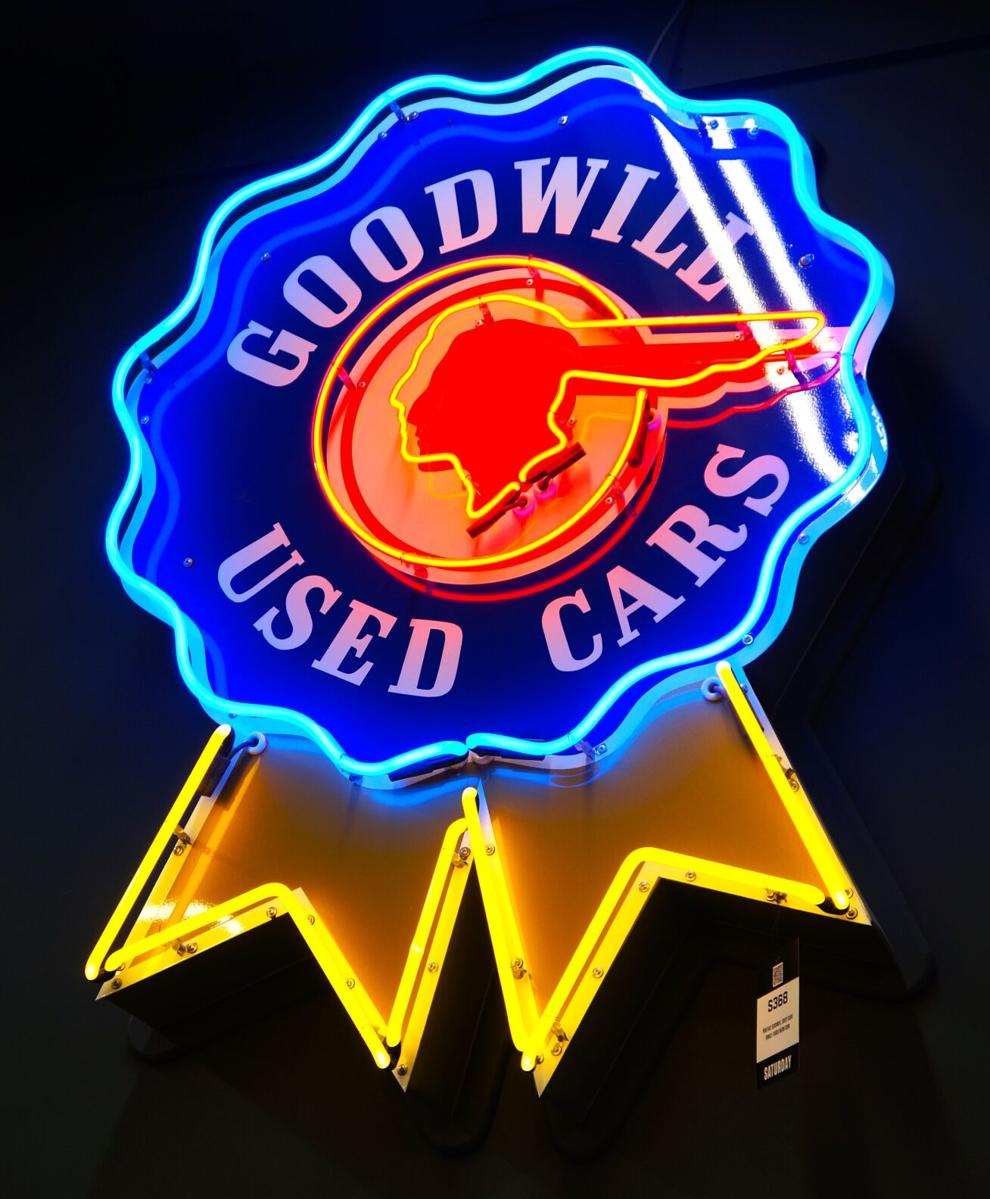 Mecum – Pontiac neon 2.JPG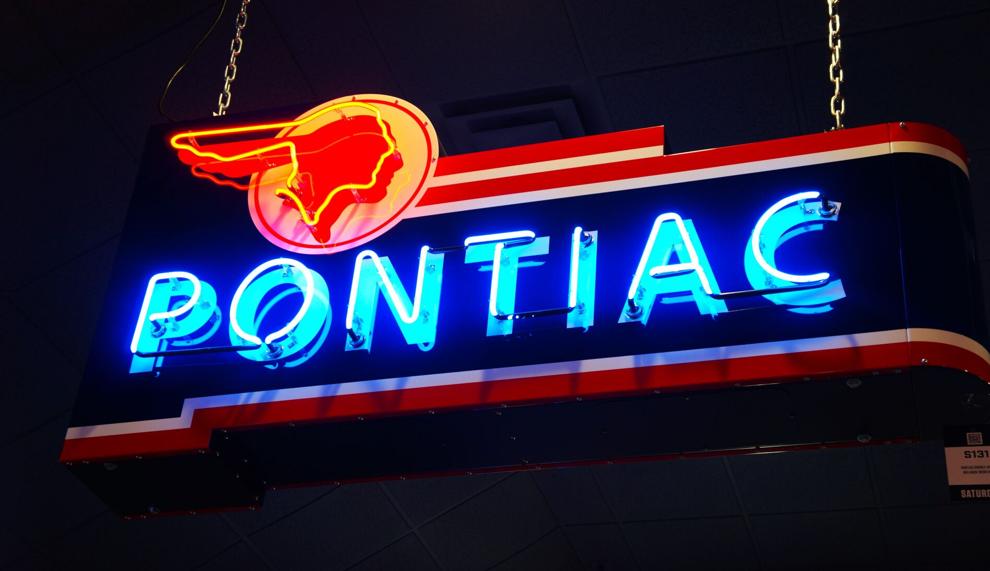 Mecum – Pontiac neon 3.JPG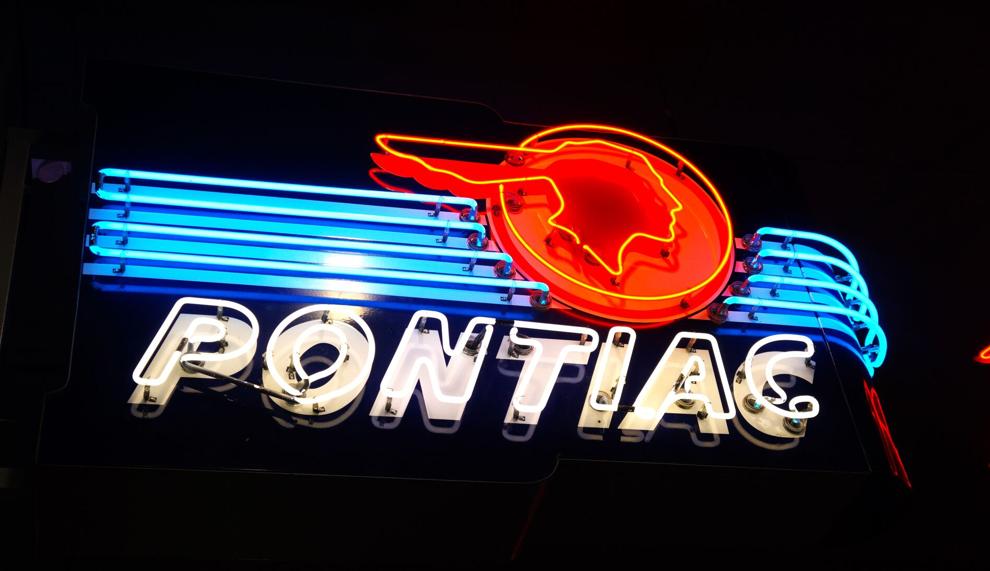 Mecum – Pontiac neon sign 4.JPG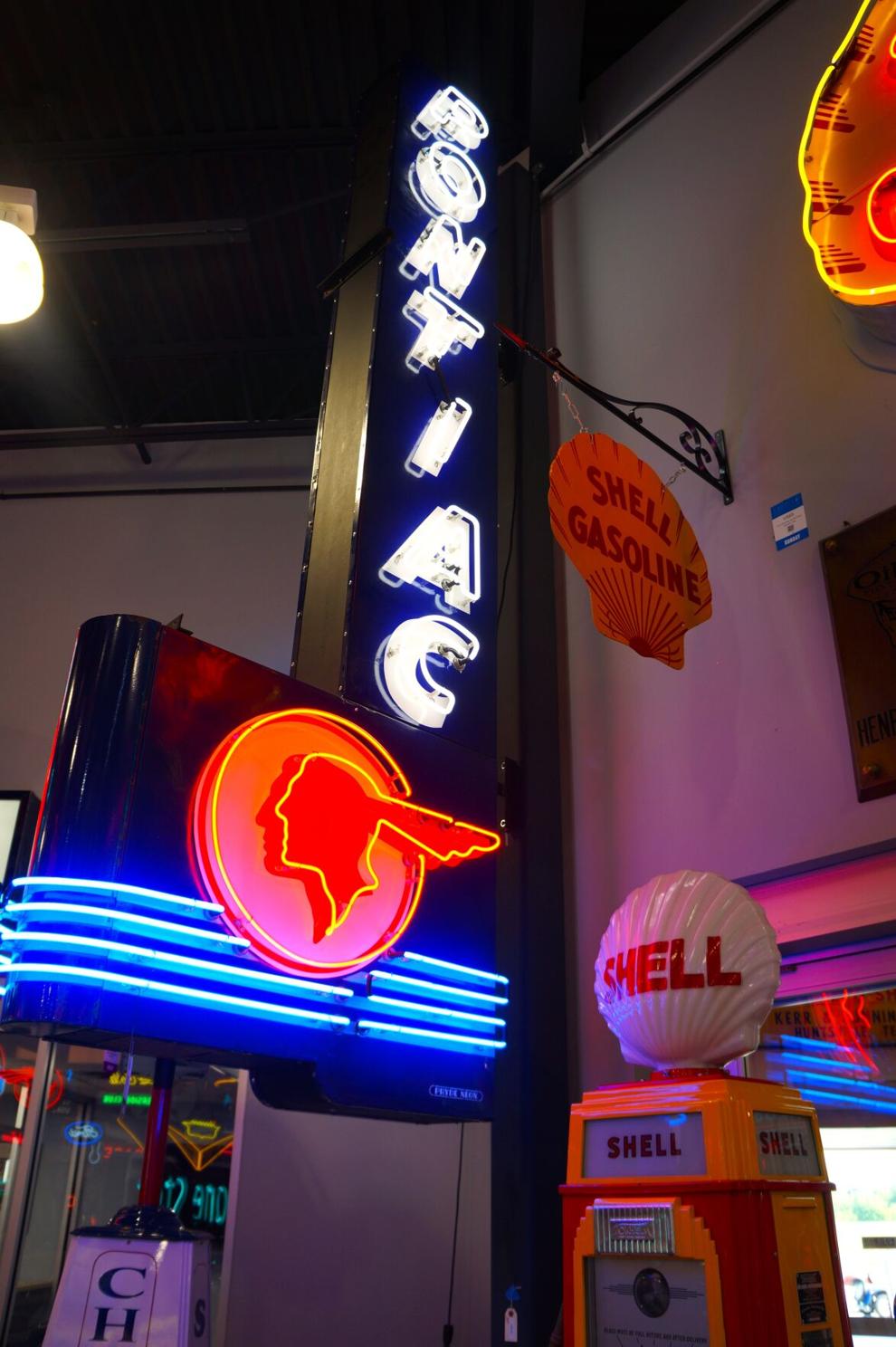 Mecum – Pontiac neon sign.JPG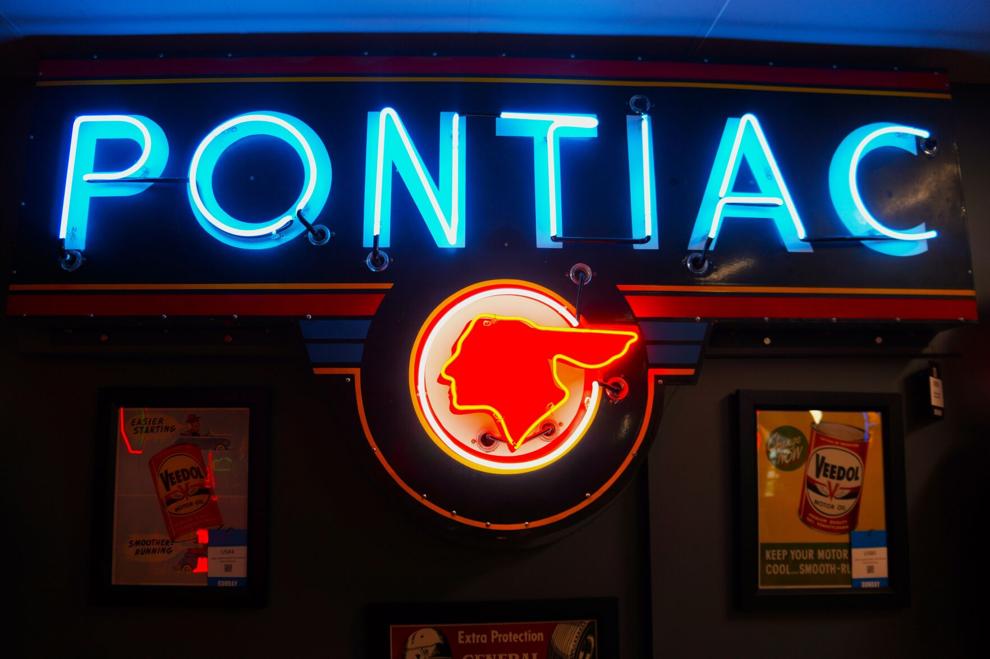 Mecum – Pontiac Service porcelain neon sign.JPG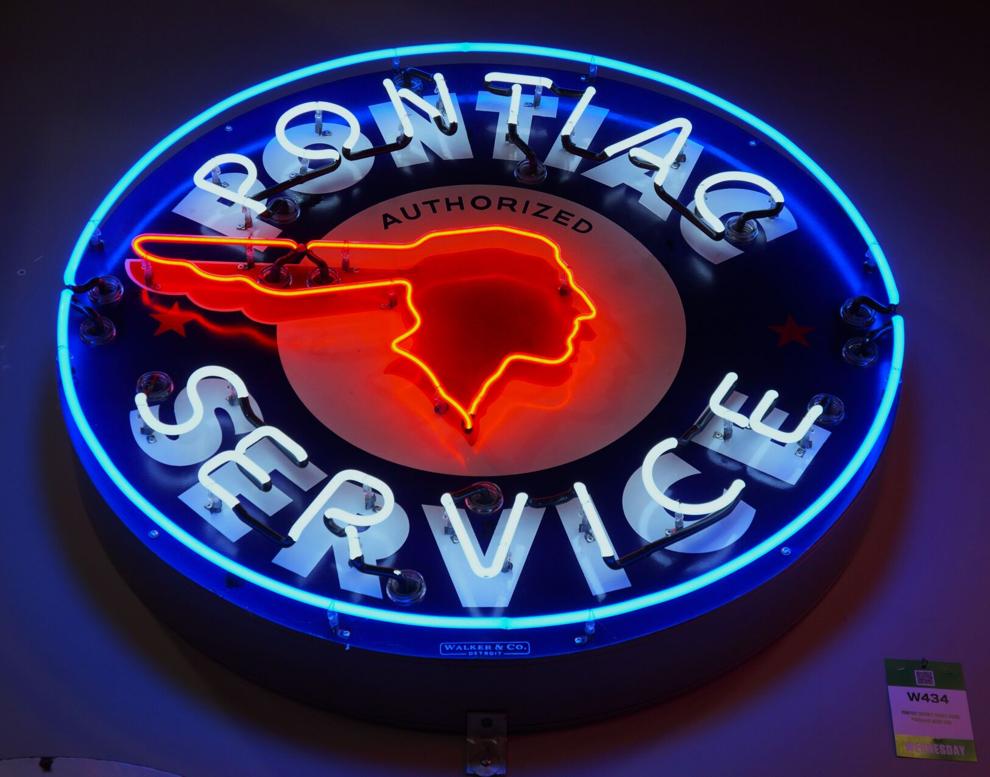 Mecum – Pontian neon 4.JPG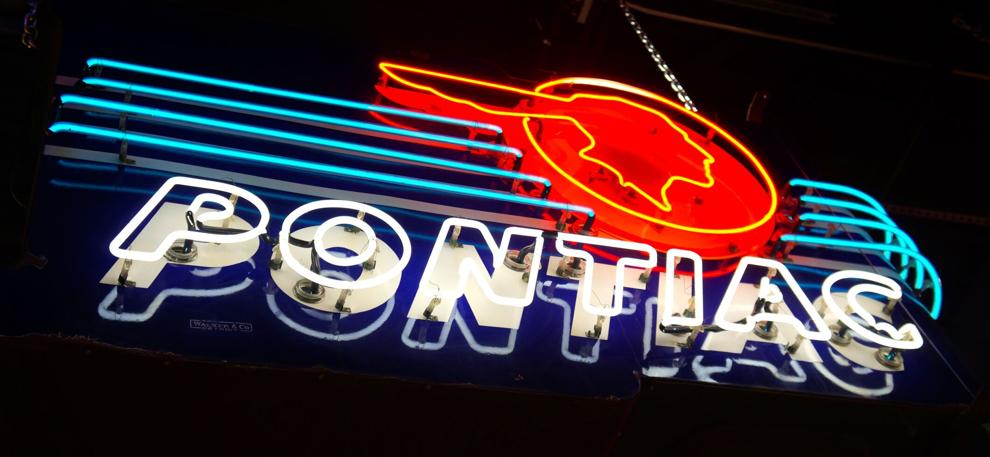 Mecum – Porcelain steel neon signs grouping.JPG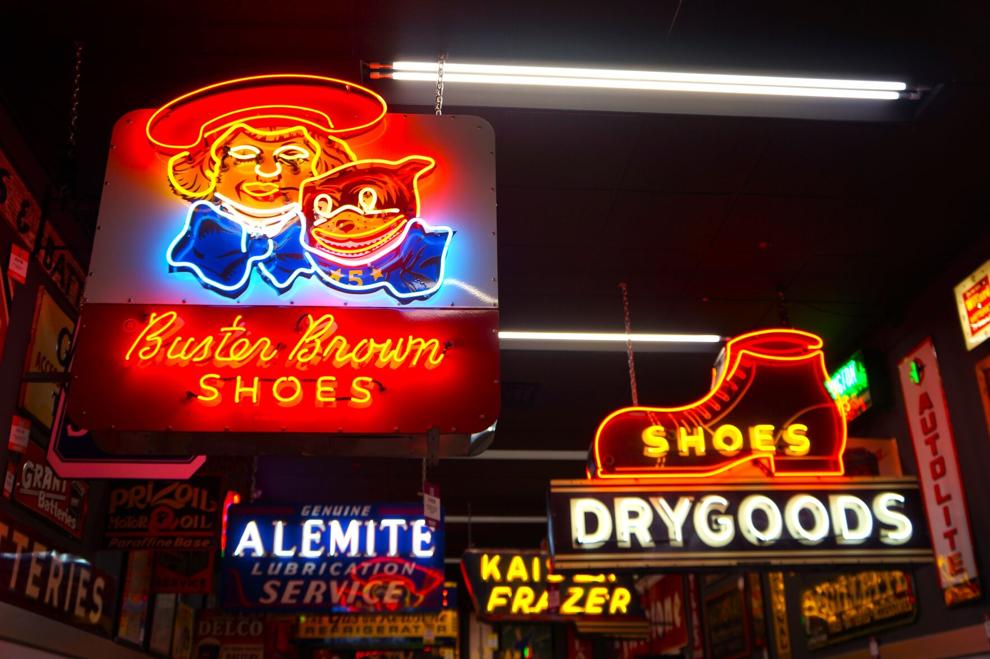 Mecum – Porcelain steel signs.JPG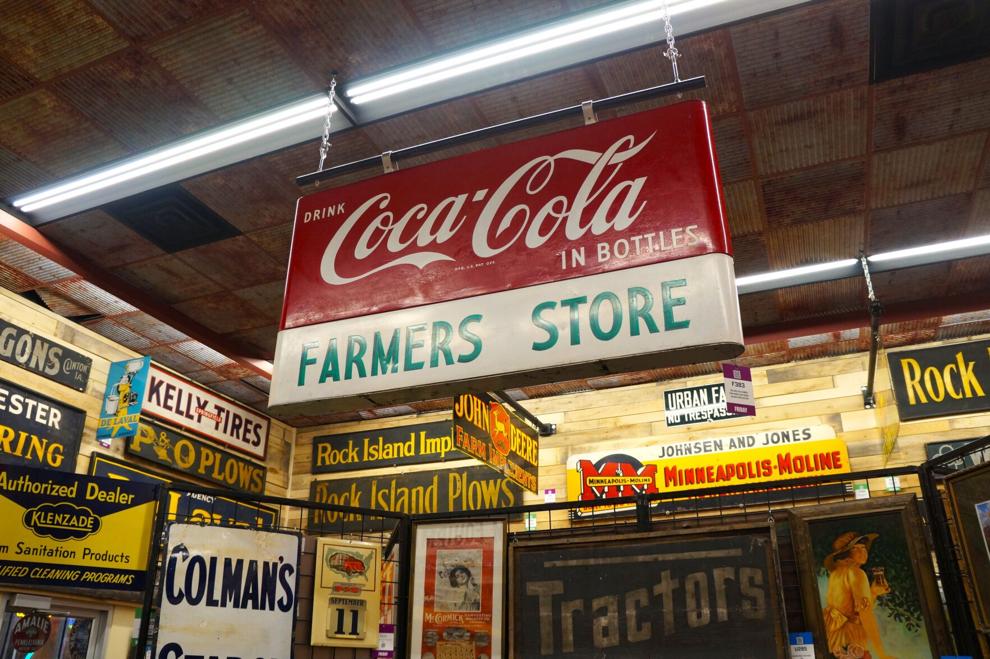 Mecum – Pure Gasoline neon porcelain steel sign.JPG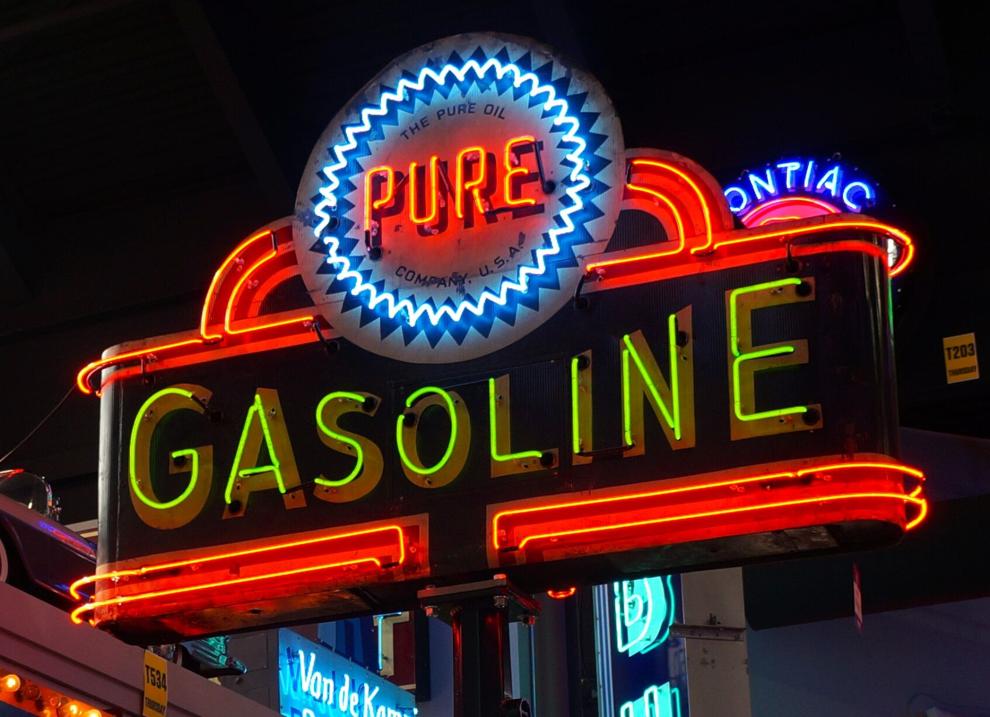 Mecum – Red Owl Supermarkets porcelain steel sign.JPG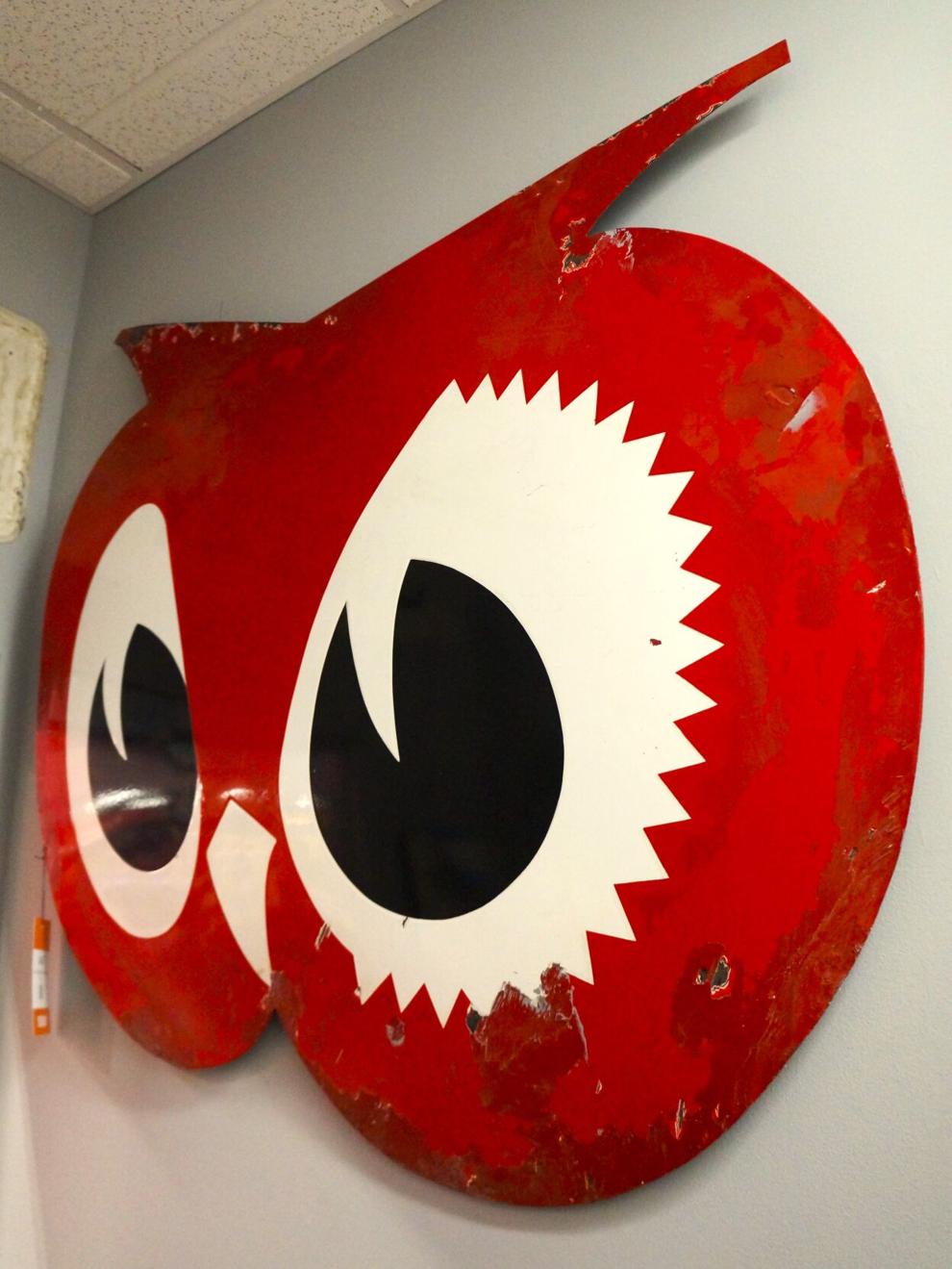 Mecum – Richfield Gas rotating neon porcelain steel sign.JPG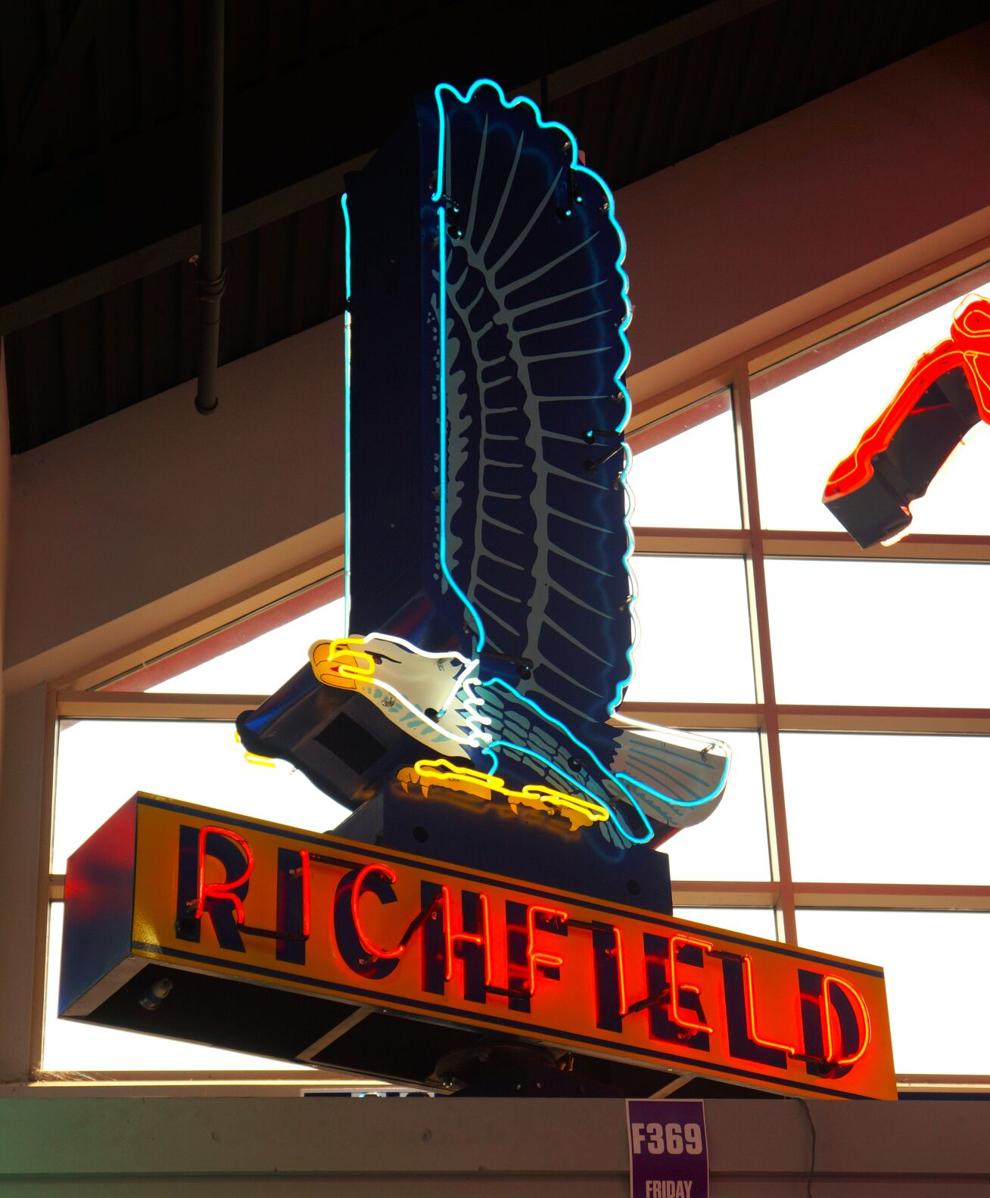 Mecum – Royal Crown (RC) Cola advertising scale.JPG

Mecum – Sam's Auto Parts neon sign.JPG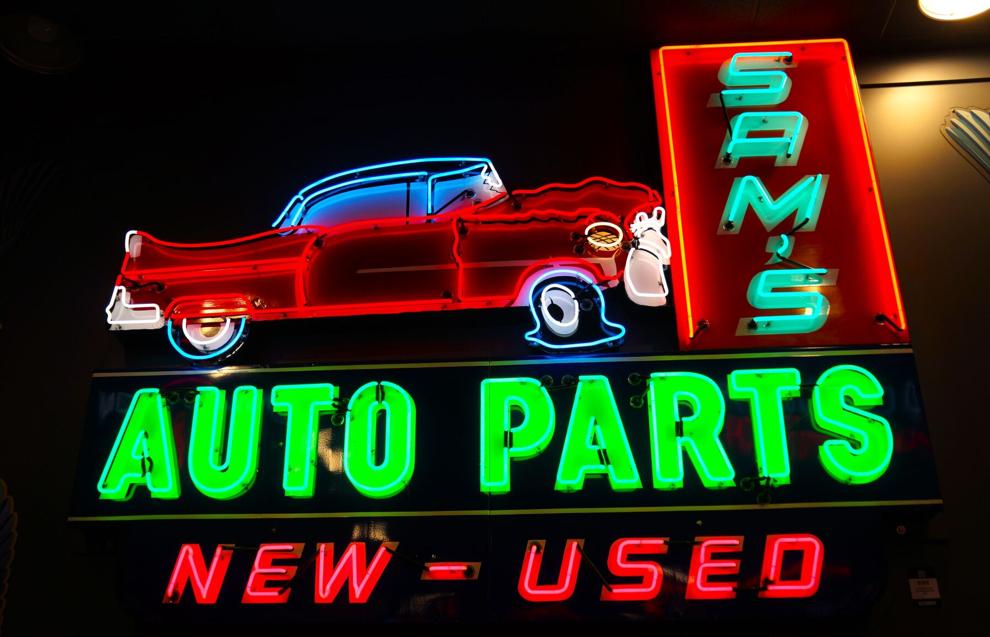 Mecum – Servel Electrolux neon porcelain steel sign.JPG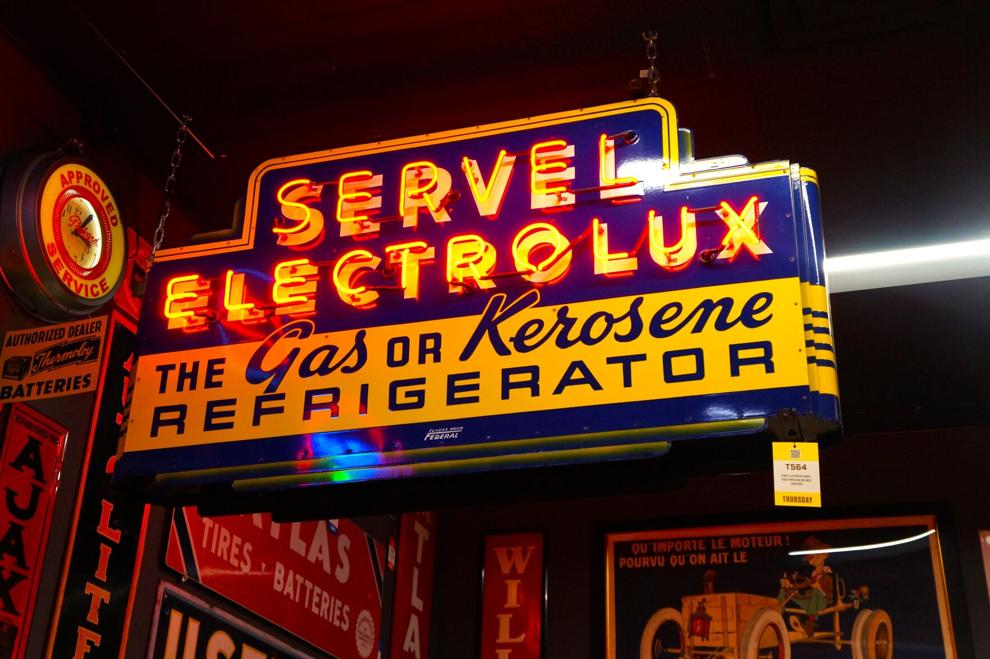 Mecum – Shell and Phillips 66 neon signs 2.JPG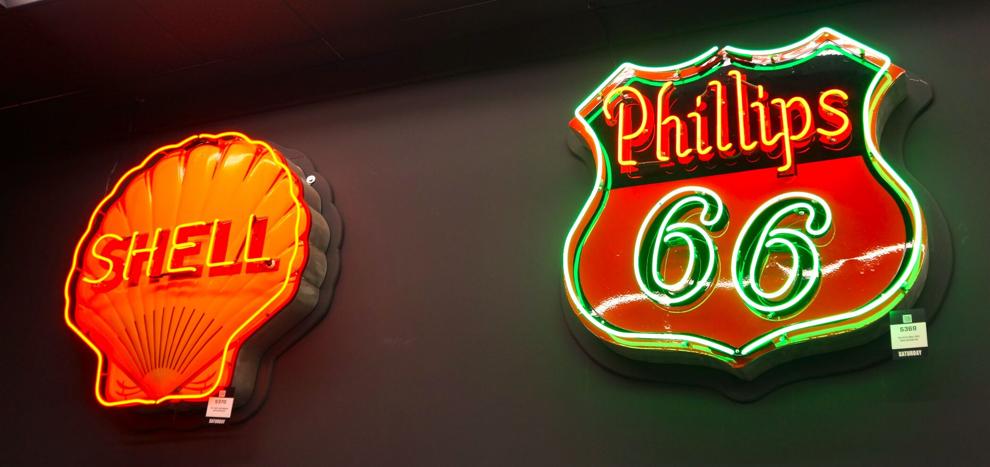 Mecum – Shell and Studebaker neon.JPG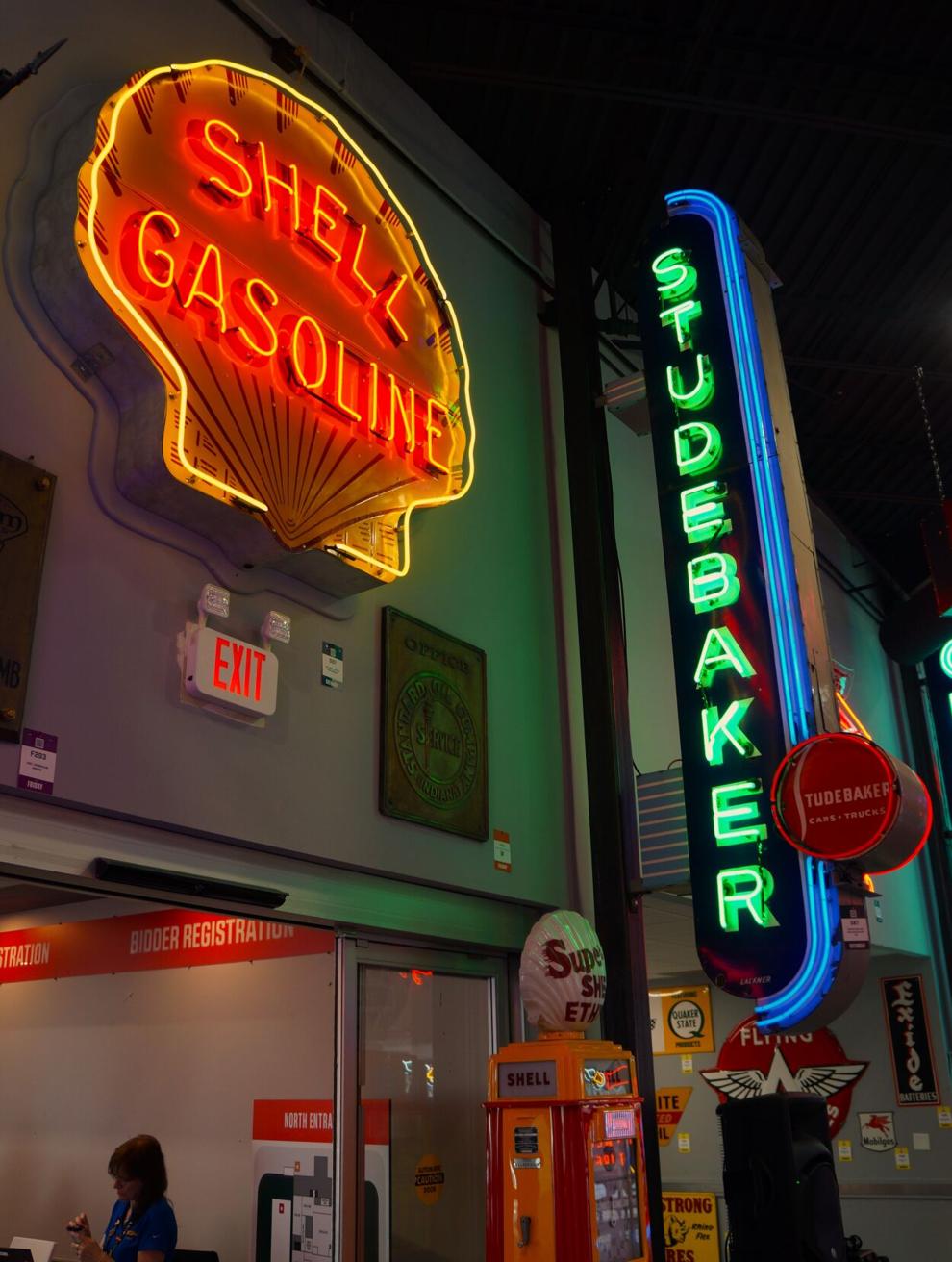 Mecum – Shell Gasoline neon porcelain steel sign.JPG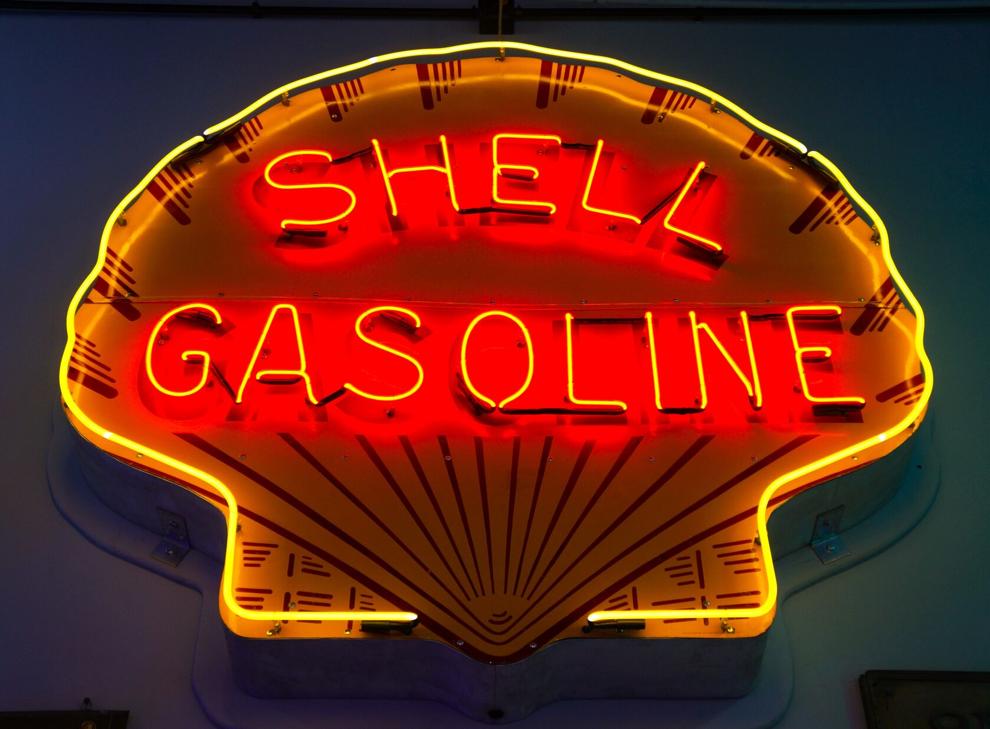 Mecum – Shell, Phillips 66 gas pump globes.JPG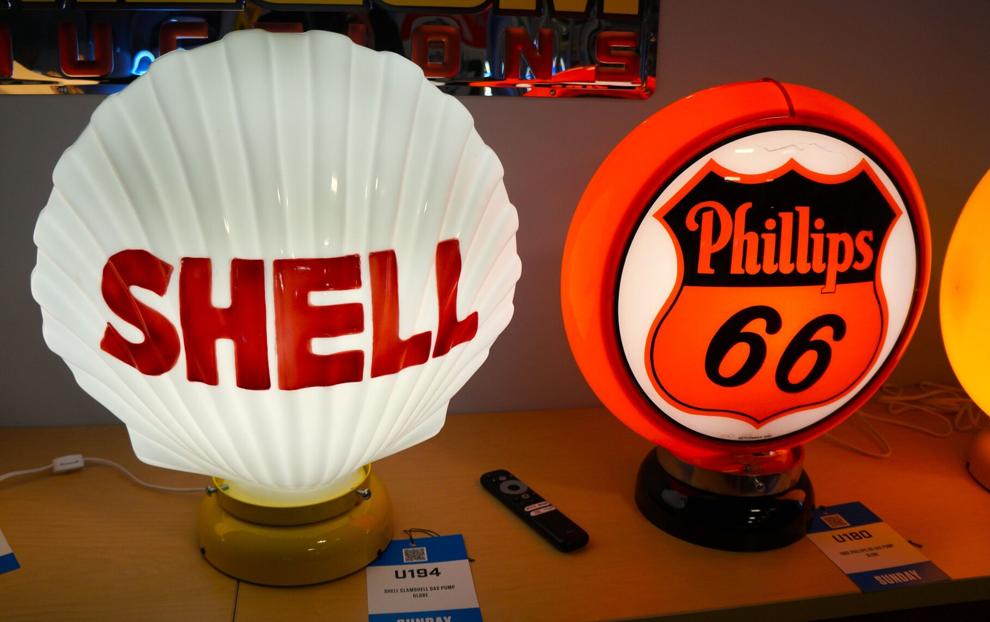 Mecum – Shoes & Dry Goods neon porcelain steel sign.JPG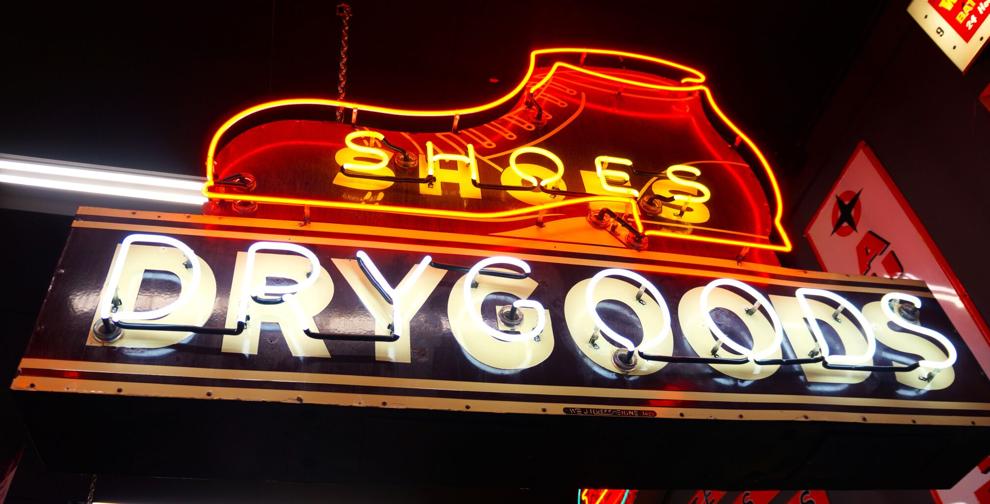 Mecum – Showroom 1.JPG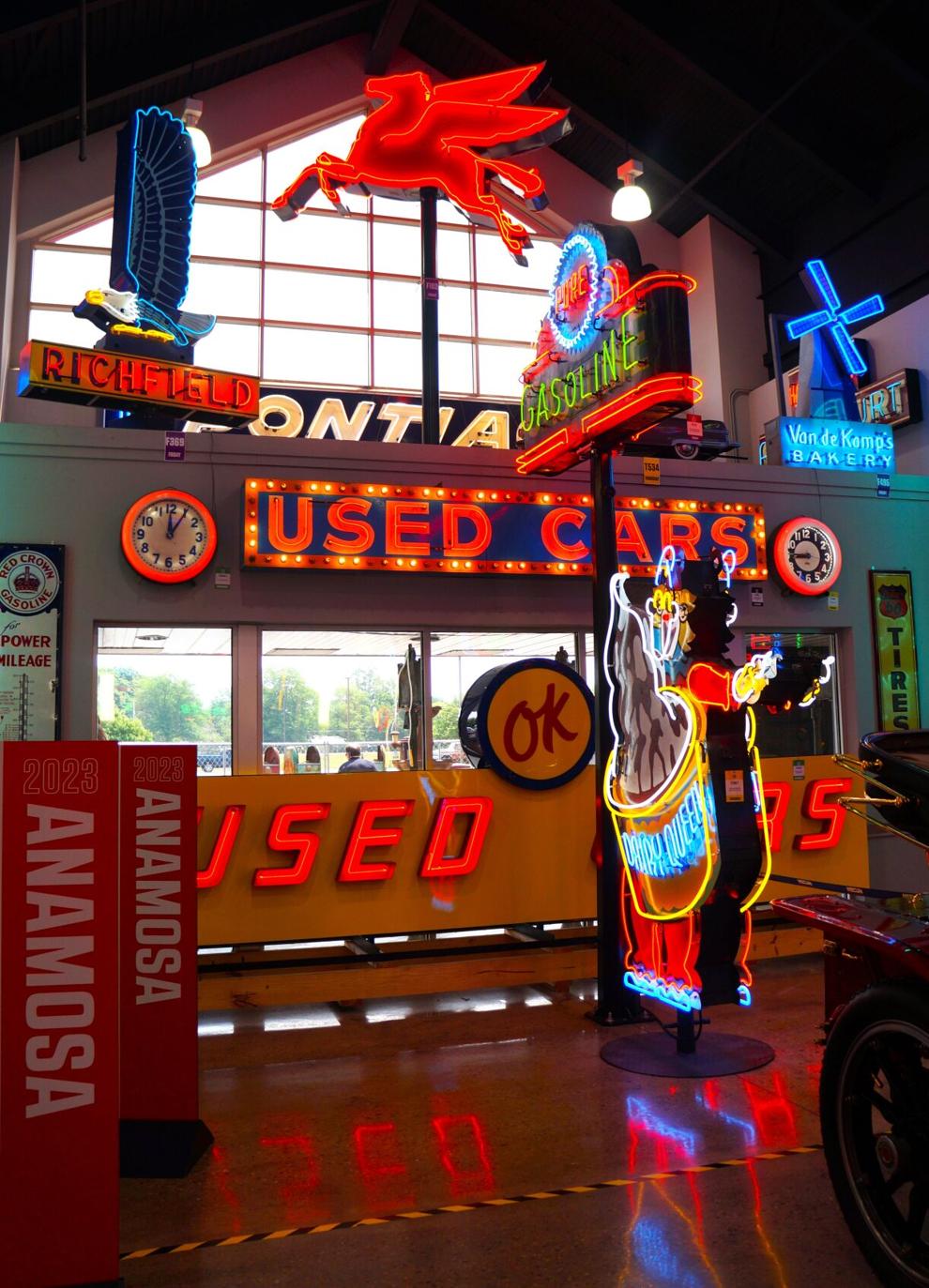 Mecum – Showroom 2.JPG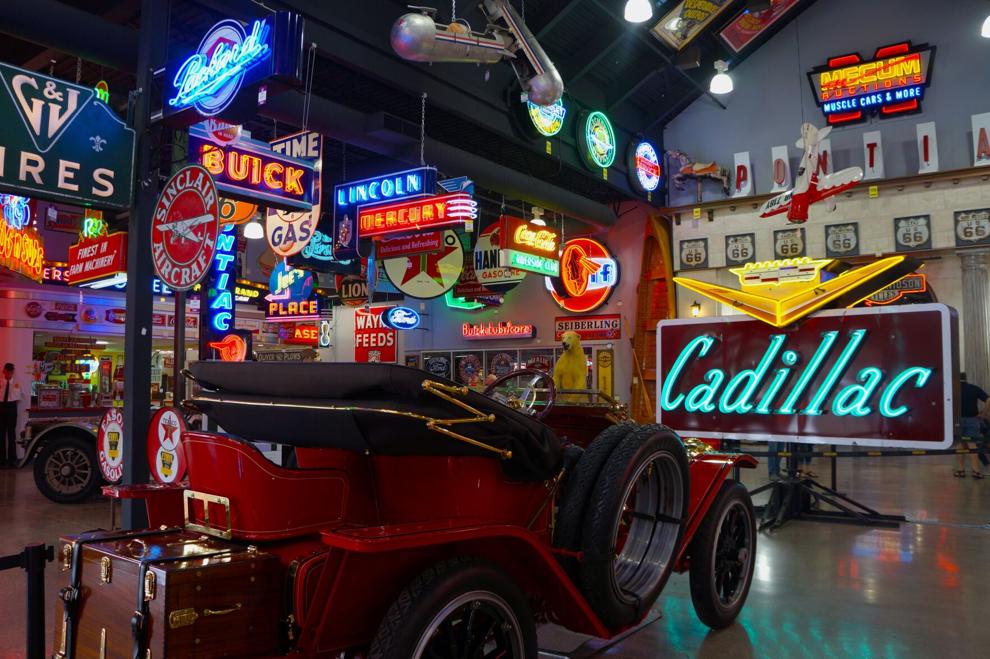 Mecum – Showroom 3.JPG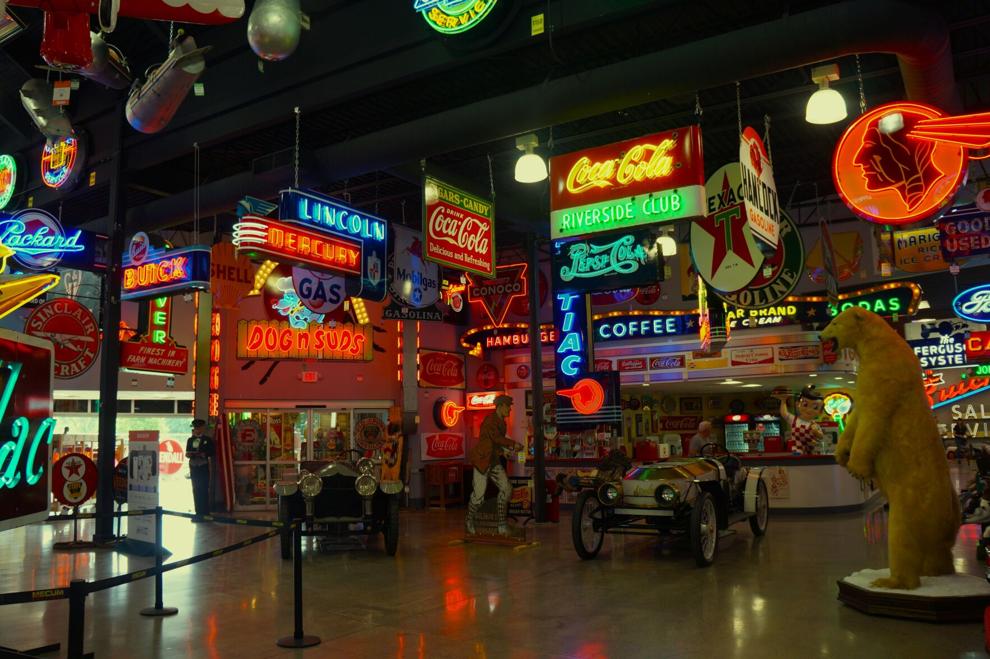 Mecum – Showroom 4.JPG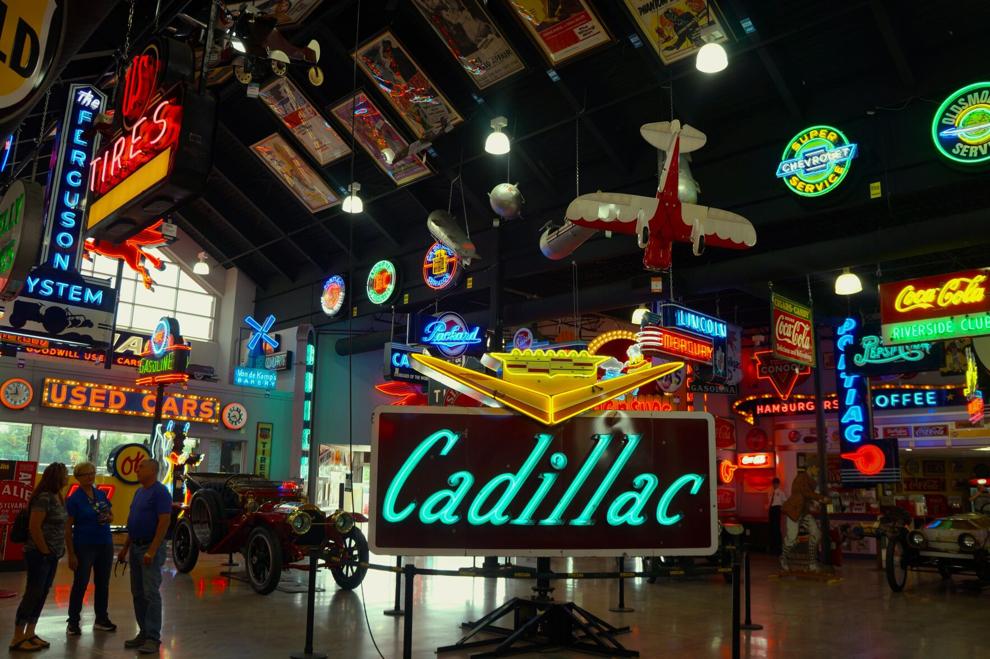 Mecum – Showroom 5.JPG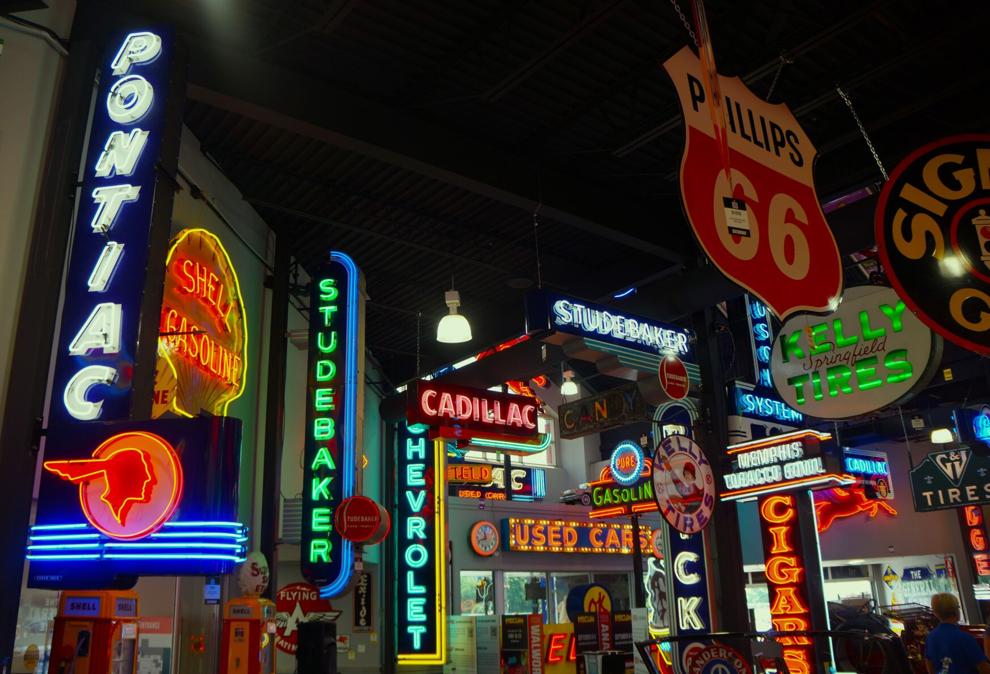 Mecum – Showroom 6.JPG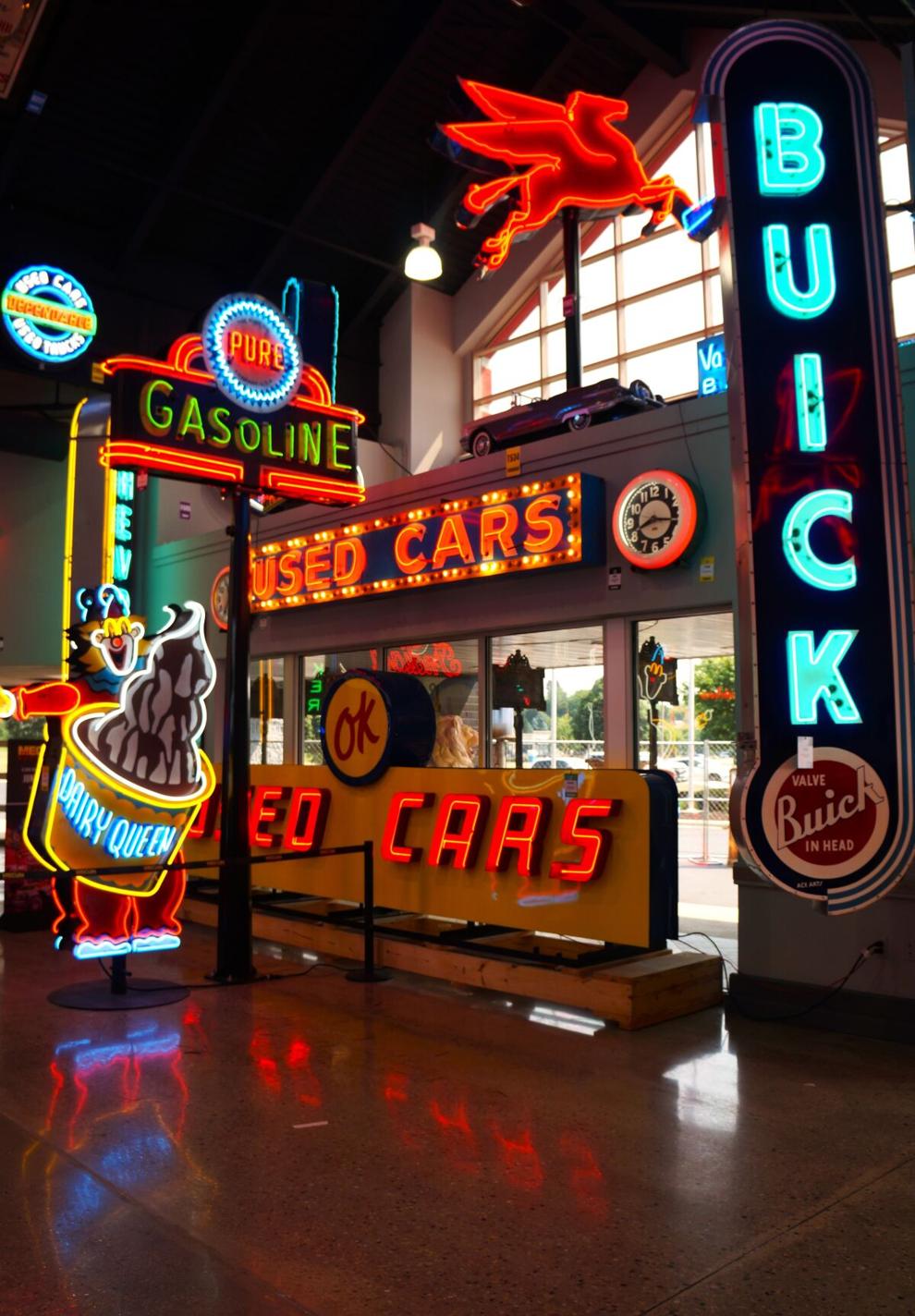 Mecum – Showroom 7.JPG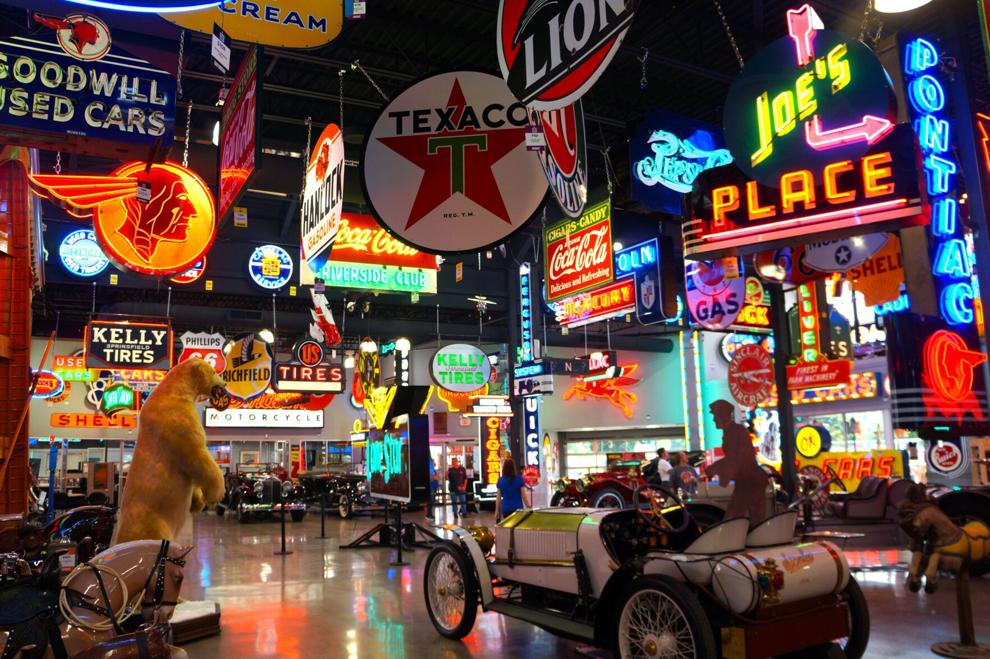 Mecum – Showroom view.JPG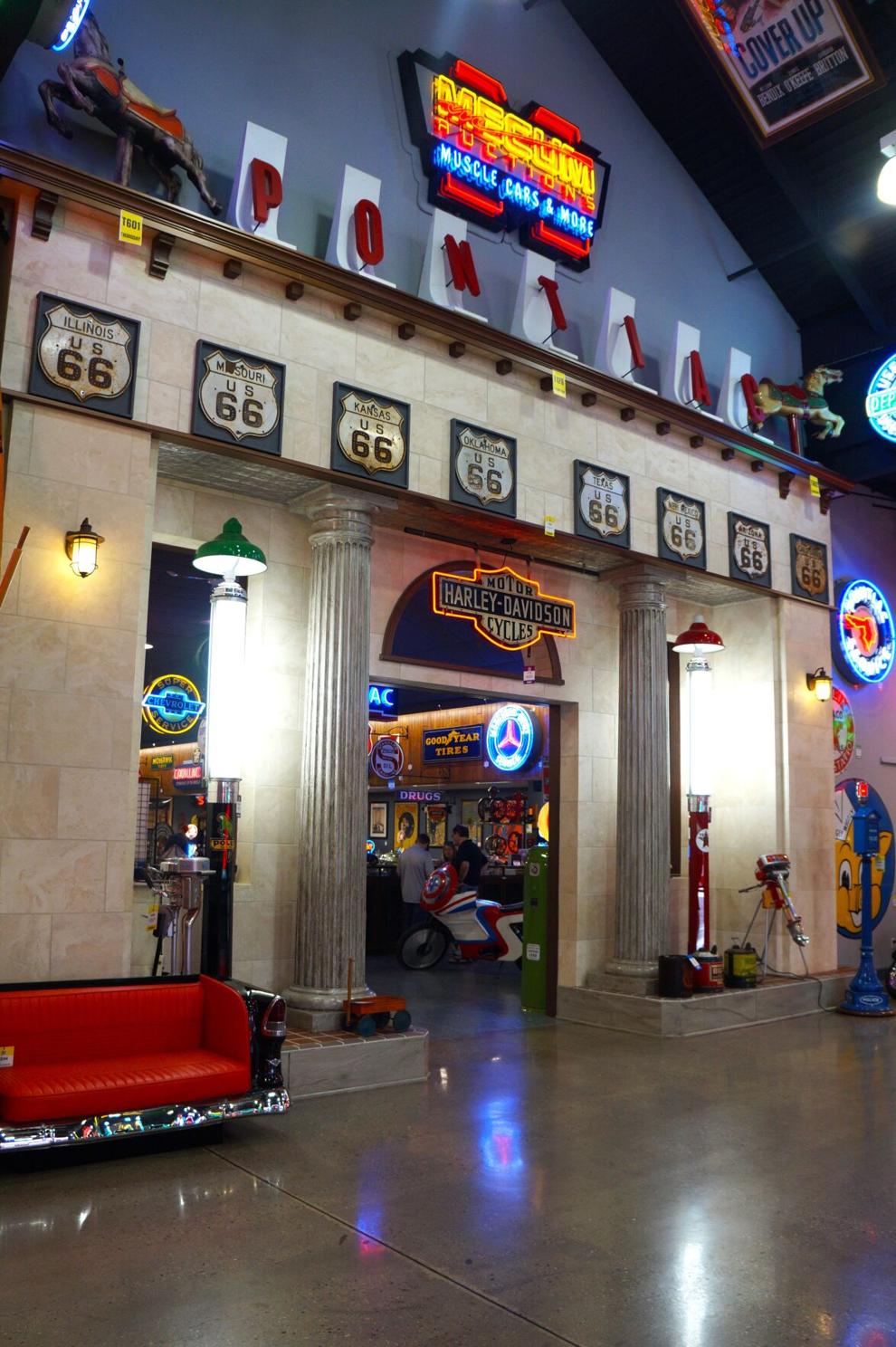 Mecum – Signs 1.JPG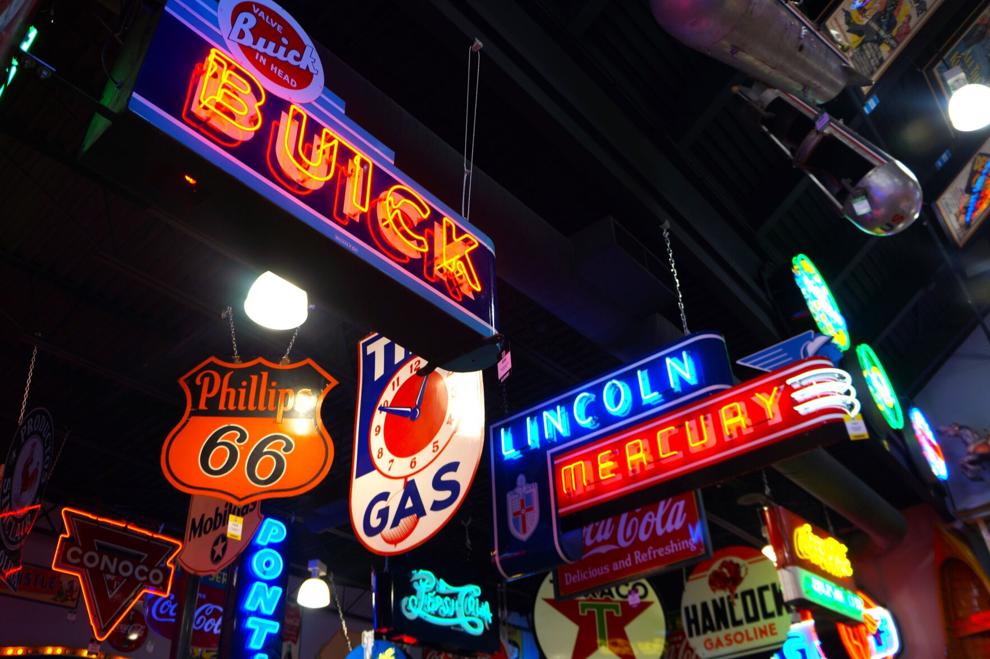 Mecum – Signs 2.JPG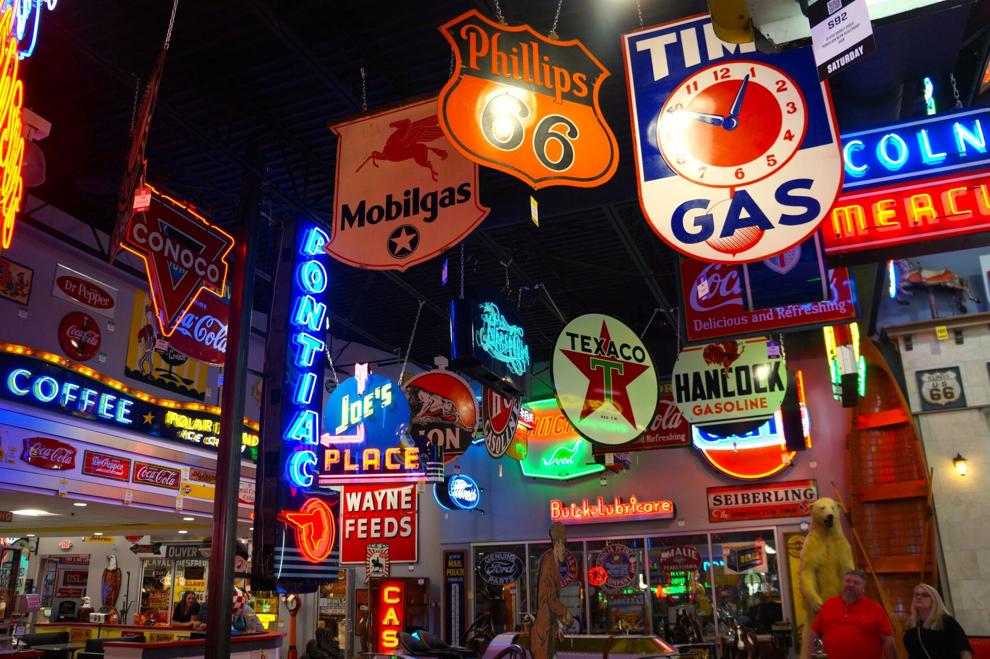 Mecum – Signs 3.JPG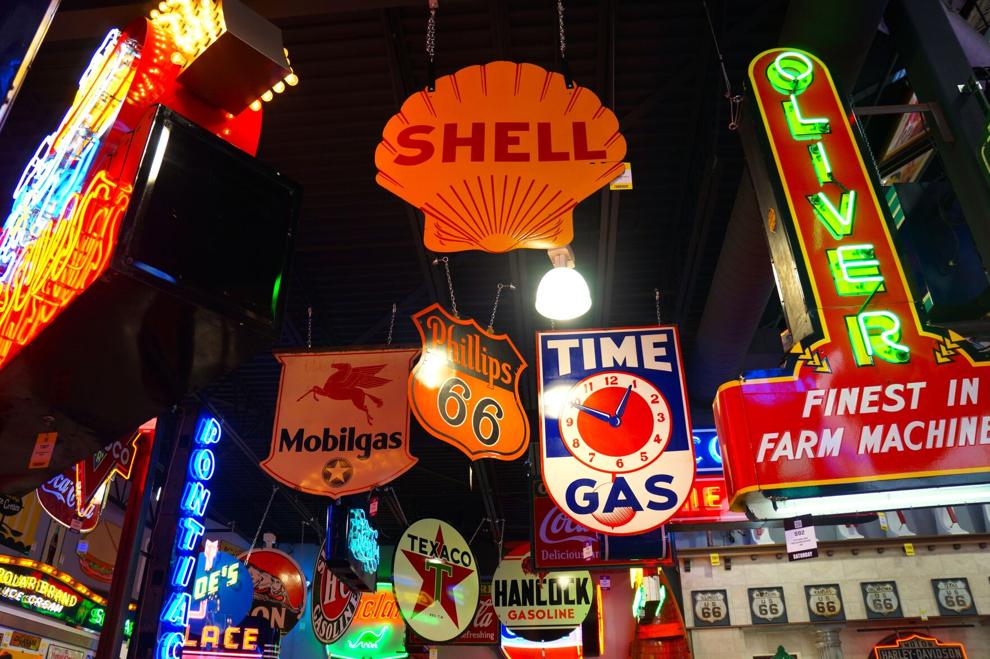 Mecum – Signs 4.JPG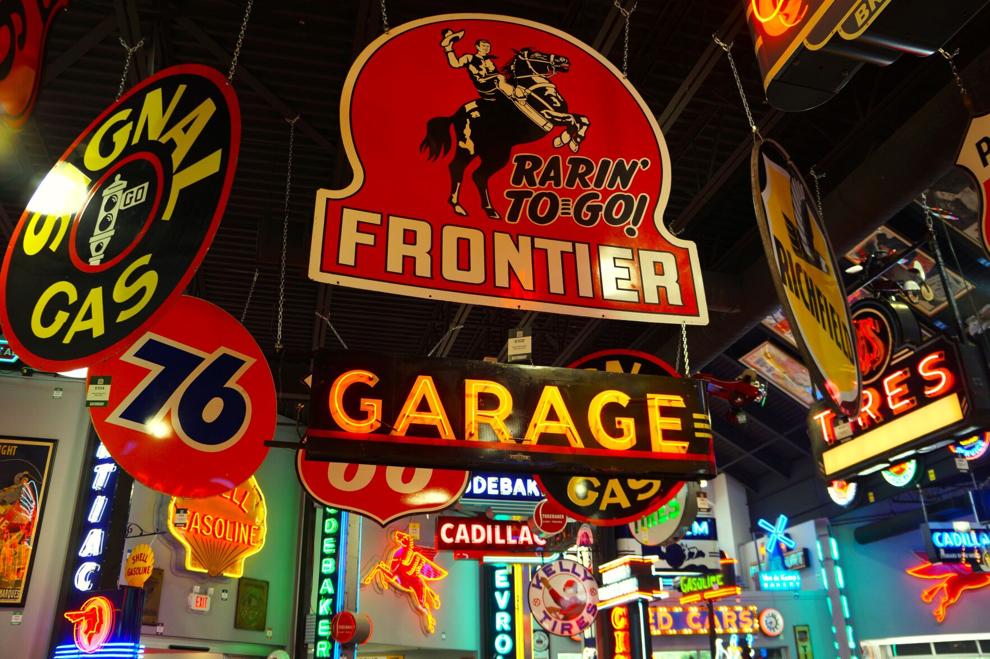 Mecum – Signs 5.JPG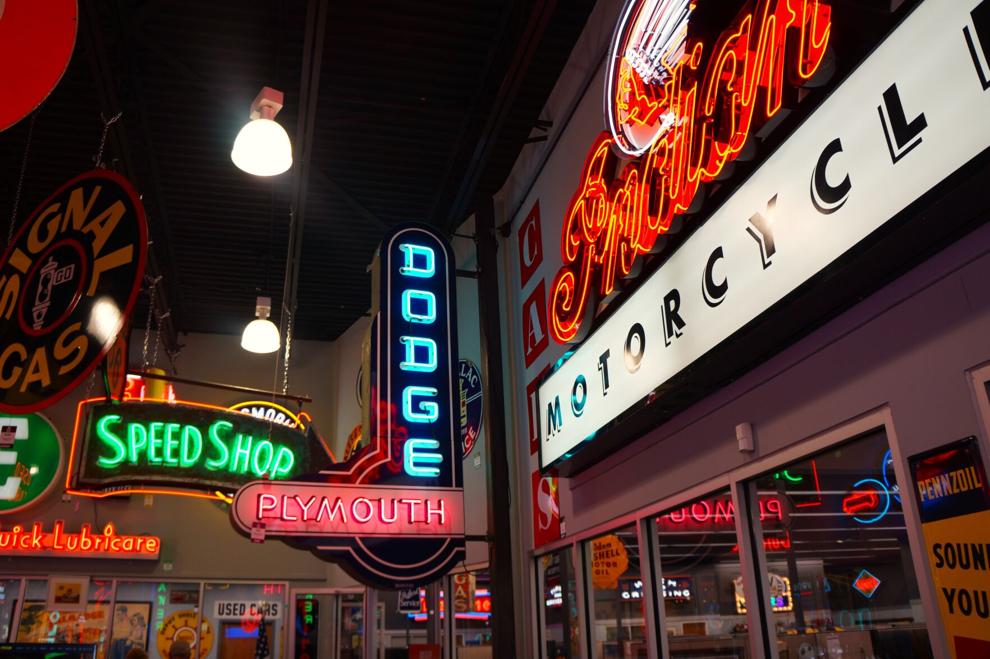 Mecum – Signs 6.JPG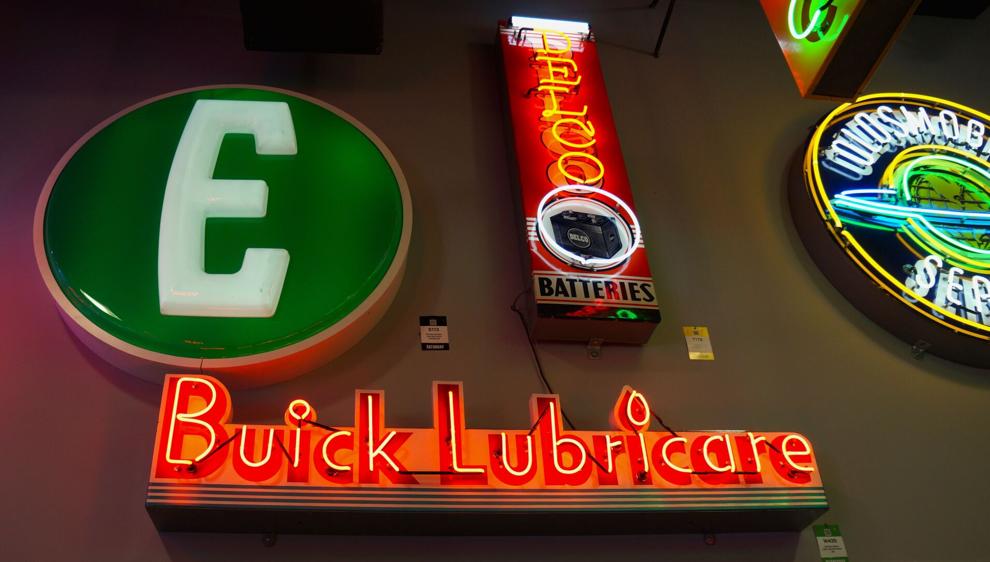 Mecum – Sinclair advertising 2.JPG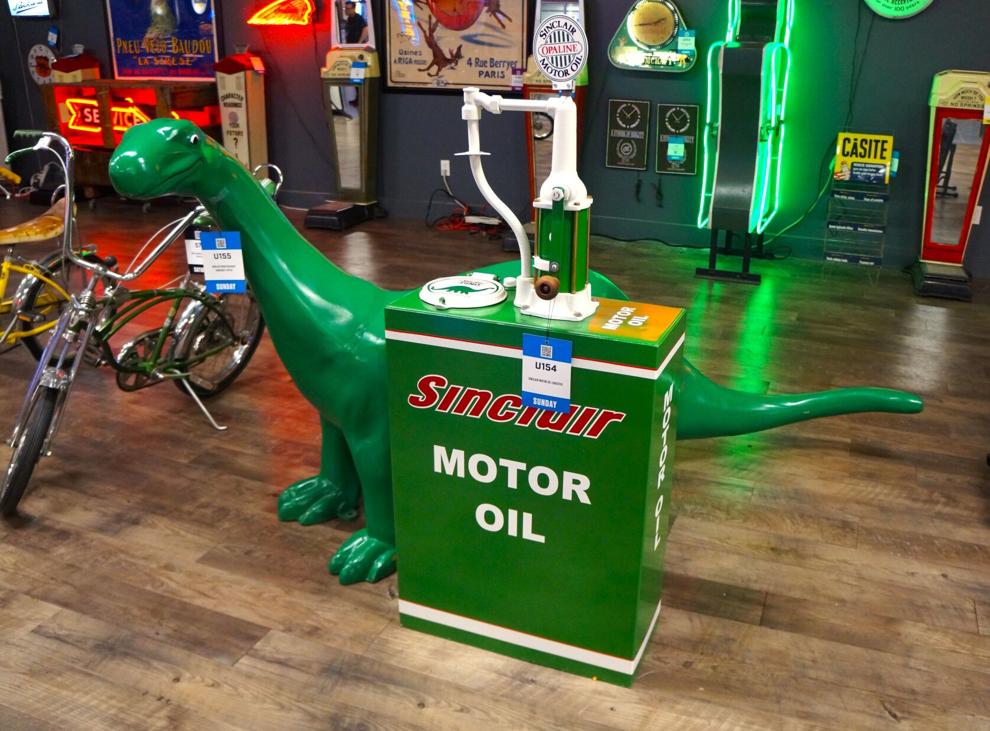 Mecum – Sinclair advertising.JPG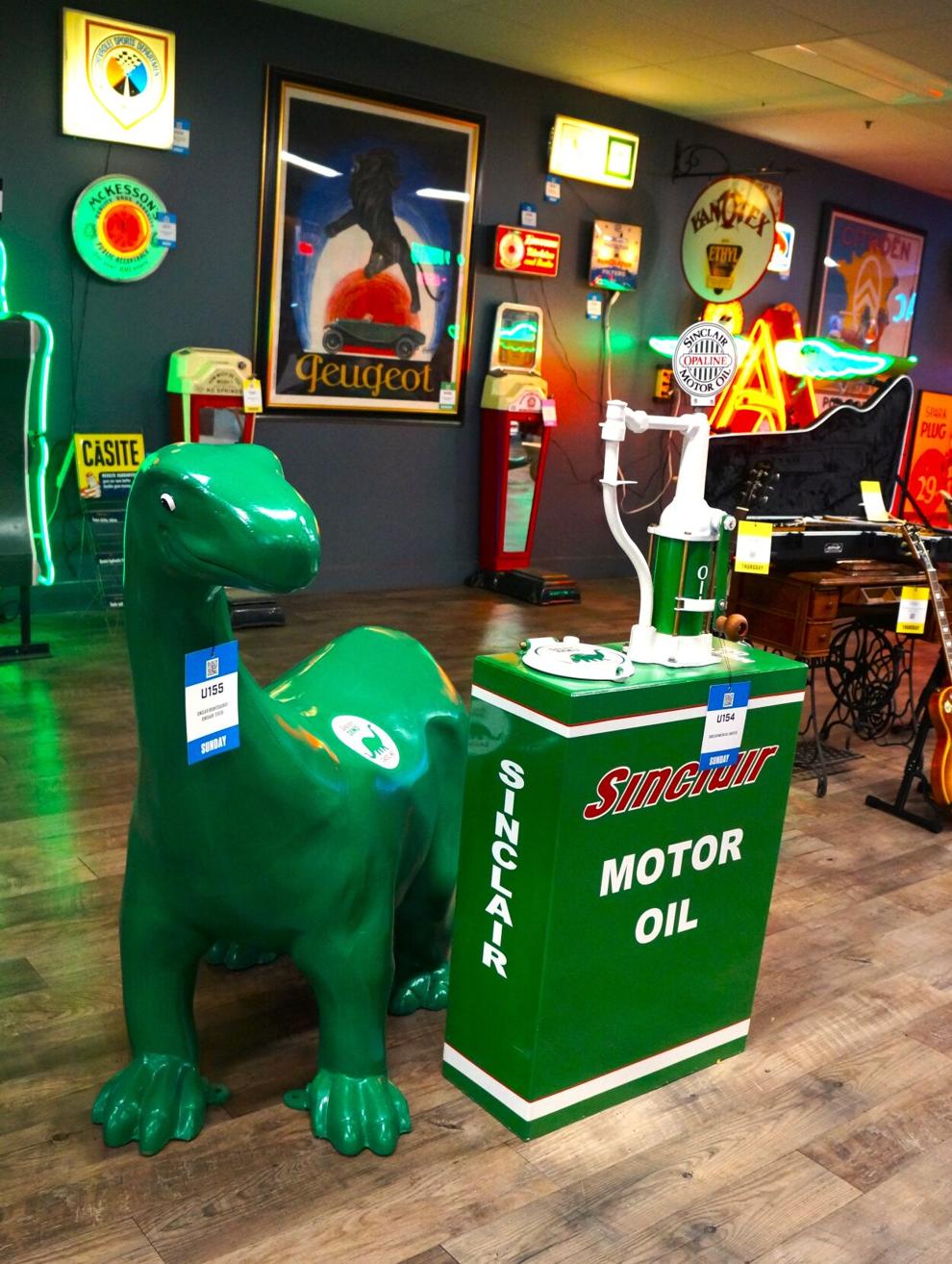 Mecum – SITE and Zephyr gas pump globes.JPG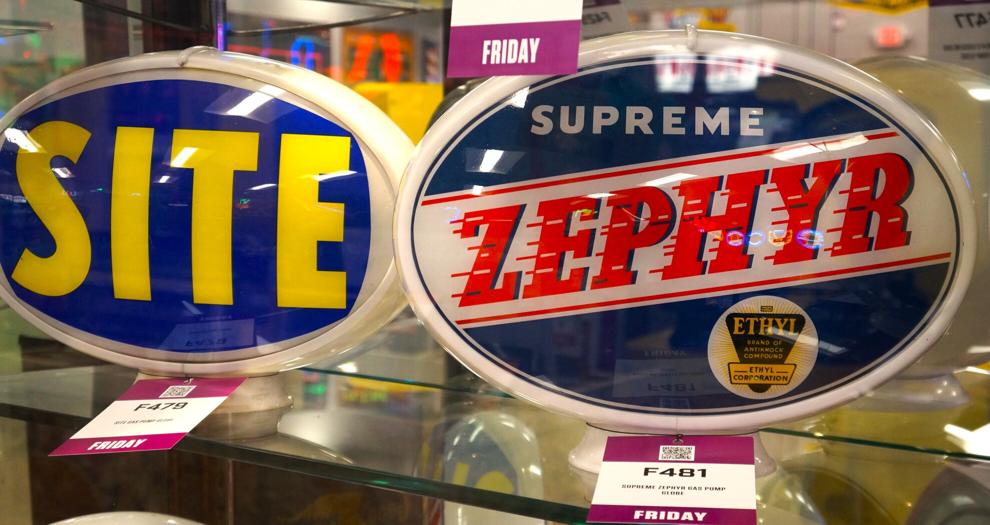 Mecum – Small Associated, Chevron, DX and Shell porcelain steel signs.JPG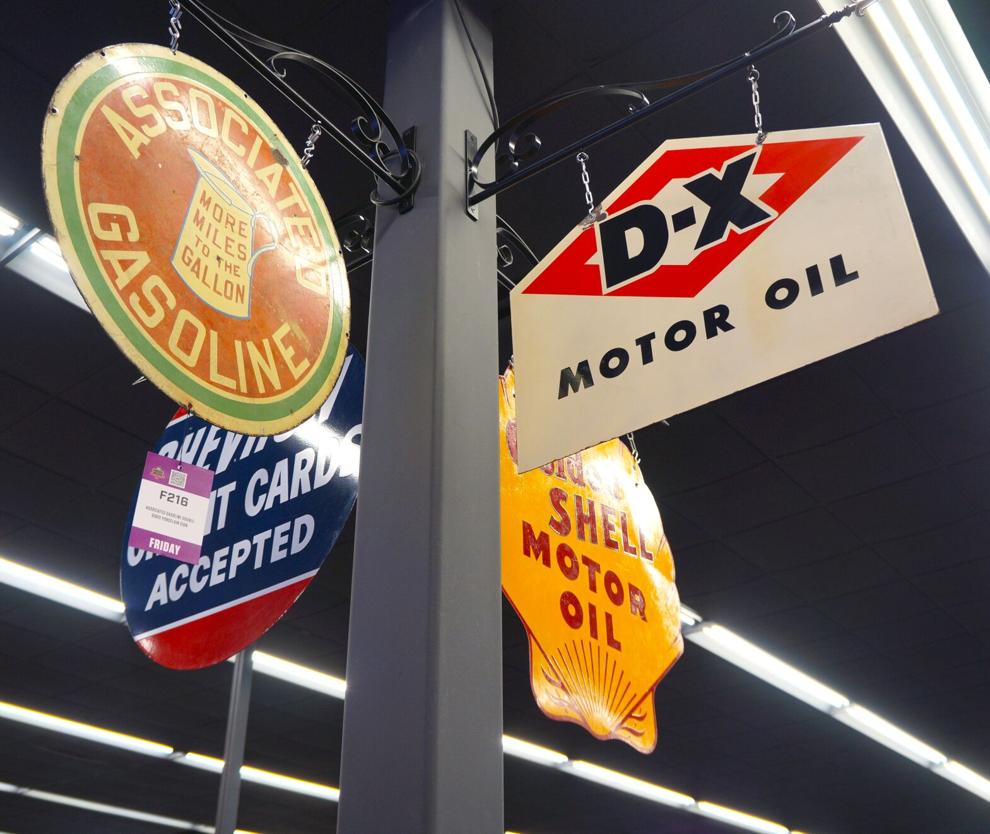 Mecum – Small items.JPG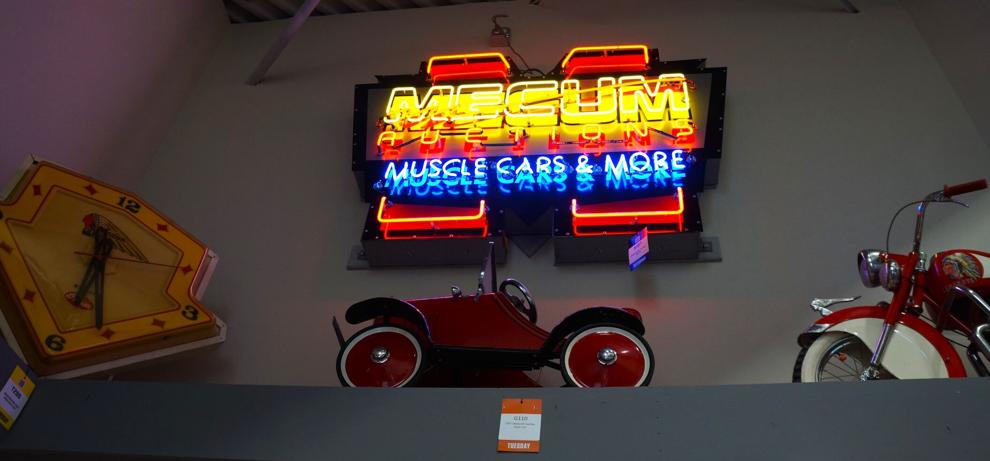 Mecum – Small signs.JPG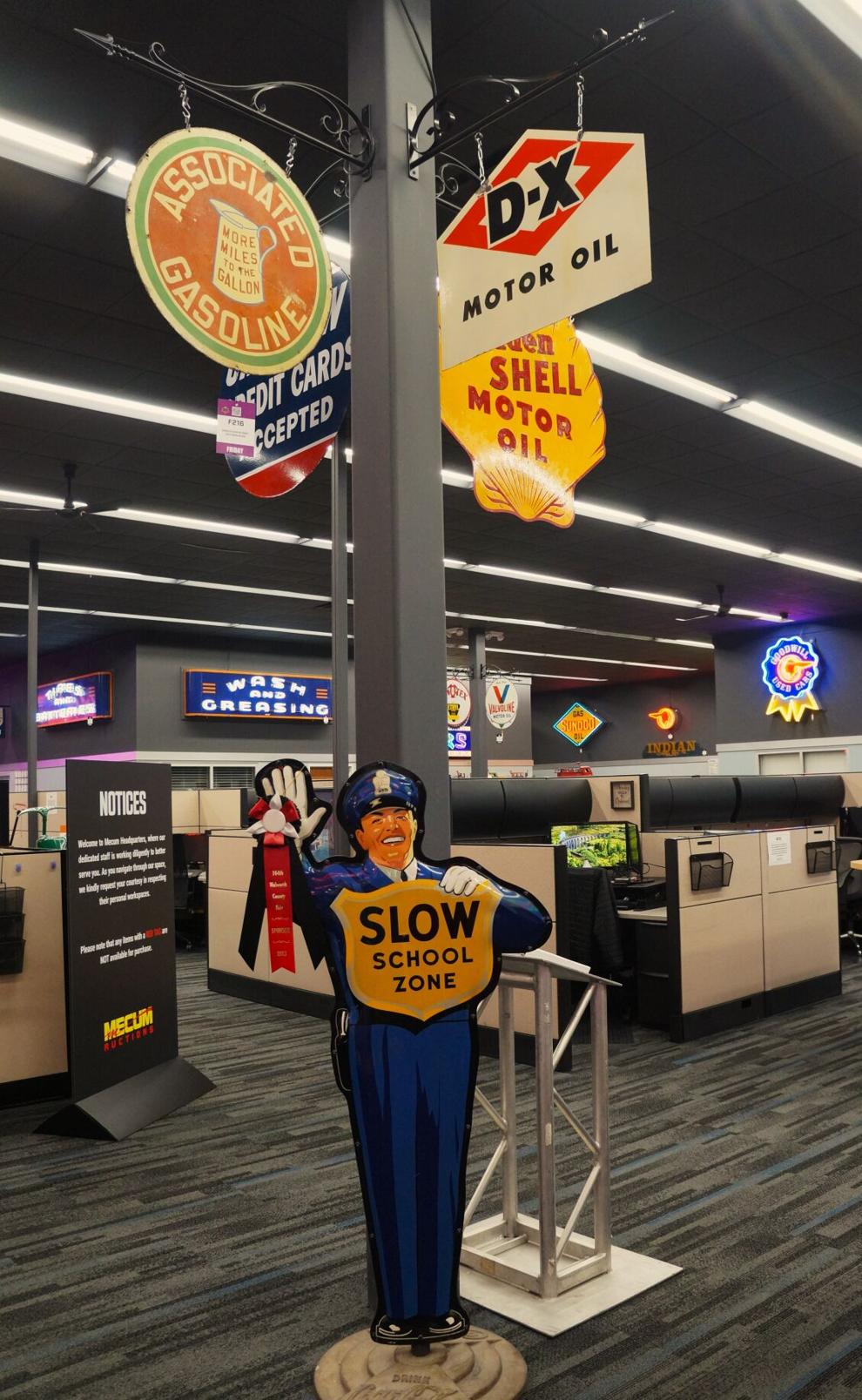 Mecum – Soda fountain collectibles with Big Boy statue.JPG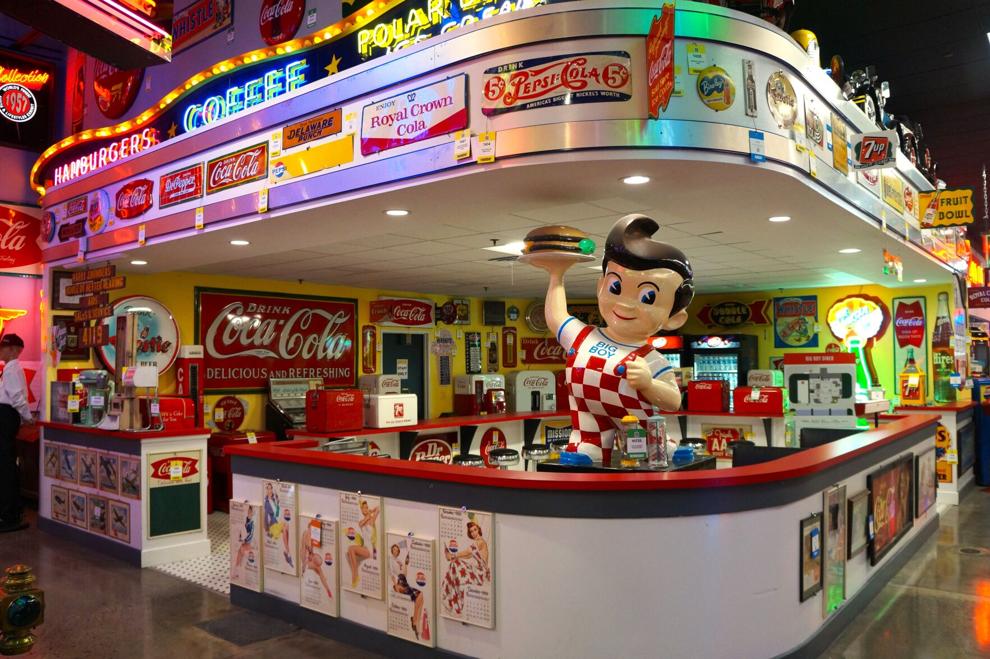 Mecum – Soda fountain items.JPG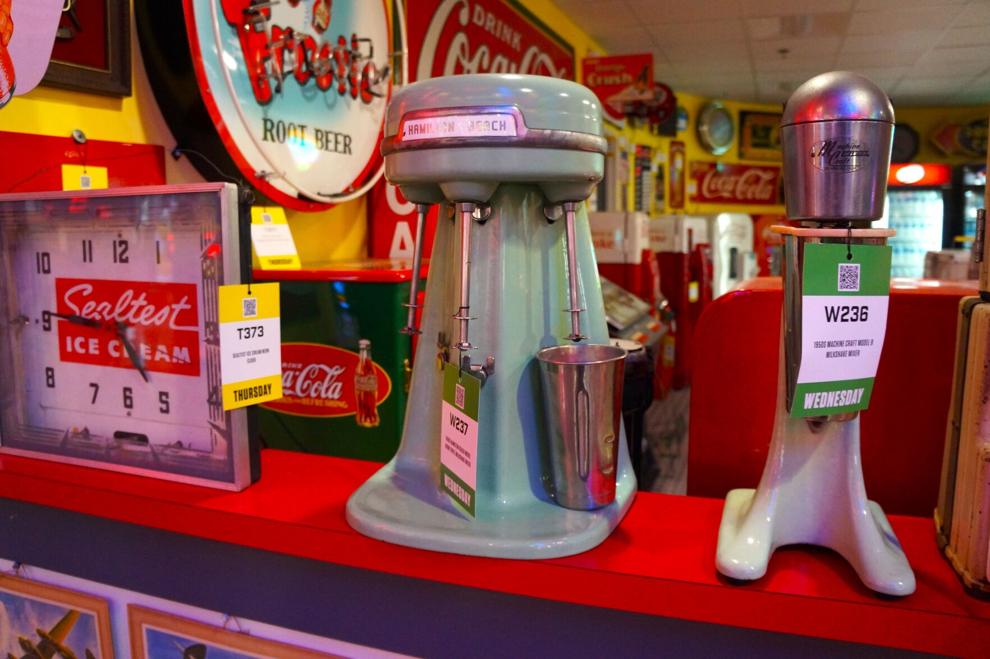 Mecum – Speed Shop neon.JPG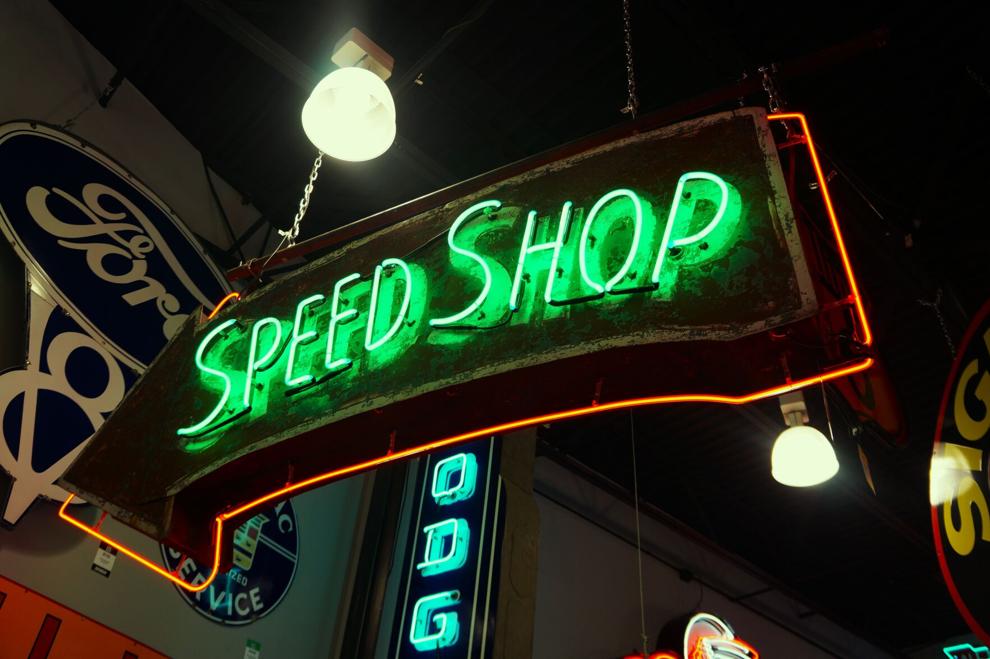 Mecum – Speedway neon porcelain sign.JPG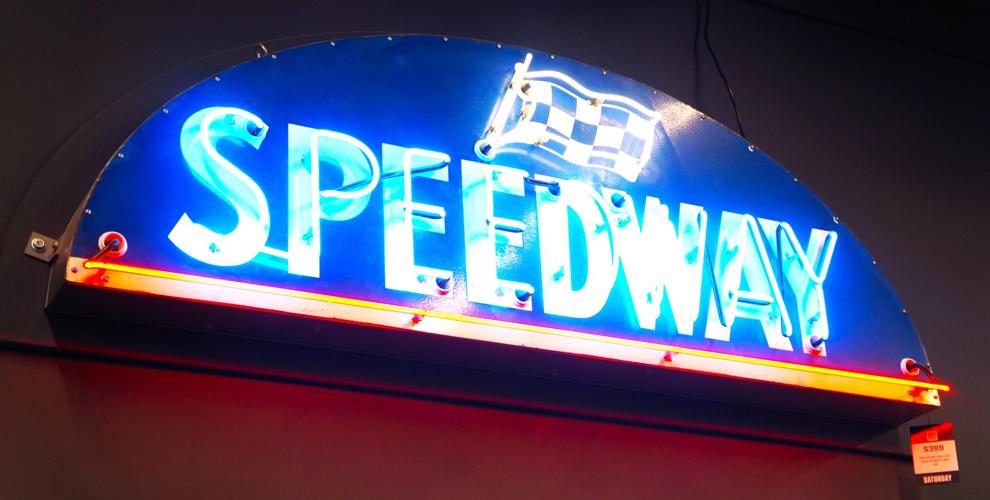 Mecum – Spur gas pump globe.JPG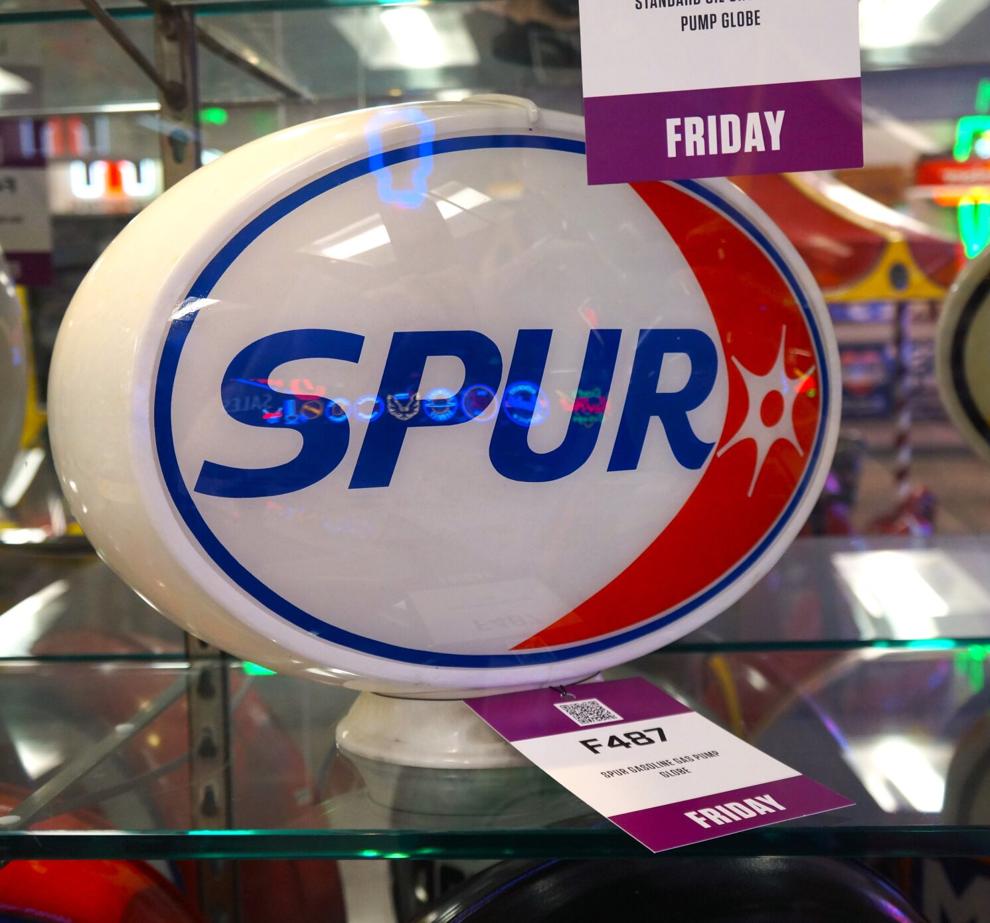 Mecum – Standard and Harley Signs.JPG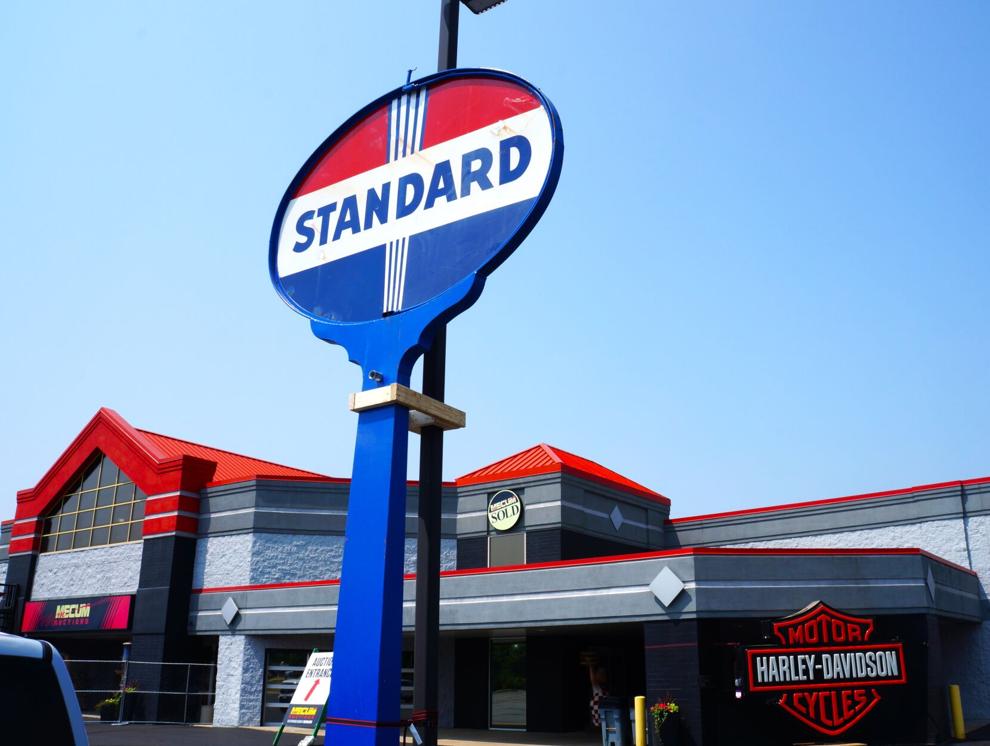 Mecum – Standard Oil Dealer neon porcelain sign.JPG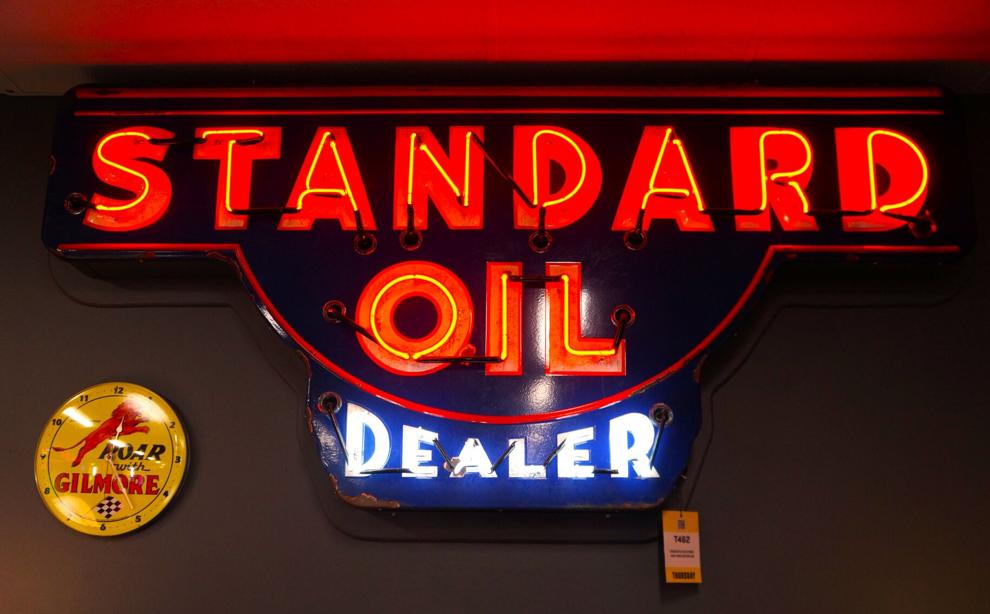 Mecum – Standard Oil of New Jersey (SO) ESSO gas pump globe.JPG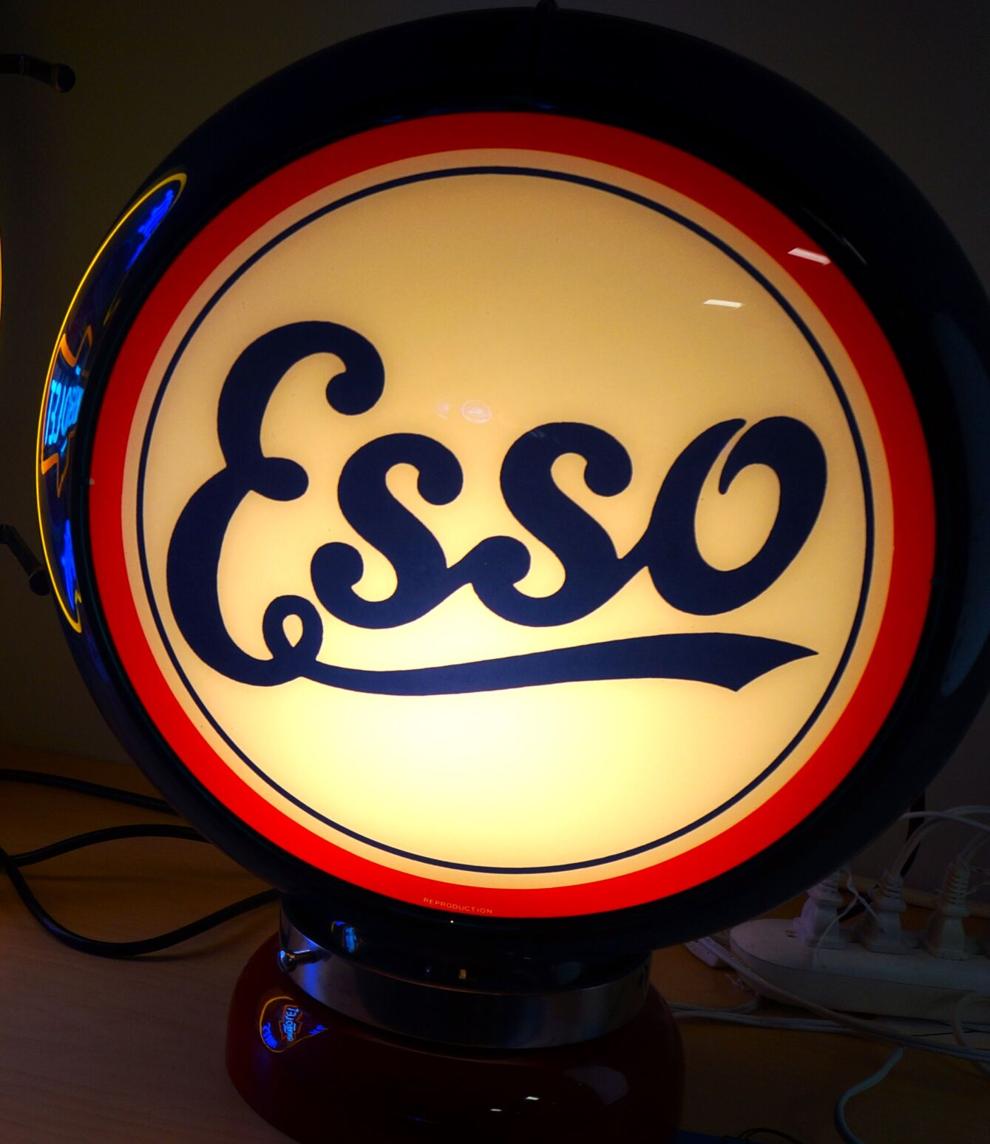 Mecum – Standard torch and oval neon porcelain steel sign.JPG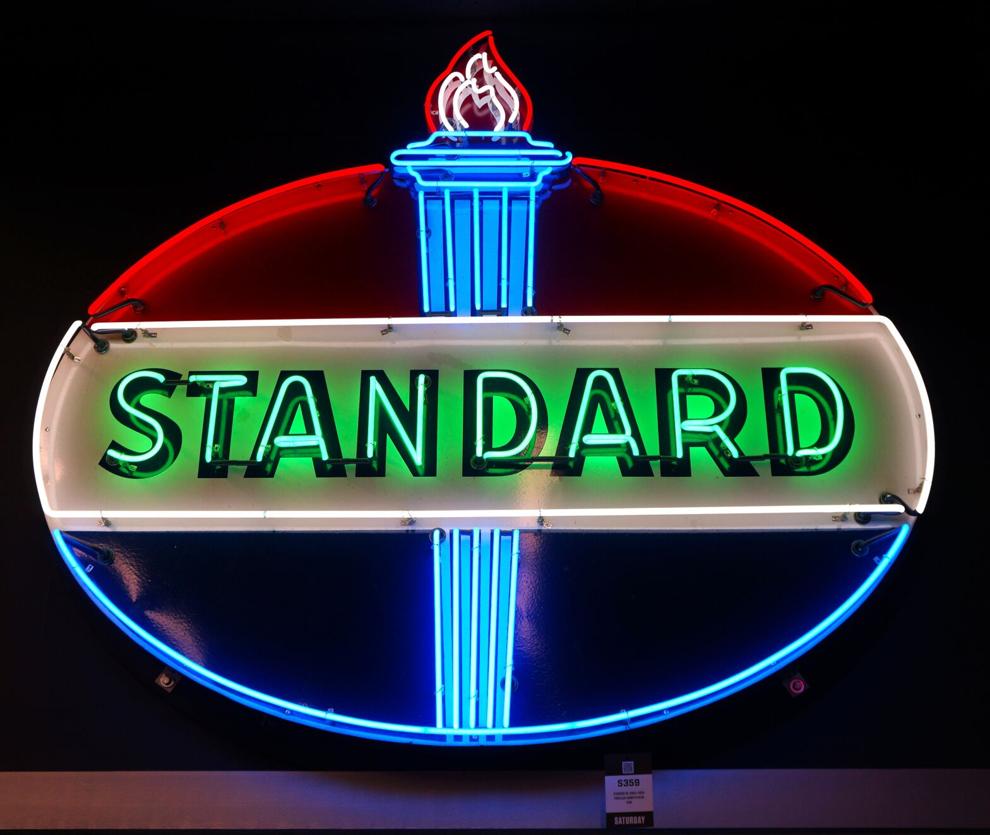 Mecum – Star Lanes neon sign.JPG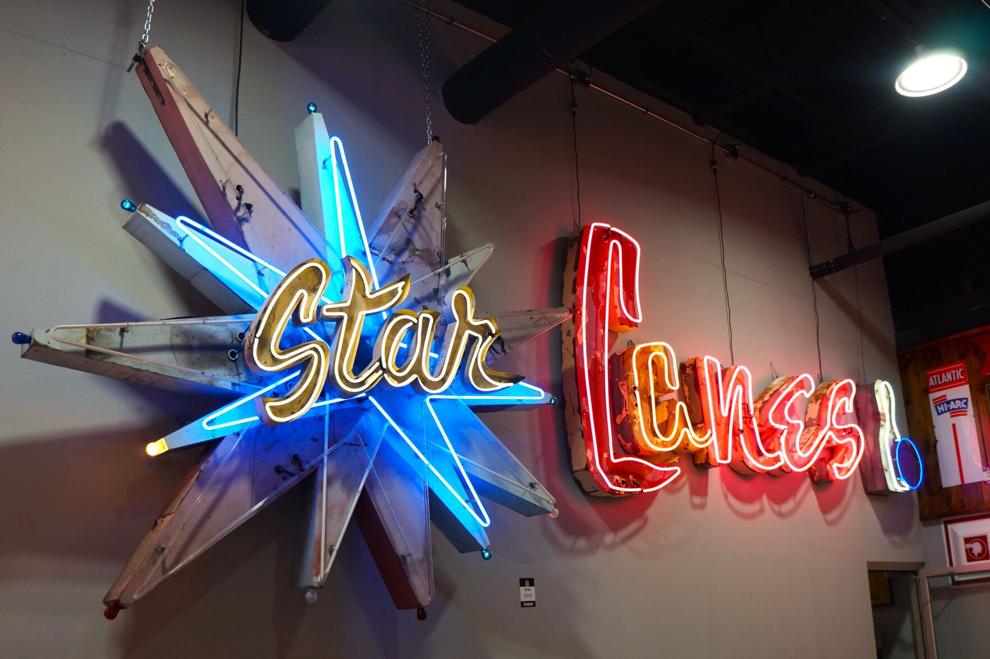 Mecum – Studebaker Cars & Trucks neon porcelain steel sign.JPG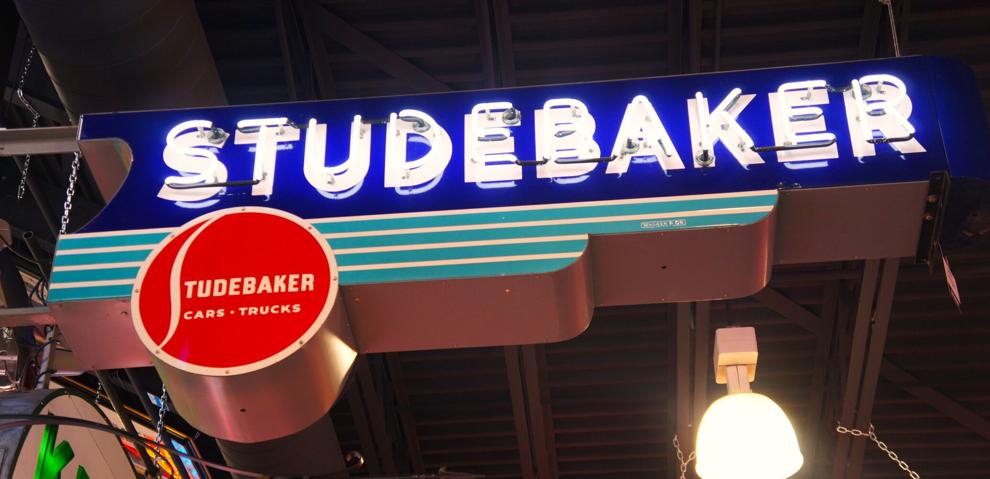 Mecum – Studebaker vertical neon porcelain steel sign.JPG
Mecum – Sunoco and Sinclair station signage.JPG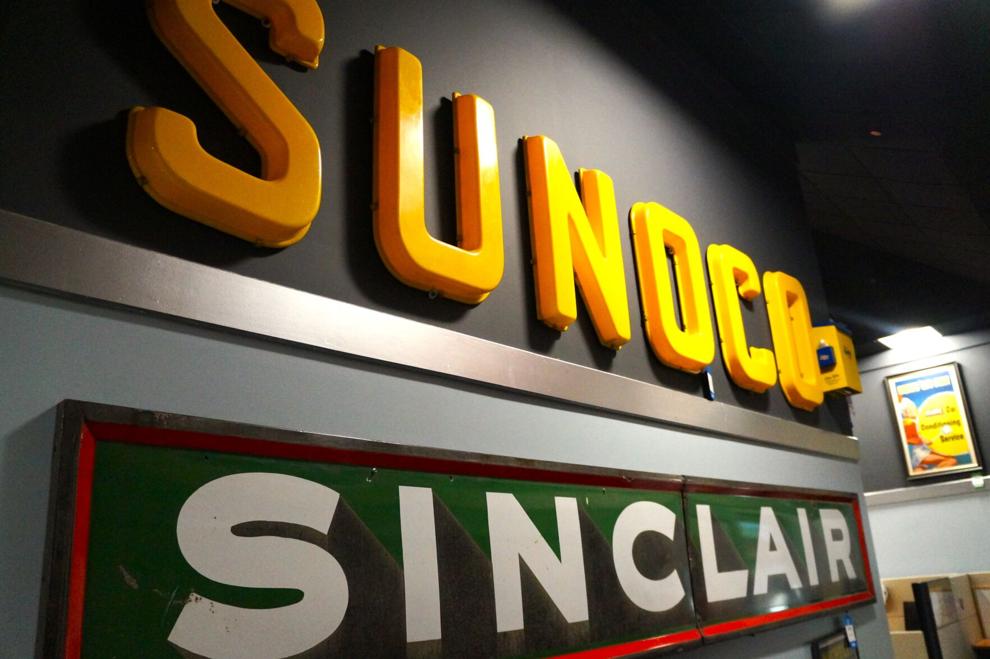 Mecum – Sunoco Blue gasoline pump with globe.JPG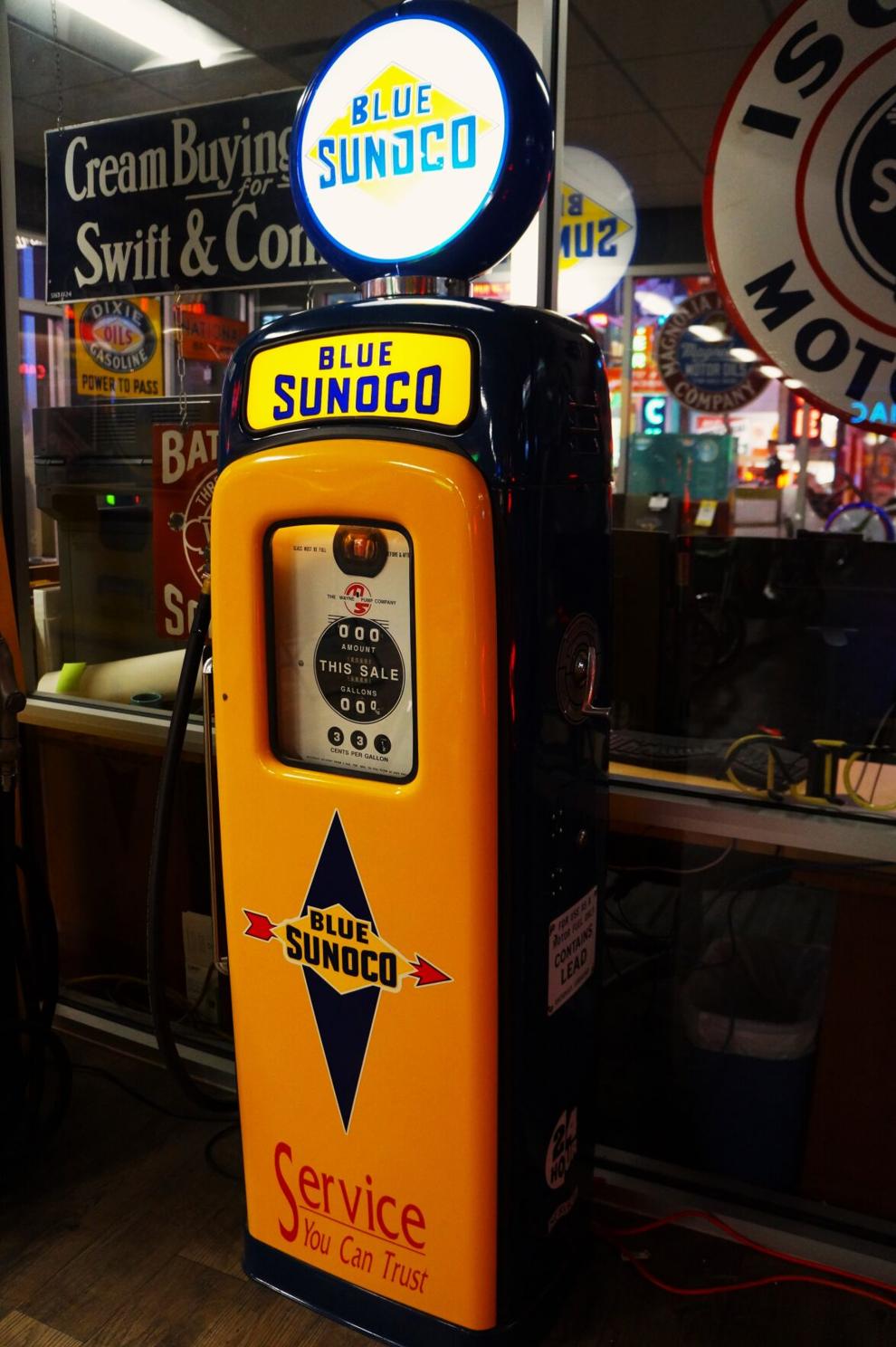 Mecum – Sunoco Custom Blending pump with Blue Sunoco globe.JPG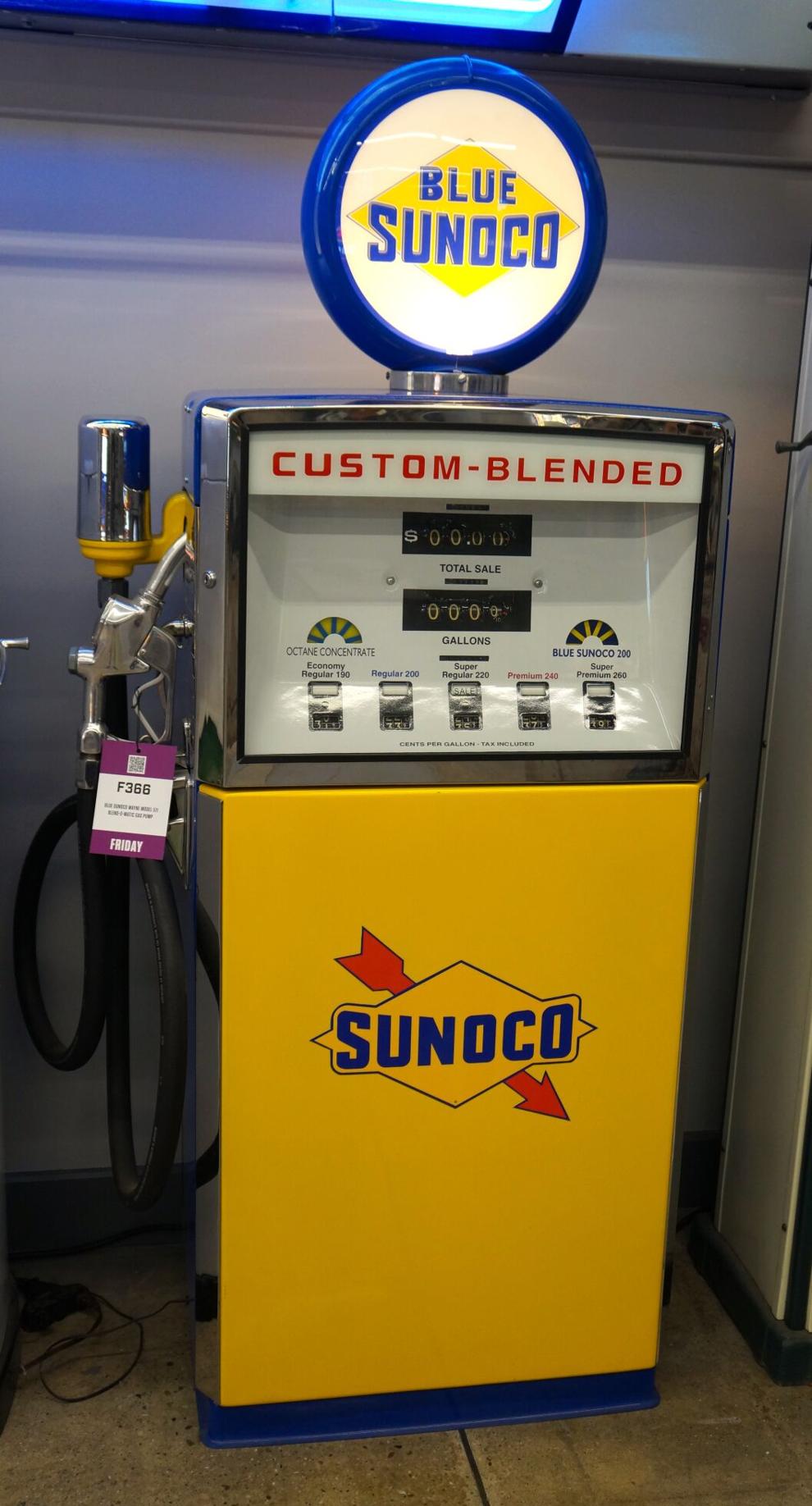 Mecum – Sunoco porcelain neon sign.JPG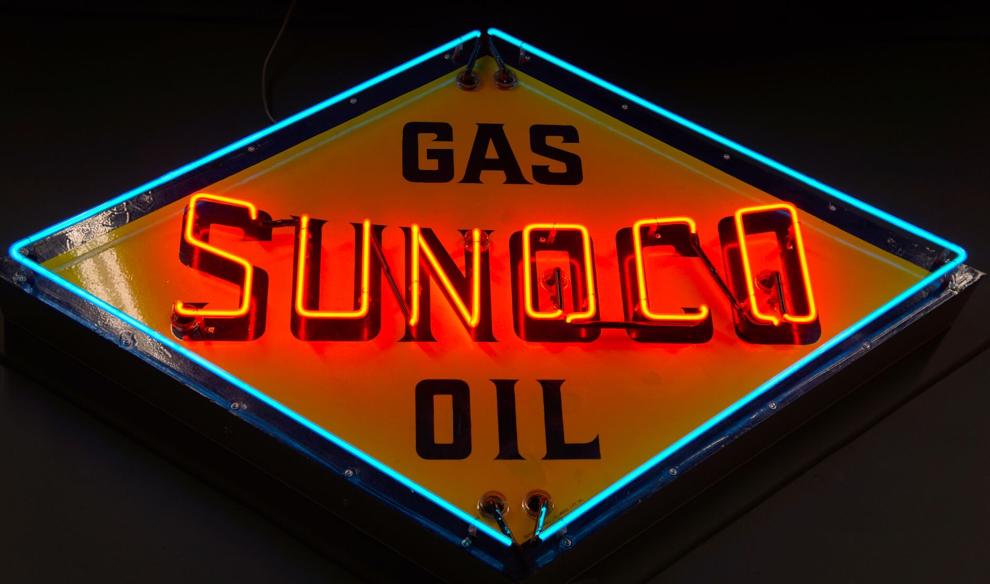 Mecum – Sunoco Sign.JPG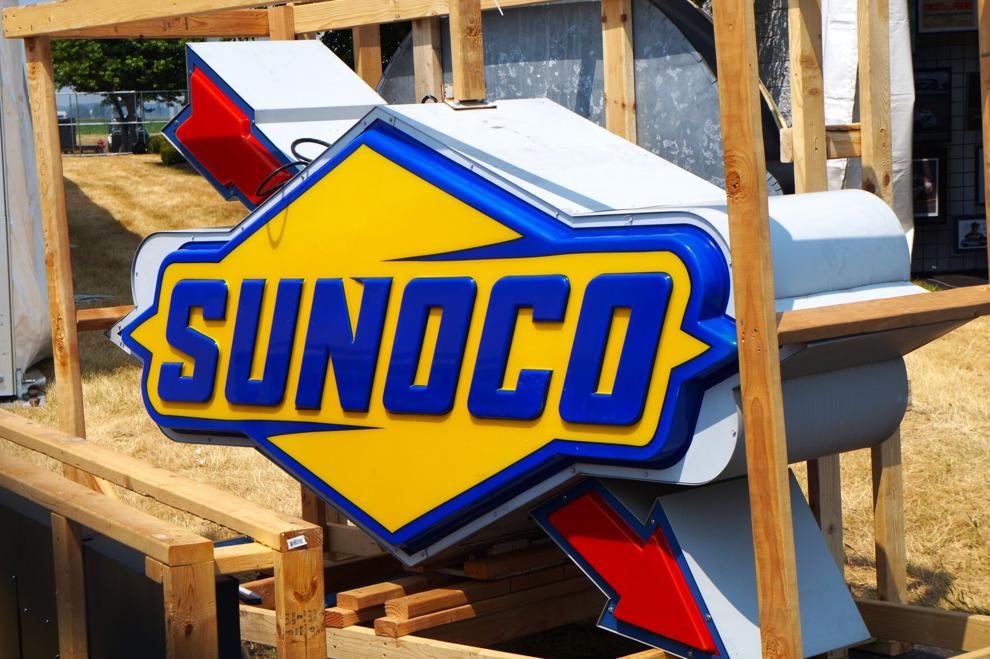 Mecum – Tall Big Boy sign.JPG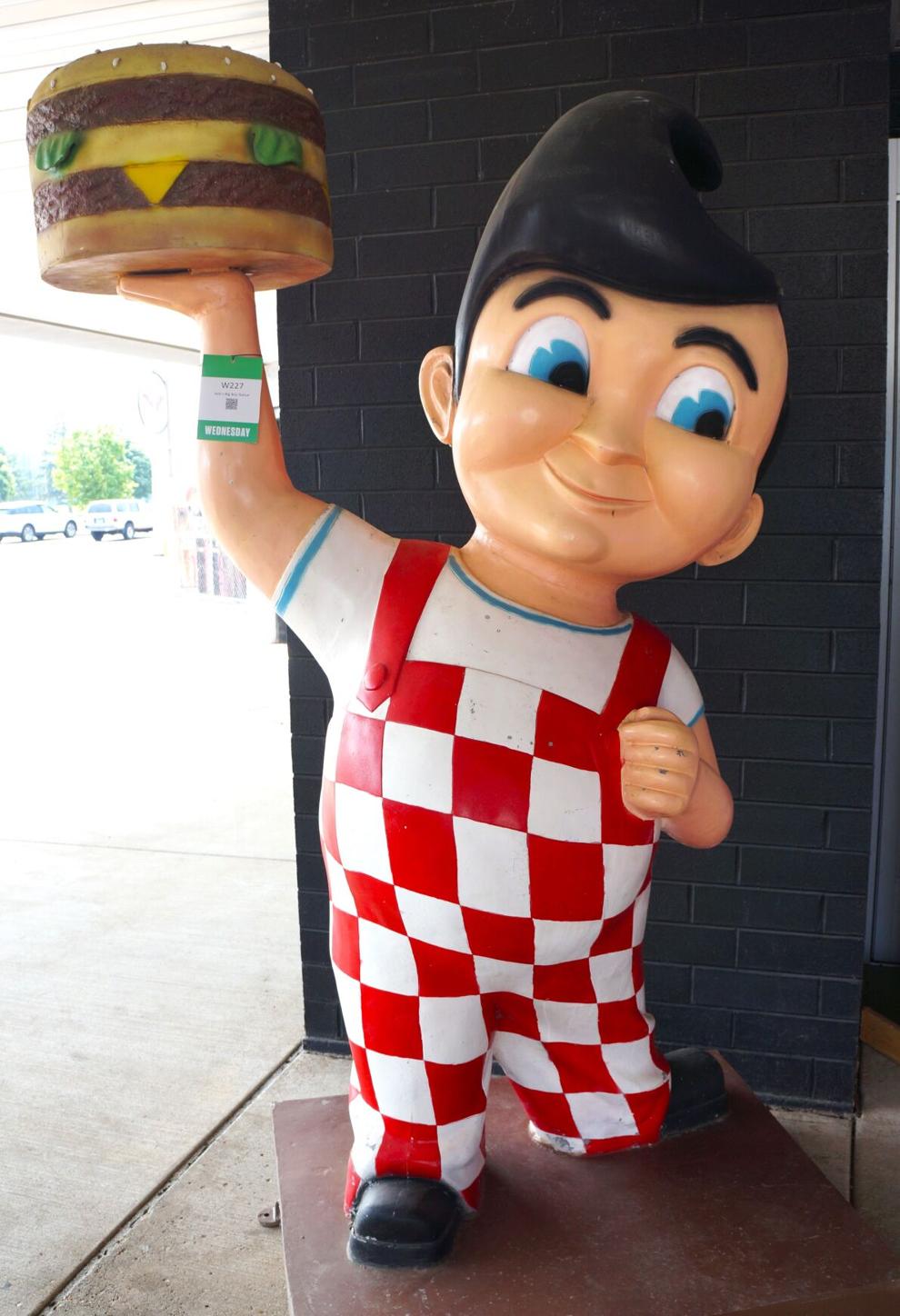 Mecum – Texaco Fire Chief and Sky Chief gas pump globes.JPG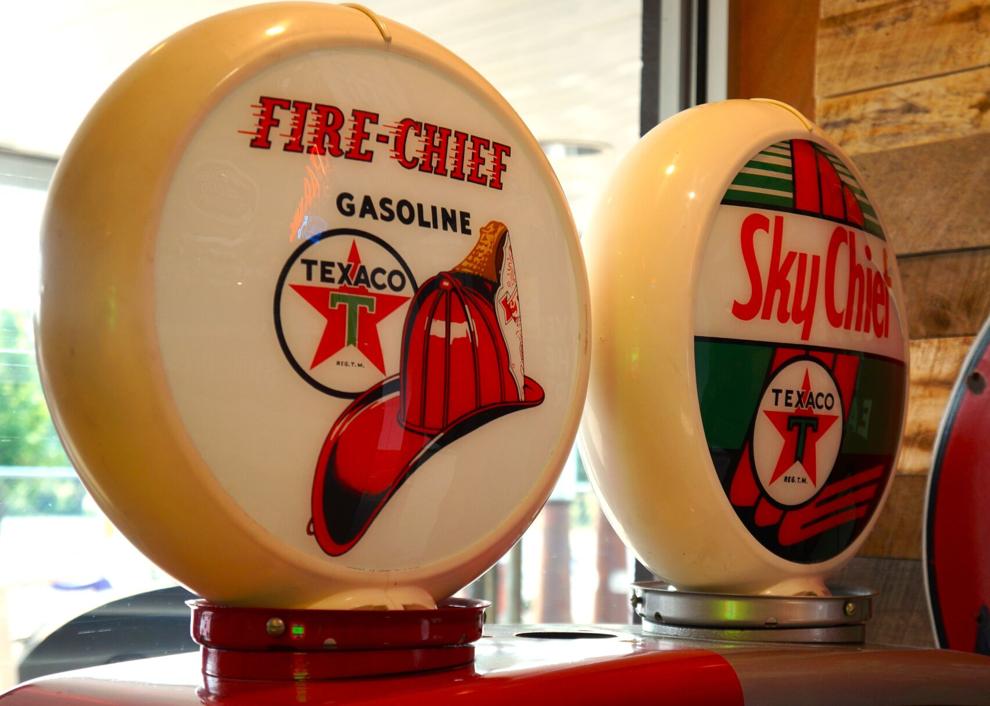 Mecum – Texaco Fire Chief Gas helmet-shaped gas pump globe.JPG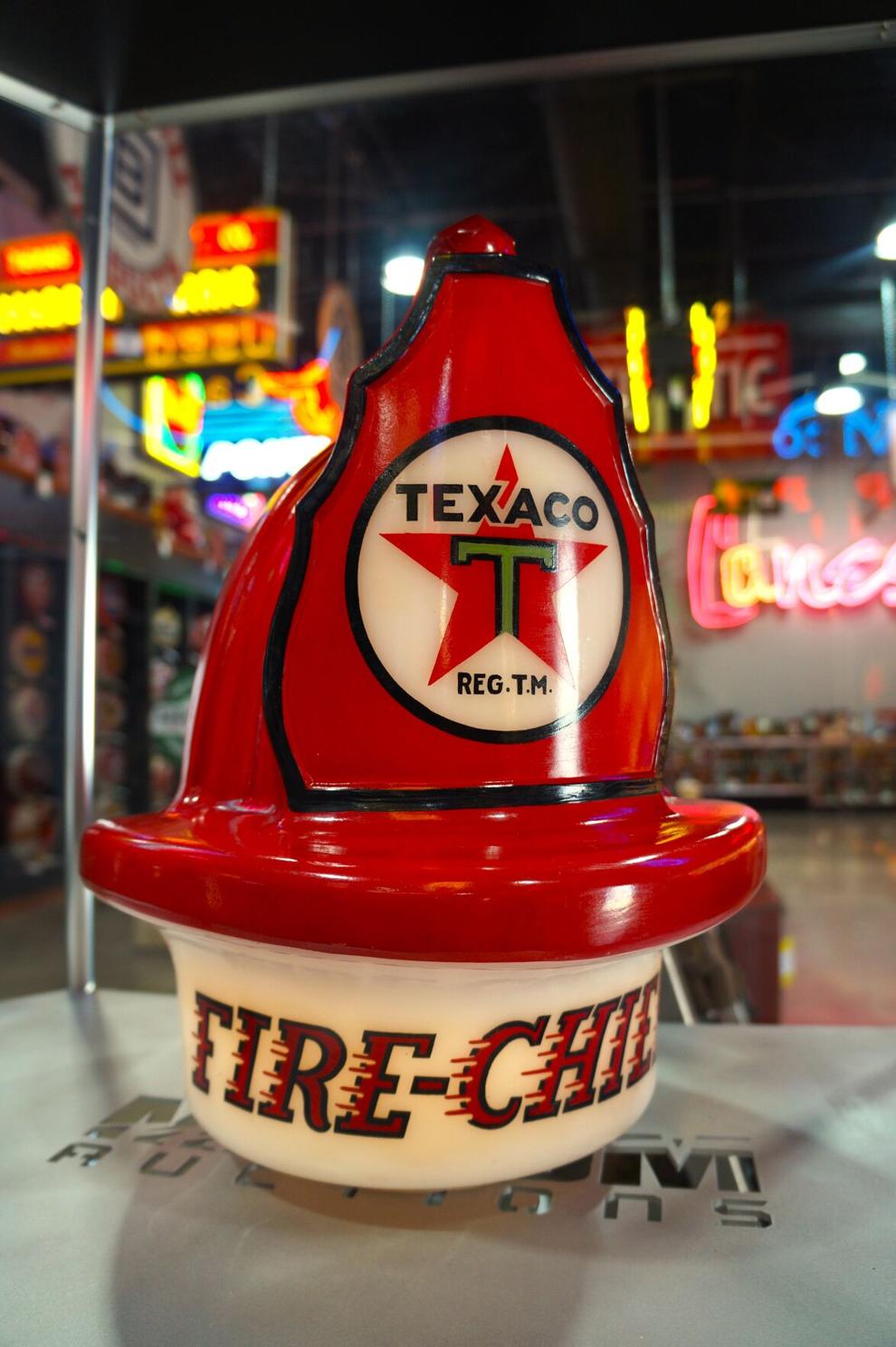 Mecum – Texaco Fire Chief gas pump globe (standard issue).JPG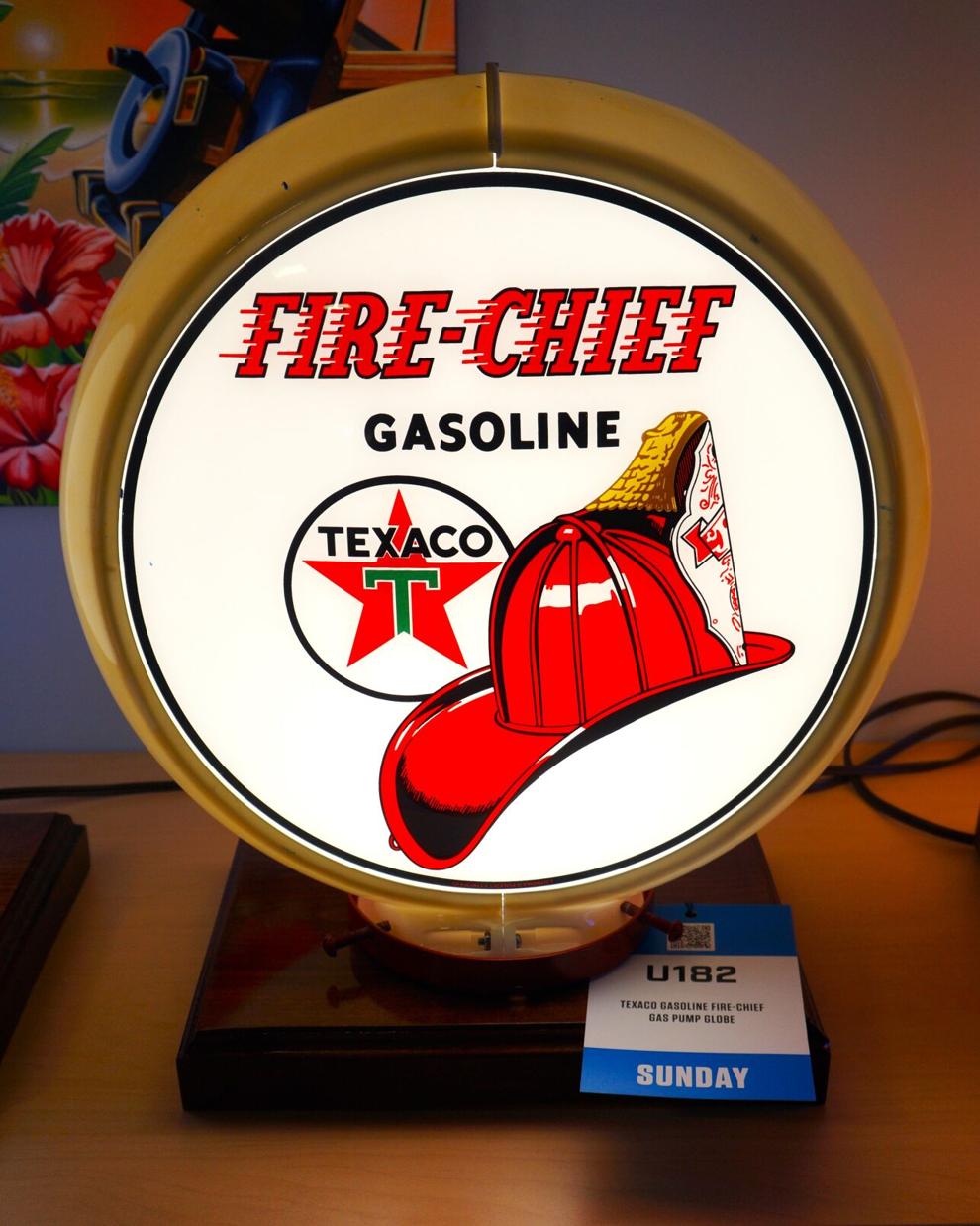 Mecum – Texaco Sign .JPG
Mecum – Texaco star neon porcelain steel sign.JPG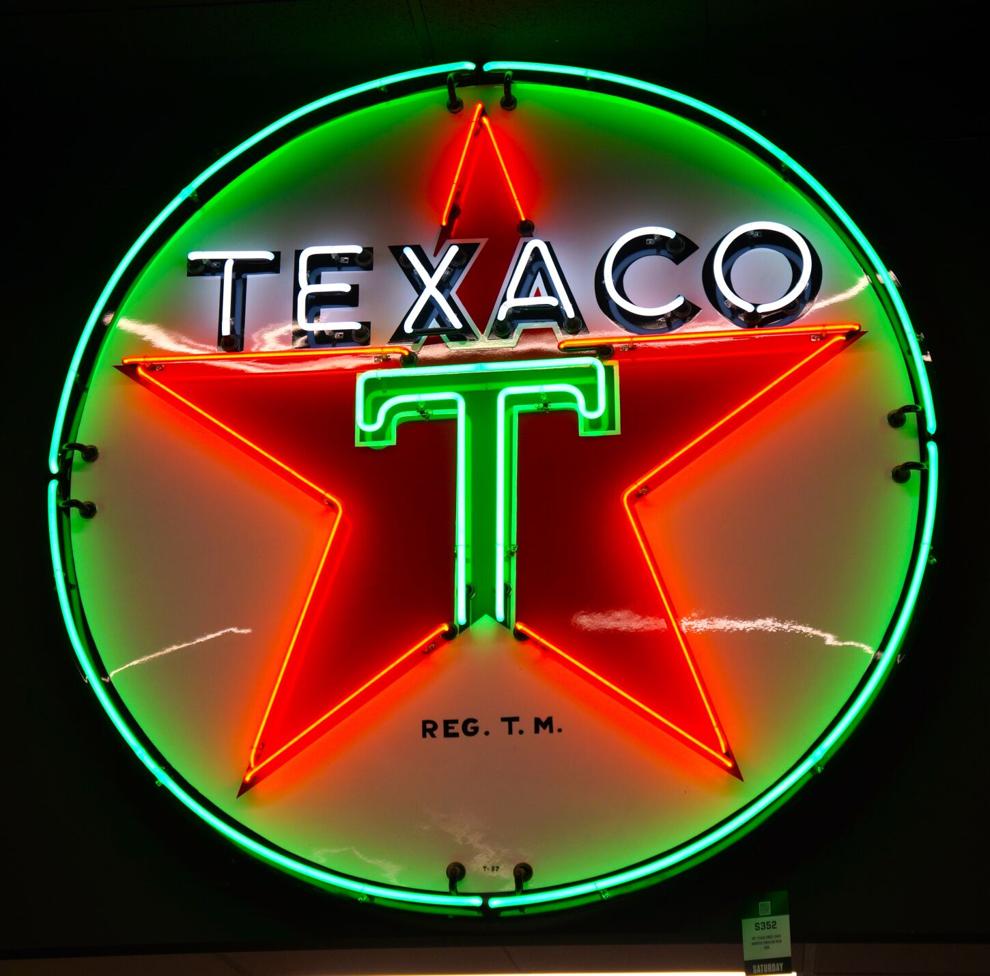 Mecum – Tires and Batteries porcelain neon.JPG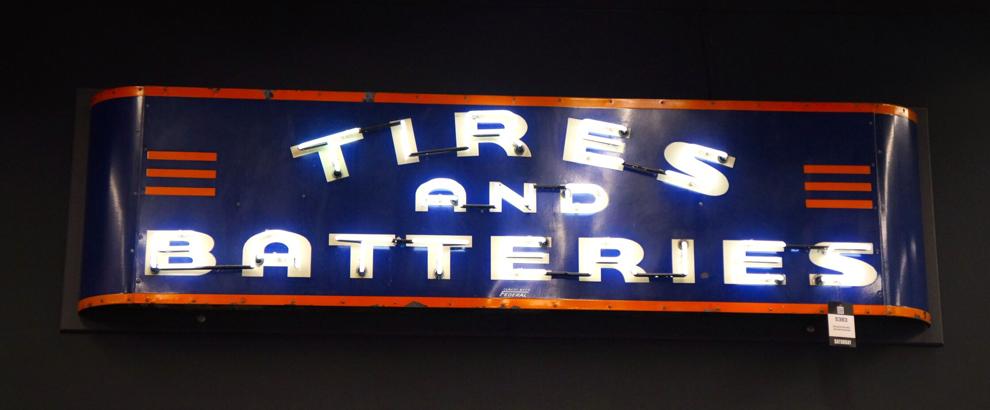 Mecum – Used Cars generic neon porcelain steel sign.JPG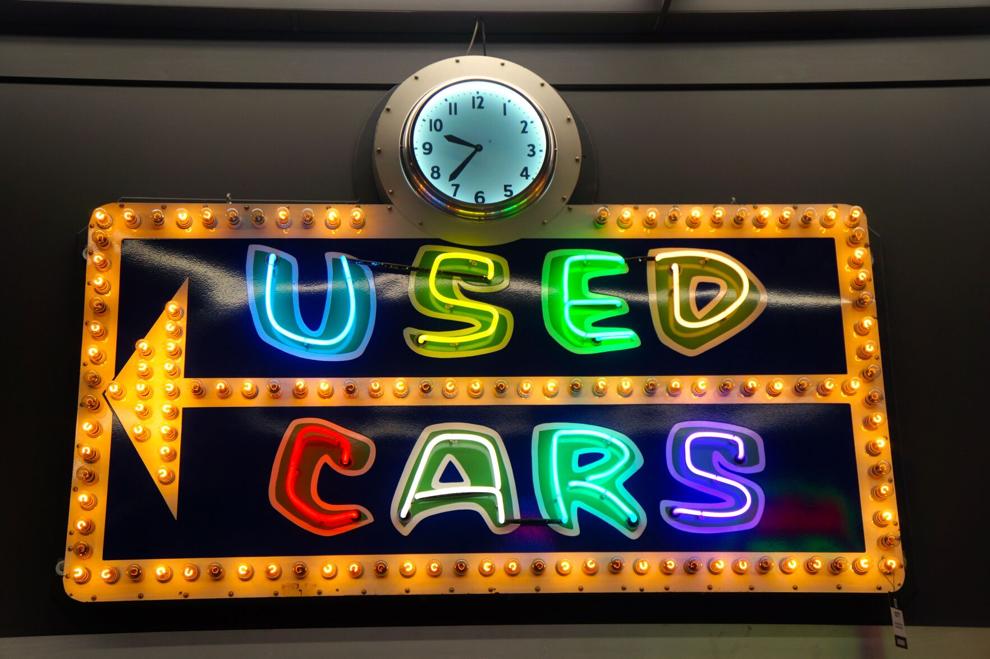 Mecum – Value Rated Used Cars porcelain neon sign.JPG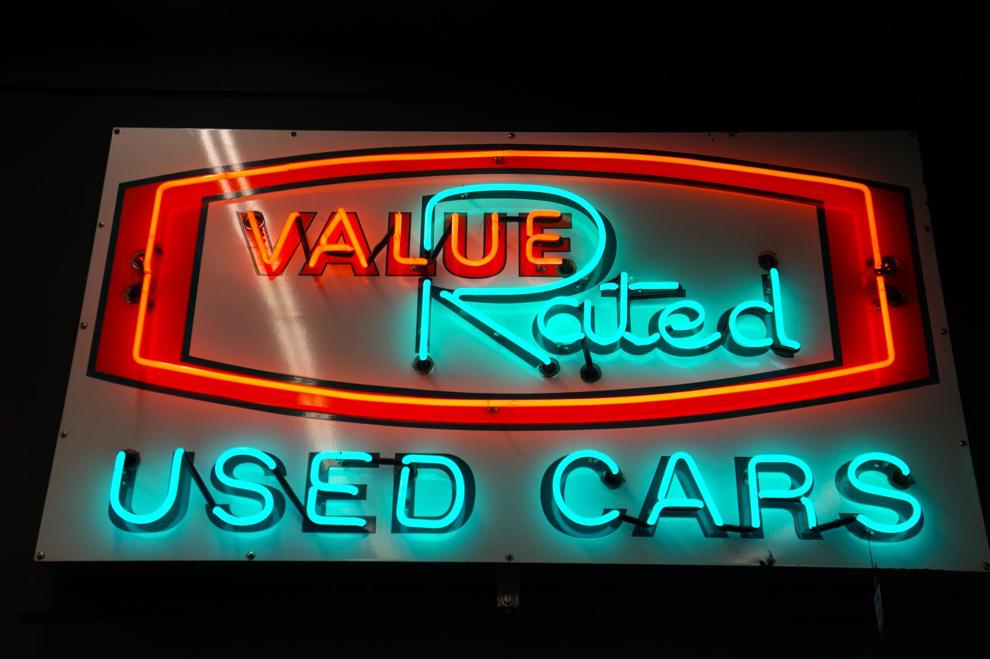 Mecum – Van de Kamp's Bakery rotating windmill neon porcelain steel sign.JPG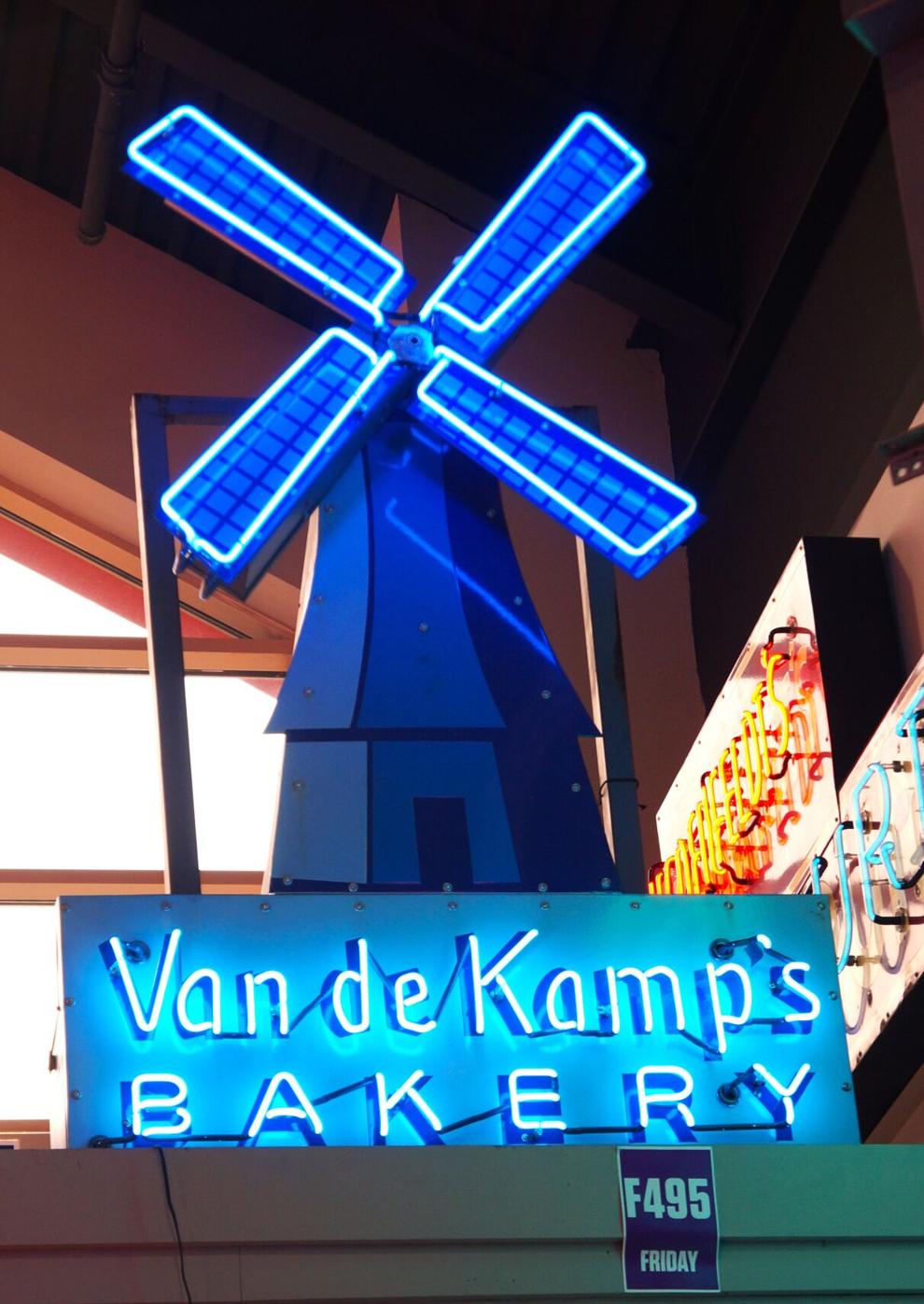 Mecum – Vendo Coca-Cola vending machine.JPG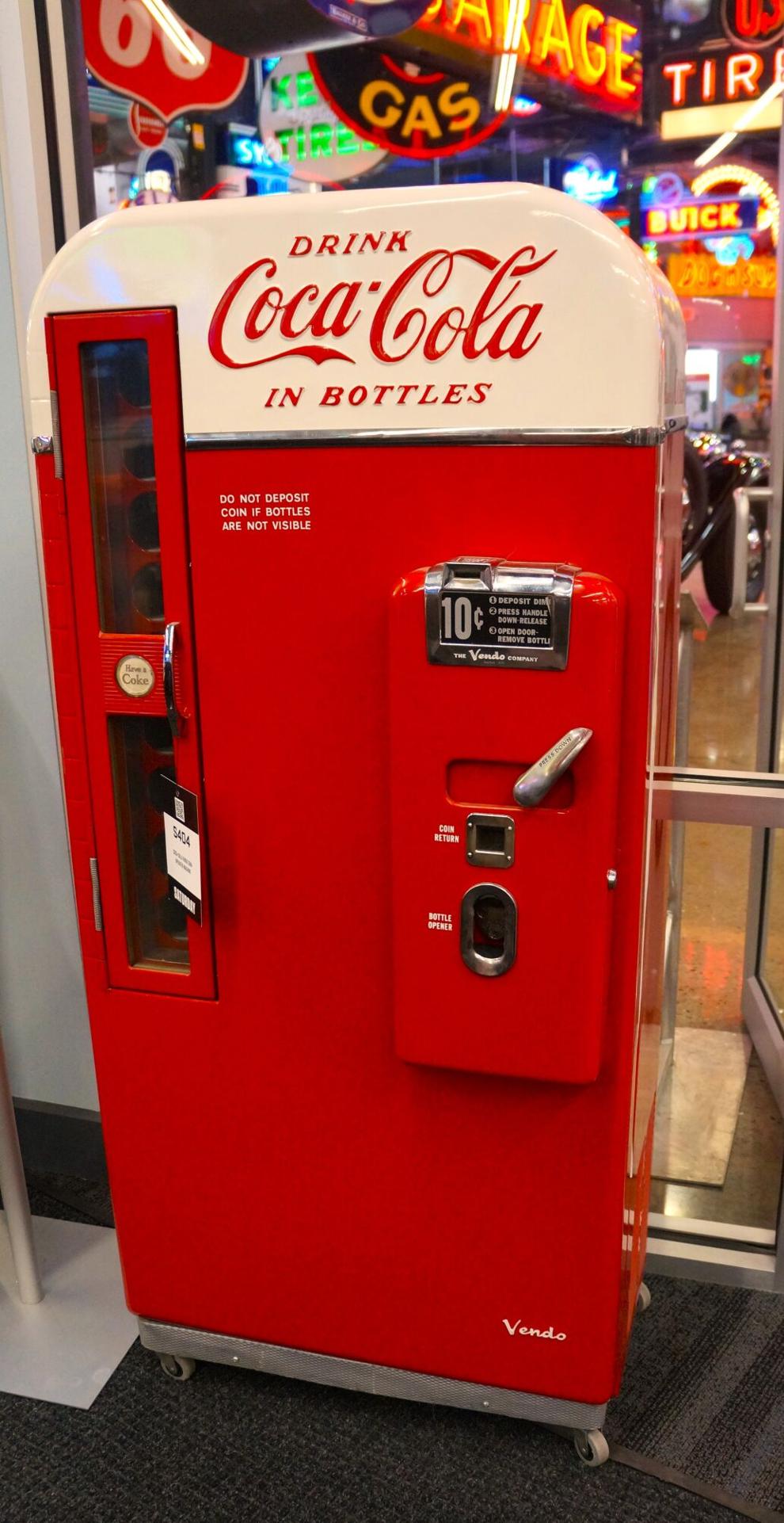 Mecum – Vico Motor Oil Pep 88 neon porcelain steel sign.JPG
Mecum – Wadham's Gas & Oil (Milwaukee) sign.JPG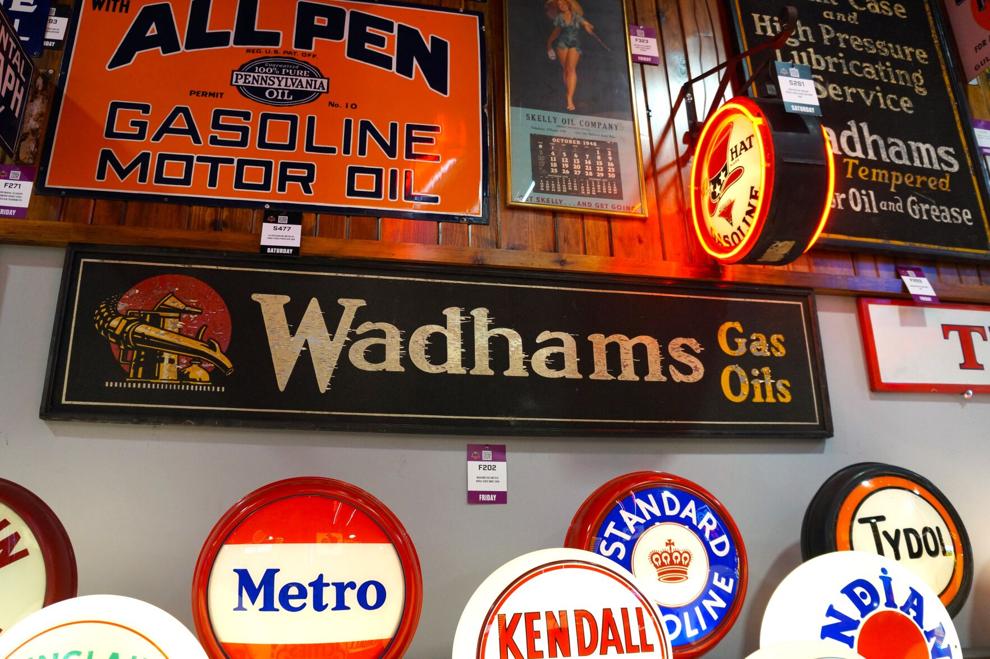 Mecum – World's largest Chevrolet bowtie sign from Wolf Chevrolet, Belvidere, Ill 2.JPG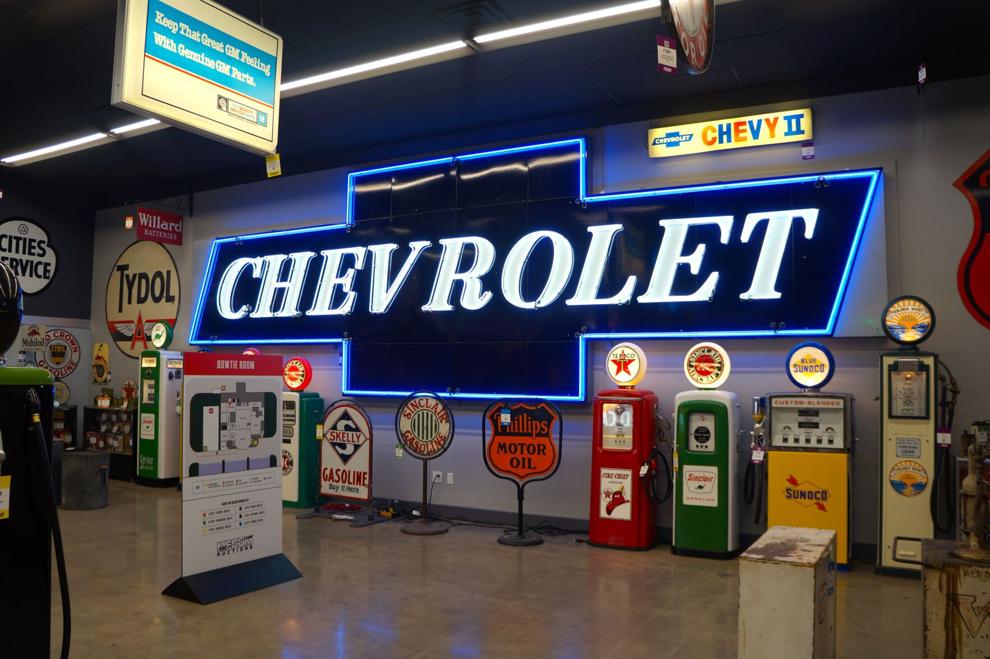 Mecum – World's largest Chevrolet bowtie sign from Wolf Chevrolet, Belvidere, Ill..JPG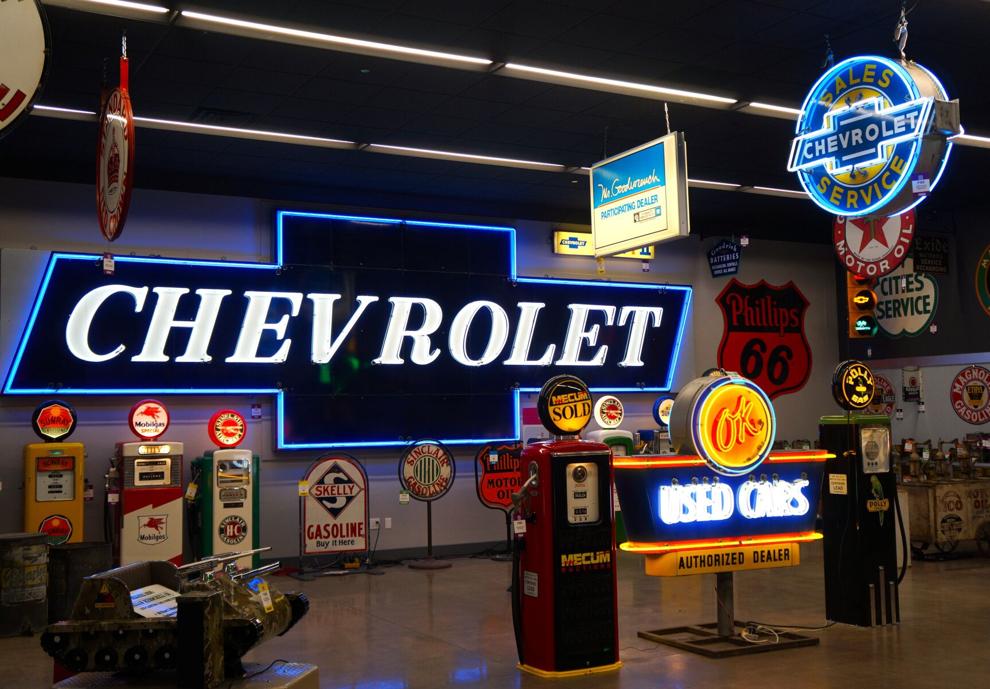 Mecum – Zephyr (Muskegon, Mich.) gas pump globe.JPG